Led by USAC, Westwood Connected campaigns for bike lanes, walking improvements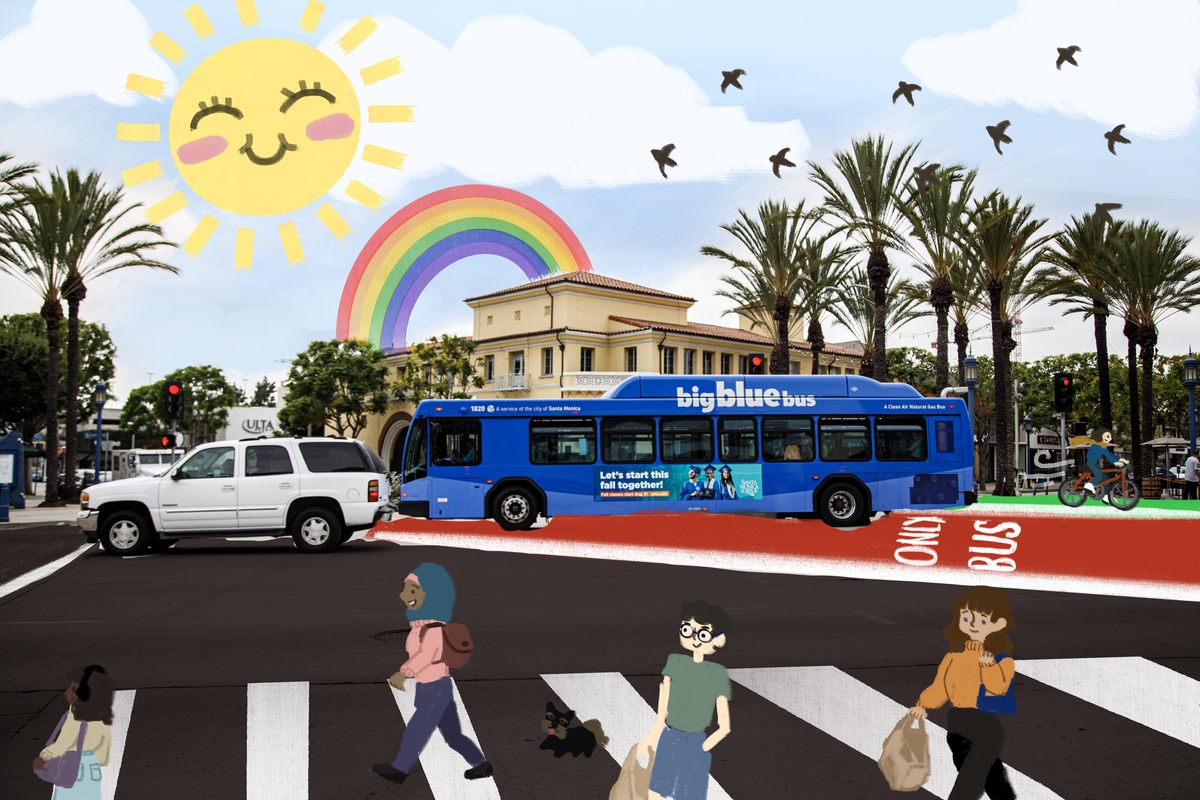 People, buses and cars cross the street in Westwood. The North Westwood Neighborhood Council and the Undergraduate Students Association Council partnered with the nonprofit group Streets for All to create the Westwood Connected campaign. (Photo by Justin Jung/Daily Bruin senior staff. Photo illustration by Maleeha Zaman/Daily Bruin)
April 23, 2023 10:09 p.m.
Correction: The original version of this article incorrectly stated Katy Yaroslavsky placed a request with the mayor's office for a new continuous bus lane to UCLA. In fact, Yaroslavsky placed a request for a new protected bike line between campus and Ohio Avenue on Westwood Boulevard.
This post was updated April 24 at 5:18 p.m.
The North Westwood Neighborhood Council and the Undergraduate Students Association Council partnered with the nonprofit group Streets for All to launch the Westwood Connected campaign for new bus lanes, bike lanes and walking improvements to the community.
The campaign, which also includes the Westwood Village Improvement Association, aims to create a dedicated on-campus heavy rail stop for the Sepulveda Transit Corridor, improve pedestrian access around Westwood Village, protect the Wilshire Boulevard bike lane, establish continuous bus lines and open the Los Angeles National Cemetery to the public.
USAC played a fundamental role in kick-starting the campaign by founding the core principles of the plan, said Michael Schneider, the founder and chief executive officer of Streets For All.
Evan Curran, the USAC director of local relations and chair of NWWNC's transportation committee, first approached Streets for All with the idea for infrastructure improvements around Westwood in November, said Phoebe Chiu, the USAC facilities commissioner and a fourth-year economics and psychology student.
Streets for All, which works to increase people's mobility across the city, hopes to create a more equal balance between the needs of pedestrians and commuters with the Westwood Connected plan, Schneider said.
"Right now, there's not a balance. All the space is for cars," Schneider said. "Westwood Village is almost a perfect place for these changes because of how compact it is and how many small businesses there are."
He added that he thinks students and residents of Westwood would be more likely to choose to walk to get around the neighborhood if these changes were made.
NWWNC Secretary and third-year political science student Eric Coestad agreed with this belief, adding that the goals of the campaign could also reduce commutes for off-campus students if implemented.
"Rapid transit lanes … would also get people out of cars, which could actually decrease traffic," he said. "I view it as increasing options for people."
Coestad added that the current mobility infrastructure often constrains students to living north of Wilshire Boulevard in the North Village to avoid dangerous road crossings and untimely bus rides. A protected bike and scooter lane and a Bus Rapid Transit lane on Westwood Boulevard would make it easier for students to live farther from campus in lower-rent housing, he said.
Chiu also said the efforts for change made between USAC and other community organizations could make travel more convenient for students.
"Our mission is to make sure that streets are safe – not only for drivers but also pedestrians, people that are using a bicycle, people that are taking transit, people that have disabilities, stuff like that," Chiu said.
Chiu also backed a referendum in the upcoming USAC election that will provide students with free access to transportation in LA.
[Related: Students to vote on referendum to fund transit passes with students fees]
Schneider said District 5 Councilmember Katy Yaroslavsky placed a request with the mayor's office for a new protected bike line between campus and Ohio Avenue on Westwood Boulevard, with potential implementation in the next 12-18 months. However, the timeline for the rest of the plan remains to be seen, Schneider said. He added that while UCLA has a plan to widen sidewalks that could take years, Westwood Connected's plan for bus and bike lanes could be completed quickly within the coming months.
Community members can stay involved by signing up for updates on the campaign's website, Schneider said. He added that the campaign will hold neighborhood meetings to update the community on the campaign's progress.
"It's pretty awesome that we have UCLA students, an organization that represents business, and the neighborhood council, to all come together and ask for the same thing," Schneider said. "I don't think this has happened together to this degree around a plan while there have been potentially supportive politicians in office. I'm excited."