UCLA track and field gears up for Chris Rinne Twilight Meet, focuses on nationals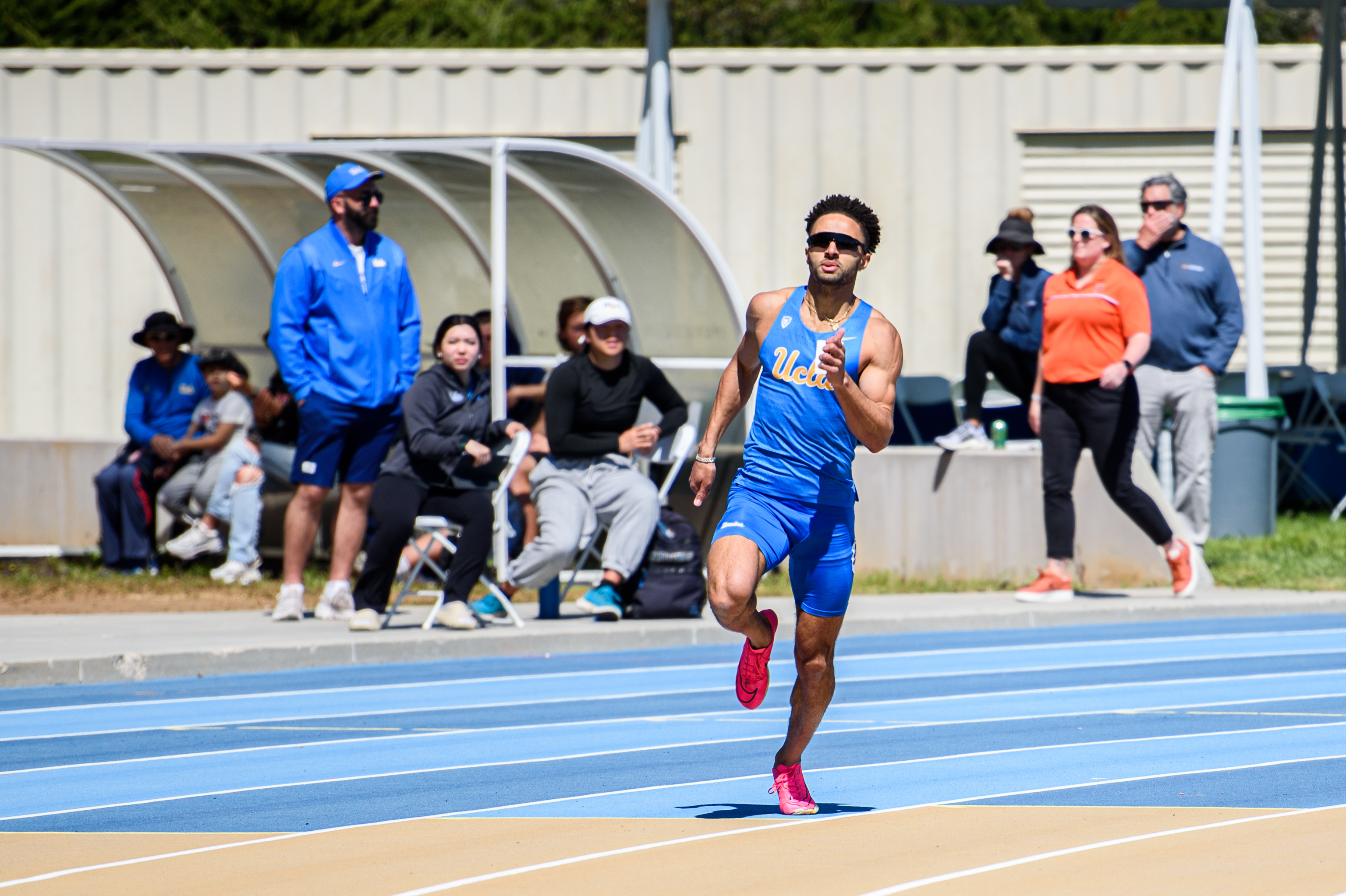 Senior Myles Misener-Daley competes at Drake Stadium. Misener-Daley seeks to compete in the 2024 Olympics, representing Canada. (Amelie Ionescu/Daily Bruin senior staff)
April 21, 2023 12:29 p.m.
The Bruins, who are currently in the homestretch of the outside regular season, are striving to hone their training prior to the arrival of the postseason.
UCLA track and field is set to send eight athletes to the Chris Rinne Twilight Meet in Riverside. The single day meet will take place this Friday and the Bruins are looking to apply the momentum from their record-breaking performances in the Mt. Sac relay last week.
Assistant coach Sean Brosnan said the meet will serve as preparation for the upcoming championships.
"At this point now it's more about showing up and getting ready for conference, and regionals and nationals for some athletes," Brosnan said. "It's all about conference and nationals for us."
Senior sprinter Myles Misener-Daley said he believes each meet is especially integral to improving his resume prior to the Olympics.
"We have an Olympic year next year," Misener-Daley said. "Hopefully if I continue on this path I'm on right now it will translate into the next year, and obviously throughout the rest of the season with some good times, and make some national teams for Team Canada."
Although Riverside is expected to reach 90 degrees in the daytime, Brosnan emphasized he foresees favorable racing conditions as the meet moves into the night.
"I don't think it will affect the longer ones because they are run later at night. The meet starts at around five, six o'clock p.m.," Brosnan said. "An 800 or a 1500 you could run in warmer weather and it won't really affect you. The 5k a little bit later on that night I think we will be in pretty good condition with the sun going down."
Freshmen Bella Browne and Chloe Brown and redshirt junior Sophia Hoelzel will all compete in the women's 1500m race while senior Mason Ratkovich will compete in the same event on the men's side.
Graduate student Jada Jones and senior Alexandra Chan will competing in hurdles events while freshman jumper Cheyenne Roberts and sophomore Aaron Kim will participate in the high jump.
UCLA will face USC in its last event before the Pac-12 championships.