Coach Stella Sampras Webster lands 500th victory with UCLA women's tennis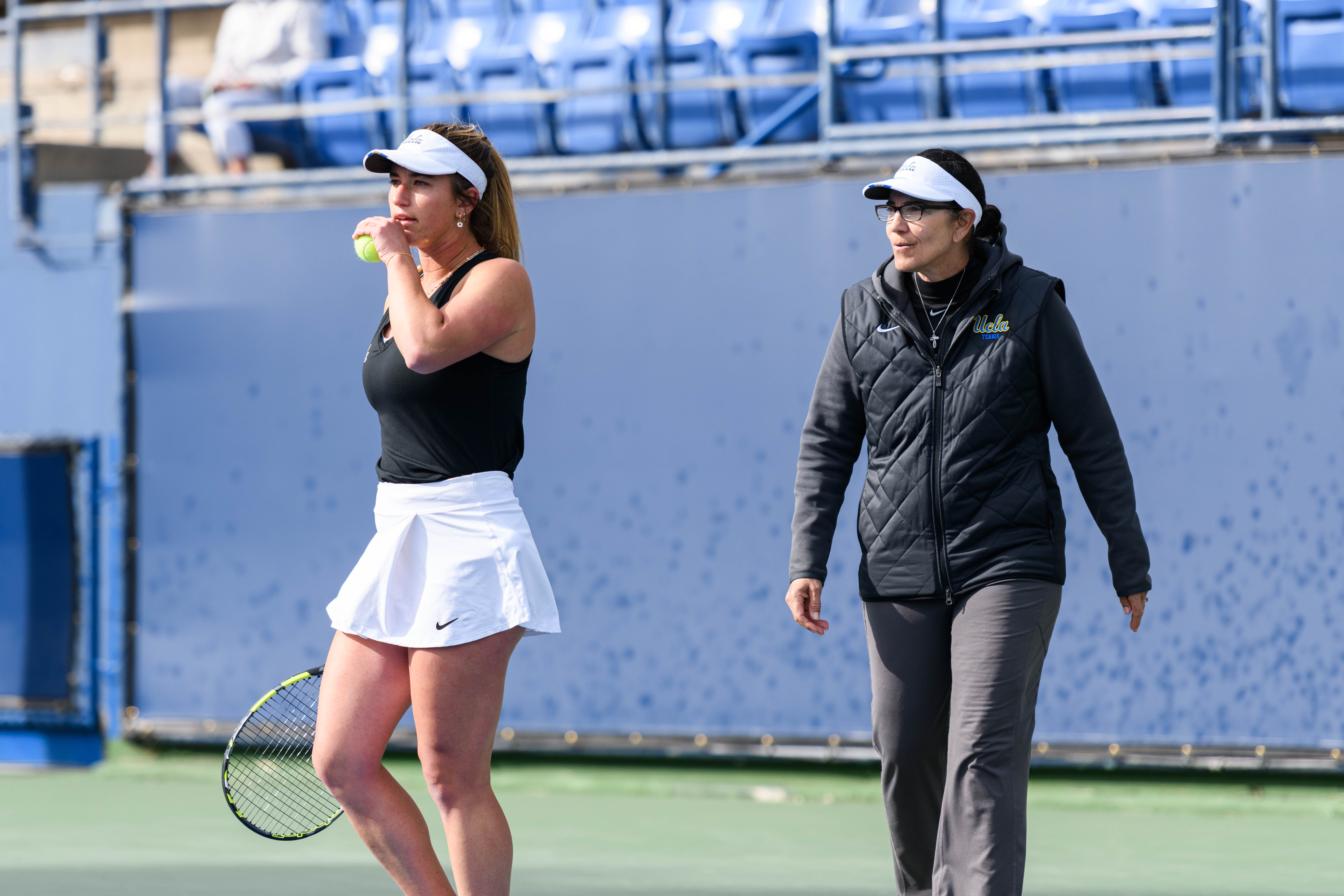 Stella Sampras Webster coaches sophomore Kimmi Hance between games. The coach for UCLA women's tennis earned her 500th win with the Bruins on Tuesday, 13 years after passing Bill Zaima for the program's all-time head-coaching wins record. (Ilan Berdy/Daily Bruin)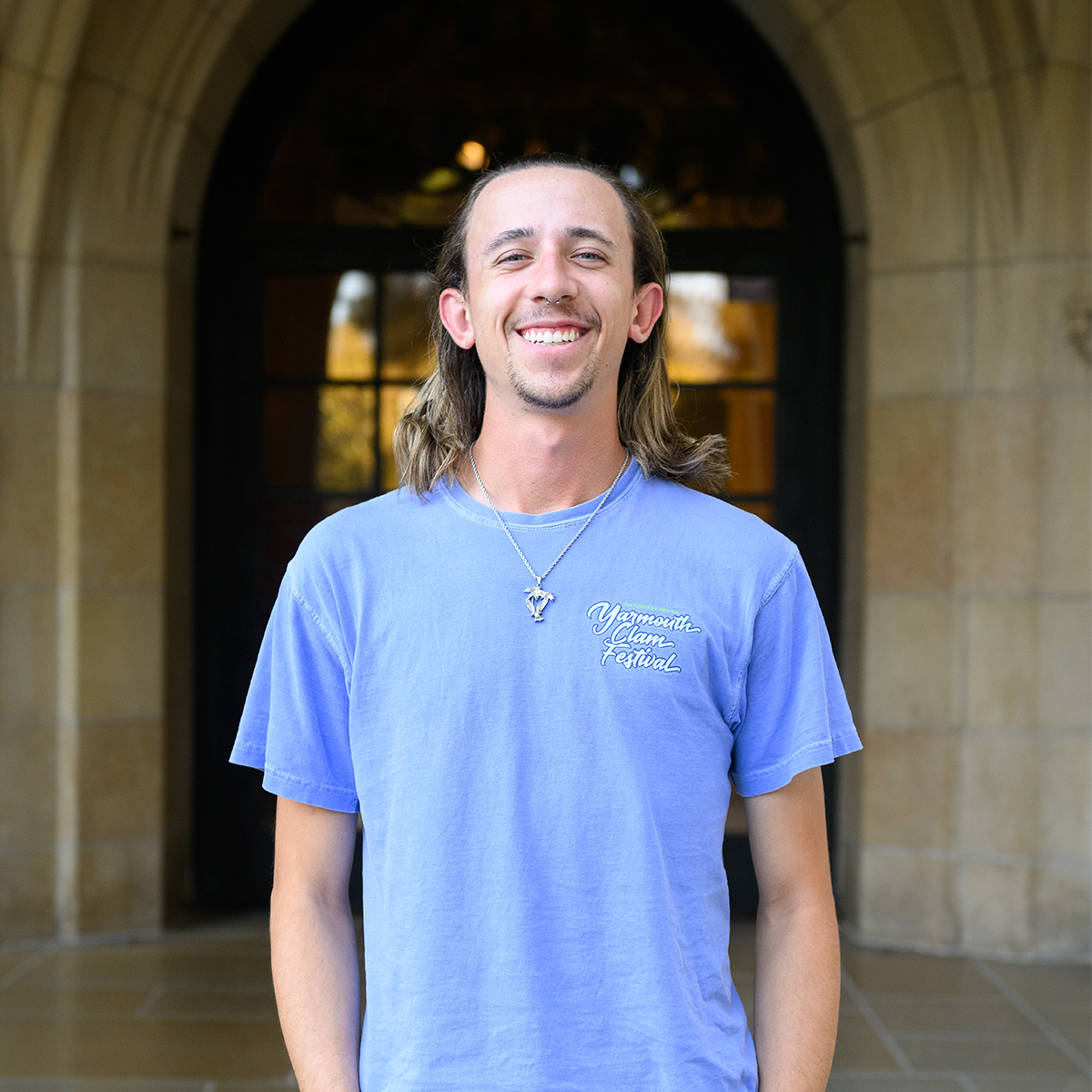 Virtually everyone in the building knew what was in the cards for Stella Sampras Webster.
Even the coach's mother, who hadn't been to one of her daughter's matches in years, was in attendance.
The only person without a clue was Sampras Webster herself.
With a 5-2 victory over UC San Diego on Tuesday, No. 19 UCLA women's tennis delivered what everyone anticipated – a moment worth celebrating. It marked the 500th triumph of Sampras Webster's 27-year career helming the Bruins.
Just thinking about the magnitude of the achievement baffled the 2018 UCLA Athletic Hall of Famer.
"Wow, that's a milestone," Sampras Webster said. "What is that? Half a million or whatever – is that right? Or 1,000? Sorry, half a thousand."
Half a million wins would make Sampras Webster the winningest coach of all time across any sport, but half a thousand comes with some unprecedented territory of its own.
In the all-time books, Sampras Webster's 500th win places her 22nd among those to have ever coached Division I collegiate women's tennis. That mark improves 10-fold when considering active coaches alone, making her the 12th member of the 500 club. For perspective's sake, there are currently 297 Division I programs in the world for women's tennis.
Also among active head coaches, Sampras Webster is the fourth-winningest woman to hold the position, trailing only Northwestern's Claire Pollard, Arizona State's Sheila McInerney and Stanford's Lele Forood.
That mark emphasizes precisely what senior Sasha Vagramov has found valuable about Sampras Webster's guidance.
"She's an incredible leader, and to have such a strong female coach is super special to me," Vagramov said. "Growing up, I only had male coaches, so I feel like she adds a level of relatability. I really respect her and look up to her, and (am) just super happy for her."
Sampras Webster – the third head coach in program history – long ago distinguished herself as the greatest of the three. She passed Bill Zaima's program head-coaching wins record of 245 on April 9, 2010, and piloted the Bruins' only two NCAA team championships in 2008 and 2014.
Across the 25 completed seasons of her tenure, Sampras Webster has spearheaded 21 top-10 and 15 top-five finishes at the NCAA team championships. But in more recent years, the trends have been historical for different reasons.
In 2022, the Bruins finished with their lowest win total under Sampras Webster since 2001 and endured their earliest NCAA tournament exit since 2017. Now in 2023, UCLA currently sits one victory shy of that total with one match left in the regular season. It also finds itself sitting sixth in the Pac-12, set for its lowest conference finish since 2016.
The half-millennium win, in that sense, is a feat amid the fog. Though underwhelming as of late with respect to the standard she's set, Sampras Webster has continued to find success, demonstrating a persistence that has made an impression on sophomore Kimmi Hance.
"That's huge. Obviously, I've only been here for two years, but this is a long time in the making," Hance said. "I'm proud of her, and I'm just excited that I get to share that moment with her."
In light of her special moment, Sampras Webster was quick to talk about everyone but herself, praising the staff that surrounds her.
"I'm so lucky to be here and to be working here for this long," Sampras Webster said. "There's some really great people I get to work with."
With one milestone trek complete, another begins toward a land only six have ever reached – the land of 600 wins.
Nelson is currently an assistant Sports editor on the softball, men's tennis and women's tennis beats. He was previously a contributor on the men's tennis and women's tennis beats.
Nelson is currently an assistant Sports editor on the softball, men's tennis and women's tennis beats. He was previously a contributor on the men's tennis and women's tennis beats.