Stellar performances at latest meets signal UCLA track and field 'renaissance'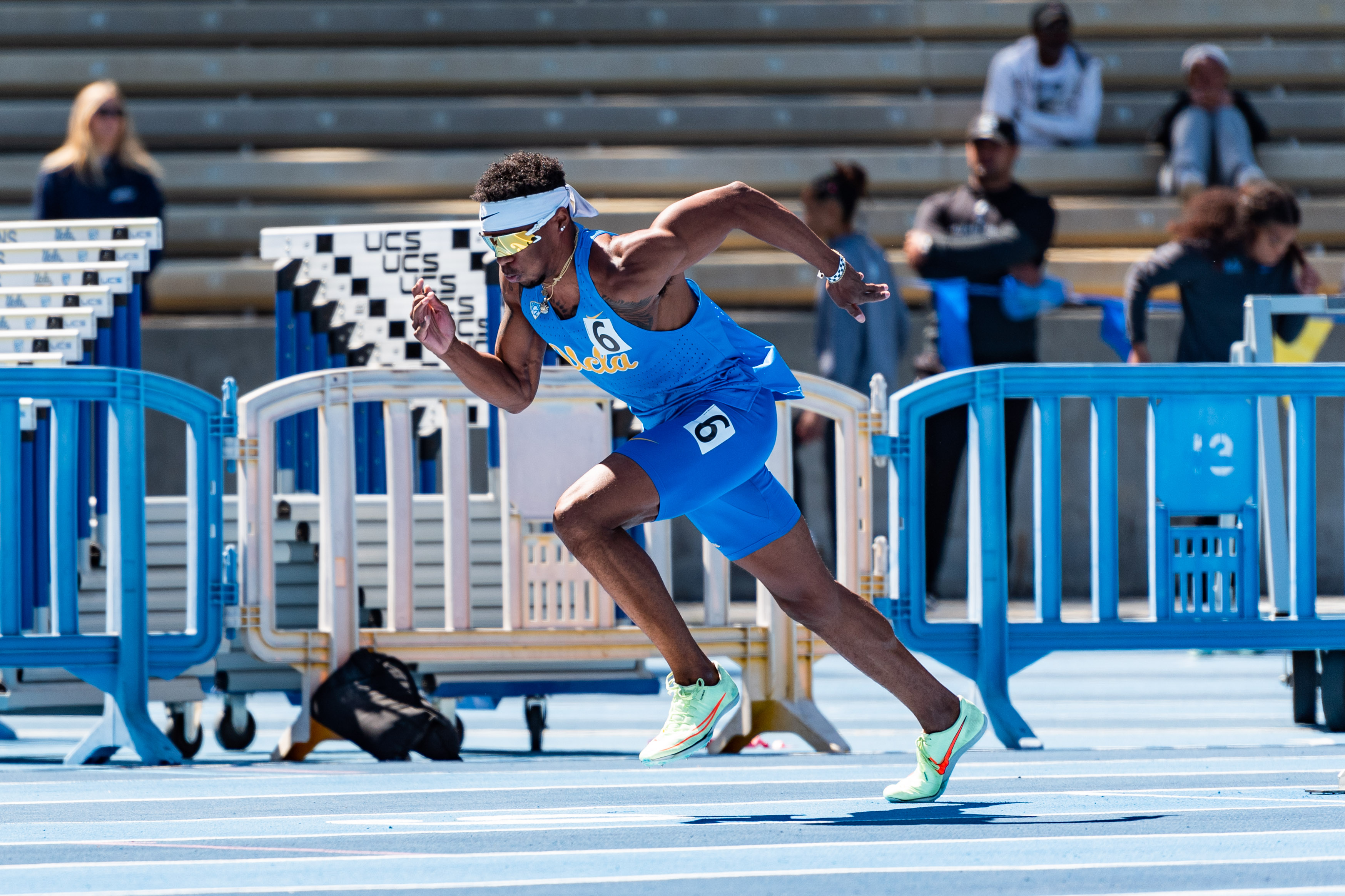 Graduate student Willington Wright competes in a relay at Drake Stadium. Wright placed second in the 400-meter race at the Mt. SAC Relays. (Amelie Ionescu/Daily Bruin senior staff)
This post was updated April 18 at 10:48 p.m.
The Bruins have dawned on a new era, according to Willington Wright.
"UCLA is in the renaissance," the graduate student said.
UCLA track and field sent two squads this week to the Bryan Clay Invitational and the Mt. SAC Relays, continuing its standout showings this season. The Bruins now hold the No. 1 spot in the Pac-12 conference.
At the Mt. SAC Relays, senior thrower Natalie Ramirez performed throws of 15.24 meters and 53.24 meters in the women's shot put and discus events, respectively, at Hilmer Lodge Stadium. In the discus, Ramirez finished in fourth place, and sophomore thrower Lyvante Su'emai finished in seventh.
Ramirez emphasized that mental conditioning is just as integral as physical training.
"(There's) a lot of mental training, putting pressure on myself to make the final in order to move on," Ramirez said. "In regionals, it's only the first three marks, so I train myself to do my best on those first three."
Also at the Mt. SAC Relays, junior Antonie Nortje won the men's 400-meter dash competition after clocking a 46.11 time. In the invitational elite 400-meter race, Wright and senior sprinters Ismail Turner and Myles Misener-Daley placed second, fourth and ninth, respectively.
Wright said he follows a three-word formula to frame his mentality: focus, lock in and attack.
"Oftentimes people have a hard time focusing on what's right in front of them," Wright said. "I'm focused and locked in and attack. It comes with practice in knowing how to have confidence in the moment."
The decorated former Texas runner is a five-time United States Track and Field and Cross Country Coaches Association All-American, 2022 NCAA Indoor Team Champion, 2022 NCAA champion in the distance medley relay and 2021 Big 12 Outdoor Champion in the 4×400-meter relay.
He added that he is still adjusting to training methods unique to UCLA and its coaching staff.
"We had this weird workout that the coach had come up with in the 100-dash practice, and that was one of the most killer workouts since I've been here," Wright said. "I'm used to putting in work and running 1,600 meters at Texas and at the most 2,600, but these workouts I'm doing here are different."
Freshman Naomi Johnson notched an eighth-place finish in the 400-meter dash in the Mt. SAC Relays, winning her heat with a time of 52.86, a new personal record.
"I think in training, we have been going very hard and doing workouts that will allow us to physically hold the speed for the 400," Johnson said. "I'm excited to see what we do in practice. I think we will keep the same momentum."
The Bruins also sent a handful of athletes to the Bryan Clay Invitational in Azusa, California.
The 1500-meter race saw impressive results from sophomore distance runner Mia Barnett and junior distance runner Ronan McMahon Staggs. Barnett ran the race in 4:10.23, placing third overall in the event while logging the second-best time in school history.
As for McMahon-Staggs, the Bruin surpassed his previous top-10 performance from the Bob Larsen Distance Carnival in March to secure his spot in second place atop UCLA's all-time leaderboard for the men's 1500-meter. The California native finished 19th out of 164 competitors with a time of 3:39.32.
The Bruins will return to action next Friday when they tackle the Chris Rinne Twilight Relays in Riverside. But until then, UCLA's strategy remains the same.
"Taking every meet as it comes," Ramirez said. "It's a new opportunity to reach higher marks always."