UCLA women's golf heads back to Arizona seeking 8th Pac-12 title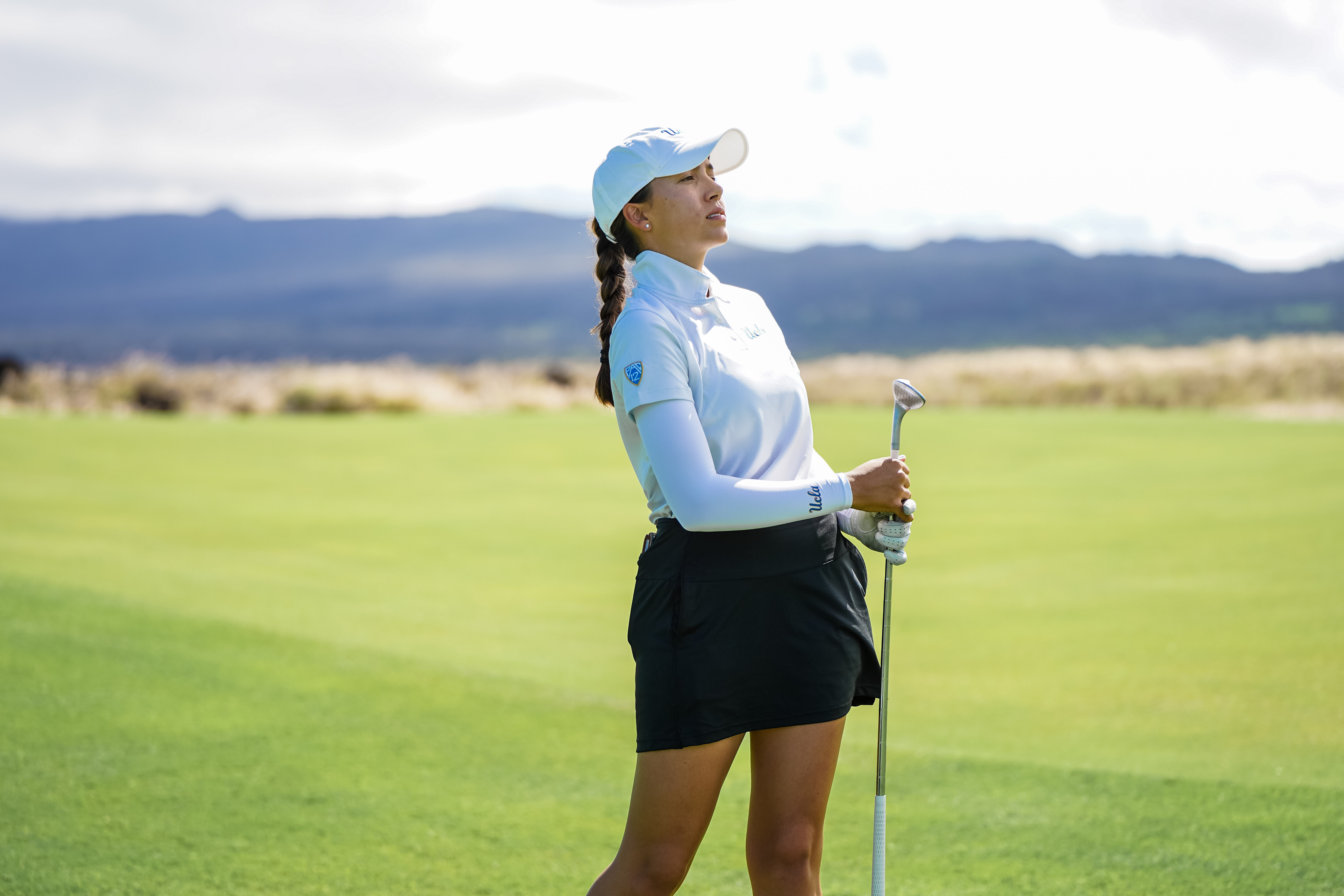 Sophomore Caroline Canales looks down the fairway following a shot. (Courtesy of UCLA Athletics/Alicia Um Holmes)
WOMEN'S GOLF
Pac-12 championships
Monday to Wednesday
Phoenix
A trip to the desert will kick off the Bruins' postseason.
No. 25 UCLA women's golf will compete for the Pac-12 title at Papago Golf Club in Phoenix starting Monday. The field consists of all 10 conference opponents, including No. 2 Stanford, No. 6 Oregon, host No. 11 Arizona State and No. 15 USC. The tournament will be a 54-hole format over the course of three days.
The Bruins last won the conference title in 2018 under coach Carrie Forsyth. The 24-year coach said in order to repeat that success, the team has to fit their strengths to the course.
"We've had some success at Papago," Forsyth said. "I'm feeling pretty good about it. Ultimately, we are just going to have to get out there and play."
Throughout the season, the Bruins have faced all of their Pac-12 opponents at least once in competition. Most recently, UCLA faced nine of its 10 conference foes at the Silverado Showdown, where it finished in third place – the best finish out of any Pac-12 competitor. With this result, the only team the Bruins have left to beat in the season is Stanford.
Forsyth said she believes the Bruins have it in them to beat the current No. 2.
"We are going to have to be ready to play well," Forsyth said. "But you never know. Sometimes teams show up, sometimes they have players who are ill, or maybe they are just not playing that well, so I think we are very hopeful about our chances. We just have to be as prepared as we can."
UCLA's lineup will consist of sophomores Zoe Antoinette Campos and Caroline Canales, redshirt sophomore Alessia Nobilio, and seniors Annabel Wilson and Yuki Yoshihara. Campos, Canales and Nobilio all competed at last year's Pac-12 championships in Eugene.
Nobilio's third-place finish in 2022 was UCLA's top score, while the team as a whole ended up in fourth place behind Oregon, Oregon State and Stanford.
Nevertheless, last year's result hasn't created any pressure heading into this year's championship according to Nobilio.
"I just want to focus on my game and do the best that I can," Nobilio said. "As a team, we've prepared very well. It doesn't matter if it's me or if it's someone else, we all have to play great."
Canales – who has received the UCLA Student-Athlete of the Week award twice this year – will have the chance to improve from last year's tournament, where she finished in a tie for 19th place.
Canales said her primary goal is a win, but there are steps that she must take in order to get there.
"I want to have the best mentality out there," Canales said. "If everyone was judged on their attitude, if I could win with my attitude out there, then it would be a success."
Out of 10 total, the Bruins have finished six tournaments on the podium this season, with their most recent win coming at The Beach Invitational in late February. But despite the late-season comeback, the blue and gold struggled to have strong individual finishes across the board early on.
Forsyth said these have dissipated slightly as the Bruins have been approaching the postseason.
"We've had some good showings lately across our entire roster," Forsyth said. "Regardless of what position people have played, we've just lacked consistency. We've had our No. 1 player play at the No. 5 position a week later and vice versa. I think it's there, we just have to be a little more consistent."
As the team prepares to tee off Monday with the chance to win its eighth conference championship, Canales said its preparation has revolved around knowing the squad is capable of winning.
"We have a really good belief in ourselves that we do have the potential to win," Canales said. "We are going to take that into this week."
Baker is currently a Sports contributor on the swim & dive beat.
Baker is currently a Sports contributor on the swim & dive beat.