UCLA group completes ecology and evolutionary biology field quarter in Amazon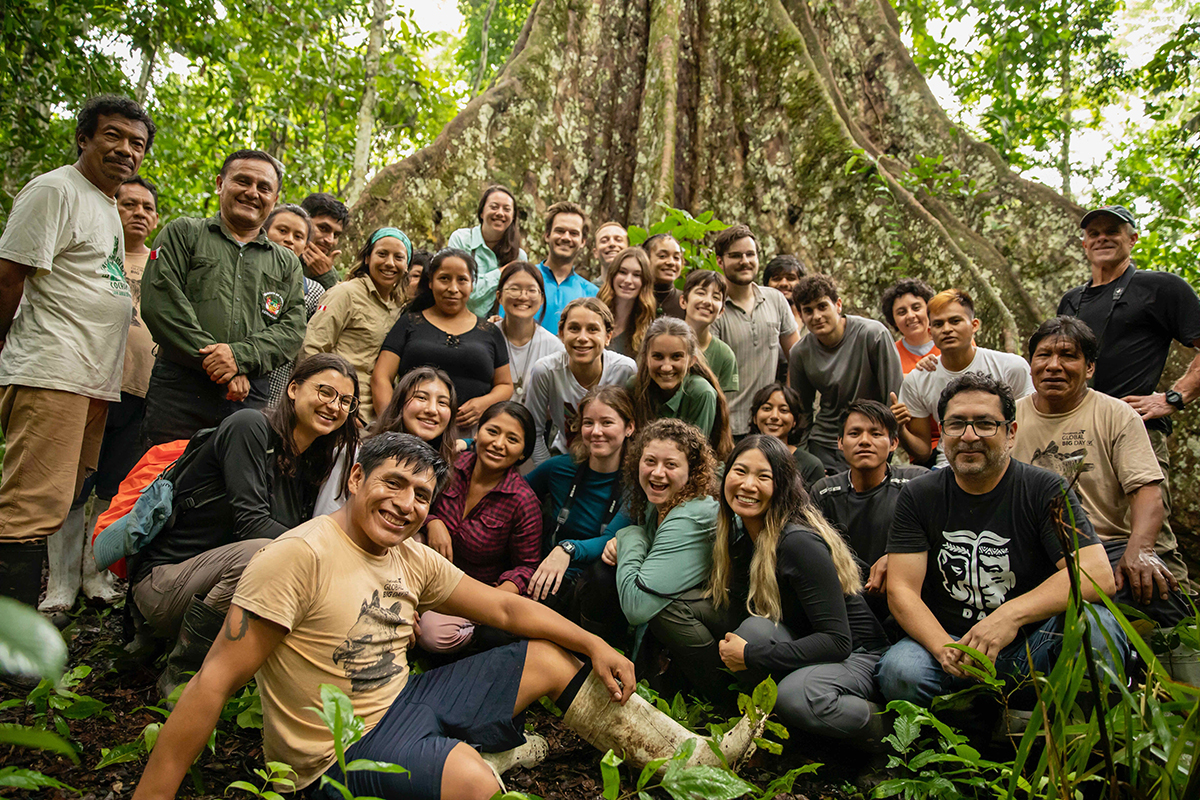 UCLA students, teaching assistants and professors pose for a group photo in the Peruvian Amazon basin. The group spent more than three weeks studying wildlife at the Cocha Cashu Biological Station. (Courtesy of Greg Grether)
A group of around 20 UCLA ecology and evolutionary biology professors, graduate student teaching assistants and undergraduate students spent more than three weeks conducting research in the Peruvian Amazon basin.
Participating in a UCLA ecology and evolutionary biology field quarter, the group of researchers studied diverse wildlife at the Cocha Cashu Biological Station and tested various mechanisms, such as plant-animal relationships and the effect of human presence on wild organisms, according to Rachel Chock, an ecology and evolutionary biology lecturer at UCLA and professor of field conservation biology for the winter field quarter.
Students received an immersive experience alongside their professors and TAs, Chock said, adding that the experience allowed them to apply their knowledge in a new setting aside from laboratories and lecture halls.
"Really, the goal is for students to get excited about the research side of things, explore their scientific creativity, as well as have a firsthand experience of conducting the scientific process," Chock said.
Fourth-year environmental science student Mandy Snyder was one of the students living alongside wildlife with the research group, which stayed in Manú National Park. Students lived on site in tents, interacting with diverse wildlife of over 1000 plant species and 500 bird species, according to the UCLA ecology and evolutionary biology department website.
Snyder said the environment and the wildlife created a beautiful setting for immersive learning and research.
"You'd wake up, and you look around, and there's just the jungle around you," Snyder said. "And you wake up to the howler monkeys."
Chock said that after arriving at the station, the students worked in small groups to pursue independent projects. Some students studied nocturnal animals, collecting data during the evening, while others studied birds during dawn and dusk, Chock said.
Emma Gobbell, a third-year ecology, behavior and evolution student, said she woke up each morning at 5 a.m. with her research partner to record the melodic call of the undulated tinamou – a pheasant-like bird.
She said she and her partner monitored the tinamous' reaction to noises such as other bird calls or human conversation. They walked more than six miles each day to find the bird and record its calls – a tiring but rewarding process, she added.
Snyder said she worked with her partners to study the hoatzin bird – a rooster-like bird that eats leaves. Their project required daily canoeing and observing the birds' reactions to predator cues. She said wildlife research proved challenging compared to contained lab work.
"Your ideas go only so far," she said. "It's only really through working with others (that) you start to see new possibilities."
Gobbell said it was also important to work alongside local communities in Peru, adding that such collaborations allowed her to better appreciate the site. Local individuals, such as the station nurse, lived alongside students at the national park, sometimes sharing meals, she added.
"Humility is a big (thing), and understanding that other people are a big source of information and they know better than you, honestly, because they're from there," Snyder said.
Aside from research, the students also learned to build personal schedules within a new environment. Gobbell said she incorporated reading and yoga into her routine along with the rigorous process of laundry using lake water and buckets. Snyder added that she enjoyed playing board games with the other researchers, night walks on the park trails to spot wildlife and spending time doing research in the site library.
Upon returning to campus after their field research, students underwent a crash course on statistics, learning the tools needed to analyze the data they collected. Afterward, students produced research papers to present at a symposium, sharing their findings with UCLA professors, family and friends.
After analyzing its data, Gobbell's group was able to make a significant extrapolation: Tinamou bird calls' frequency increased when responding to other bird call recordings.
Snyder's group also found significant results. They discovered that the hoatzin bird eavesdrops on its neighbors, meaning it reacts to the alarm call of another bird species playing nearby.
Reports such as Gobbell's and Snyder's were shared with the Cocha Cashu research station and Manú National Park as well, providing building blocks for experts to delve further into, Chock said. Some of the research may be published in peer-reviewed journals, opening opportunities for more student research, she added.
Chock said students' studies of these various species also open doors for conservation efforts, namely regarding the consequences of disturbances to the ecosystem.
For example, one student group's study revealed that some butterflies avoided areas that had been disturbed by human logging, even when humans were not physically present. Such findings reveal how minimal human impacts can result in long-term consequences for wildlife, Chock said.
Snyder said she would highly recommend attending an ecology and evolutionary biology field quarter to other interested students.
"Actually going out and doing the field work that you're designing, there's so many challenges that you wouldn't expect that we really had to work our way around," Gobbell said. "Ultimately, it was really our responsibility whether or not the project was going to work. I think I learned a lot about just doing it on our own."