The Quad: Students, professors talk caffeine and its impact on daily routines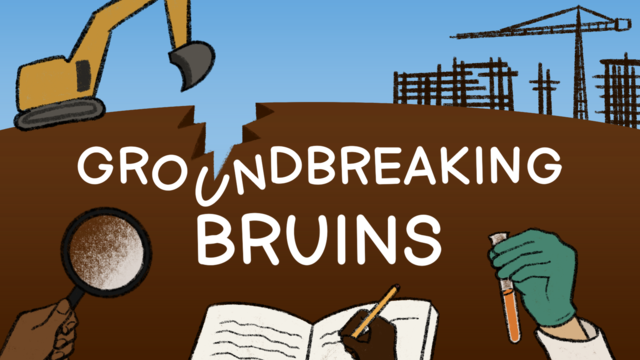 (Isabella Lee/Daily Bruin)
April 15, 2023 11:18 a.m.
This post was updated April 15 at 2:38 p.m.
As Bruins spend their days running from class to class, studying, and participating in other activities, caffeine becomes a daily diet staple in order to feel awake and alert throughout their whole day.
According to the Centers for Disease Control, around 80% of adults in America consume caffeine on a daily basis.
First-year economics student Maya Baijal said she started drinking caffeine regularly when she was 16 and usually drinks two cups of coffee and espresso daily.
"Sometimes, I love just drinking coffee at just the cruelest hours, like at 8 to 10 p.m. … kind of anticipating on staying up until 1 or 2 a.m.," Baijal said. "I think I kind of perpetuate my slight addiction by making academic excuses."
Caffeine, which is a drug and stimulant of the central nervous system, is often used to make individuals feel alert and energized, according to the Neuropharmacology Journal.
Neurobiology professor Joshua Trachtenberg said caffeine blocks the sleep pathway through the effects that it has on the neurotransmitter adenosine.
"In many neurons, there's a receptor for adenosine. And the caffeine can bind to that receptor. So when it binds that receptor, the adenosine can't bind to it because it blocks it," Trachtenberg said.
Trachtenberg added that this blockage of adenosine by caffeine means that the pathways activated by adenosine can no longer be completed.
"In the brain, adenosine interacts with the second receptor, which is a dopamine receptor," Trachtenberg said. "The effects of caffeine are to block this sleep factor adenosine and also through by preventing adenosine from inhibiting this dopamine receptor."
According to the Cleveland Clinic, dopamine is a neurotransmitter that is part of the reward system inside our brain. It allows people to feel pleasure and the motivation to do the activities that bring them pleasure.
While caffeine may be a part of most Bruins' everyday routines, heavy usage over long periods of time can lead to a dependency on the drug.
Clinical professor of psychiatry Timothy Fong said psychological or physiological responses to a lack of caffeine could indicate a reliance on the substance.
"It could be a sign that their body's adapted to it. It could be a sign that they're now in a different state of functioning than they would be if they never had caffeine," Fong said. "It doesn't mean they're addicted. It means they may be dependent."
Reliance on caffeine may bring about other consequences like caffeine withdrawal, which consists of symptoms such as headaches, difficulty concentrating and drowsiness, according to the DSM-5 diagnostic criteria for caffeine withdrawal.
"Where on folks stop using their regular amounts and they have fairly significant issues … it can really screw up your day," Fong said.
Baijal added that she feels fatigued when she doesn't drink her normal amount of caffeine daily.
"I kind of feel lethargic throughout the day – just tired and I feel like I don't wake up ever," Baijal said. "If I could drink less caffeine, I would."
Average caffeine consumption in the U.S. is well over 200 milligrams per day, surpassing the amount in two 6-ounce cups of coffee, according to the Journal of Caffeine Research.
Edythe London, a psychiatry and biobehavioral sciences professor, said that doses of less than 400 milligrams of caffeine a day will not overtly harm healthy adults but that this is less studied in young adults and children.
"I think that with the advent of these high-energy drinks with 300 milligrams of caffeine, I think people want to be really careful," London said. "The dose that you get in one of these energy drinks is up above the levels that have been tested as fairly safe."
Overconsumption of caffeine can not only lead to dependency and withdrawal symptoms but may also mimic symptoms of mood disorders, according to Cambridge University Press.
"Caffeine overuse or side effects of caffeine can mimic, and I think that's probably the most important thing," Fong said. "It can mimic ADHD symptoms, bipolar disorder, depression, anxiety."
London added that not all caffeine consumption will lead to harmful consequences and that some animal studies have even shown caffeine consumption to possibly lower the risk of Alzheimer's disease.

"Giving the animals caffeine chronically will prevent the formation of beta-amyloid and memory problems," London said. "So that seems like a good effect of chronic caffeine."
According to the National Institute on Aging, beta-amyloids are proteins that are naturally occurring, but in the case of Alzheimer's disease, the protein clumps together between neurons, which damages their function.
"So there's something in that sweet spot of just maybe a little bit of caffeine to kind of just stimulate our senses and our focus, our attention," Fong said. "That probably is, you know, pretty good."