Editorial: Eligible bruins should vote in Graduate Student Association elections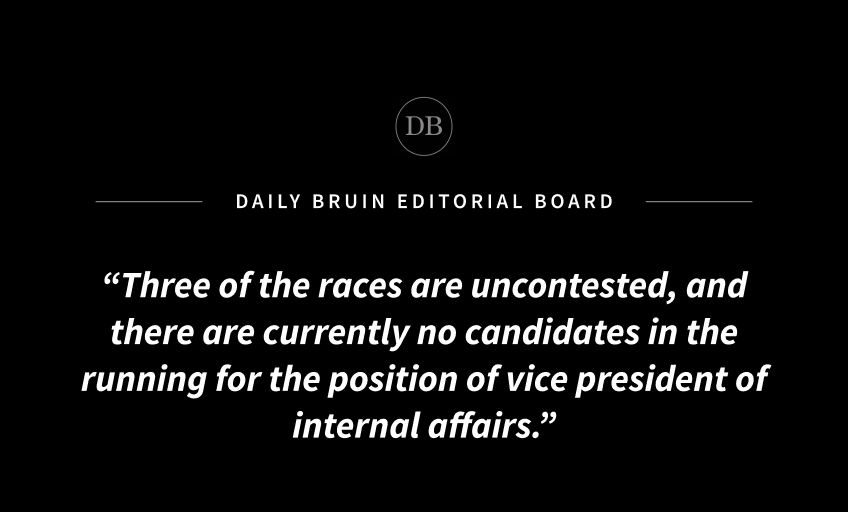 Editor's note: Editorials do not represent the views of the Daily Bruin as a whole. The board encourages readers to respond to our editorials at dailybruin.com/submit.
In spring of each year, the Graduate Student Association holds an election to select a president, vice president of internal affairs, vice president of external affairs and vice president of academic affairs that will best represent the interests of UCLA's graduate student body.
The editorial board of the Daily Bruin typically endorses one candidate running for each position. However, in light of the circumstances surrounding this particular election, the board has decided not to endorse any candidates this year.
Three of the races are uncontested, and there are currently no candidates in the running for the position of vice president of internal affairs. Current GSA president and computer science doctoral student Noor Nakhaei is running for a second term without any opposition. Sonya Brooks, an urban schooling doctoral student at the UCLA School of Education and Information Studies, is the only candidate running to become vice president of external affairs. Emma Landry, a biostatistics doctoral student and the current director of discretionary funds in the GSA Office of the President, is running for the currently vacant position of vice president of academic affairs.
However, this information has not been made publicly available on the GSA elections website despite the fact that voting starts in less than a week. Without enough time to interview candidates and examine their goals and policies, the board has been unable to effectively prepare factual and accurate endorsements for candidates in this election.
A lack of endorsements is by no means, however, a reflection of the quality of the candidates for next year's offices – nor is it a discouragement for graduate students to take the time to vote.
The board highly encourages all graduate students to vote in this election. Last year, the election only saw 8.9% vote, a 1.32% decrease from 2021. Despite the lack of an effective democratic choice in this year's election, voting is a civic responsibility that Bruins should take seriously to make a greater impact and set good precedents in the long run.
Voting will occur on the MyUCLA website from April 18 to April 24, and the results are expected to be confirmed April 25.