Research on mitochondria activity paves 'new directions' in lung cancer therapies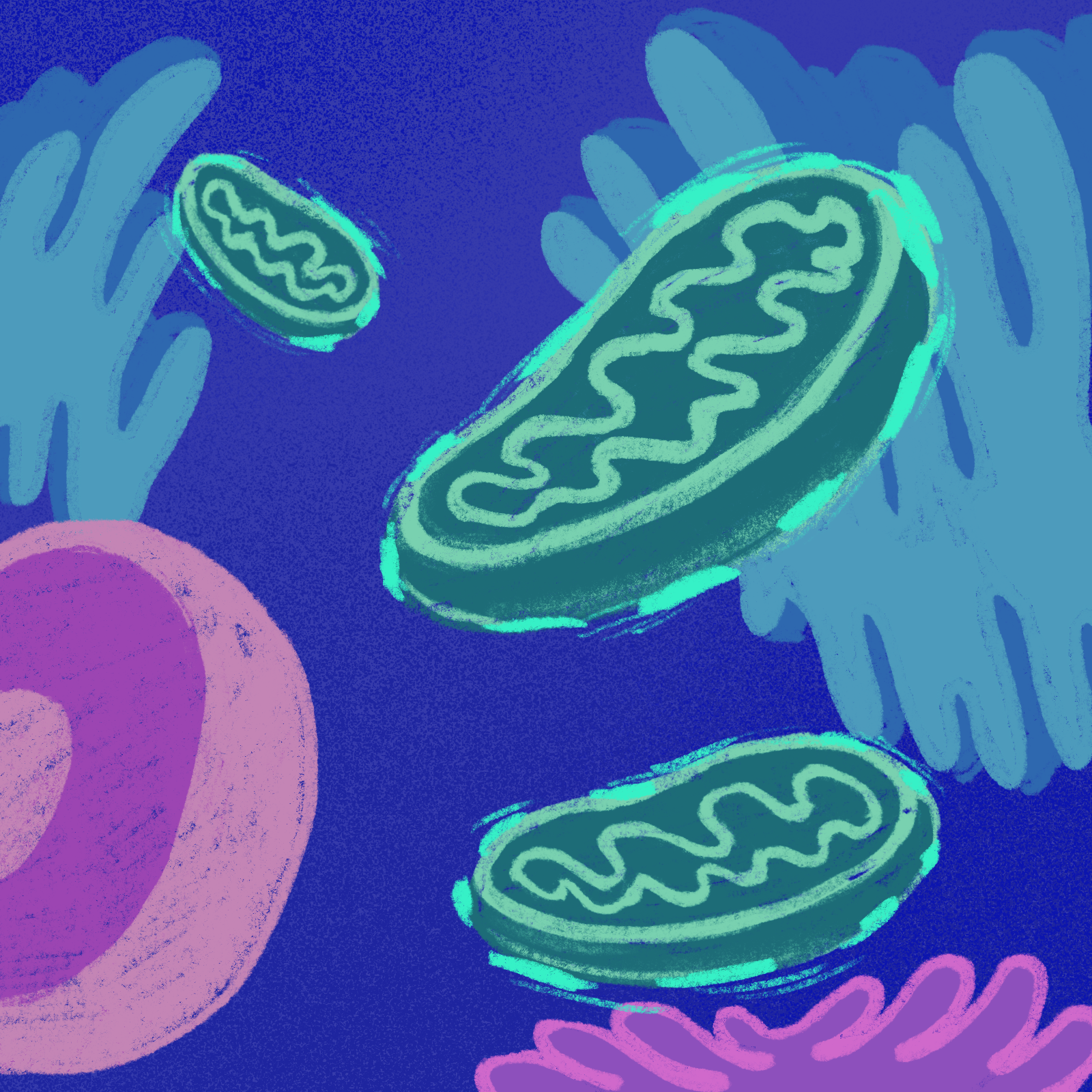 (Isabella Lee/Illustrations director)
April 12, 2023 12:15 a.m.
UCLA researchers have found a relationship between mitochondria organization in cancer cells and the process by which they convert energy, which could lead to new therapies.
Mitochondria are a type of cell organelle that serve as powerhouses, processing energy sources to produce adenosine triphosphate – an energy-storing compound – and support activities in the cell.
Minqi Han, a postdoctoral researcher at the David Geffen School of Medicine and an author of the study, said mitochondria were seen as a potential target for therapy when it was discovered that their activity is increased in some cancer cells.
The study analyzed mitochondria in non-small cell lung cancer cells in mouse models and found a relationship between the mitochondrial activity and structural organization of mitochondrial networks in the cells.
The study found that lung cancer cells with high mitochondrial activity that rely on fats as an energy source have groups of mitochondria in contact with fat-storing organelles. Cancer cells with low mitochondrial activity without fat-storing organelles have a more uniform organization of mitochondrial networks and were more reliant on other energy sources to support cell growth.
This study was the first to analyze the connection between the structural organization and activity of mitochondria in a whole tumor in living animal models, said David Shackelford, an associate professor of medicine.
This discovery is significant because it was done in cells taken from an animal's body, Han said. Previous studies have used cells grown in artificial conditions such as a tissue culture dish, which may not look and behave like cells from an animal's body, Han said.
The authors generated a map of mitochondria in the lung cancer cells of mouse models by combining various imaging technologies, according to the study.
The study dealt with image data involving hundreds of cells, said Alex Wong, an assistant professor of computer science at Yale University and co-author of the study.
Wong added that to process the data, it was necessary to identify the parts of the cell in the image. However, if this was done manually, it would have taken approximately 11 years, Han said.
Instead, to analyze the data, they developed an artificial intelligence network that identified the different cell parts, Wong said, adding that the technology was the first of its kind to create a 3D visualization.
The 3D visualization allowed the researchers to identify differences in the organization of mitochondria between subtypes of lung cancer cells that were not as apparent from 2D images, Han said.
This work has started to build a greater understanding of the relationship between structure and function of lung cancer cells and illuminates how the large energy demands of cancer cells lead to specific organizations of their cell parts, Shackelford added in a written statement.
The workflow developed for this study could also be used in the analysis of cell parts and function in researching other diseases, Han said.
The difference in what energy source these different types of cancer cells use may have implications for cancer treatment, Han added. Future research could explore the effect of combining standard therapies for cancer, such as chemotherapy, with controlling patients' diets, she added.
"Our findings hold promise to inform and improve current treatment strategies while illuminating new directions from which to target lung cancer," Shackelford said in an emailed statement.