Opinion: Flipped classrooms create counterproductive learning environment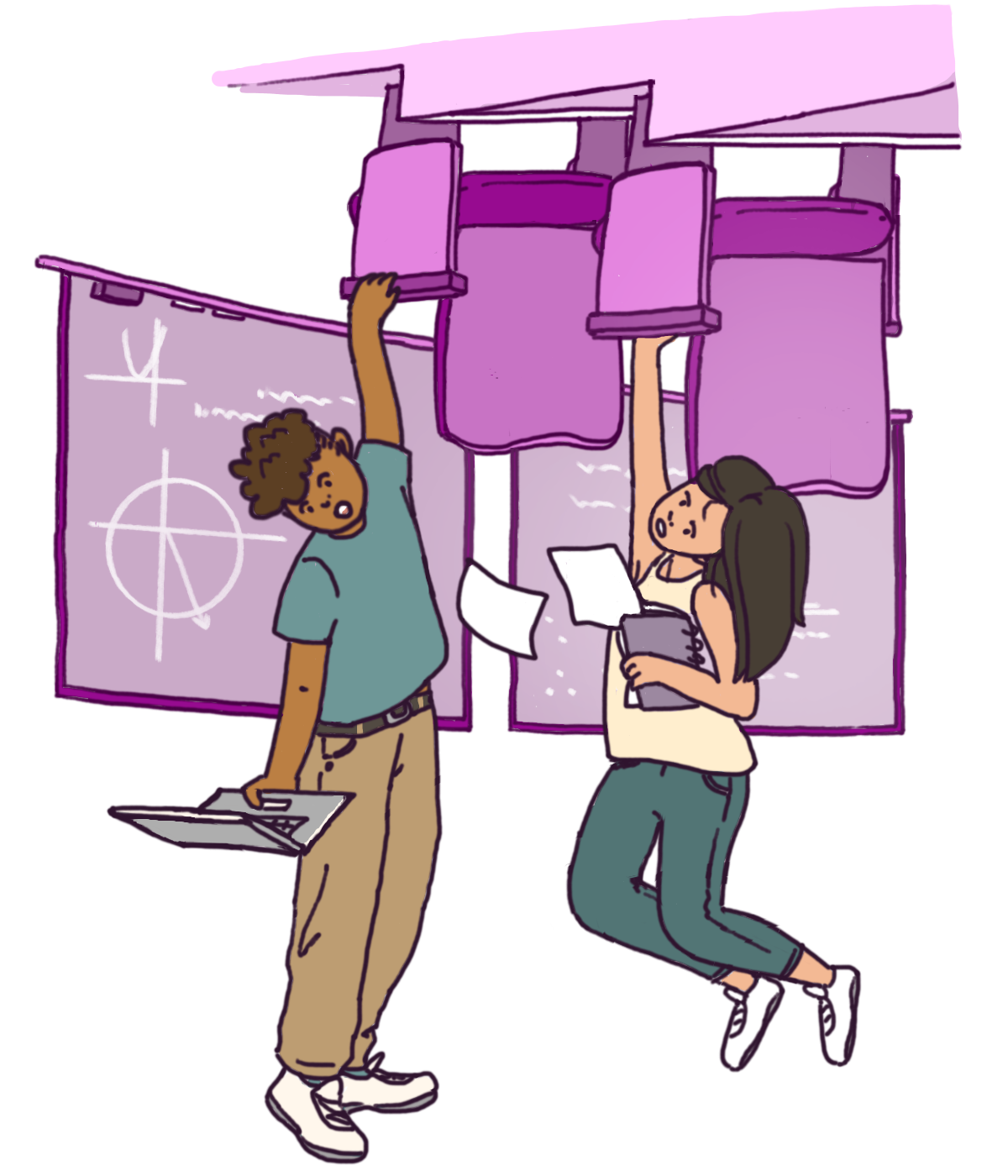 Flipped classrooms are the antithesis of UCLA's mission to provide a high-quality education.
Flipped classrooms, a new method of learning in which students learn course content independently at home and master more difficult concepts in class discussions, are being implemented frequently into many course curricula. In a flipped classroom environment, professors focus more on active learning, which involves reflection, group work and problem solving, rather than lecturing for an hour straight.
Because all required readings and lecture videos must be watched prior to attending class, students who take flipped classroom courses at UCLA can expect to learn material at a faster pace than usual. However, this process can prevent students from learning effectively: The tradeoff means students may lack thorough understanding of the material.
While professors see the merit behind this method, students are left feeling unsupported, unwelcome and isolated because of the counterproductive learning environment.
In an already large institution of almost 32,000 undergraduate students, flipped classrooms only exacerbate the difficulty for students to interact closely with professors who provide less direct instruction and support, especially in smaller upper-division courses.
In addition, this lecture style proves to be a highly unfavorable transition for many first-year and transfer students who are still adjusting to university life, adding the stress of adapting to a flipped classroom environment rather than the regular lecture styles used in most high schools and community colleges.
"I feel like in a flipped classroom, they expect you to teach yourself most of the stuff, and they don't prepare you (for) any tests or any exams because they don't give you homework," said first-year psychobiology student Zainab Ibrahim.
If direct instruction is not provided, students cannot be expected to learn new and challenging material. Students pay thousands of dollars for tuition each quarter – and we expect to learn from professionals, not from what may essentially be the equivalent of YouTube videos.
The Life Sciences 7 series, which uses the flipped classroom method, requires students to learn complex material by themselves with minimal guidance from professors and teaching staff.
As the in-classroom work mainly focuses questions through iClicker – an online platform that tests students' knowledge of the readings and course material through multiple-choice questions – there is little to no room for clarification of challenging information. The flipped classroom method requires students to respond to difficult questions while receiving no explanation from the professor as they quickly move on to the next question.
If the purpose of the Life Sciences 7 series is to carry out our knowledge and learn the material by ourselves, students, at the very least, need effective preparation.
"The way they teach you – that's what makes it hard because they don't (actually) teach you," Ibrahim said. "They don't prepare you, so you're completely lost – that's why a lot of students don't do as well."
Many professors seem to have implemented the flipped classroom method based on scientific studies that show a more interactive learning environment is crucial for students' learning because of the active learning and problem-solving structure. The Life Sciences 7 series itself intends to implement active learning techniques for students to engage with material more closely than in regular lectures.
"For those professors who choose to use the flipped classroom approach, reasons for doing so include but are not limited to putting the focus on active learning," said UCLA spokesperson Katherine Alvarado in an emailed statement. "The benefits of different teaching styles and learning environments aren't always immediately apparent."
Chase Privett, a political science professor who uses the flipped classroom method, said undergraduate students are expected to watch lecture videos beforehand so they can learn all the material and process it on their own time. Then, they come into class to work on examples to help reinforce concepts they learned in those lecture videos, Privett added.
"The flipped classroom method definitely helped students hone their time management skills as they will potentially use them when they enter the workforce after graduating from UCLA," Privett said.
Privett added that flipped classrooms are going to be more effective and beneficial for students who are going to be taking notes throughout the class. On the other hand, Privett said the method doesn't work as well for students who might slack off.
Ultimately, active learning is a time-consuming process that holds more disadvantages than benefits for students. In a fast-paced quarter system that forces students to learn on their own time, flipped classrooms prove ineffective and unproductive for learning.
Professors have the responsibility to adapt their curriculums efficiently to support all students. We wish to take advantage of the knowledge of our professors at UCLA, not be forced to learn material ourselves.