Bidding farewell: The top five Jaime Jaquez Jr. moments with UCLA men's basketball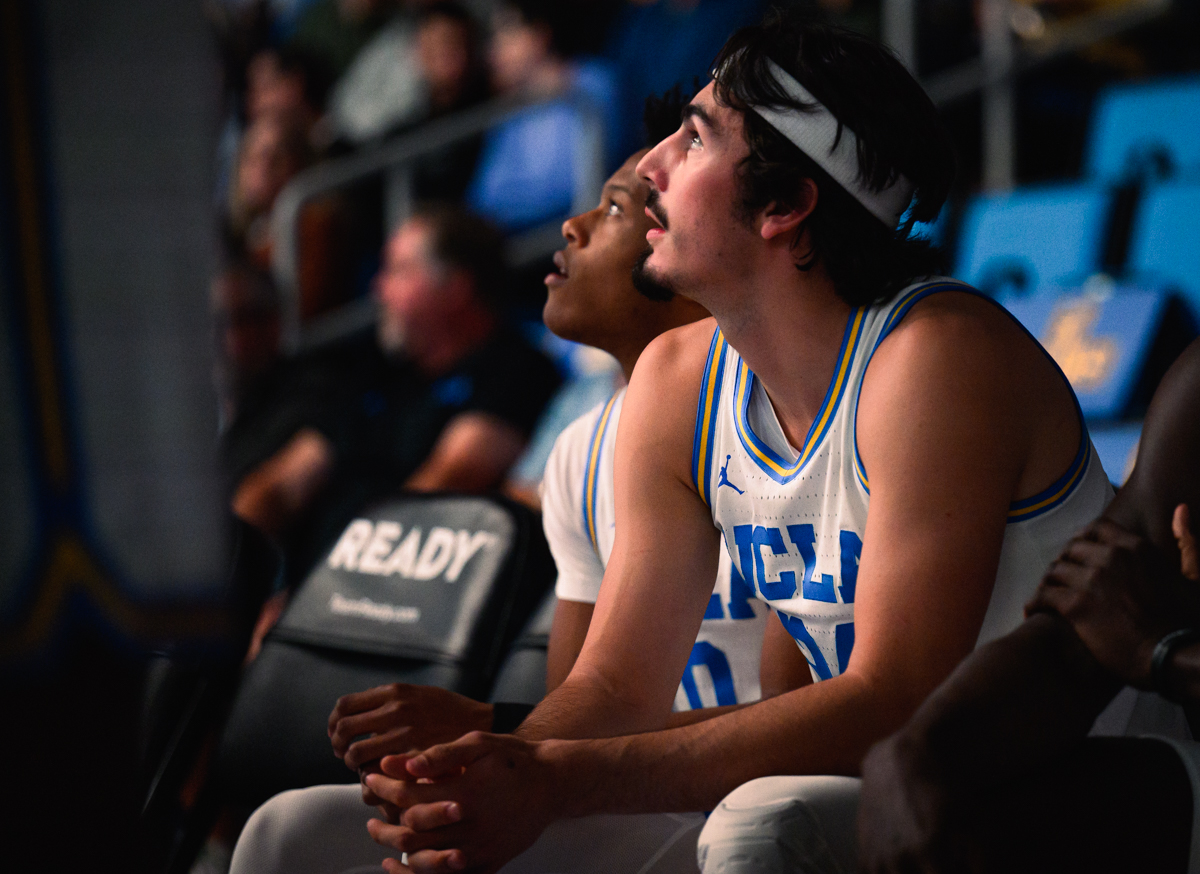 UCLA men's basketball senior guard/forward Jaime Jaquez Jr. looks to the jumbotron before a game. Jaquez declared for the 2023 NBA Draft on Thursday after four seasons with the Bruins. (Joseph Jimenez/Assistant Photo editor)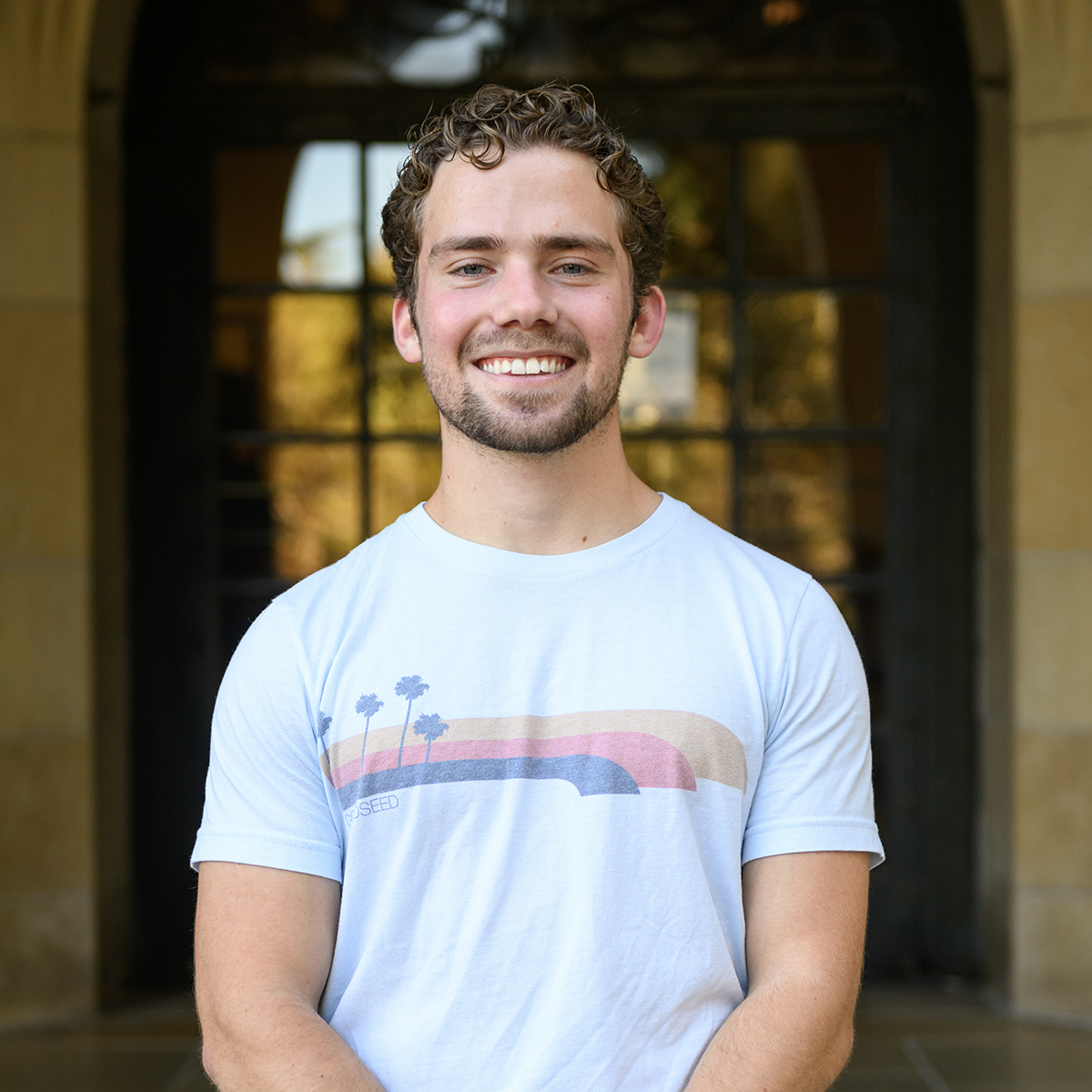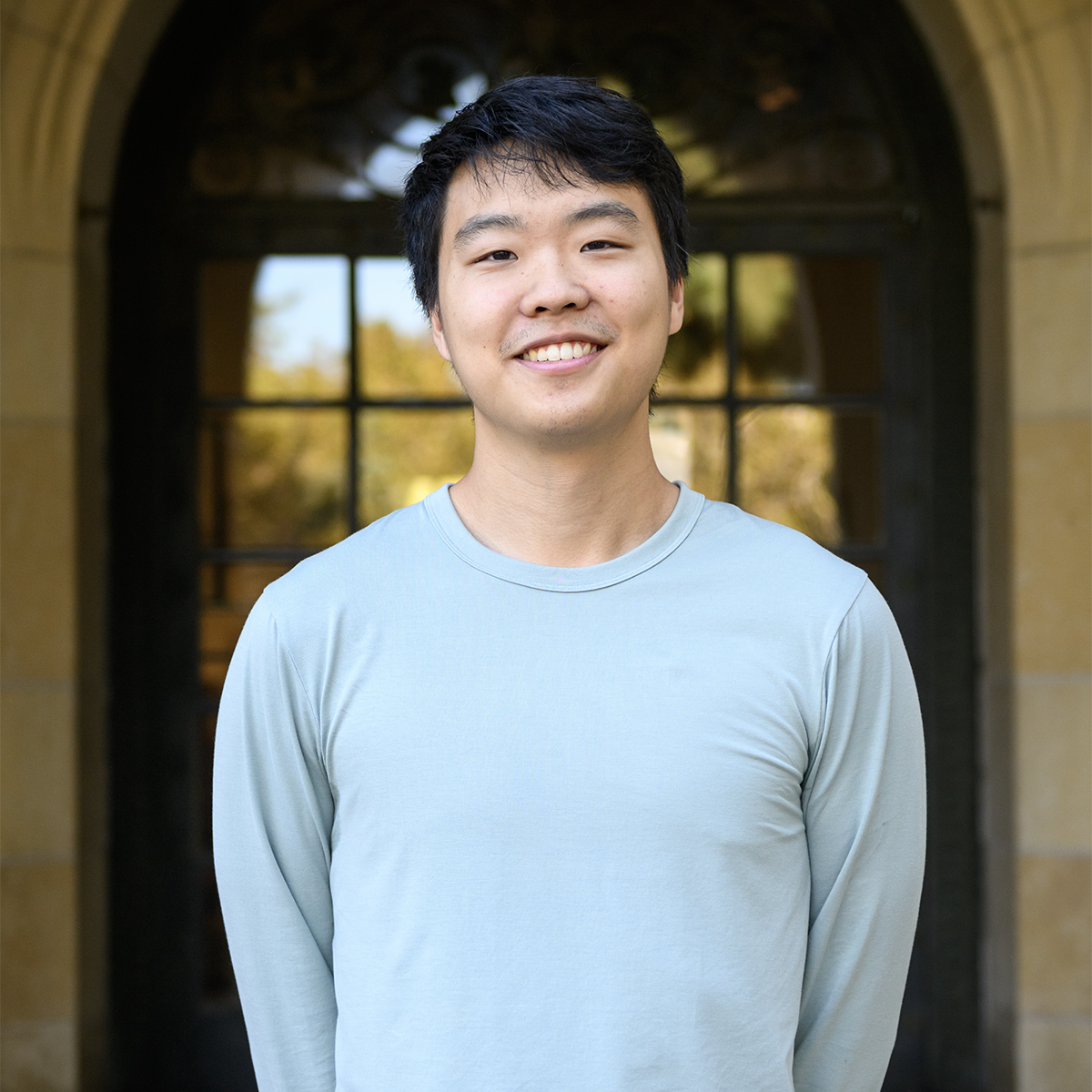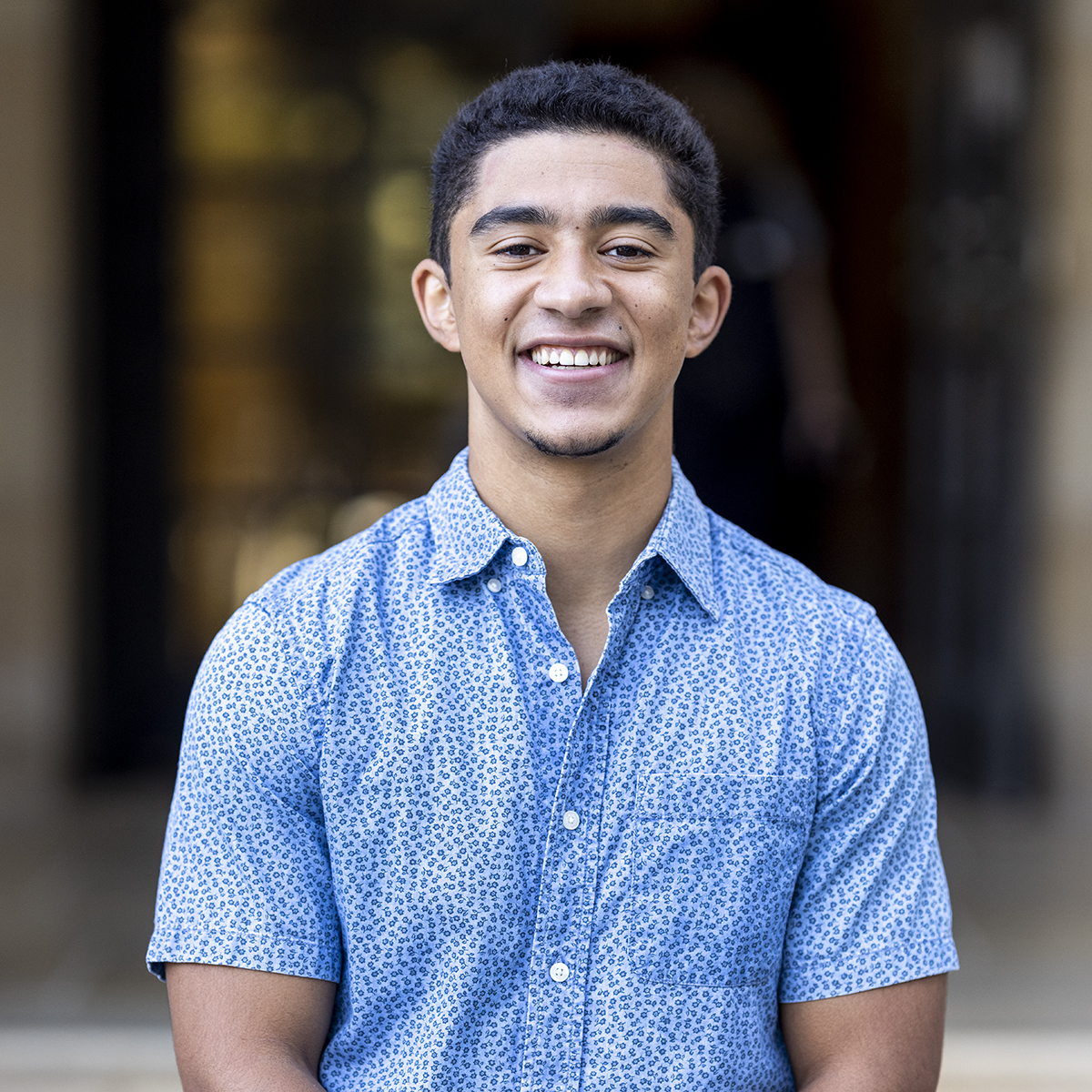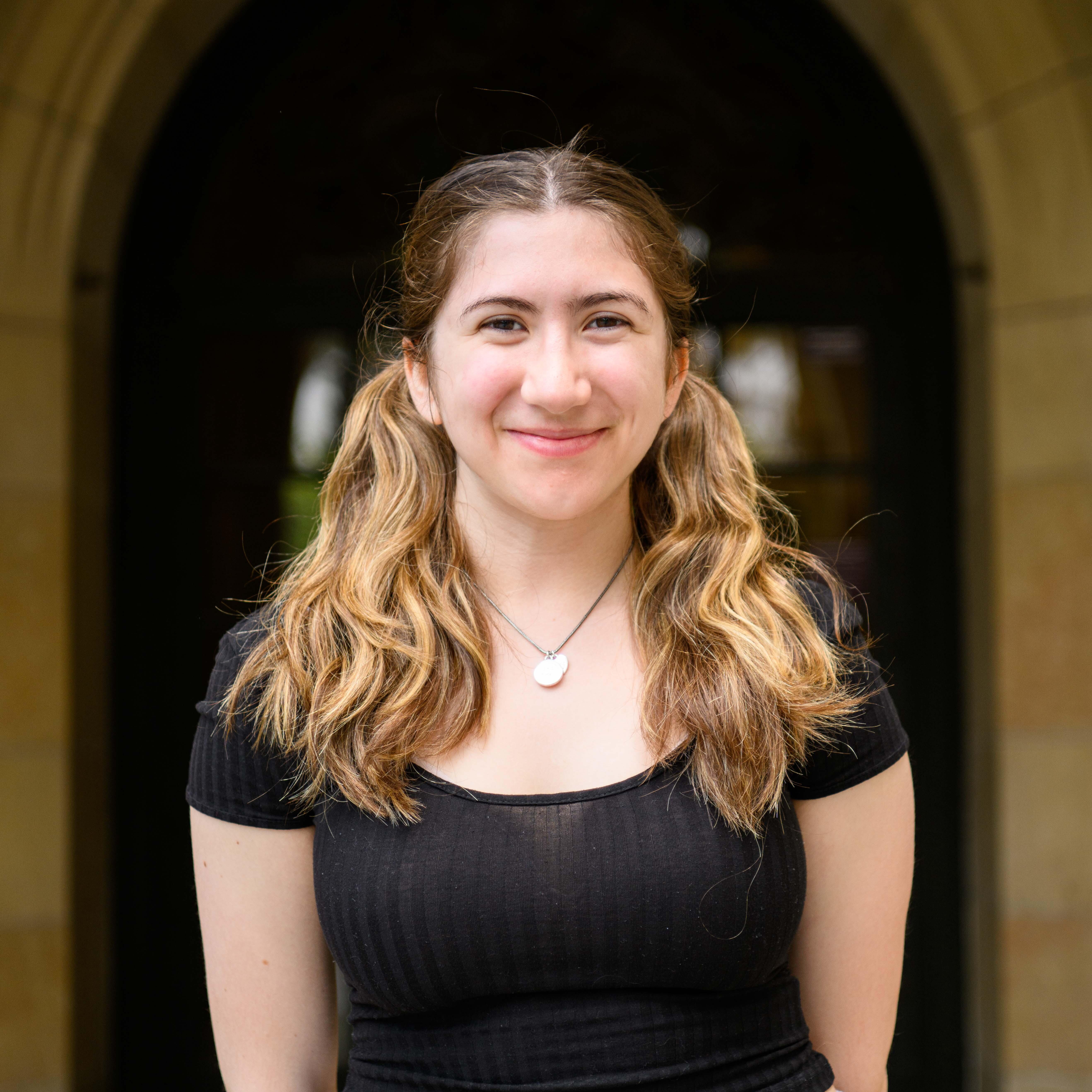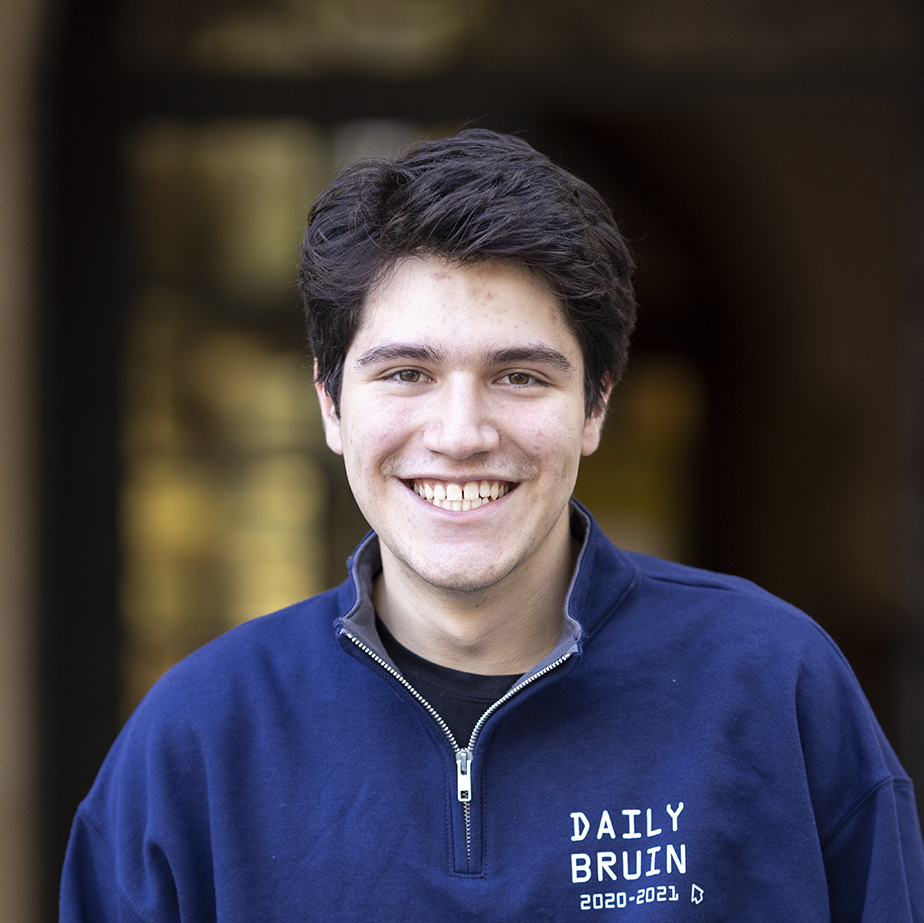 Correction: The original version of this article misspelled Jules Bernard's name.
This post was updated April 9 at 11:54 p.m.
Jaime Jaquez Jr. will go down as one of the top players in UCLA men's basketball history. With the senior guard/forward declaring for the 2023 NBA Draft on Thursday and officially bidding Westwood goodbye, Daily Bruin Sports takes a look back at Jaquez's top five moments donning the blue and gold.
Game-winning 3 over Arizona State in 2020
Jaime Jaquez Jr. was no generational recruit.
He might've been a high school star and a contender for a starting spot as a true freshman, but he certainly wasn't expected to be a one-and-done superstar either.
Jaquez played sparsely in his first few games for the Bruins, picking up limited minutes off the bench six contests into the season. It wasn't until he poured in 17 points on 8-of-11 shooting against Division II Chaminade that he found a spot in the starting lineup.
From there, he never looked back.
The freshman started the next 22 straight games for UCLA, but it was a Bruin team that struggled to stay above .500 for much of the regular season. An 18-point loss to Arizona State in Tempe dropped UCLA to 12-11 on the season, with Jaquez scoring just five points – his lowest total since entering the starting lineup.
But Jaquez and the Bruins would get the last laugh.
UCLA proceeded to rip off five straight wins in Pac-12 play to set up a rematch with the Sun Devils.
With 16 seconds left, neither team could separate. It was a 72-72 deadlock as then-redshirt freshman guard Tyger Campbell brought the ball up the court for the final possession. Jaquez had played all but one minute to that point but had scored just 10 points on 3-of-5 shooting.
The Bruins, however, trusted their freshman.
Campbell tried to shake his defender before dumping the ball off to Jaquez and setting a screen to free some space. Jaquez took one dribble to his left and launched from beyond the arc. The shot didn't even graze the rim as 0.6 seconds were left on the clock.
The game-winning 3 sent Pauley Pavilion into a frenzy and launched UCLA, against all odds, into a tie for first place in the Pac-12 standings.
Just like that, Jaquez had become a household name in Westwood. And the legend would only continue to grow from there.
-Sam Settleman
First Four victory over Michigan State in 2021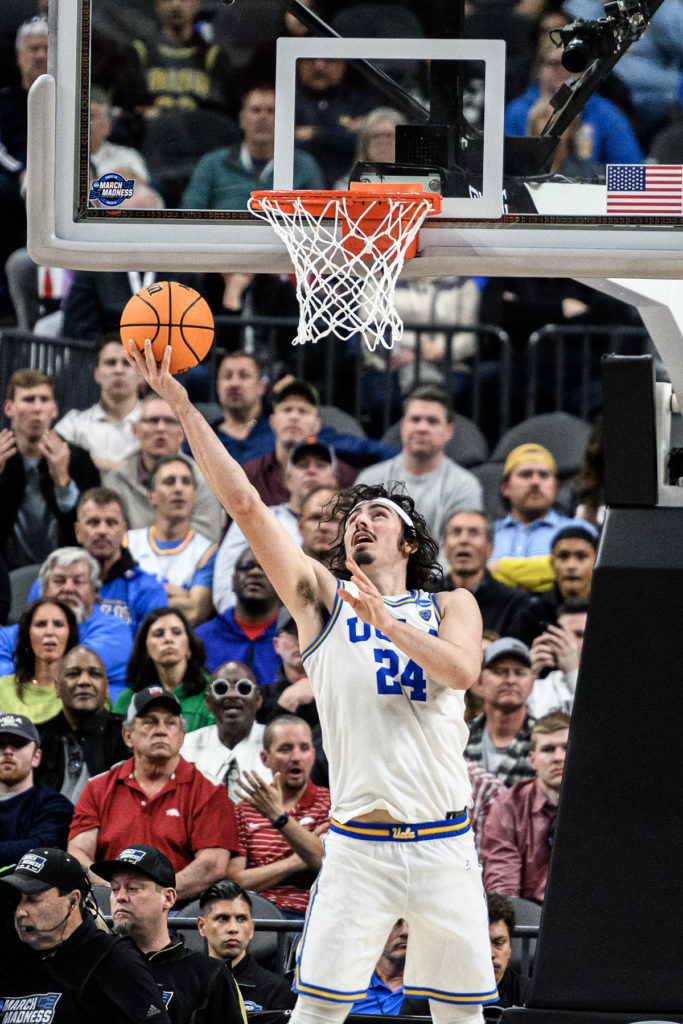 The Bruins hadn't appeared in the first round of the NCAA Tournament in four years, the program's longest such drought in almost four decades.
A quarterfinal loss to Oregon State in the 2021 Pac-12 tournament marked four straight defeats for UCLA heading into its second-ever First Four, signaling the possibility of another forgotten season.
Jaquez, making his March Madness debut, made sure that didn't happen with the greatest performance of his four-year career in Westwood.
The then-sophomore put the nation on notice with a game- and then-career-high 27 points against Michigan State in an overtime win, knocking down 3-of-4 shots from long range – also tying a career high – and shooting 11-of-20 overall. Jaquez also recorded four rebounds, two assists and a block, but his impact went far beyond the box score.
On the court for all 45 minutes of the overtime contest, Jaquez accounted for eight of the team's first 10 points to answer a quick run from the Spartans and take its first lead of the game. The Bruins' season soon looked to be in jeopardy, however, with Michigan State controlling the rest of the half.
Two baskets from Jaquez helped keep his team's deficit at a manageable 11 points heading into the second period, though it was now or never for UCLA to figure things out.
The blue and gold trailed by single digits for much of the second half, unable to get over the hump until a jumper from Jaquez trimmed the deficit to two with just over seven minutes to play, the closest it had been since the middle of the first half. After gaining the lead for the first time in the second frame, UCLA still found itself trailing in the final minute.
Jaquez showed he was up for the challenge, converting a crucial and-one to send the game to overtime – where the Bruins managed to pull away for an 86-80 victory and offer a glimpse of what was to come in their Final Four run.
For a storied program amid an uncharacteristic skid, the win offered a glimpse of hope at its return to national relevancy.
But as we know today, Jaquez and the Bruins were just getting started in that tournament.
-Francis Moon
Sweet 16 win over Alabama in 2021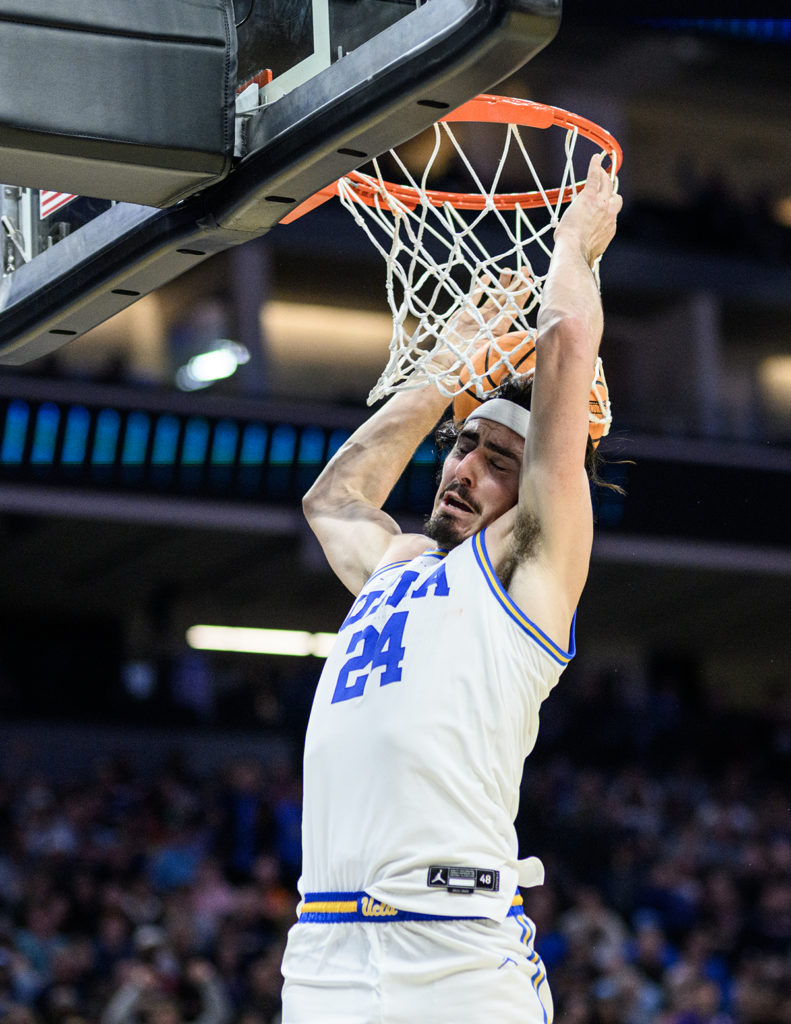 The Michigan State performance is what began Jaquez and the Bruins' magical run in March, but UCLA's win against No. 2 seed Alabama in the Sweet 16 is what made it feel legit.
The Bruins followed their win against the Spartans with a respectable victory against No. 6 seed BYU in the first round but then were gifted an easy win in the Round of 32 against an even lower-seeded Cinderella than UCLA itself in No. 14 seed Abilene Christian.
A win is a win, especially in the NCAA Tournament, but none of those wins were impressive enough for the majority of the public to believe the Bruins actually had a deep run in them. Beating a No. 14 seed doesn't move the needle much, so UCLA entered as a 6.5-point underdog in its matchup with the SEC regular season and tournament champions.
And yet, behind a Herculean effort from Jaquez, the Bruins pulled off their first large upset of the tournament in an overtime thriller.
Jaquez played all 45 minutes of the extended contest and tied Jules Bernard's 17 points to lead his team. He grabbed eight rebounds, had three steals and added a block as well.
Fellow March Madness star Johnny Juzang was in foul trouble all game long, so it was Jaquez who put the team on his back in key moments.
With Juzang watching from the bench after fouling out with two minutes left in regulation, Jaquez sized up a Crimson Tide defender with 1:40 left in overtime and less than five seconds on the shot clock.
Despite having played the previous 43-plus minutes, Jaquez drilled a stepback 3-pointer over two defenders to extend the Bruins' lead to 77-70.
It was an absolute dagger that sent his team to the Elite Eight.
In many ways, Jaquez's gritty performance that afternoon epitomizes what he was for UCLA men's basketball. The numbers weren't always flashy, but he would always give the Bruins everything he could in order to win.
That day, it meant playing the entire contest and hitting a big shot when it mattered most. Jaquez's play during that month will live forever in UCLA history.
-Gavin Carlson
Regular-season finale against Arizona in 2023
2023 wasn't the championship season Jaquez said he was looking for when he returned to Westwood.
But nevertheless, his senior campaign was capped off with a bang.
A 27-4 record before the postseason that led to a Pac-12 regular-season title. A consistently improving squad with the odds of receiving several Pac-12 individual accolades growing in likelihood. A packed Pauley Pavilion at every matchup.
But despite all the achievements he'd gathered so far, there was one obstacle left standing between him and a surefire bid for Pac-12 Player of the Year: Arizona's ​​Azuolas Tubelis. And, in front of a rowdy student section, Jaquez proved he deserved the title.
It wasn't always the case that men's basketball touted the wrap-around-the-Los-Angeles-Tennis-Center crowds of students trying to get in and the potential to go far in March. Despite not achieving his crowning goal of bringing title No. 121 to Westwood, Jaquez's tenacity filled the hearts of Bruin fans and brought the program's legacy back into people's minds. From $2 tickets his freshman season to sold-out crowds his senior year, Jaquez put the squad on his back.
And in his last game at Pauley Pavilion, he led the team to a trouncing of its biggest conference rival, all through setbacks and season-changing moments – and he did so with a smile.
And to cap it off, a jump into the student section to celebrate with those who had supported him for four years.
-Amelie Ionescu
2023 Sweet 16 loss to Gonzaga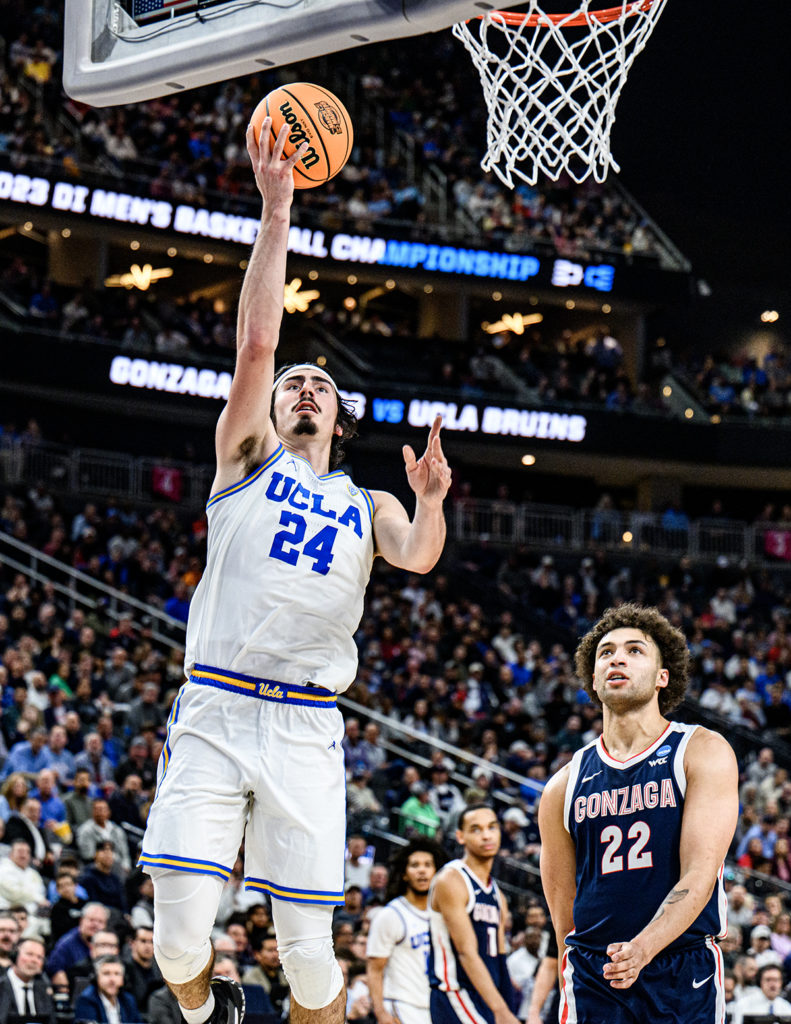 It wasn't Jaquez's quote-unquote "best" game. It wasn't his most dramatic. It won't be looked at as a shining achievement of his tenure. It wasn't even a win.
But Jaquez's performance in UCLA's Sweet 16 loss to Gonzaga was as meaningful as any other game he's played for the Bruins; if nothing else, it embodied exactly what Jaquez brought to the program.
He gave it his all, with every ounce of effort he had – just as he had in each of the previous 133 games.
UCLA, after leading for most of the game, was on the wrong end of an ugly collapse late in the second half, and Jaquez was laboring. He had helped extend the Bruins' lead to double digits early in the period but was understandably gassed after playing the game's first 28 minutes without a breather. The Bruins' offense, in tune, cratered, going more than 10 minutes without a made field goal.
Gonzaga stormed back and quickly went up by 10 with a little over two minutes to go. Jaquez and his team, seemingly, had nothing left. It should've been an unceremonious end to UCLA's 2022-2023 season, the finale of Jaquez's storied career.
But he deserved a better ending. Everybody knew it, Jaquez included.
So what did he do about it? He pulled up his bootstraps, put his head down and mustered every last ounce of effort for one last push.
And what a push it was. Jaquez attacked the basket not with finesse but rather through the desperate brute force of a senior who didn't want his career to end. It didn't matter who was in his way or if he even had an open shot. He was going to score.
Jaquez, on a pair of and-ones and another contested layup, scored eight points in the span of 41 seconds and single-handedly willed the Bruins back into the game. It should have been enough to keep UCLA's season – and his collegiate career – alive.
A flukey shot doesn't diminish what Jaquez did in his final game, though.
He gave it everything he had, and that will be his lasting legacy in Westwood.
-Jon Christon