April edition of First Thursdays introduces Arts Avenue to Westwood
Community members paint on a canvas as part of the Community Collaboration booth at First Thursdays' Arts Avenue. (Grace Wilson/Daily Bruin)
More than 3,800 Bruins and Westwood community members gathered for an artistic take on the First Thursdays block party to kick off spring quarter.
Live music, interactive community projects, food trucks and immersive art installations turned Broxton Avenue into Arts Avenue for April's edition of the community-oriented celebration.
Since its launch last year by UCLA and the Westwood Village Improvement Association, the monthly event has had more than 35,000 attendees with support from multiple campus and community partners.
The event amassed its largest crowd to date, said Jessica Wolf, UCLA director of arts communications and marketing.
She added that the event's goal was to show the broad reach of arts on campus and their importance to UCLA's community.
"We have students who are studying in our professional schools. We also have students who are artists in other places," Wolf said. "The arts are an important part of our campus life and an important part of our cultural life."
The event began at noon with the weekly Westwood Village Farmers Market and featured an upcycling and climate resilience advice booth. The event transformed into the block party at 7 p.m. with opportunities for students and community members to participate in music, poetry and making pop art, along with the event's other festivities.
The event also included an immersive art installation by media arts alumnus and artist Refik Anadol that commemorates the beauty of the earth and was designed to aid the community's collective renewal through the power of art after the COVID-19 pandemic.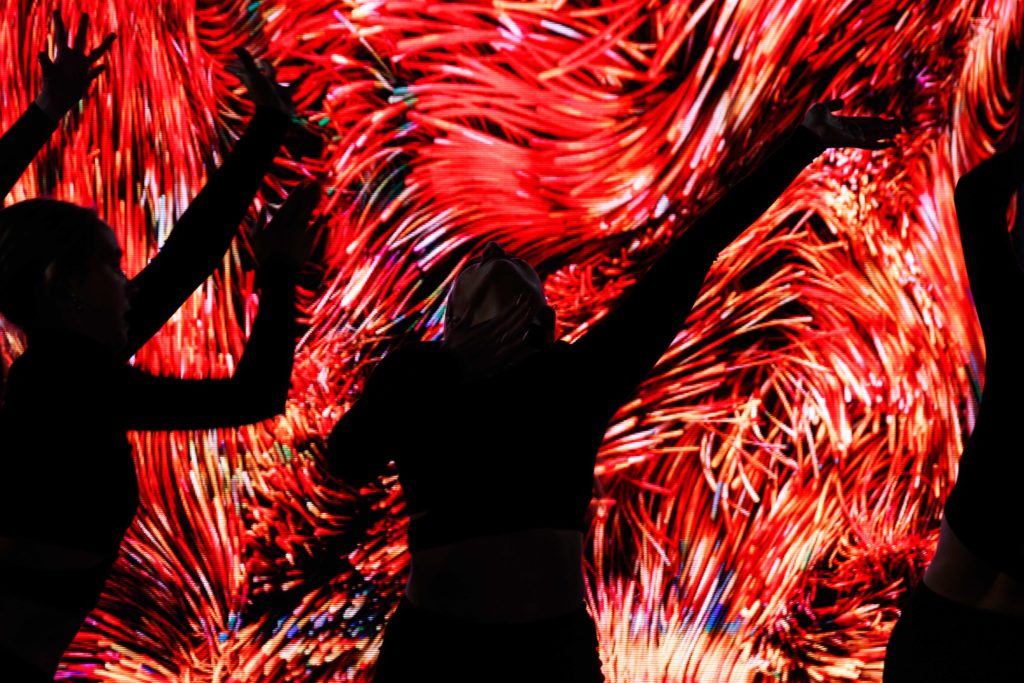 [Related: UCLA hosts art installation at sculpture garden to promote reflection on pandemic]
Students' artworks were also displayed throughout the event. Raven Vera Adair, a third-year global jazz studies student, said she was thrilled to have her paintings featured in numerous displays on Arts Avenue and to help students participate in making art at the Community Collaboration booth. The booth provided a space for Bruins and community members to come together to create a one-of-a-kind painting.
"I wasn't expecting this opportunity at all," Adair said. "It's great. It's an honor. I really hope to keep doing this more in and out of UCLA for the rest of my life."
Other booths included the Hammer Art Lab – hosted by the Hammer Museum – where artists of any skill could create their own artistic collage using pictures from its current installation "Particulates," which features fundamental elements of sculptures by artist Rita McBride. The Poetry Bureau was another station where custom poems were written for each guest by student poets from Student Committee for the Arts. Wolf said that the inclusion of poetry was to honor the literary arts for national poetry month.
Steven Bash, a third-year computer science transfer student, said he is a frequent visitor of First Thursdays events and was intrigued by the opportunity to have a customized poem made for him.
"(While) I'm not an art major, this really shows what other students are doing on campus and what life as a Bruin is like outside my major," Bash said. "It's helped me to connect with others and make new friends."
While students made their way to the collaborative floral installation titled "Art Blossoms" or went to paint their own gardening vessels at the DIY flower pots station, music inside the event tent was provided by fourth-year music history and industry student DJ Antonio Estrada. Outside on Broxton Avenue, live music was performed by student jazz ensemble Continuance and the Dalton Mumphrey Duo, both bands made up of global jazz studies students.
Dalton Mumphrey, a third-year global jazz studies student and member of both student bands, said he enjoyed the opportunity to be a part of First Thursdays and perform for the UCLA community.
"It was wonderful to see all the community around here and just be able to share music and joy and happiness," Mumphrey said.
Beyond featuring student artists, Arts Avenue also provided an opportunity for student entrepreneurs to take part in the spotlight. Student-owned and operated Cylinders Ice Cream Co. delivered freshly made rolled ice cream to the community throughout the night.
Finn Bradley, co-founder of the company and a second-year business economics student, said he came up with the idea to start an ice cream catering company last summer with two fellow students and pitched the business to UCLA, allowing his company to participate in First Thursdays.
"I know a bigger part of the UCLA community," Bradley said. "I love this school, … and coming here in and of itself is a dream to be able to be even more involved in the community."
As visitors made their way through the event, many also stopped at a memorial honoring Powell Cat, the late campus cat that had served as an unofficial campus mascot. The memorial consisted of a poster of Powell Cat featuring the winning design of the 10th annual university-wide T-shirt design contest created by third-year English transfer student Linsey Montgomery. Guests were provided with markers to sign the poster and write short messages to pay tribute to Powell Cat.
[Related: 'Love, personality, home': Bruin community remembers Powell Cat's life and legacy]
Wolf said the event provided students with opportunities to express their own creativity and admire the originality of other students and community members. Sierra Bledsoe, a third-year sociology student, said she enjoys the opportunities the event provides to be a Bruin outside of classes.
"It's like a different way for us all to connect on a different level other than just school, and it allows us to be in a more comfortable setting where we're open to talking to other people," Bledsoe said.
Contributing reports from Matthew Royer, city and crime editor.