Letter to the Editor: 'Thank you, Jaime,' for being the Mexican American representation UCLA needs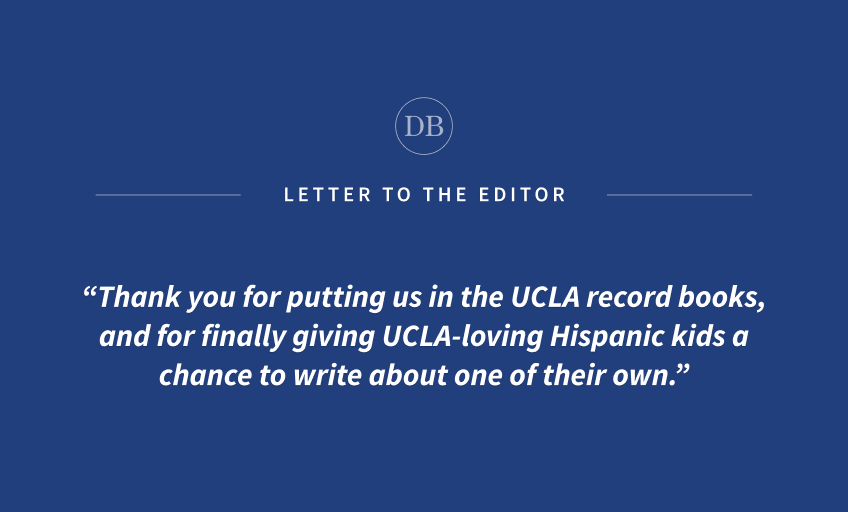 For those that may be wondering why some people feel the need to reference Jaime Jaquez Jr.'s heritage, I'd like to share something I typed from the heart.
As the child of Mexican immigrants, from the moment I was told I was born at the (Ronald Reagan) UCLA Medical Center, the university became my dream school.
Throughout middle and high school, my book reports were dominated by Bruin greats like (Kareem) Abdul-Jabbar, (Jackie) Robinson and (John) Wooden. The heritage of these childhood heroes never mattered until I actually attended UCLA and realized just how underrepresented Americans of Mexican or Hispanic heritage were. We were virtually nonexistent in Bruin academic and major sport athletic lore.
Twenty-plus years after graduating from my dream school, an American of Mexican heritage has not only been a big part of the team's success over the past four years but has represented our people with nothing but class and humility.
Thank you, Jaime.
Thank you for putting us in the UCLA record books, and for finally giving UCLA-loving Hispanic kids a chance to write about one of their own.
Roberto Reynoso is a Class of 1996 UCLA alumnus.