UCLA men's volleyball gears up for doubleheader against Grand Canyon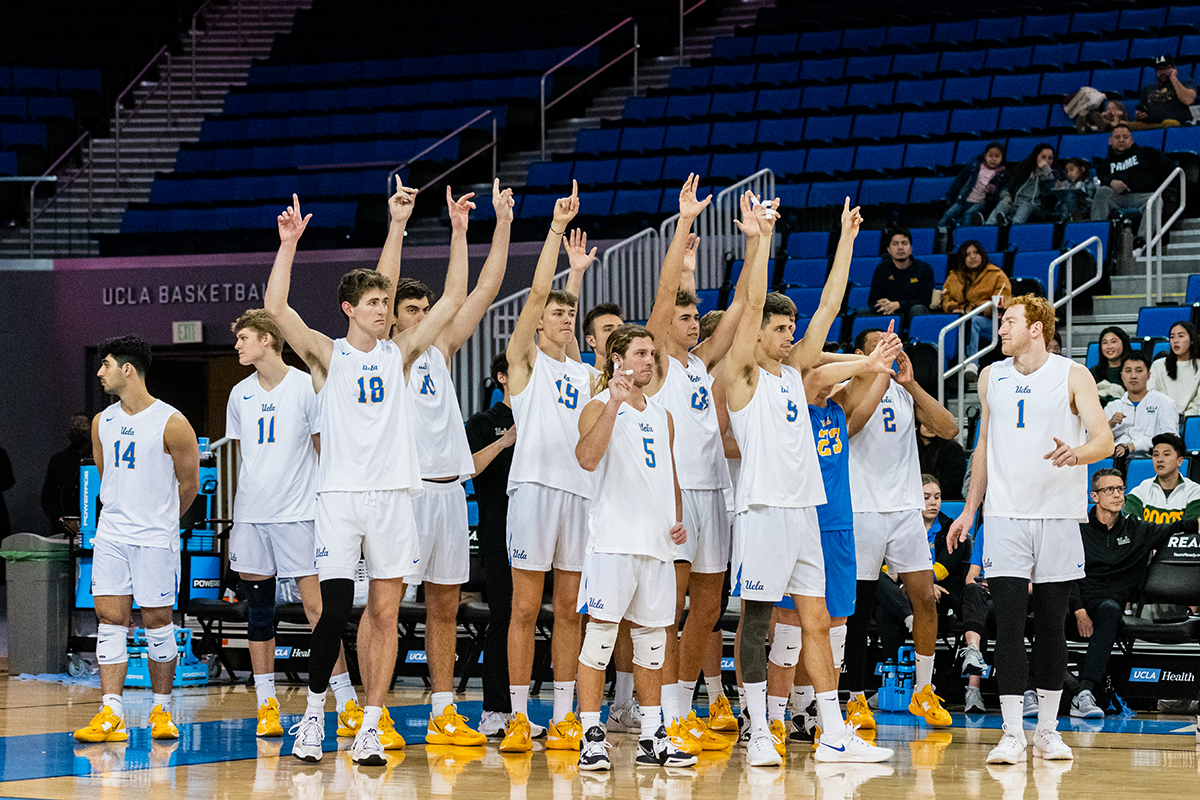 The team watches from the sidelines. (Amelie Ionescu/Daily Bruin senior staff)
Men's Volleyball
---
Grand Canyon
Friday, 6 p.m.
GCU Arena
ESPN+
---
Grand Canyon
Saturday, 4 p.m.
GCU Arena
ESPN+
After a 13-day hiatus from match play, the Bruins will return to the court.
Following a back-to-back clean sweep over No. 9 Stanford nearly two weeks ago, No. 2 UCLA men's volleyball (21-2, 6-0 MPSF) is gearing up for yet another doubleheader against No. 5 Grand Canyon (21-2, 6-2) at its opponent's home ground in Phoenix.
Despite two straight-set sweeps over the Antelopes last season, coach John Speraw recognizes the progress in the depth of Grand Canyon's team.
"This year, they have significantly improved," Speraw said. "I know they have returned some critical guys, but they have added depth in the middle and been able to move some players around. And they have had a tremendous season, so we know we have to play some of the best volleyball of the season, especially playing at their place."
Speraw added that he remains unconcerned with the two's recent matchups due to the opposition's ability to play with speed.
"They (Grand Canyon) stress teams with their ability to play fast, and so we are going to have to be ready for that and understand how to play that style," Speraw said.
The first of last season's doubleheader saw 14.0 blocks, with half coming from redshirt sophomore middle blocker Guy Genis who led the Bruins with a couple of block solos and five block assists.
This season, Genis has mustered 68 blocks already, 19 shy of his 2022 total. Genis ranks second in the NCAA with 1.375 in blocks per set.
On top of Genis' critical contributions on the defensive end, he acts as a leader on court who is indispensable towards the team's success, according to redshirt junior middle blocker Merrick McHenry.
"Guy not only is a fantastic blocker but I think he's a great leader out there," McHenry said. "He's a great volleyball player, but also adds a tangible value to the group."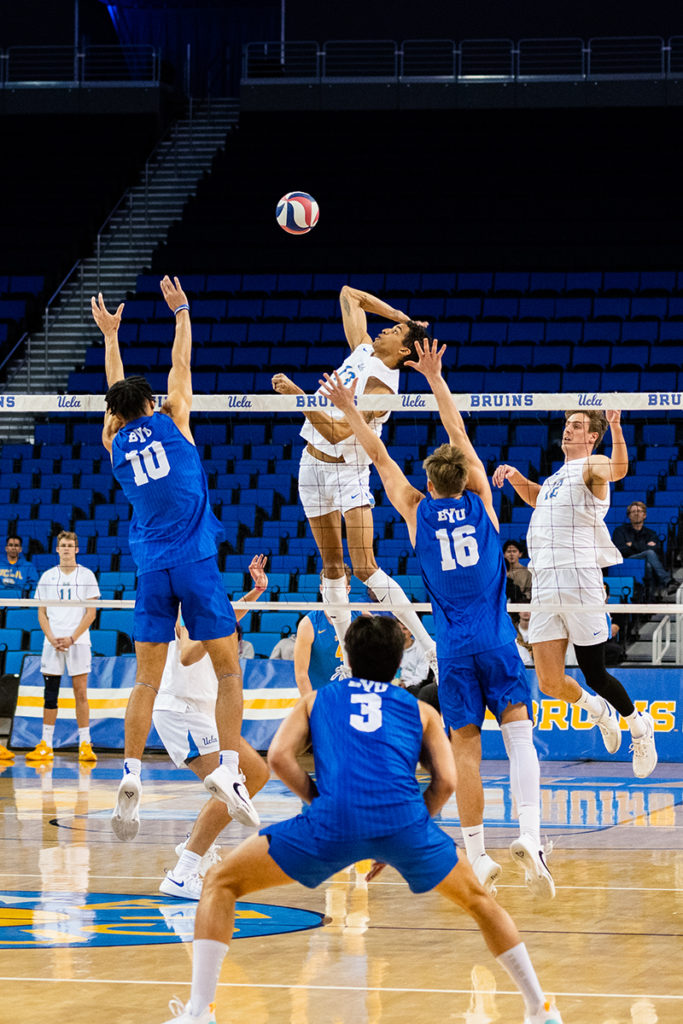 The Bruins' success at the block is accompanied by three double-digit figures from the service line in the last six games.
Both freshman setter Andrew Rowan and junior outside hitter Ethan Champlin are amongst the top 20 in service aces per set, with .459 and .431, respectively.
"Every one of our primary point scorers have been very important for us. Those have been Rowan and Champ (Champlin)," Speraw said. "They have scored a lot of aces for us and this attack has been very beneficial for us. Ethan's serves have really improved this year "
Aside from the aggressive attacking from Rowan and Champlin, McHenry returns from hitting an efficient .667 in the first game against the Cardinal, coupled with six blocks and five aces. He credits his team for his vital contributions on the offensive end.
"As a middle, I truly can't do anything without my passers and without my setters so I do owe it to them battling on the serves and getting passes for me," McHenry said. "I just want to keep doing better and doing more and doing my thing."
Heading into a top-five matchup this weekend, McHenry's multifaceted contributions are pivotal to the success of the blue and gold, Speraw said.
"He's done a great job blocking, he's attacking really well, when he's not attacking he makes the other team focus on him which opens up other guys," Speraw said. "He can dig, his serve has really improved and so he is an impact player in the league no question."
The Bruins serve off against the Antelopes on 6 p.m. on Friday and 4 p.m. on Saturday at GCU Arena.