Season-high-tying score sends UCLA gymnastics flying to regional finals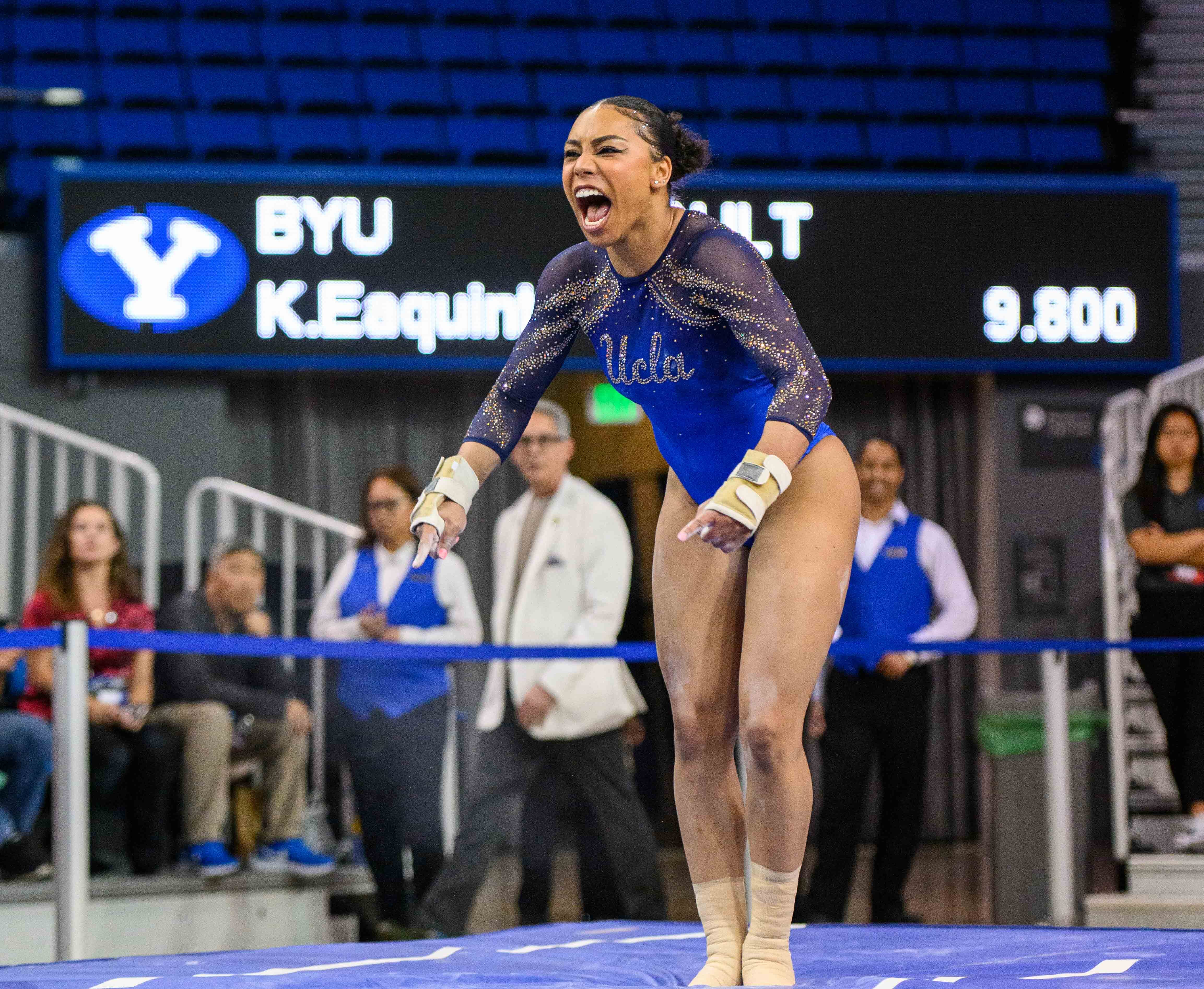 Redshirt senior Margzetta Frazier celebrates after her vault. Frazier set a career high with a 9.900 on vault as No. 4 UCLA gymnasts set a season high on the event en route to a first-place finish at the second semifinal of the NCAA Los Angeles Regional on Thursday night. (Jeremy Chen/Assistant Photo editor)
March 30, 2023 10:17 p.m.
Surrounded by their home fans, the Bruins put up a season-high-tying performance en route to a first-place finish at their regional.
"I forgot we were at regionals," said redshirt senior Margzetta Frazier. "Because it just felt like another competition."
No. 4 UCLA gymnastics made a statement in the second semifinal of the NCAA Los Angeles Regional on Thursday night in Pauley Pavilion, as it tied its season-high score with a 198.275. That score helped the blue and gold finish first, ahead of No. 14 Missouri, No. 20 Stanford and Boise State – with the Bruins and Tigers moving on to the regional final Saturday.
The Bruins kicked off their home regional on a high note, as they scored a season-high 49.675 on beam.
That mark represented the fourth-highest score in program history on the apparatus, as UCLA was led off led by sophomore Emily Lee's 9.900 and freshman Ciena Alipio's 9.925.
Closing out the rotation were three more 9.900+ scores, including back-to-back 9.975s from freshman Selena Harris and sophomore Emma Malabuyo.
"We have some really amazing competitors on our team, … so I know that they rise in the big moments, and they don't shy away from them," said coach Janelle McDonald.
Next, the Bruins' floor party marked the return of sophomore Brooklyn Moors, who scored a 9.925 for UCLA with her first competitive routine of the season. Moors was not initially slated to be in the floor lineup, but was a late substitution on the event for Malabuyo.
"(It felt) fantastic. I've been working so hard just to recover and get my skills back," Moors said.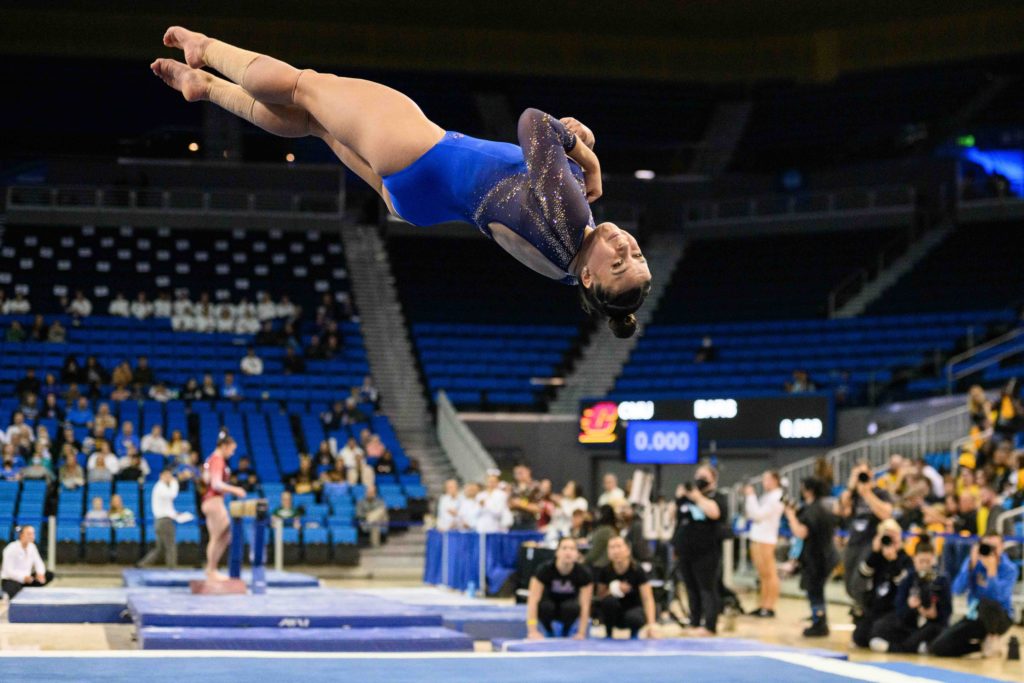 Following Moors, Frazier put up a 9.825, while Harris and junior Chae Campbell scored matching 9.900s.
Closing out the rotation, sophomore Jordan Chiles scored a 9.950, allowing the Bruins to sit comfortably at the top of the leaderboard with a 99.175 through two rotations.
Coming into the postseason, vault had been an area of concern for the Bruins as their worst event. However, that was not the case Thursday night, as UCLA posted its highest score of the season on the apparatus by a full tenth with a 49.575.
"We've been working really hard in the gym, so I felt like today the vaults just came together," McDonald said. "They went really aggressive on them, but they were also really present for their landings."
The vault rotation was kick-started with a career-high 9.900 by Frazier, followed by two additional 9.900s from both Moors and Harris. Campbell kept the momentum going for the blue and gold when she scored a perfect 9.950 after sticking her Yurchenko full.
Frazier said in the last few weeks she has been able to get back to consistent training on vault, allowing her to hit a career-best mark Thursday.
"I'm a numbers person. And I've had the privilege to get the numbers in practice, no matter how many times it hurts," Frazier said. "That just comes with the reps and the numbers and working hard in the gym."
Finally, Chiles anchored the Bruins, putting up a 9.925 going into the final rotation of the meet. The season-high showing once again allowed UCLA to remain in first place as it finished its third apparatus with a 148.750 and a commanding lead over second place.
Finishing strong, the Bruins moved to bars, where they were consistent with their scoring. The 49.525 on the final event was highlighted by Chiles' near-perfect 9.975 on the apparatus to close out the meet.
With the first-place finish, UCLA will move on to compete in Saturday night's regional final, where it will face familiar Pac-12 opponents No. 5 Utah and Washington as well as Missouri. A top-two finish would send the Bruins to the NCAA championships for the first time since 2019.
"Our slogan this week has been 'No regrets,'" Moors said. "We were really proud of ourselves just for stepping up, and we said, 'We got today done.'"