Scouting report: UCLA softball vs. Stanford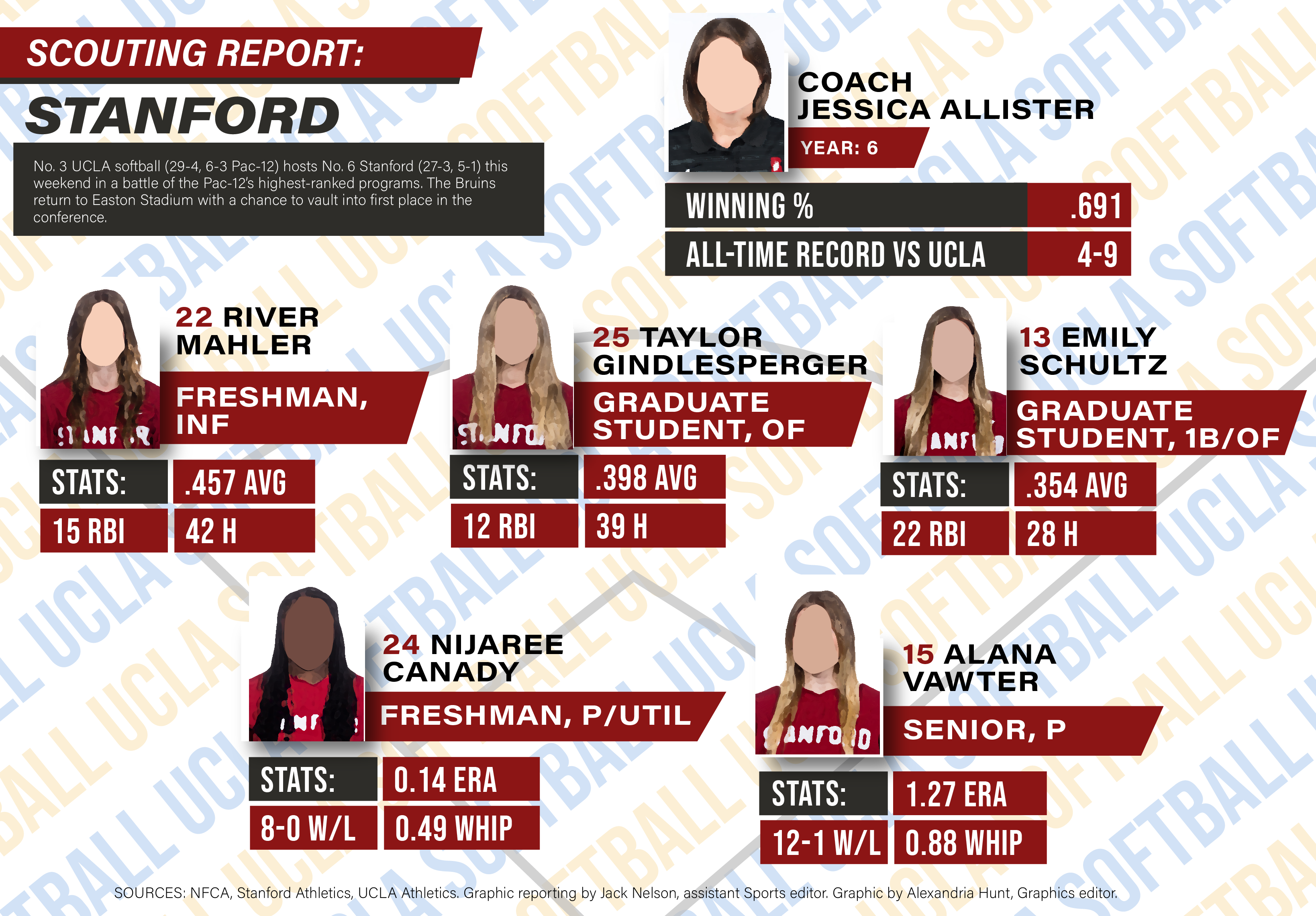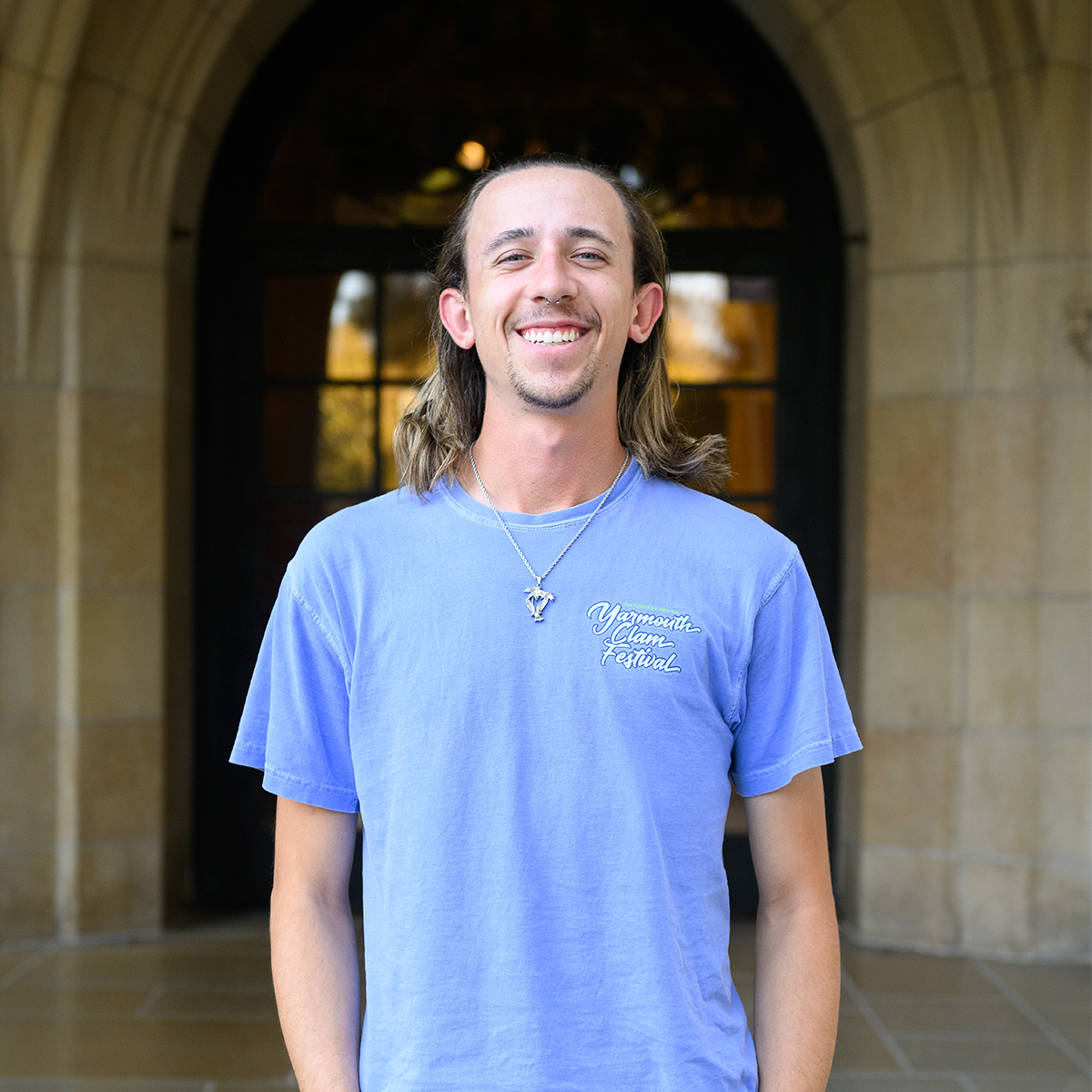 The second home series of conference play for No. 3 UCLA softball (29-4, 6-3 Pac-12) places it in a heavyweight bout with the Pac-12's other top dog – No. 6 Stanford (28-3, 5-1). The Bruins can dethrone the Cardinal for first place with a series victory, while the latter has the chance to create some distance between itself and one of the conference's top contenders. Here is this week's scouting report from assistant Sports editor Jack Nelson – who is writing from his lonely dorm room while other students go on crazy adventures for spring break.
Stanford Personnel:
Position Player to Watch: INF River Mahler
Pitcher to Watch: RHP NiJaree Canady
X-Factor: OF Caelan Koch
Stanford Statistics:
Batting Average: .320 (No. 19 nationally, No. 4 Pac-12)
Earned Run Average: 1.29 (No. 4 nationally, No. 1 Pac-12)
Fielding Percentage: .986 (No. 2 nationally, No. 1 Pac-12)
The Bruins will face the most lethal pitcher in college softball this weekend.
There's no other way to put it.
Pitcher/utility NiJaree Canady has taken the sport by storm in year one at Stanford, leading the nation with a 0.14 ERA and 1.91 hits allowed per seven innings. Up until her last outing against Oregon on March 18, Canady hadn't allowed a run across 13 appearances.
The freshman's scorching start to her collegiate career currently boasts six shutouts – tied for third most in the country – and only two extra-base hits surrendered, neither of which were home runs. The most hits given up by Canady in a single outing? Three, on just two occasions.
The prospects of this matchup don't get much more appealing for UCLA when looking deeper into Stanford's starting rotation.
With 75 strikeouts against five walks, senior pitcher Alana Vawter has cultivated the nation's top strikeout-to-walk ratio. The veteran has averaged less than half a walk per appearance across 15 outings in the circle for the Cardinal, also making her the country's leader in walks allowed per seven innings.
Vawter has been about as efficient as can be. She challenges opposing batters to take hack after hack knowing that balls are a luxury when she's at work. Though not a strikeout machine – as evidenced by her national standing just outside the top 100 – Vawter hasn't needed to be in order to minimize baserunners. Look no further than her 1.27 ERA, a better mark than any member of UCLA's No. 10-ranked pitching staff.
Together, Canady and Vawter form perhaps the most menacing one-two punch in all of college softball. However, Stanford's strength doesn't end with the dynamic duo, as the pair is backed by fielders who evidently share their passion for starving prospective scorers.
Stanford's second-ranked fielding percentage should tell UCLA hitters all they need to know – expect to be given nothing and work for everything. Fielding errors cascading into extra-base hits is not the kind of flaw that undermines the Cardinal's gameplan as it does to many poorly-disciplined defenses.
There are 16 shutouts on the Cardinal's resume thus far, including a stretch from March 1 to 10 where it outscored eight opponents 58-0. The blue and gold boasts 12 shutouts of its own but places ninth in the category below Stanford's third-place mark.
As a whole, it's difficult to find a knock against what, by nearly every metric, is a very defensively-sound team.
The only real criticism arises when looking at the opponents that constitute Stanford's strength of schedule.
Five different ranked opponents have shaped up against Stanford, and three of them have come out on top – then-No. 1 Oklahoma, then-No. 16 Duke and then-No. 20 Oregon, slating it at a collective 5-3 against opponents ranked in the USA Today/NFCA coaches poll.
Though there are some respectable victories there, it's a record that falls short against UCLA's 10-3 mark.
There's also uncertainty surrounding Canady's availability for this weekend, as she hasn't appeared in any of her team's five games since her aforementioned outing nearly two weeks ago.
On the offensive side of the ball, a lineup headlined by consistency supports Stanford's stellar defense.
Six Cardinals have started in all 31 of the program's contests so far, and only two among all eligible players have failed to do so. Freshman infielder Jordan Woolery and sophomore utility Savannah Pola are the only two Bruins who can say the same.
There is a glaring lack of power in this Stanford lineup, but it is well-balanced. Among eligible players, six have yet to crack a home run on the season. Five possess an on-base percentage over .400 while all eight have at least 12 RBIs.
Infielder River Mahler has proven to be the Cardinal's most imposing offensive force, leading the team with a .463 batting average, 1.047 on-base plus slugging and 44 hits. For all that hitting prowess though, the freshman has also been prone to striking out, as her 16 Ks on the season place her second among her peers.
And though Stanford doesn't rely on the long ball to put up crooked numbers, it has looked to Caelan Koch when in need of just that. The junior outfielder's five home runs – making up nearly half of the team total – are worth being wary of, but she also strikes out more than other Cardinals.
UCLA's offense has gone cold on multiple occasions in Pac-12 play, with one game dropped to each of its first three conference opponents.
And if it can't find a way to break through against Stanford's daunting arms, there may be more than conference growing pains at play.
Nelson is currently an assistant Sports editor on the softball, men's tennis and women's tennis beats. He was previously a contributor on the men's tennis and women's tennis beats.
Nelson is currently an assistant Sports editor on the softball, men's tennis and women's tennis beats. He was previously a contributor on the men's tennis and women's tennis beats.