UCLA gymnastics postseason predictions 2023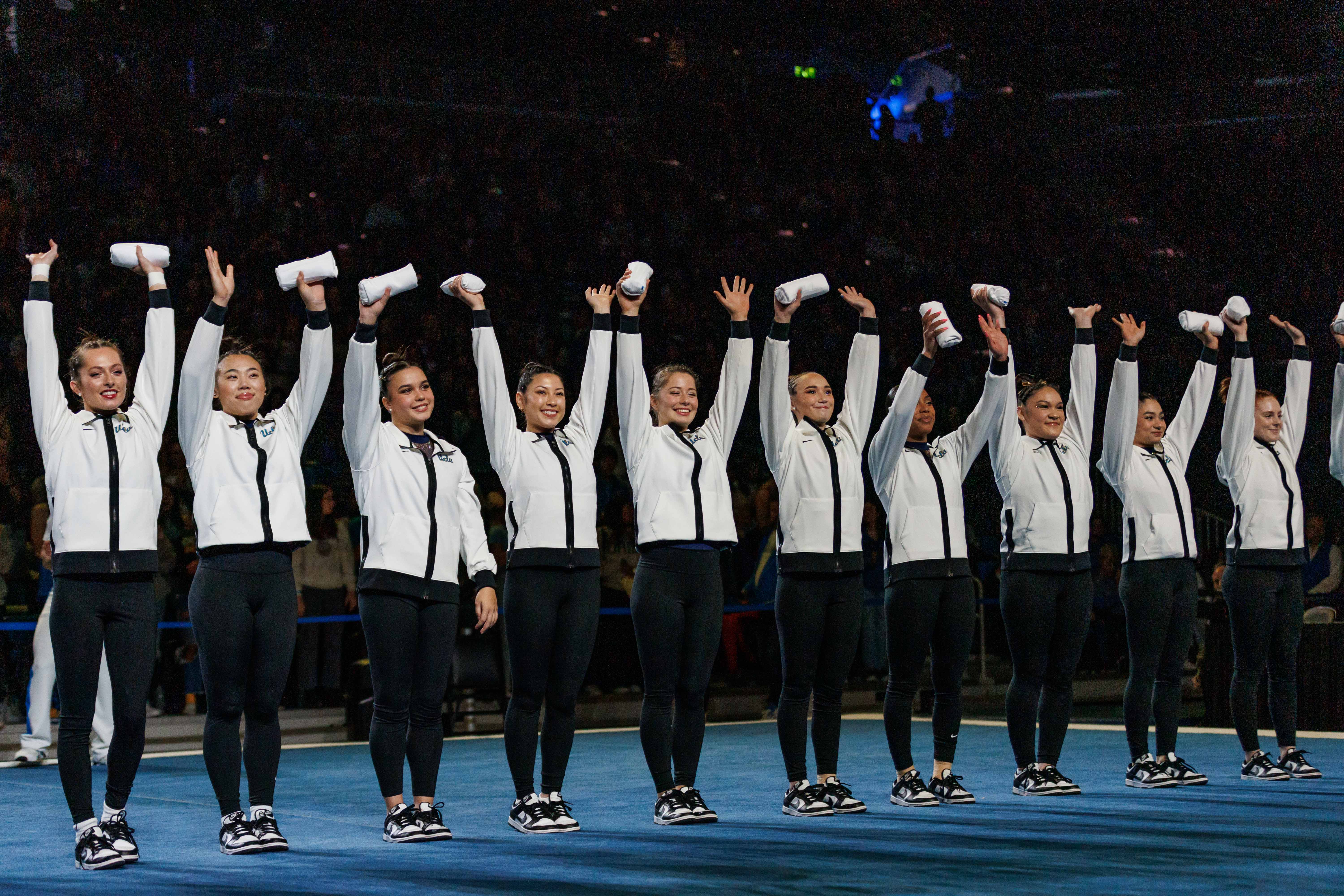 UCLA gymnasts line up prior to a meet in Pauley Pavilion. The Bruins will have a chance to qualify for the NCAA championships this season for the first time since 2019. (Anika Chakrabarti/Photo editor)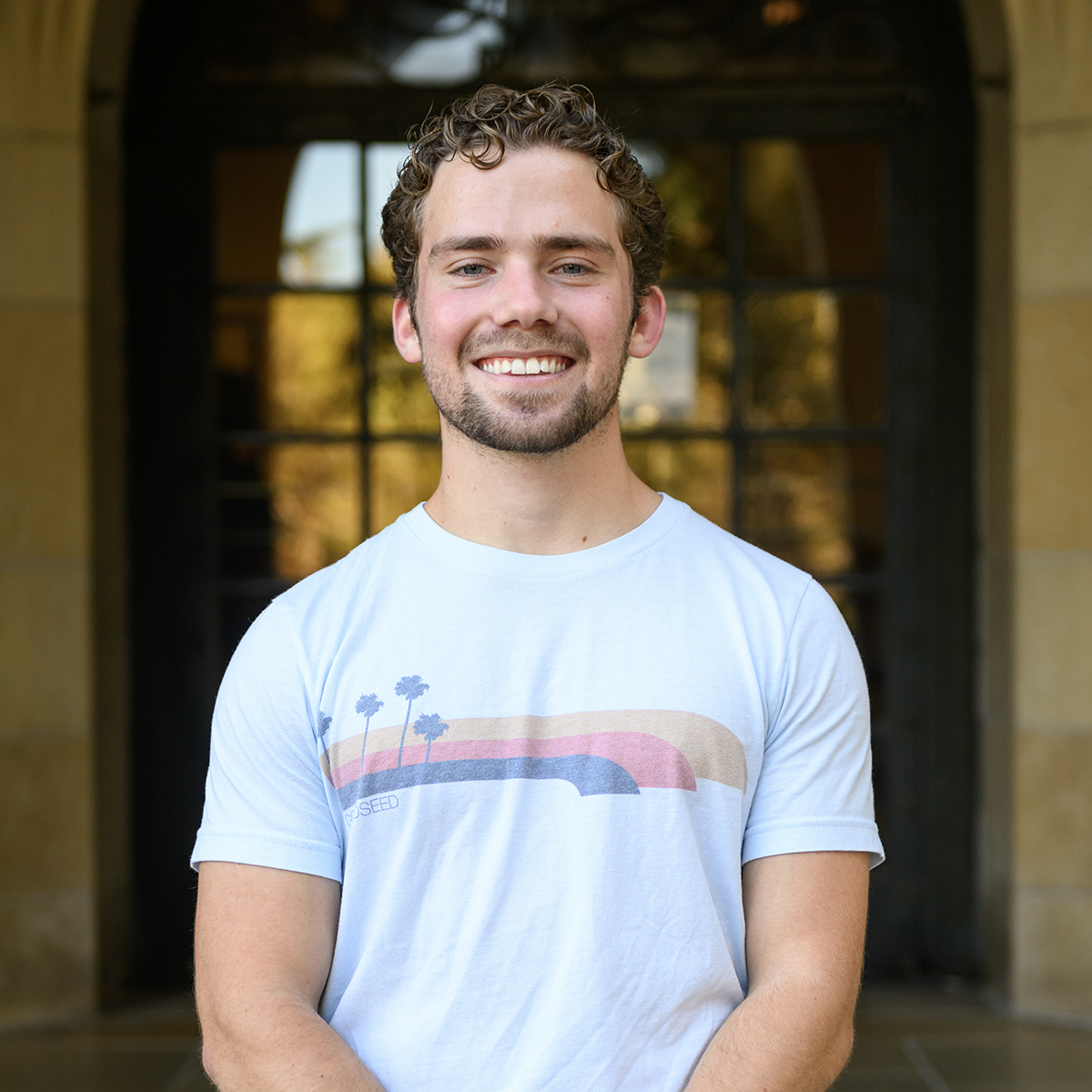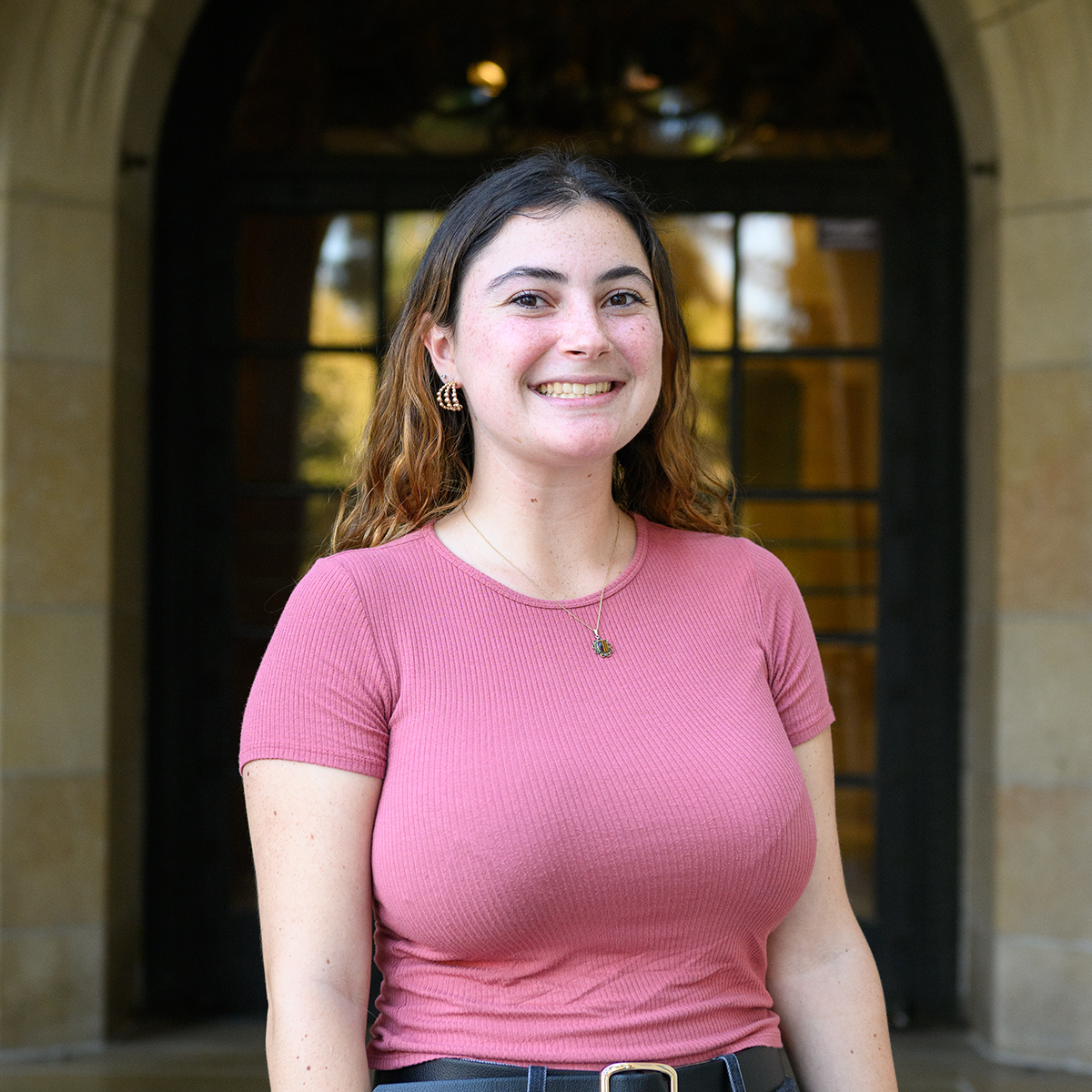 No. 4 UCLA gymnastics will host the NCAA Los Angeles Regional from Wednesday through Saturday, with nine teams vying for two spots at the NCAA championships in Fort Worth, Texas. After a play-in meet Wednesday, the regional will be broken into two four-team semifinals Thursday, with the top two from each session advancing to the regional final Saturday. The top two teams Saturday will move on to the NCAA championships, where a similar format will be employed in two weeks to determine the national champion.
Sam Settleman
Sports editor
Prediction: Fourth place in NCAA semifinal
In less than three months, I'll be leaving UCLA forever.
That means I've been in Westwood for four years now. And for each and every one of those years, UCLA gymnastics hasn't qualified for nationals.
The pandemic canceled the NCAA championships my freshman year before the Bruins failed to advance to nationals for the first time in 15 years my sophomore year. And in my junior year, UCLA missed out on a bid to the NCAA championships by the narrowest margin possible: 0.025 points.
If the Bruins don't make nationals this year, I would be part of the first class of UCLA students to never see the gymnastics program compete at the NCAA championships.
So, whether the logic computes or not, I am going to argue that is exactly why the Bruins are NCAA championships bound. Never before last year has UCLA fallen short of nationals two years in a row, so I certainly don't expect that streak to be extended to three in 2023.
But to cite some actual gymnastics knowledge, it would be difficult to imagine a top-seed regional host not making it out of its own regional. The Bruins have gone 197.800-plus in each of their last six meets, and the other two seeded teams at UCLA's regional – No. 12 Auburn and No. 14 Missouri – have eclipsed that mark just once all season between the two programs.
With the Pauley Pavilion crowd likely in full force, UCLA should have limited trouble advancing to the NCAA championships for the first time since 2019.
Unfortunately for the Bruins, that's when the real competition begins.
UCLA's NCAA semifinal will feature the defending champions and title favorites in No. 1 Oklahoma alongside a longtime rival in No. 5 Utah that just got the best of the Bruins in the Pac-12 championships. Formidable SEC opponents No. 8 Alabama or No. 9 Kentucky could also test UCLA.
Even at its peak, UCLA probably can't challenge Oklahoma. A top-two finish and NCAA final berth are certainly on the table, but the rest of the field is as strong as ever. While some individual titles may await, the program's eighth national championship will have to wait for another year.
Isabelle Friedman
Daily Bruin senior staff
Prediction: Third place in NCAA semifinal
Getting to nationals should be a piece of cake for the Bruins.
They've earned every inch of their No. 4 ranking in the country and top-five standings across three events. Utah seems to be the only real competition at the Los Angeles Regional, with the Red Rocks sitting neck and neck with UCLA in NQS. Auburn can barely pass the Bruins' season average, and the rest of the competition at the Bruins' regional doesn't stand a chance, as UCLA and Utah will advance to Fort Worth.
And then there's the advantage of hosting regionals in and of itself.
Even with spring break keeping many students off campus, there's sure to be a strong Bruin crowd in Westwood this week. And UCLA knows how to throw a party in Pauley Pavilion, going 198-plus in its last two outings at home.
The Bruins will have no difficulty finishing among the top-two competitors in LA, but their real challenge will await them in Fort Worth: Oklahoma, Florida, Michigan, LSU, California, Kentucky and Utah part two, barring any major upsets.
Despite what the NQS rankings might say, I'm not convinced that UCLA is among the top four of that group. The blue and gold has yet to truly prove itself in head-to-head high-pressure situations.
At home against Oregon State in January? Tie.
On the road against Utah in February? Loss.
On the road against Cal two weeks later? Tie.
Pac-12 championships a week and a half ago? Second place.
While the Bruins tallied respectable scores at each of these matchups, they weren't able to pull off a win. In the regular season, wins and losses don't matter nearly as much as just scoring high, but the postseason is a different story. Racking up a season high at nationals doesn't matter if the teams competing beside you are scoring better.
UCLA has what it takes to get to Fort Worth, but getting to the NCAA final is a totally different story.
Benjamin Royer
Daily Bruin staff
Prediction: Second place in NCAA final
Energy and momentum.
It may be my first year on the gymnastics beat, as well as focusing on college gymnastics as a whole, but even I can see that there is something special about this team.
Yes, there may be shortcomings, especially on vault, and injuries that have kept gymnasts such as sophomore Brooklyn Moors off the floor in 2023. However, what coach Janelle McDonald has accomplished in year one in Westwood has been nothing short of miraculous.
No. 4 UCLA gymnastics has the talent – and vibes – to make a deep run at the NCAA championships. I believe the Bruins will finish their season just below Oklahoma on the podium.
The program's best season since 2018 did not seem to be in the cards when McDonald took over in May. However, UCLA's 197.950 NQS soared above its 2021 and 2022 marks by almost a full point.
High scoring across the nation may be the cause, although UCLA has not been offered the same scoring niceties as the SEC's LSU and Florida.
But when the dust settles, the firepower of this Bruins' squad is close to unmatched.
Sophomore Jordan Chiles and freshman Selena Harris are two of the top athletes in the NCAA – and the world. Their teammates – junior Chae Campbell, redshirt senior Margzetta Frazier and sophomores Emma Malabuyo and Emily Lee – have rounded out a positivity- and detail-focused bunch that has thrived under the new coaching staff.
Beam will need to continue as a steady event for the Bruins, and they will need to hit 49.400 or above on vault. But with floor and bars as surefire knockout punches, UCLA has a chance, no matter who the competition is.
If any group of athletes can finish the season strong and set highs for the blue and gold, it is this team.
Genevieve Trimbell
Daily Bruin reporter
Prediction: Fourth place in NCAA final
Since its third-place NCAA final finish in 2019, UCLA has seen two new head coaches, 14 perfect 10s and two third-place finishes in regional finals.
The Bruins haven't even seen the floor at the NCAA championships, much less competed in the final round.
But this year is different, and anyone who's been following the Bruins can see it. It's a combination of McDonald's upbeat confidence in the team, Chiles' sophomore glow-up, the addition of the No. 1 recruit in Harris and many other factors that have carried this team more than a step or two above recent years.
To be sure, this UCLA squad has its flaws, namely a vault rotation that features just two vaults with a 10.0 start value. But each of the other three rotations has proven to be more than capable of scoring above 49.500, and have all done so in the Bruins' last two meets.
It would be surprising if UCLA did not make it out of its own regional. No. 5 Utah, which has already beaten the Bruins twice this season, may give them some trouble, but an inconsistent Auburn and Missouri are unlikely to challenge for a spot if UCLA can maintain the same level it has shown recently.
Once at the NCAA semifinals, the Bruins may need to compete slightly beyond this level. Their likely competition is Oklahoma and Utah, but others will put up a fight as well. Diverging from any concrete gymnastics knowledge or statistics here, I admit my belief in this team to move on to finals may be largely based on – for lack of a better word – the vibes of this star-studded lineup and its proven ability to surpass expectations.
But in the NCAA final, UCLA will be facing three other lethal teams. And while one wobble or step can mean the difference between first and fourth – no matter what the prior rankings are – I'm not sure the Bruins' spark will be enough to carry them beyond a fourth-place finish.
Helene Barnfield
Daily Bruin contributor
Prediction: Third place in NCAA final
If the legacy of UCLA gymnastics has proven anything, it's that this program is one that shouldn't be overlooked, especially come postseason when anything is possible.
Moreover, if covering this team has taught me anything this year, it's that the Bruins have the mindset, talent and overall close-knit team culture that's needed to make a serious run for a national championship.
As a result, I believe UCLA will end this season coming in third at the NCAA final, as this team has proven that at its best, it is pretty tough to beat.
That was apparent during the Bruins' last two regular season meets, in which they showcased what they are capable of by putting up the second-highest bars score in the nation as well as scoring back-to-back 198s for the first time since 2019.
In addition, I think that individuals like Chiles and Frazier will be huge assets in setting the tone for UCLA this postseason. The combination of Chiles' Olympic resume and Frazier's fruitful NCAA career has the potential to provide the Bruins with both the experience and leadership needed to take the team to the top.
Looking ahead to regionals, it's clear that UCLA has an edge in its home arena and as the No. 1 seed. That puts the Bruins in a great position to move on as they will face Missouri, No. 20 Stanford and the winner of BYU and Boise State on Thursday night during the semifinals of their regional.
However, from there, it must be acknowledged that the Bruins have to tighten up on vault and beam if they wish to have a real shot come the NCAA final. Those two apparatuses have been the most inconsistent for the team this season so far.
That's especially true when you have teams such as Oklahoma and Florida, who are averaging 198.150 and 197.950, respectively, and have clearly been two of the most dominant programs in recent history.
Anything beyond third place come the NCAA final may be just out of reach for the blue and gold this year, as other top contenders have seemed to reach a level of consistency that feels impenetrable at this point.