'No regrets': UCLA gymnastics sets sights on success at NCAA Los Angeles Regional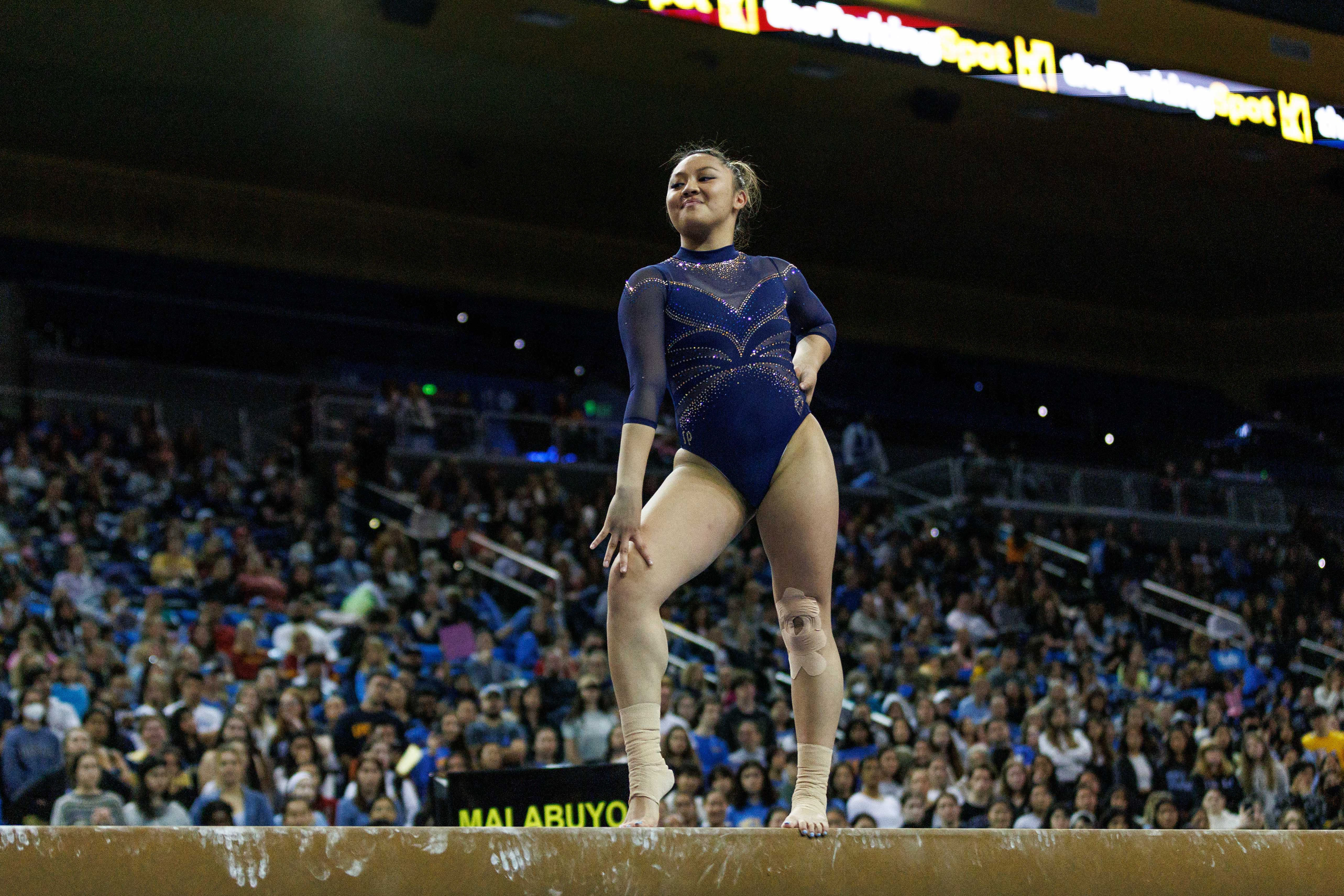 Sophomore Emma Malabuyo performs on beam. Malabuyo and No. 4 UCLA gymnastics will host the NCAA Los Angeles Regional on Wednesday through Saturday. (Anika Chakrabarti/Photo editor)
Gymnastics
---
NCAA regional semifinal
Thursday, 7 p.m.
Pauley Pavilion
ESPN+
---
NCAA regional final
Saturday, 5 p.m.
Pauley Pavilion
ESPN+
Before the Bruins sink their teeth into the NCAA Los Angeles Regional, coach Janelle McDonald supplied a two-word phrase for her student-athletes.
"No regrets," McDonald said.
No. 4 UCLA gymnastics enters the NCAA regionals on the opposite spectrum of its postseason placement one year ago. Instead of traveling to North Carolina for regionals, the blue and gold is at home, and unlike 2022, the Bruins are the highest-ranked squad competing in Westwood.
No. 14 Missouri, Stanford and the winner of Wednesday's play-in meet between Boise State and BYU await UCLA at Pauley Pavilion for the second regional semifinal Thursday.
Freshman Selena Harris said she is ready for the make-or-break atmosphere of the postseason, with the Pac-12 Freshman of the Year adding that McDonald's simple message rings in her mind.
"For me, it's knowing that I did give my all," Harris said. "Even if I was tired, I still gave my all in the gym to do the best that I could. To compete without regrets."
Unlike Harris and the rest of the freshman class, win or go home is not new to McDonald.
As an assistant coach with California in 2022, McDonald watched as the Golden Bears fell short of nationals, slipping from second place at their regional final to a third-place finish. UCLA finished just short of a nationals berth itself last year and similarly ended its season in third place at the NCAA Raleigh Regional final.
Both McDonald and sophomore Emma Malabuyo said they understand the magnitude of the moment, with the latter using last season's defeat to help drive her psyche.
"We already just feel the pain (from) last year," Malabuyo said. "That motivates us a little bit more and just thinking about how close we were last year. That's just pushing us. That's why this week, we're saying no regrets."
Unlike regular-season meets, the Bruins will have to finish in the top half of their upcoming meets and outscore several opponents Thursday and Saturday to advance further.
On Feb. 3, UCLA lost in a regular season meet to possible regional final foes, No. 5 Utah. And less than two weeks ago, the Bruins placed as runners-up to the Red Rocks at the Pac-12 championships.
Despite head-to-head results not having a true impact until now, McDonald said she can manage the stakes by zeroing in on what the team can control.
"There's no defense in gymnastics," McDonald said. "It's really just offense. If we just focus on what we do, being at our best and being in it together, then I think we're going to be really confident out there and be able to be successful."
With the regional semifinal approaching, the Bruins are putting the final touches on routines while allowing themselves to let loose a little too.
Tuesday's training session included a dance session with assistant coach BJ Das, where the student-athletes learned choreography to Nicki Minaj's song, "Yikes." Although it was unorthodox, McDonald said she wants her student-athletes to have fun and start practice on a positive note.
"We just tried to sprinkle in those kinds of things to make sure that they're loving what they do," McDonald said. "That's the basis of everything that we do. I want them to love what they do, and then they're going to have that passion and heart for competing to be the best that they can be."
UCLA will be dancing its way to the semifinals of the NCAA Los Angeles Regional on Thursday, starting at 7 p.m. at Pauley Pavilion. Should the Bruins advance, they would compete Saturday at 5 p.m. in the regional final.