Ahead of 3-day stretch, freshmen of UCLA women's tennis face ups and downs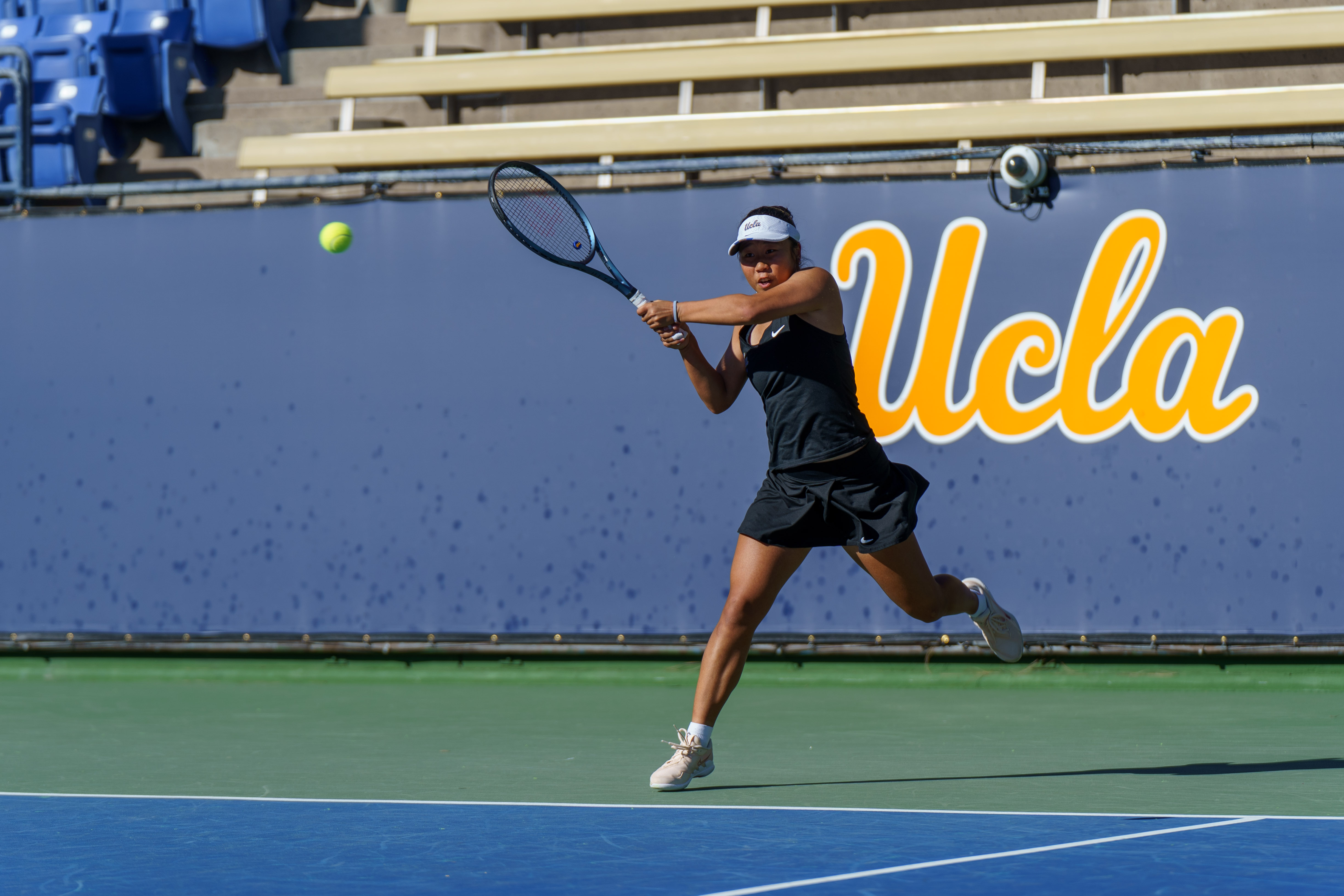 Fangran Tian of UCLA women's tennis follows through on a backhand groundstroke. The freshman leads all Bruins in dual-singles wins so far in the 2023 season. (Esther Ma/Daily Bruin staff)
Women's Tennis
---
UC Santa Barbara
Thursday, 12 p.m.
Los Angeles Tennis Center
UCLA Live Stream
---
Colorado
Friday, 1:30 p.m.
Los Angeles Tennis Center
UCLA Live Stream
---
Utah
Saturday, 12 p.m.
Los Angeles Tennis Center
UCLA Live Stream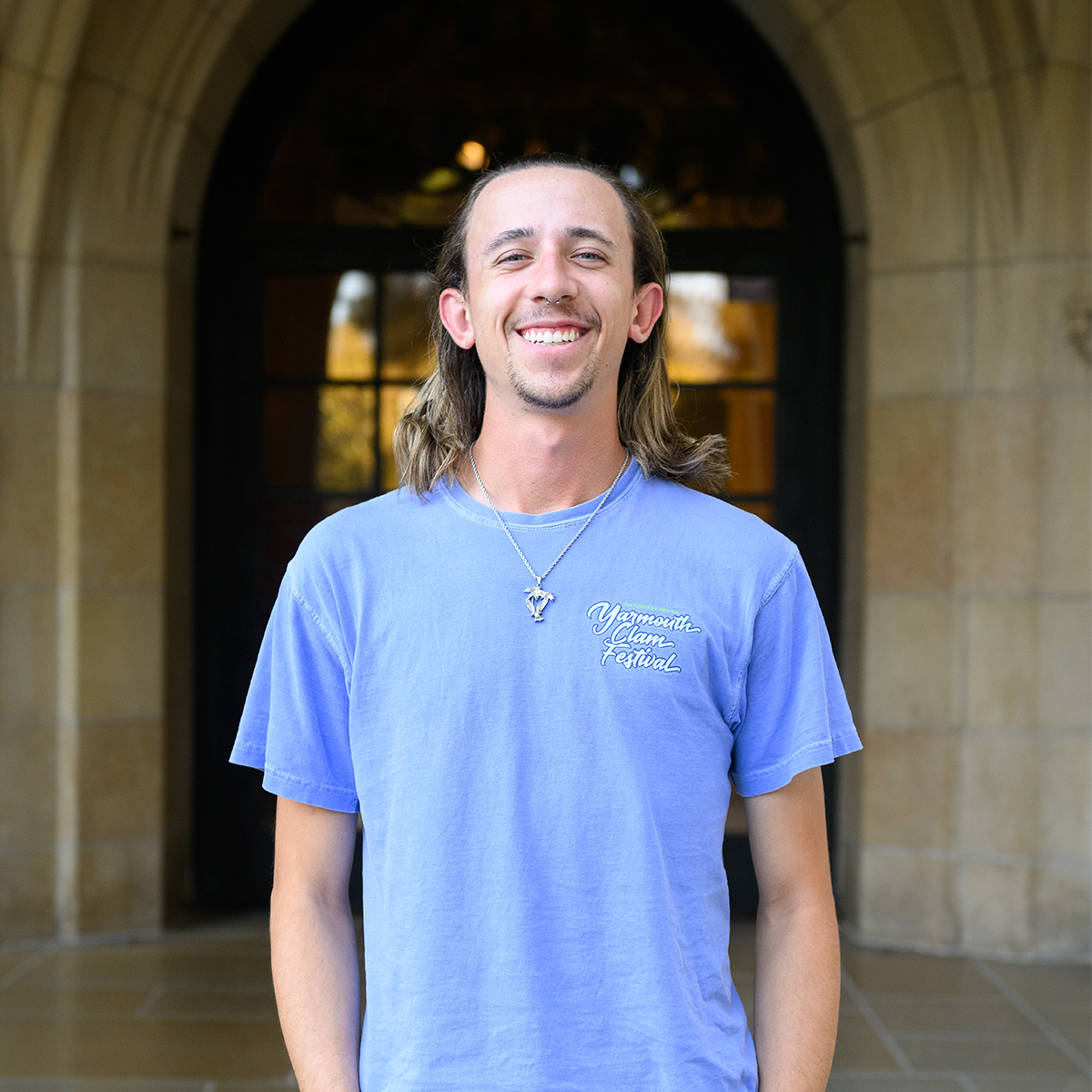 A tale of two freshmen has defined the Bruins' up-and-down trajectory as of late.
One has thrived in the biggest role, while the other has struggled in the lower courts.
UCLA women's tennis (6-5, 1-3 Pac-12) will traverse three consecutive matches when it hosts UC Santa Barbara (2-11, 2-1 Big West) on Thursday, followed by conference matchups against Colorado (9-6, 0-3) and Utah (10-6, 1-2) on Friday and Saturday, respectively. The trio of matches in as many days is the only such stretch in the Bruins' regular-season slate.
After stringing together arguably its most impressive wins of dual-match play against then-No. 4 Ohio State and USC, UCLA faltered in the first segment of its five-match homestand last weekend, dropping consecutive 5-2 decisions to California and then-No. 18 Stanford. The blue and gold's resume sports a three-match winning streak but is now stained by the pair of two-match losing streaks.
Yet through it all, one constant has remained.
Freshman Fangran Tian has cruised since being entrusted with the No. 1 singles spot, fending off five nationally-ranked opponents on the road to winning all nine of her completed matches at the position. The run has catapulted Tian from No. 94 to No. 23 in the ITA singles rankings in just over two months, highlighted by an upset of then-No. 4 Madison Sieg of USC.
"She's never going to be satisfied, she's always going to keep improving, and it's just a great mindset that she has," said coach Stella Sampras Webster. "The way she handles herself, her composure, her fight – everything is very professional."
Churning out win after win, Tian has also demonstrated her ability to outlast opponents in barnburners, with four of her nine victories coming via three sets – wherein she dropped the first frame in two.
A shift in perspective has been the key to endurance, according to Tian.
"I've changed my point of view. I'm thinking on my opponent's side because she's as tired as me," Tian said. "I just need to be mentally stronger to win the match."
The going has not been as smooth for the other freshman donning the blue and gold.
With just three wins in her nine completed dual-singles matches – none of which were consecutive – Anne-Christine Lutkemeyer has struggled to find consistency. Despite dropping from No. 4 to No. 6 in the singles lineup for the previous three contests, Lutkemeyer has been defeated in four of her last five times out.
Entering as the No. 3-ranked recruit in her class, Lutkemeyer has only seen one ranked opponent so far in dual-singles play – a match which she lost 6-2, 6-4 to Ohio State's then-No. 94 Shelly Bereznyak.
"The environment is definitely different from what I've been used to, so just making the change has been a little bit of a struggle for me," Lutkemeyer said. "I'm obviously working on improving my situation and getting back to where I was in the fall."
In light of junior Vanessa Ong's injury in her singles match against Cal, Sampras Webster called on Lutkemeyer to slot in at No. 3 doubles with senior Sasha Vagramov against Stanford. The senior-freshman tandem found immediate success, upending Connie Ma and Valencia Xu to a 6-4 tune.
Noting that Lutkemeyer will be a more permanent fixture in the doubles lineup for the foreseeable future, Sampras Webster said her staff's confidence in the freshman has not wavered.
"Just trusting herself and trusting her game is when she thrives," Sampras Webster said. "We don't want her to ever doubt. We just want her to play."
And if there was ever a time this season for Lutkemeyer – and the rest of the ninth-place Bruins – to find some consistency, this weekend would be it.
UCLA is a combined 67-0 when pitted against the trio of UCSB, Colorado and Utah. The latter two currently sandwich the Bruins in the Pac-12 standings, with the Utes coming in at eighth and the Buffaloes sitting 10th, respectively.
The three-day stretch demands the kind of intensity that will benefit the Bruins when it matters most, according to Sampras Webster.
"This is a grind. This is what seasons are, and we need to be tough," Sampras Webster said. "We've got to toughen our athletes because that's how it's going to be at NCAAs. They're not going to be fresh."
Nelson is currently an assistant Sports editor on the softball, men's tennis and women's tennis beats. He was previously a contributor on the men's tennis and women's tennis beats.
Nelson is currently an assistant Sports editor on the softball, men's tennis and women's tennis beats. He was previously a contributor on the men's tennis and women's tennis beats.