UCLA gymnastics heads to Pac-12 championships with high hopes for postseason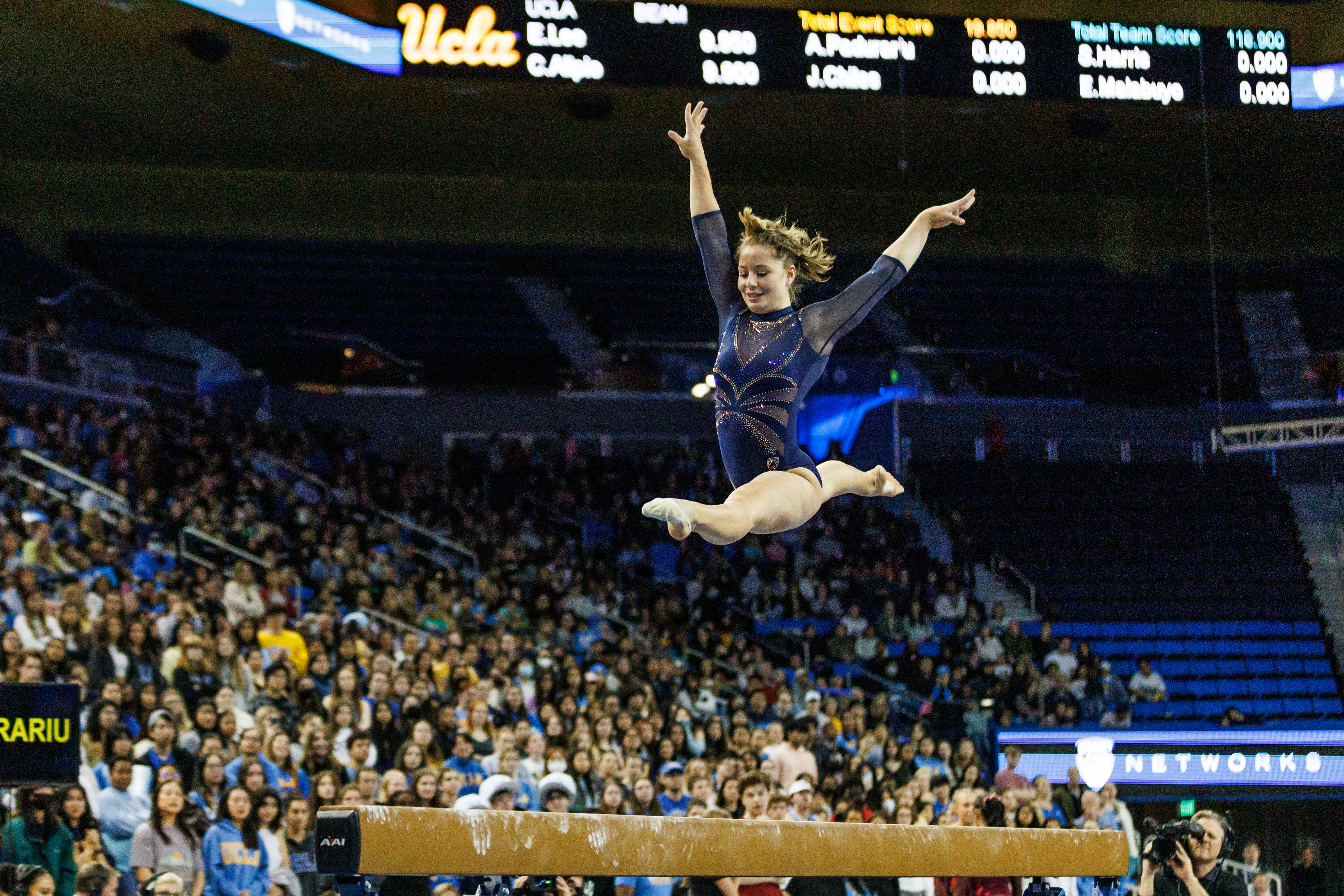 Sophomore Ana Padurariu performs a leap on beam. Padurariu and No. 4 UCLA gymnastics will be the top-seeded team at the Pac-12 championships on Saturday. (Anika Chakrabarti/Photo editor)
Gymnastics
---
Pac-12 championships
Saturday, 5 p.m.
West Valley City, Utah
Pac-12 Networks
March 18, 2023 12:40 p.m.
Coming off back-to-back 198 performances, the Bruins are set to enter the conference championships as the top seed.
No. 4 UCLA gymnastics is slated to travel to the Maverik Center in West Valley City, Utah, to compete against No. 5 Utah, No. 7 California and No. 11 Oregon State in the second session of Pac-12 championships Saturday night.
UCLA wrapped up its regular season in a four-way tie for the regular-season Pac-12 title with Utah, Cal and Oregon State. The Bruins also surpassed the Red Rocks in the national rankings last weekend to earn the No. 1 seed in the conference championships, allowing them to start on vault and end on floor Saturday.
"I feel like where we are now is exactly where we deserve to be," said sophomore Ana Padurariu. "But we also have to stay humble and go out there like it's any other competition and not put pressure on ourselves just because we're ranked higher."
At this time last year, UCLA was ranked fifth in the conference leading up to the Pac-12 Championships and No. 18 overall.
When it comes to the drastic change and current success, junior Chae Campbell credited the new coaching staff and culture coach Janelle McDonald has been able to instill within the team in her short tenure.
"We're a naturally talented team, … but I think we're now able to just have fun, and Janelle brings such a positive environment," Campbell said.
While Campbell only competed on vault during UCLA's Senior Meet last weekend, the junior had averaged a 9.925 on vault her last three meets, including a recent perfect 9.950 when she stuck her Yurchenko full.
With the overall turnaround for UCLA, McDonald said she is thrilled to see the joy and passion the Bruins are competing with, noting how far they've come this year.
"I couldn't be more proud of where they're at and how they've come together as a team," McDonald said.
Looking ahead, that team culture and passion might be crucial for the blue and gold, as it looks to improve on its fourth-place finish at the conference championships from last year.
That might be a challenge, however, as previous matchups with both Cal and Oregon State ended in tight draws, while the Bruins fell 198.200-197.450 to reigning Pac-12 champions Utah back in February.
However, with their back-to-back season highs in the last two meets, the Bruins believe they are on the right path to ride their recent momentum going into postseason.
"It (the 198 mark) is just one of those stepping stones that shows how much work we put in to be where we are," Campbell said. "And we're not done yet."
UCLA kicks off its postseason Saturday during the second session of Pac-12 championships at 5 p.m.