Pressing start on postseason, UCLA falls just short of 1st at Pac-12 championships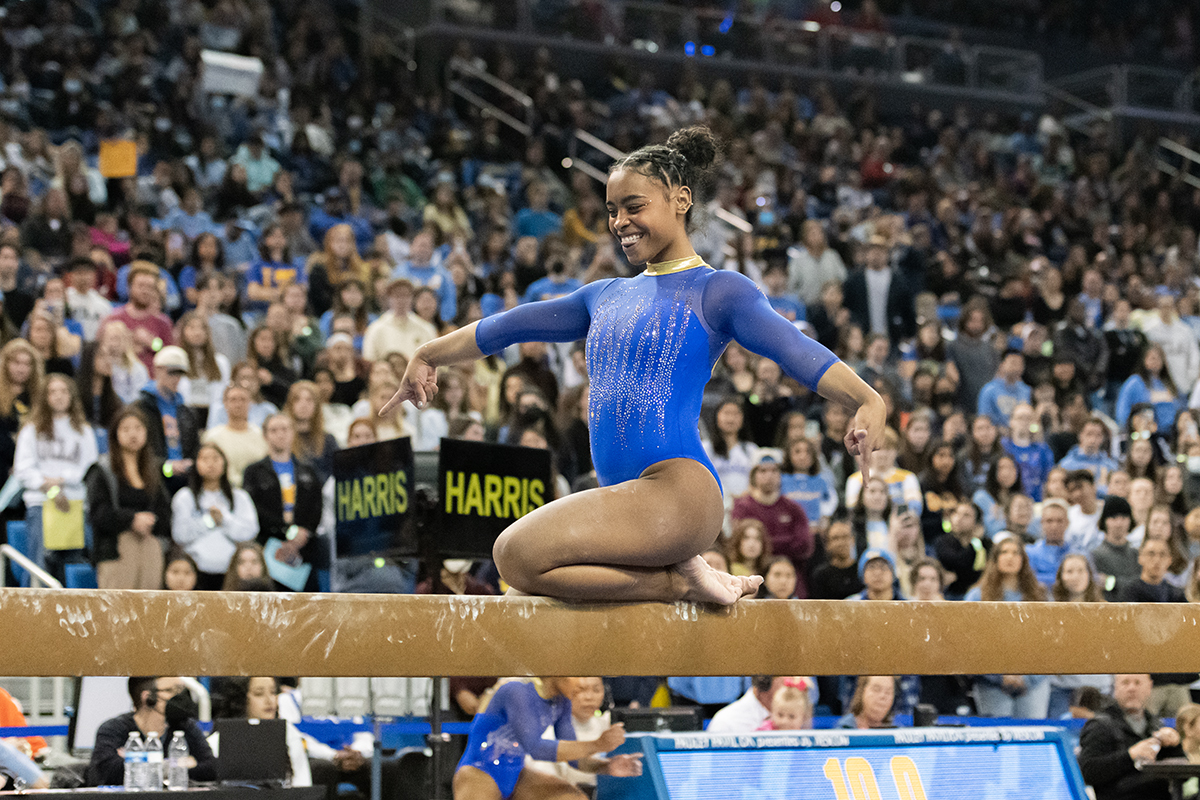 Freshman Selena Harris poses on beam. Harris finished third in the all-around at the Pac-12 championships Saturday as No. 4 UCLA gymnastics finished in second place as a team. (Vivian Xu/Daily Bruin senior staff)
This post was updated March 18 at 9:18 p.m.
A floor show for the conference throne came up less than one-tenth of a point short and left the Bruins as runners-up.
No. 4 UCLA gymnastics scored a 197.850 and closed Saturday night's Pac-12 championships with its meet-best 49.600 score on floor. But No. 5 Utah won the conference crown for the third consecutive campaign with a 197.925 while No. 7 California and No. 11 Oregon State finished third and fourth, respectively, below the Bruins.
"I couldn't be more proud of our team," said coach Janelle McDonald. "I thought not everything was perfect today, but I felt like our team fought, and they showed up for one another. I was really proud of them for putting the meet together, bringing the energy throughout and having a lot of fun."
Ultimately, the blue and gold needed to score 49.675 or higher on floor to clinch at least a share of the Pac-12 title but still counted only 9.900-plus scores on the event.
Sophomores Emily Lee and Emma Malabuyo began the Bruins' floor party with a 9.875 and 9.900, respectively. Freshman Selena Harris followed the duo with a 9.925 with her Selena Quintanilla-themed floor routine.
To start the final three routines of the night, redshirt senior Margzetta Frazier and junior Chae Campbell scored a 9.900 each. It was up to Sophomore Jordan Chiles to officially wrap up the Pac-12 championships.
The Olympian was almost perfect and scored a 9.975, but her efforts were not enough for the Bruins to reach the Red Rocks.
Chiles claimed the Pac-12 bars title and tied with Oregon State's Jade Carey for first on floor.
"Jordan is that person for me where I can always go to and rely on her to push me to be better," Campbell said. "That's something that I really appreciate as a teammate, and I appreciate having her. She deserves all the awards that she's getting."
Despite finishing on a meet high, the blue and gold started with a low.
The Bruins kicked off their conference championship performance with a start reminiscent of their early season meets.
Frazier launched the Bruins' night off on vault, scoring a 9.775 on the event for the third time this season. Following up their veteran teammate, Lee and Harris each scored 9.800s.
Harris ultimately finished third in the all-around – behind Carey and Utah's Maile O'Keefe – with a 39.625 final score. The Las Vegas native said she relished the opportunity to score as high as gymnasts she looks up to.
"I'm very happy I placed among such amazing gymnasts," Harris said. "Gymnasts I'd watch on YouTube all the time, 24/7. It's so cool to now be standing right next to them. I felt like I was their fan not even a year ago."
UCLA avoided a season-low score with Chiles' and Campbell's 9.900 vaults but landed in fourth place after one rotation with a 49.175 – its third-lowest score of the campaign on vault and lowest since Feb. 11.
Bars provided the Bruins an opportunity to make up lost ground against their conference foes.
In the leadoff spot, Campbell scored a 9.875, her season high on the event, setting the stage for the lineup behind her. McDonald said the routine was a personal meet highlight, while Campbell said it felt like her hard work had paid off.
"I was most proud of my bar routine," Campbell said. "It was finally the routine that I feel like I'm practicing, and I think that that really showed on the bar set. … That's where I want to be going into the postseason."
Sophomore Ana Padurariu added a 9.900, her fifth 9.900-plus score of the season on bars, and UCLA only rose further from there.
Harris was 0.025 away from her career high on bars and stuck her dismount for a 9.950, while Frazier matched Campbell with a 9.875 of her own.
Chiles came close to scoring a perfect 10 on bars for the third straight week but only received full marks from one judge and settled for a 9.975 en route to a 49.575 final score.
After posting a season-low 48.800 on beam Jan. 29, UCLA has improved dramatically since, earning 49.425 scores and above in all meets since.
Leadoff Lee set the Bruins on the right track and scored a 9.925 – just under her career high – and helped UCLA score a 49.500 on its third event of the session.
However, in the middle of the lineup, the blue and gold faced adversity. Chiles dropped during one of her passes for her first fall of the season and scored a 9.300. It was up to Harris and Malabuyo to finish beam and drop the Olympian's season low.
"I was nervous as hell when Jordan fell," Harris said. "When she fell and she had that face – like, oh my god, she was mad. I knew with her giving me that fist bump saying, 'I got this.' I went up and hit it. Because if Jordan drops the tone, then I can't drop it."
Harris was close to perfect on beam and scored a 9.950 on the apparatus, while Malabuyo scored a 9.925 – her second-best score this season – to anchor the group and keep UCLA in the hunt for the title.
UCLA's next step in its postseason journey begins March 30 when it hosts NCAA regionals at Pauley Pavilion.