After comeback win over Oregon, UCLA baseball prepares for Arizona series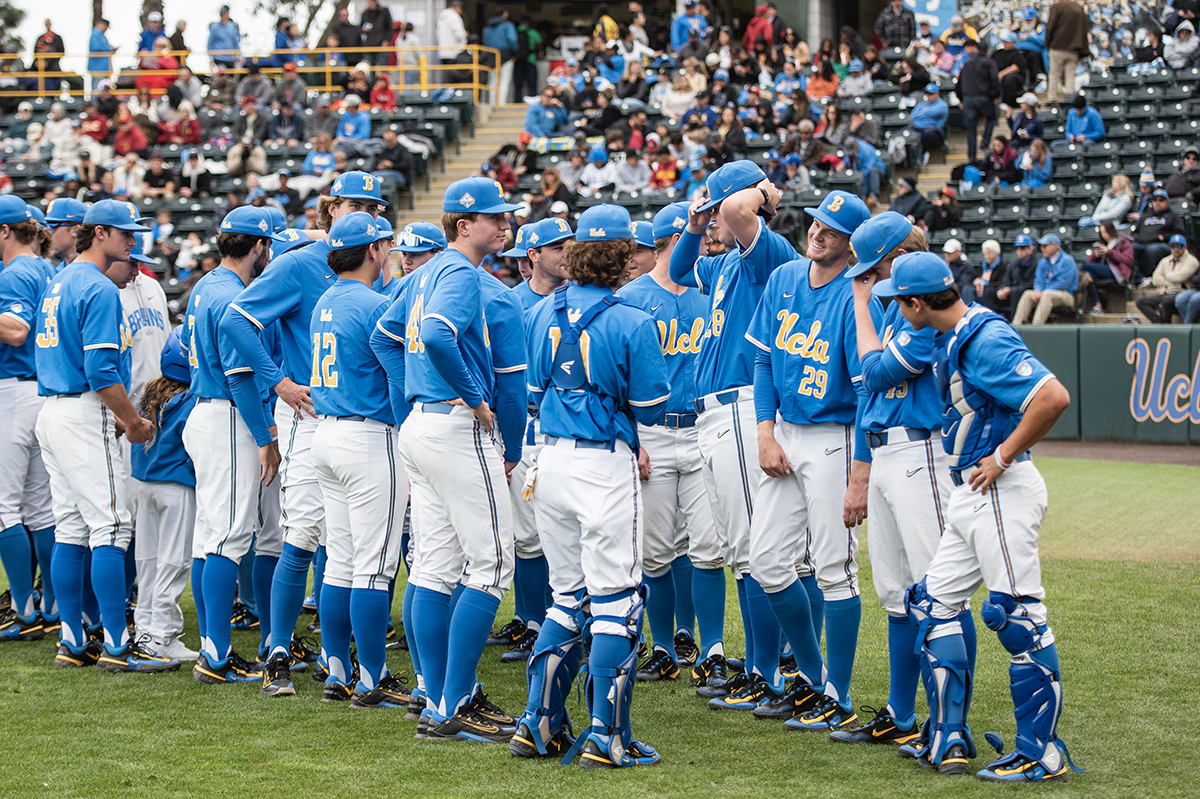 No. 13 UCLA baseball groups up in front of the dugout before a game. (Lex Wang/Daily Bruin senior staff)
Baseball
---
Arizona
Friday, 6 p.m.
Jackie Robinson Stadium
UCLA Live Stream-3
---
Arizona
Saturday, 2 p.m.
Jackie Robinson Stadium
UCLA Live Stream-3
---
Arizona
Sunday, 1 p.m.
Jackie Robinson Stadium
UCLA Live Stream-3
As the Bruins touched down in Los Angeles for their second Pac-12 series of the season, coach John Savage said the team has a new motto.
"Respond, regroup and release," Savage said.
No. 13 UCLA baseball (12-3, 2-1 Pac-12) did just that against Oregon last weekend, winning Saturday and Sunday's contests after dropping the Friday opener. Now, UCLA will return to Jackie Robinson Stadium to face off against Arizona (12-3, 3-0) in its second Pac-12 series of the regular season.
"(We) came back from a very difficult loss on Friday, bounced back, and won a tough game on Saturday, and on Sunday … played about as well as we could," Savage said. "That's all we can ask from our guys from the Pac-12 series on the road."

While UCLA took the series but dropped a game, Arizona swept its opponent to start off conference play up a game in the standings. With the Bruins holding the all-time advantage between the two teams, new additions to the rosters, despite returning members, bring new challenges to both teams.
"Arizona is a hot team that's coming in with a lot of confidence," Savage said. "But … it's a whole new year, and it's a whole new roster when it comes to defending and playing against (Arizona). We have to do our homework on them, and they're doing their homework on us."
The team saw a comeback performance in its series this past weekend in Eugene. With only two runs on Friday, the Bruins struggled to push runs across home and dropped the game 6-2. However, they bounced back in a tight game the following day, notching a total of eight runs with a three-run homer in the fifth. On Sunday, a 16-run performance from the Bruins clinched the series 2-1. With last weekend's matchups fresh in its mind, the team is looking to maintain its momentum going into its second Pac-12 series.
"We are all staying locked in (to) get our work done as a team," sophomore designated hitter Jack Holman said. "We are really trying to nail it in practice and use that momentum. … Everything works out better when we play as a team."
The Bruins used a heavy dosage of starting pitching, but still had strong appearances out of the bullpen against the Ducks. Redshirt sophomore right-hander Chris Aldrich pitched both Friday and Sunday against the Ducks, holding them scoreless in both appearances.
Aldrich said the upcoming weekend will be another opportunity for the bullpen to reach its goals.
"Staying pitch to pitch and competing has been (the) main goal this year," Aldrich said. "Just having confidence in the pitch calls and just making the pitch … no one can beat us."
With UCLA hosting its first conference series at Jackie Robinson Stadium, Savage said the team is focused on adaptability while on the road to a championship.
"It's kind of a feeling out process … seeing what they have and what we have," Savage said. "We want to emphasize pitching, we want to emphasize defensively. We know that that gets to Omaha, that wins championships."
The Bruins will begin their series against the Wildcats on Friday at 6 p.m. at Jackie Robinson Stadium.