UCLA beach volleyball returns to Gulf Shores for the March to May tournament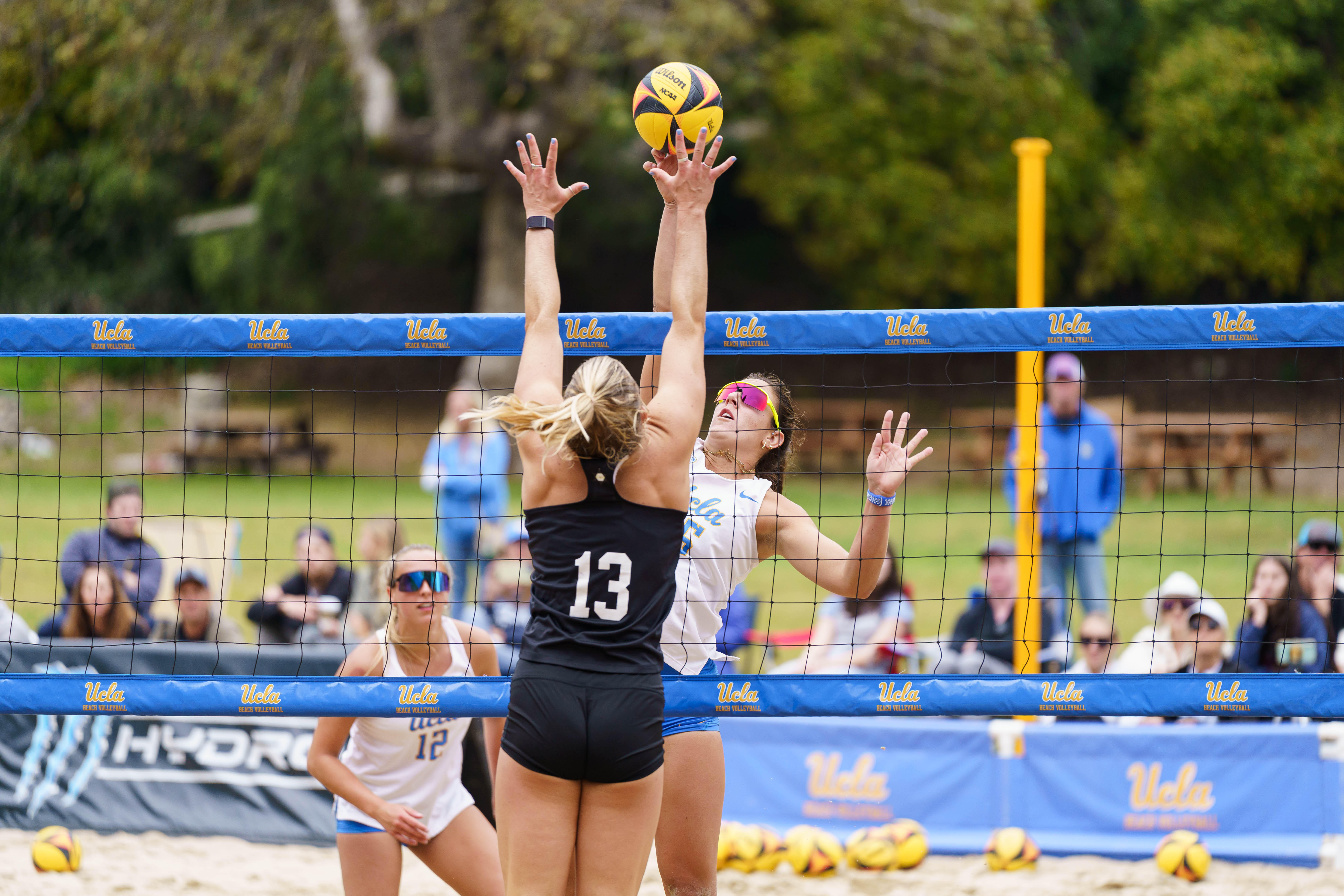 Senior Lexy Denaburg tips the ball over the net while freshman Maggie Boyd looms behind to prevent a block. Denaburg and Boyd were selected as the Pac-12 Pair of the Week as announced Tuesday. (Brandon Morquecho/Daily Bruin)
Beach Volleyball
---
No. 20 South Carolina
Friday, 10 a.m.
Gulf Shores, AL
No TV info
---
No. 6 LSU
Friday, 2 p.m.
Gulf Shores, AL
No TV info
---
No. 4 Florida State
Friday, 5 p.m.
Gulf Shores, AL
No TV info
---
No. 10 Georgia State
Saturday, 9 a.m.
Gulf Shores, AL
No TV info
---
UAB
Saturday, noon.
Gulf Shores, AL
No TV info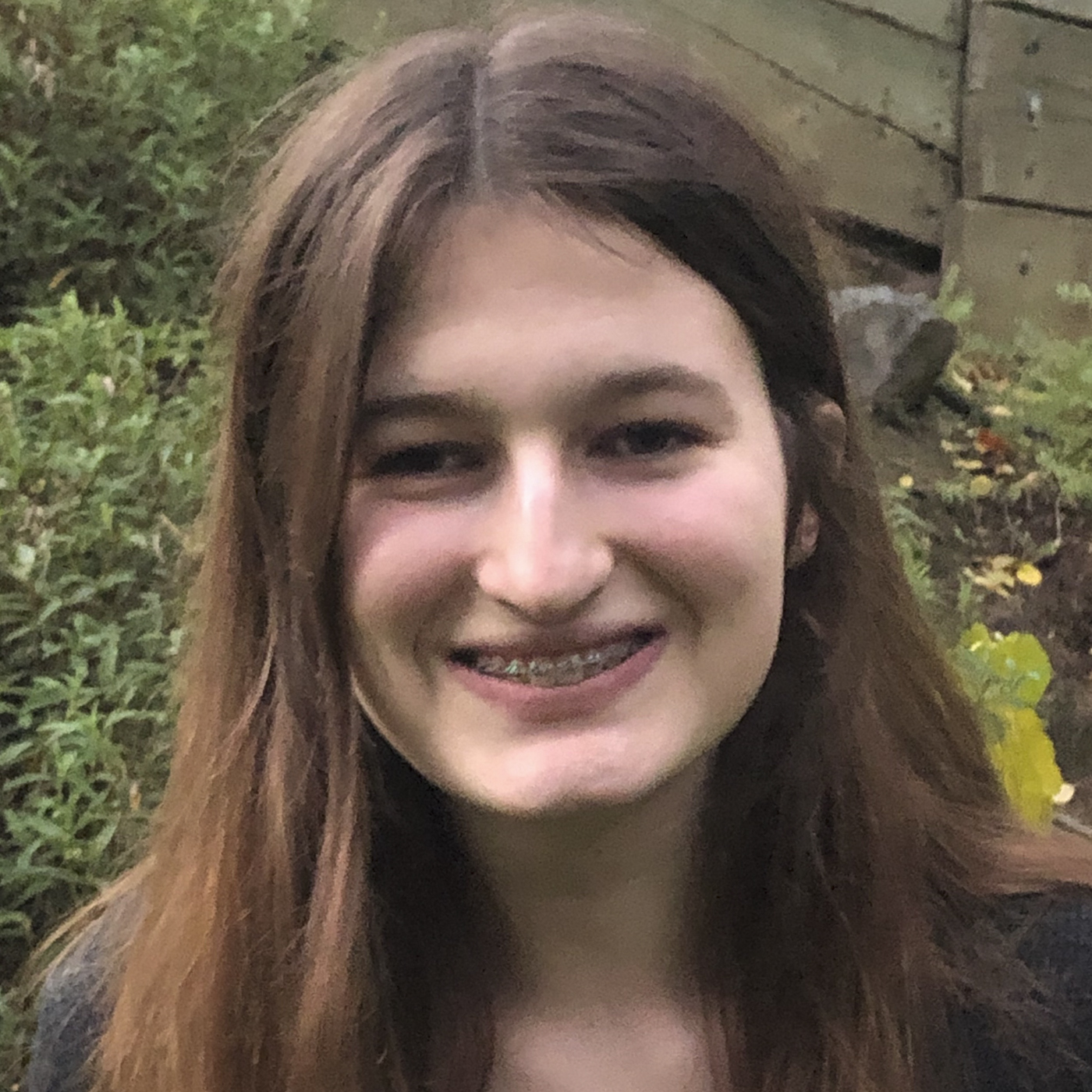 The Bruins' last visit to Gulf Shores did not go as planned.
In the 2022 NCAA tournament, UCLA lost in the semifinals against Florida State, marking its earliest exit from the postseason since 2017.
"That was the team that we did well against all year, and then we just didn't show up in the semis," said coach Stein Metzger.
For the aptly named March to May tournament, No. 3 UCLA beach volleyball (13-1) will return to Gulf Shores, Alabama, on Friday and Saturday for the first time since that loss last year and the only time before this year's NCAA tournament, which is played on the same sand in May. The Bruins will battle three top-10 opponents in No. 6 LSU (11-2), No. 4 Florida State (12-1) and No. 10 Georgia State (8-3) as well as face off against No. 20 South Carolina (8-5) and the University of Alabama-Birmingham (7-6).
Florida State will enter the tournament looking to extend its five-contest winning streak and build off its NCAA tournament finals appearance from last season. Meanwhile, LSU enters Friday on the heels of its first losses of the season last weekend.
Metzger said the Bruins will review film on the Seminoles and Tigers but will also continue to focus on their own side of the net.
"They're going to play their best match against us just like everyone else," Metzger said. "We got to prepare, and we got to be ready for a dog fight."
The blue and gold is fresh off a four-match sweep in the Battle for Los Angeles tournament, in which it totaled its 10th sweep of the season. The weekend served as a chance for UCLA to rebound following its lone defeat this season at the hands of crosstown rival USC, said Metzger.
"If we wait for people to hand us the win, it's just not going to happen," Metzger said. "So, they (the opposing teams) showed up this weekend (at the Battle for LA tournament), gave us a chance to get back in the saddle after getting shocked by 'SC."
Graduate student Haley Hallgren and senior Rileigh Powers pulled off a victory in a tight three-set match in the tournament against Florida Atlantic, with each set being decided by a two-point margin. Powers said their energy and positive mentality carried them to victory.
"Just stay positive and never give up," Powers said. "Even though we were down, I think our energy always remained the same and put in our effort. And I think that really helped us pull through at the end."
Powers added that another takeaway from the tournament was to continue to work on strong serves, which will be key in facing the wind in Gulf Shores this weekend.
The team anticipates rain and wind, which Metzger said will be factored into preparation in addition to adjusting sleep schedules for the different time zone.
"If we can embrace the weather, we'll have the advantage," Metzger said. "If we start thinking, 'Oh, what a bummer we have to plan in the rain,' then it's going to hit us in the mind, and it's not going to go well for us."
UCLA will compete in Alabama – where the NCAA tournament will take place in May – and senior Lexy Denaburg said the tournament will give new players a chance to experience that environment.
Denaburg, who was named the Pac-12 Pair of the Week alongside freshman Maggie Boyd on Tuesday, is returning to Alabama for tournament play for the first time since the postseason defeat to Florida State last season.
"Obviously, Florida State is going to be good," Denaburg said. "They're going to have a lot of fire right back, so yeah, I'm excited."
The loss to the Seminoles a season ago has inspired the Bruins to work harder for their teammates this season, Powers said.
Metzger emphasized that the team's approach was the difference maker in the Florida State loss.
"We played a little tentative and timid in that matchup," Metzger said. "If we show up timid and tentative to any of the teams that we play, we can get beat."
First serve is Friday at 10 a.m. against South Carolina to kick off the Bruins' matchups in the March to May tournament.