Scouting report: UCLA softball vs. Washington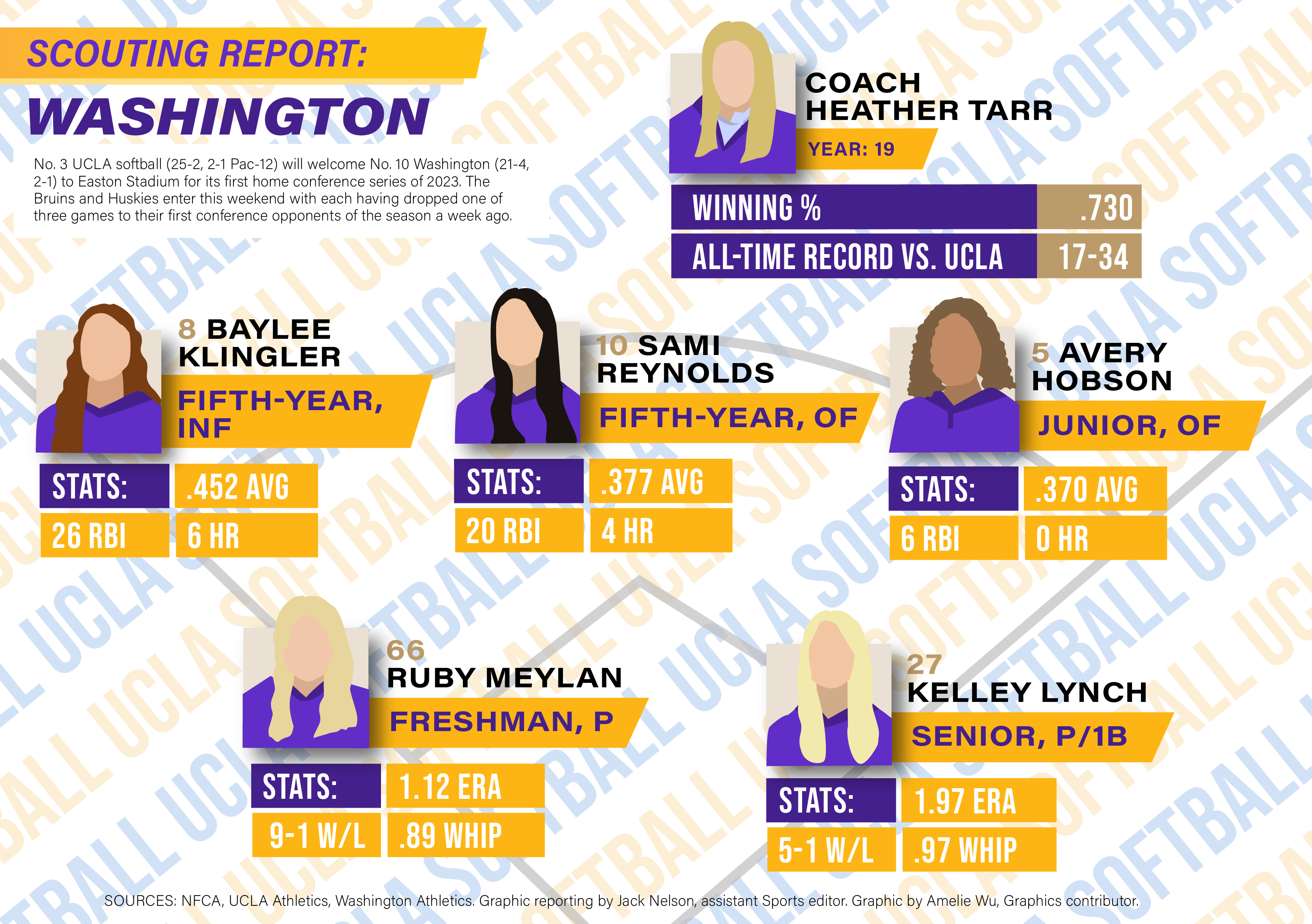 No. 3 UCLA softball (25-2, 2-1 Pac-12) will host No. 10 Washington (21-4, 2-1) in its second Pac-12 series of the season after claiming two of three against California last weekend. The Bruins and Huskies carry identical records in conference play, and the former will have the chance to break a second-place tie with the latter in the standings. Here is this week's scouting report from softball reporter Nick Darrow – who is writing his first scouting report and hopes the Bruins won't need it to win.
Washington Personnel:
Position Player to Watch: INF Baylee Klingler
Pitcher to Watch: RHP Ruby Meylan
X-Factor: OF Madison Huskey
Washington Statistics:
Batting Average: .326 (No. 21 nationally, No. 5 Pac-12)
Earned Run Average: 2.09 (No. 36 nationally, No. 4 Pac-12)
Fielding Percentage: .980 (No. 14 nationally, No. 3 Pac-12)
Rounding out the top 10 nationally, the Huskies have the makings of a team that can truly contend with the Bruins.
Coming off of a series win against No. 20 Oregon, Washington has confidence coming to Westwood. Also on its resume is a close contest against the No. 1 team in the country – a 5-4 loss to Oklahoma – that may provide additional confidence considering how the Sooners battered the Bruins 14-0 earlier this season.
Similar to the Bruins, the Huskies also traveled to the Mary Nutter Collegiate Classic, where they went 4-1, with their sole loss coming against then-No. 18 Kentucky 11-3 in eight innings. Less than 24 hours later, however, the Bruins took down that same Wildcats team 6-3.
After opening the Pac-12 slate with a home series against the Ducks, the Huskies will now be forced to travel, something they are relatively unfamiliar with, having played just five road games so far. In that limited action, they have had success, posting a 4-1 record, with only McNeese State handing them defeat.
Washington's strength and chance to win against UCLA will be heavily dependent on its ability to score runs, as it is top five in the Pac-12 in a variety of hitting stats. Whether it be doubles, home runs, slugging percentage or total bases, the Huskies are ranked no lower than third. Along with power at the plate, the Huskies also play small ball well, with 90 walks against 92 strikeouts and 41 stolen bases.
Leading the Huskies lineup is fifth-year infielder Baylee Klingler – the reigning Pac-12 Player of the Year and a triple crown winner. Klingler started every game for Washington last season and was a top-three finalist for USA Softball Collegiate Player of the Year. So far this season, she is only doing the same, hitting .452 with a 1.321 on-base plus slugging, six home runs and 26 RBIs.
Most notably, Klingler has only struck out once this season.
If Klingler is able to get on base, the Bruins may be in trouble, as fifth-year outfielder Madison Huskey will be waiting on deck looking to put runs on the board. Huskey, a member of the All-Pac-12 First Team in 2022, leads the Huskies in home runs and RBIs with eight and 28, respectively.
On the pitching side of things, the Huskies have a freshman who has made a large impact in her first collegiate season. In 18 appearances –10 of them being starts – Ruby Meylan has a 1.12 ERA with eight complete games and 110 strikeouts compared to just 14 walks.
But if Meylan gets into trouble, which may happen against a Bruin offense that averages 6.44 runs per game, three other pitchers in the bullpen will be called on to make the difference. Making up only 53% of innings pitched for the Huskies so far, it may be tough for the supporting cast to get into a groove should Meylan not prove reliable.
The Huskies have reason to be confident going into this weekend, and they're going to need all of that confidence to come away with a series win against this Bruins buzzsaw.
Darrow is currently a Sports reporter on the men's soccer beat. He was previously a contributor on the women's tennis, men's volleyball and men's soccer beats.
Darrow is currently a Sports reporter on the men's soccer beat. He was previously a contributor on the women's tennis, men's volleyball and men's soccer beats.