Muscular Dystrophy Society at UCLA aims to educate, raise money for research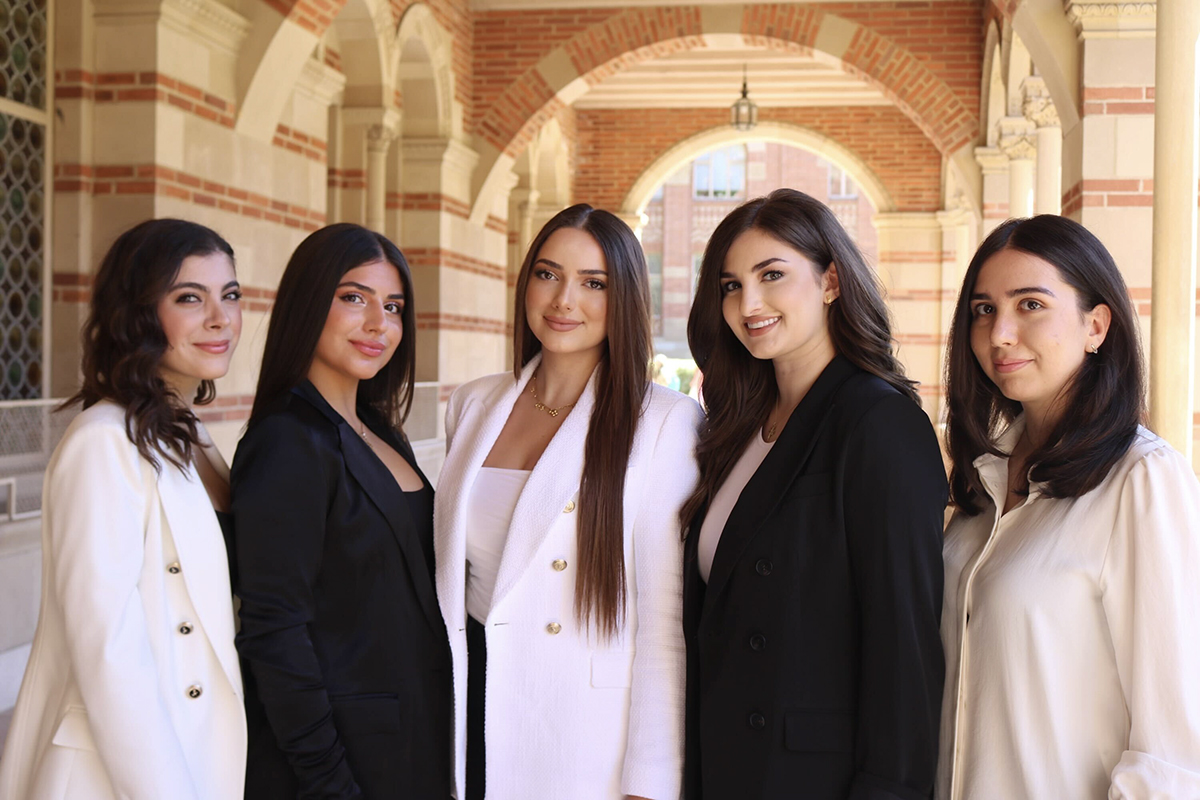 Mary Keushkerian, Lusin Yengibaryan, Angela Minasyan, Maral Chorbajian, Julieta Serobyan (left to right) are pictured. (Courtesy of Angela Minasyan)
Students are working to spread awareness and raise money to fund research for neuromuscular diseases through the Muscular Dystrophy Society at UCLA.
Muscular dystrophies are rare muscle disorders that progressively weaken and break down skeletal muscles over time, leading to decreased strength, increased disability and potential physical deformities. There is not yet a cure for muscular dystrophy, although existing treatments that may help alleviate symptoms include steroid medications, stretching and exercise, braces and splints, assistive devices, computer technology, lifting devices, and surgery, according to the CDC.
MD Society student members represent the Muscular Dystrophy Association, a nonprofit that supports individuals with neuromuscular disease, as its official ambassadors at the university. They use their platform to fundraise on campus, recruit for MDA's annual summer camps for children with neuromuscular diseases and encourage the community to participate in their online fundraising events, education campaigns and advocacy efforts regarding MD, according to president and founder of MD Society Angela Minasyan.
Mary Keushkerian, secretary of the organization and a third-year psychobiology student, said the society hopes to support MD patients and help show that their diagnosis does not have to limit their goals.
Many members of the MD Society have been personally affected by neuromuscular disease, either through their own diagnosis or that of a loved one, Minasyan said. These experiences often motivate them to advocate for others with the disease, she added.
Minasyan, a fourth-year psychobiology student, added that she became passionate about MD advocacy following a family member's misdiagnosis during an experience with a disease with similar symptoms.
"I knew that I wanted to bring awareness to an ailment that had so many unanswered questions and aching repercussions for our family especially," Minasyan said.
Julieta Serobyan, the internal vice president of MD Society and a fourth-year psychobiology student, said she has seen many family members suffer from diseases that alter muscular function, such as Parkinson's, Lou Gehrig's disease and multiple sclerosis. Serobyan added that watching her family members grow up dealing with these diseases has inspired her to pursue a career as a physician and lead advocacy efforts for those with similar experiences.
The MD Society also serves as a resource for students interested in health care professions. The society hosts physician guest speakers and provides opportunities for collecting clinical hours through its MDA-sponsored summer camp, Serobyan said.
Keushkerian said the MD Society has allowed members to develop connections with peers who share common interests and motivations.
"In this club, we are all in this together. We're all a family," Keushkerian said. "We're all very close together, and we're going to support each other because at the end of the day, we all know each other's struggles."
Keushkerian added that the MD Society is currently putting together a fundraising team to raise money on campus and planning for MDA summer camps in the next few months.
As the MDA does not have a Southern California headquarters, MD Society at UCLA also hopes to lead advocacy efforts for neuromuscular diseases in the region, beyond campus limits, Minasyan said. MD Society is planning a health fair to educate the larger community about muscular dystrophy and encourage those experiencing symptoms to seek help, Minasyan said.
Michelle Tepoyan, a member of MD society and fourth-year psychology student, said she feels education about muscular dystrophy is important because it often gets overlooked in the medical field.
Minasyan said she believes early diagnosis and treatment can be critical for those diagnosed with neuromuscular diseases.
"We just want to inform because education is key here," Keushkerian said. "If people get treatment on time, they will not suffer as badly as if they were not to know about this illness or this disease."
Minasyan said cutting-edge research is taking place at UCLA regarding MD and related diseases.
According to the UCLA Health website, the Center for Duchenne Muscular Dystrophy at UCLA offers many services including education, outreach, research, clinical trials and care for patients with muscular dystrophy. The center's mission is to discover potential drug targets, design drugs, expand access and care, and increase participation in clinical trials, according to its website.
Minasyan said she hopes MD Society will help bridge the divide between the research efforts happening at UCLA Health and community efforts for advocacy and awareness on campus.
"It's not just about having a disability. It is more so emphasizing that you have an ability to accomplish something no matter what setbacks may occur in your life. And I think that's the key to MD (Society)," Minasyan said.