Men's basketball March Madness Predictions 2023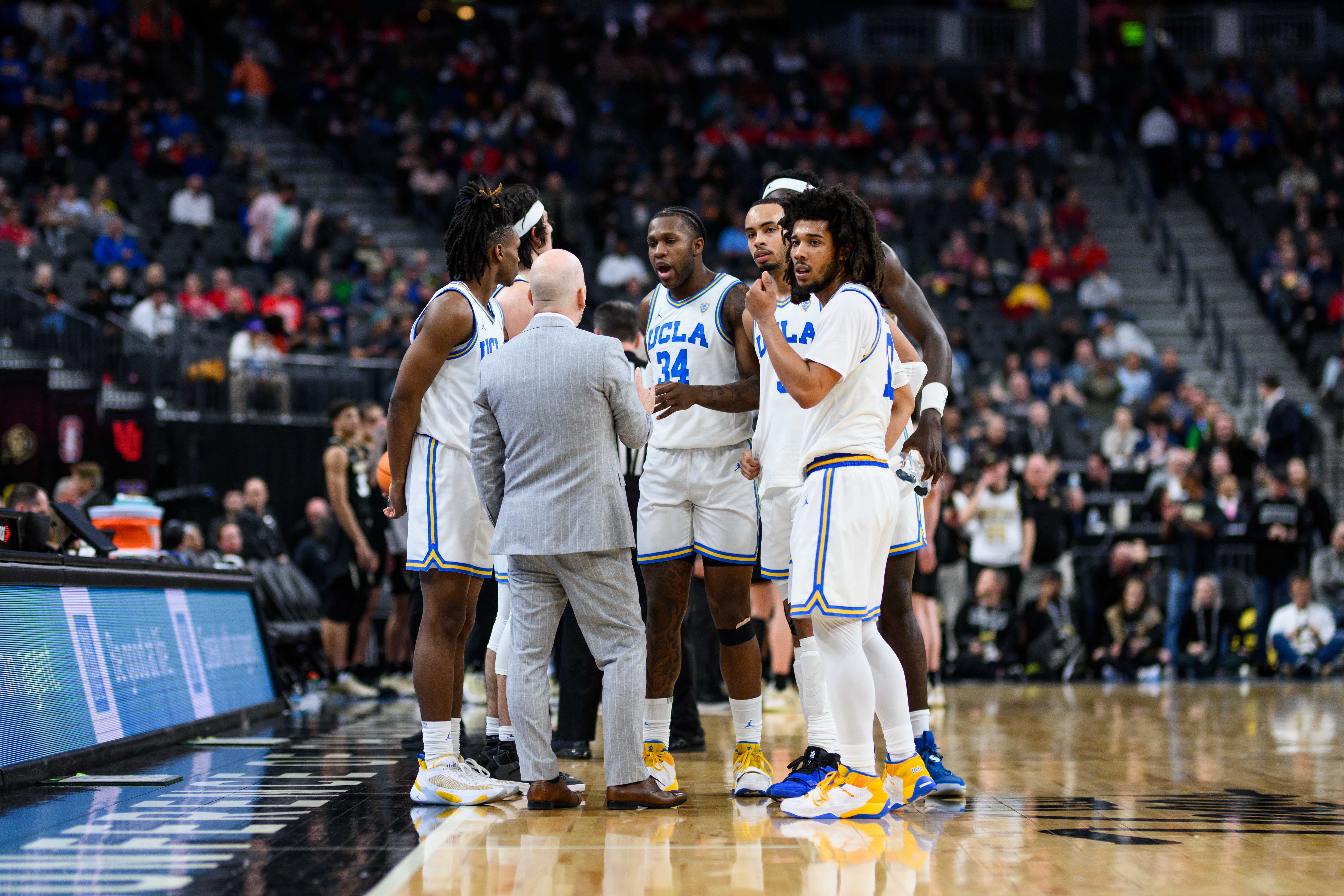 UCLA men's basketball players huddle during a game at the Pac-12 tournament. The Bruins finished as runners-up in the conference tournament for the second straight season but will enter the NCAA Tournament as a No. 2 seed. (Joseph Jimenez/Assistant Photo editor)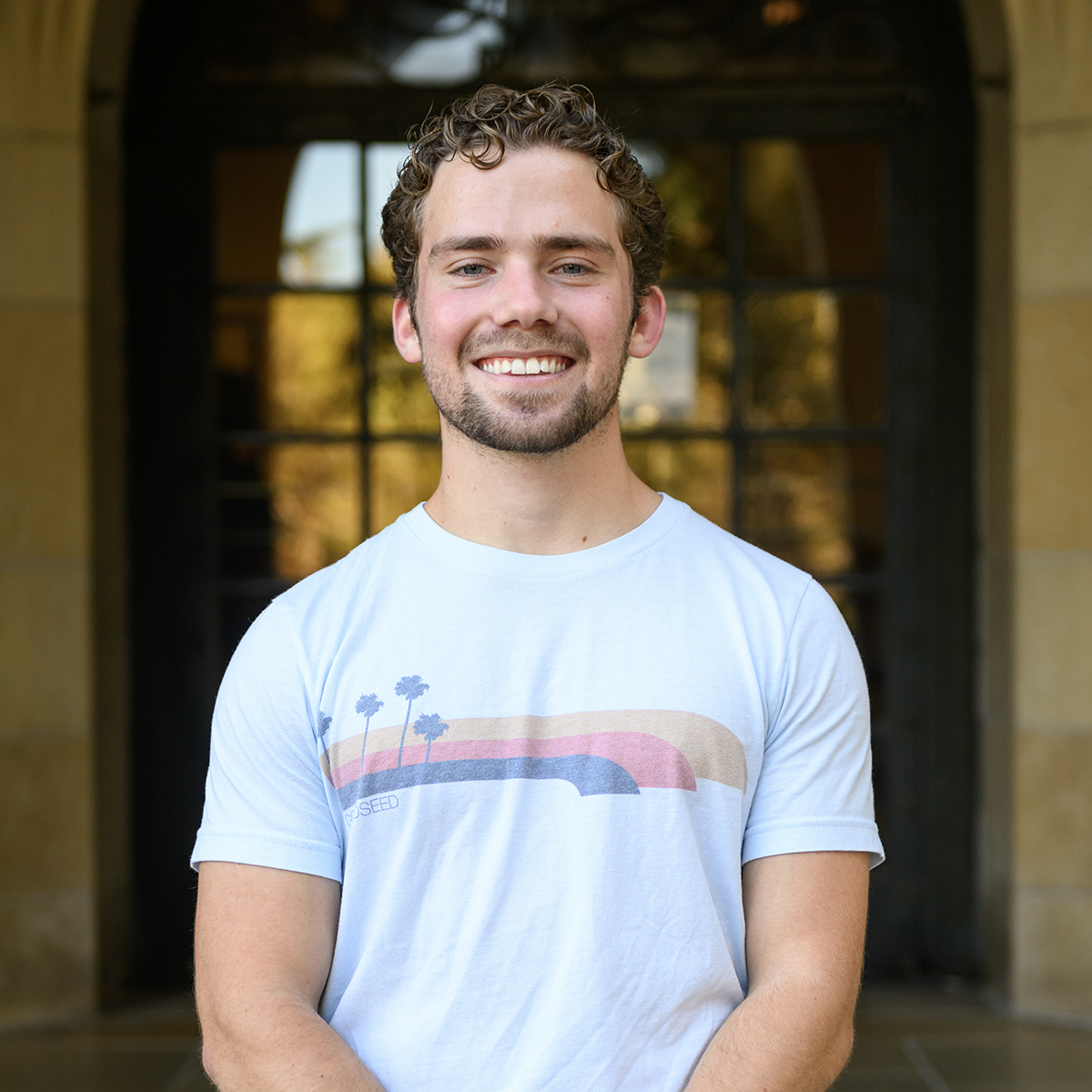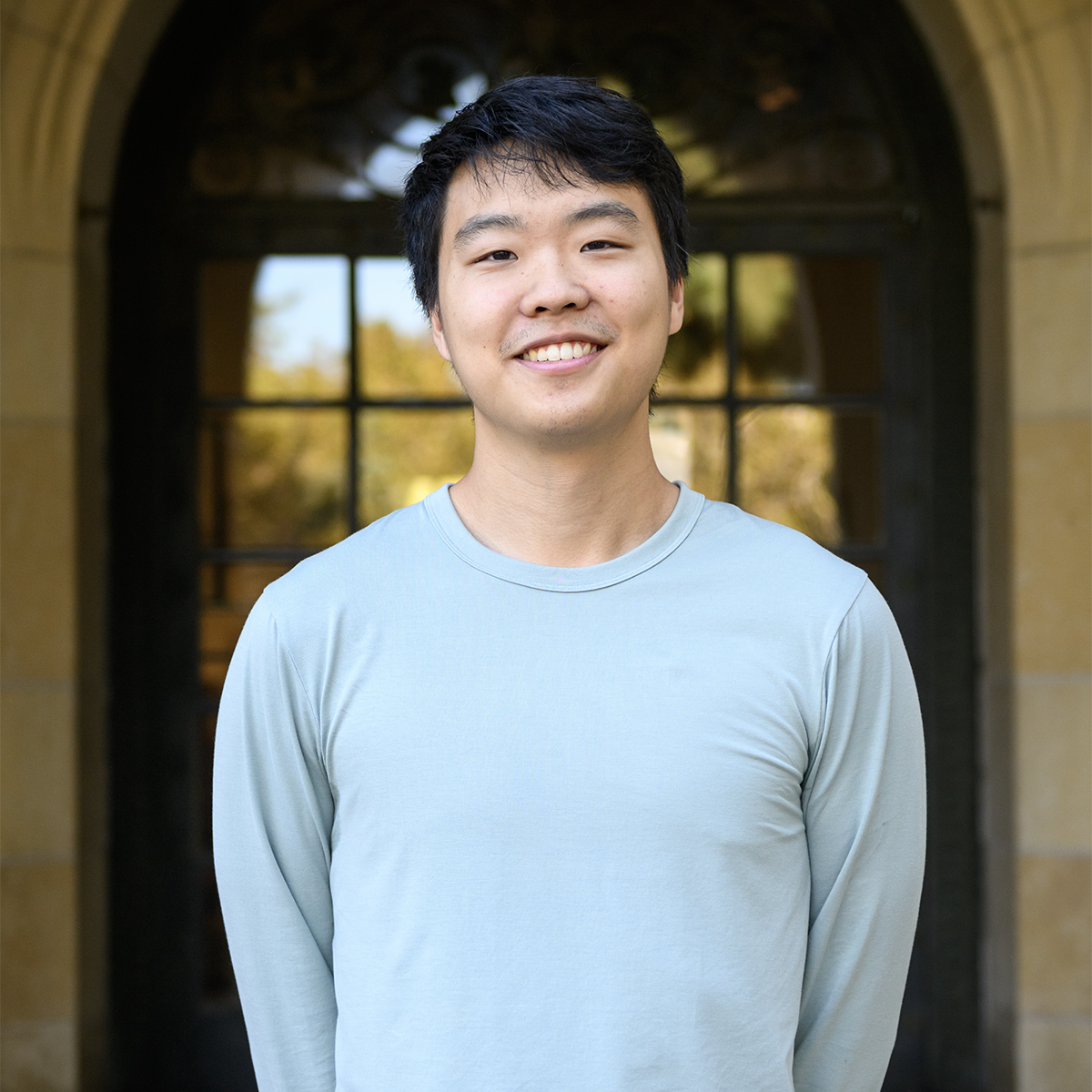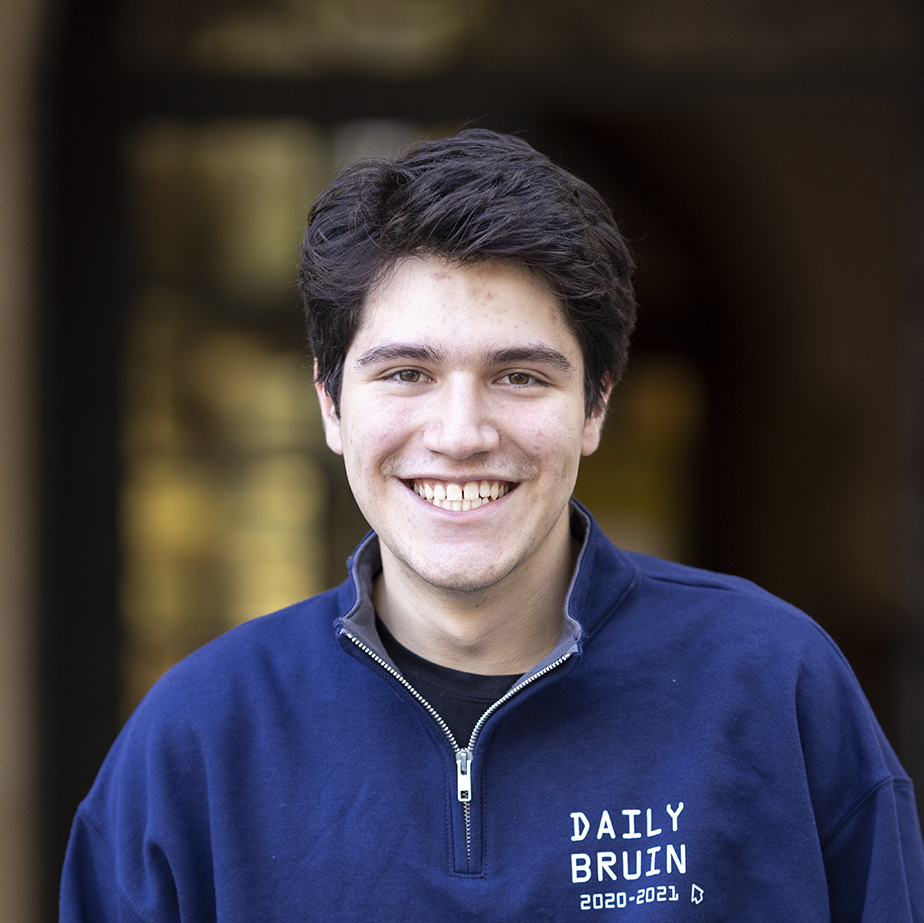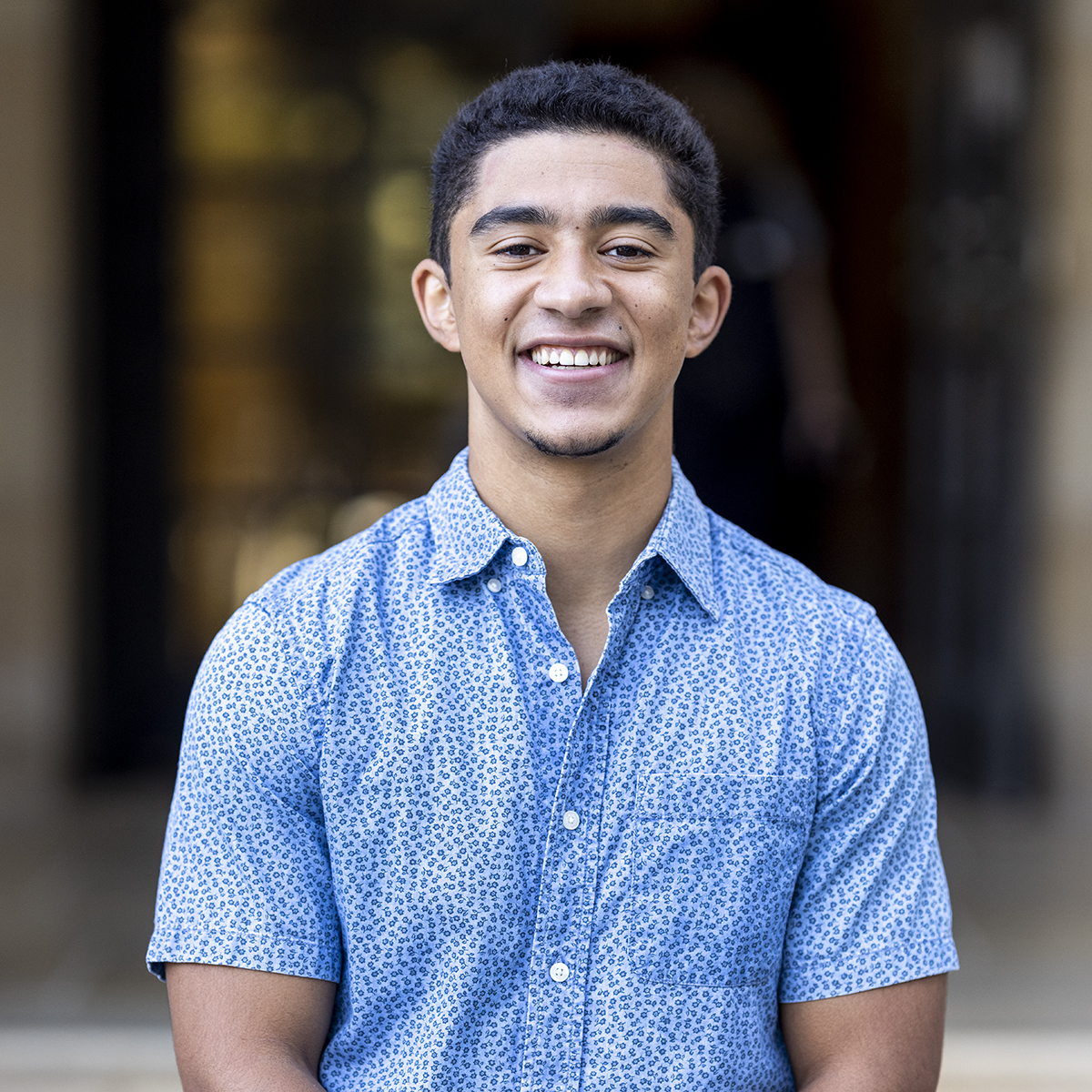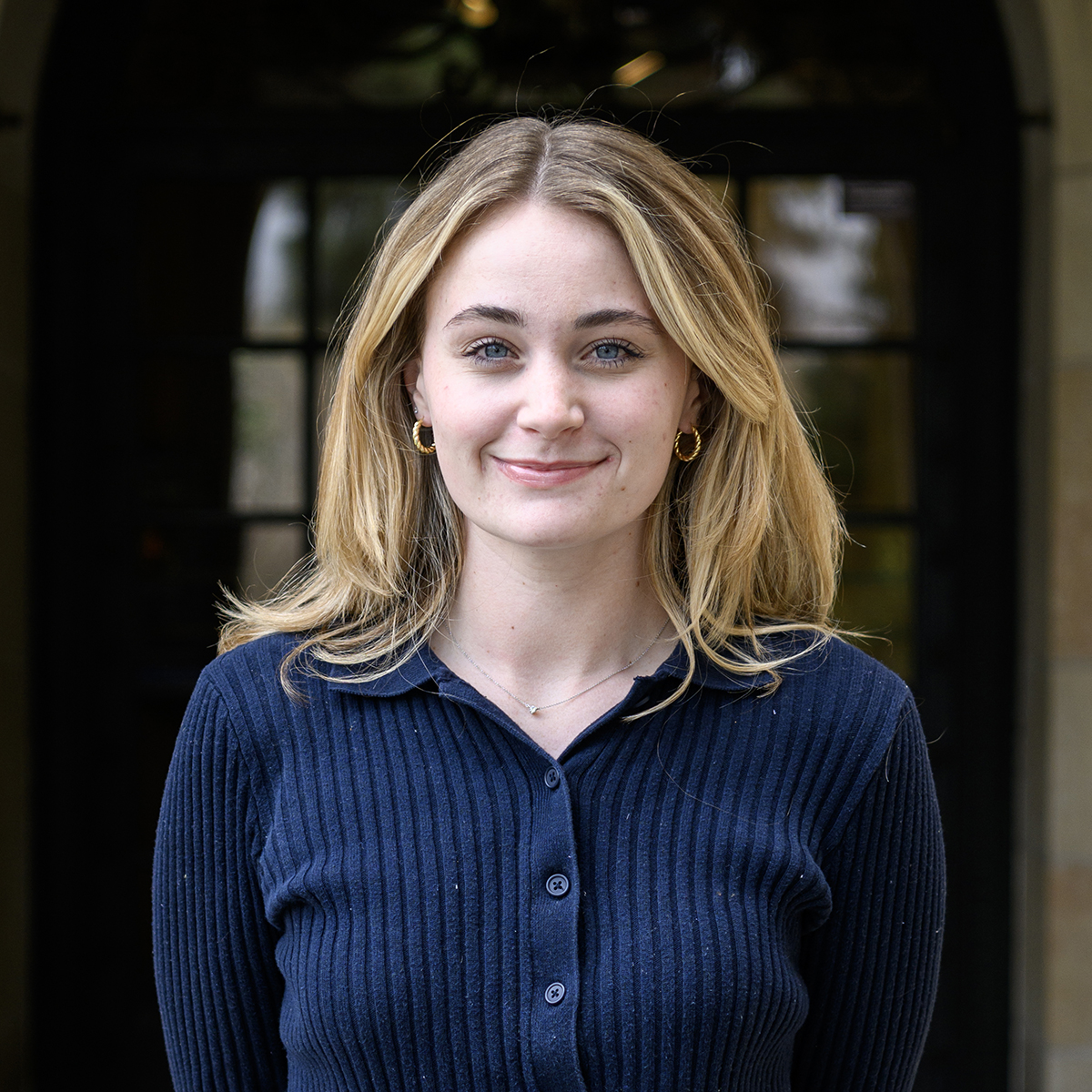 March 15, 2023 12:32 a.m.
UCLA men's basketball (29-5, 18-2 Pac-12) will enter the NCAA Tournament with its highest seed in 15 years as the No. 2 seed in the West Region. The Bruins will have a first-round matchup against No. 15 seed UNC Asheville in Sacramento, but UCLA has far more trouble ahead with the top four seeds in the regional all ranked in the top 10 in the AP Poll. Daily Bruin Sports predicts how far the Bruins will make it in March Madness.
Sam Settleman
Sports editor
Prediction: Elite Eight
I like numbers.
And yet, there's perhaps one sporting event in the world in which numbers should be entirely disregarded. That would be March Madness, where rational thoughts go to die. Coach Mick Cronin put it best: "It isn't March Normal."
For the entirety of my childhood, I spent hours making as many brackets as I could, maximizing my odds of having at least one good bracket by crunching the numbers. So with that, I'm going against everything I've ever learned about college basketball and doing just that: trusting the numbers. At some point, it has to work.
All of the top five seeds in UCLA's region rank in the top 11 of the KenPom ranking, a predictive system designed to predict the relative strength of every team in the country.
The Bruins currently sit at No. 2 in KenPom, the top spot of any team in the West. The only problem: KenPom doesn't factor in injuries.
And with junior guard Jaylen Clark's absence looming large over UCLA's national title hopes, it's only fair to assume the Bruins can't keep up with their No. 1 defensive efficiency without their Pac-12 Defensive Player of the Year. Don't get me wrong, UCLA has proven it can compete at a high level without Clark, but it's hard to discount an injury of that caliber.
Next up in the West, according to KenPom, is Connecticut. The No. 4-seeded Huskies might be overlooked behind No. 1 seed Kansas and No. 3 seed Gonzaga, but don't count them out.
As a program that knows exactly what it's like to shock the world as an underdog, UConn will upset popular champion pick Kansas in the Sweet 16 before knocking UCLA out on its way to the Final Four.
At least, the numbers say so.
Francis Moon
Daily Bruin senior staff
Prediction: National championship game
The bright lights of the NCAA Tournament can make even the most talented players crumble.
But they can also elevate some to new heights, bringing the madness to March by bursting onto the national scene and up NBA Draft boards while propelling their teams to the championship, like former Kansas guard Christian Braun last year.
After losing Clark for the season, the Bruins may need someone to do just that if they want to rekindle the magic from their Final Four run two seasons ago. That player will be none other than freshman guard Amari Bailey.
Arriving to the program as the No. 5-ranked recruit by ESPN in 2022, Bailey has had a relatively quiet season, due in part to injury, and is currently not projected to be drafted, though he still routinely flashed the talent and athleticism that earned him his five-star billing.
The Pac-12 tournament showed that Bailey won't run from pressure, and I'm betting that the freshman will be a key to the blue and gold's quest for No. 12 as he makes himself a household name.
UNC Asheville is one of the better bottom seeds, but forward Drew Pember will have to have the game of his life for it to have a chance. Northwestern likely doesn't have the firepower to contest the Bruins' defense either.
A rematch against Gonzaga would bring the best out of senior guard/forward Jaime Jaquez Jr. and redshirt senior guard Tyger Campbell to get some revenge before Bailey truly comes alive to put the Bruins over the top. A tight win over Connecticut and a dramatic victory over the winner of the Midwest Region will put the blue and gold in the championship game for the first time since 2006.
But the wear and tear of the tournament will undoubtedly play a factor, and UCLA might just be too worn down to have the ball roll its way for the trophy regardless of who awaits it in the final.
My unbiased opinion says that honor will go to my hometown team from Princeton, who hosted the first college basketball game I ever attended over a decade ago, as the No. 15-seeded Tigers will become the lowest seed to ever win it all.
Jon Christon
Daily Bruin senior staff
Prediction: Final Four
You need storylines to win big in March.
Who can forget UCLA's 2021 Final Four run? The Bruins were the lovable underdogs, catalyzed by an injury to a key player and led by a charismatic NCAA Tournament hero. That team had all the right ingredients for March Madness success.
This year's UCLA squad can run that recipe back this season.
While the Bruins are ranked nine seeds higher than they were in 2021, they have a legitimate chip on their shoulder and reason to believe they are an underdog after championship week. UCLA was dropped to a No. 2 seed despite having a just as good – if not better – resume than the teams who got No. 1 seeds.
Moreover, many are counting them out given the Achilles injury to Clark. But, while the injury is significant, this team showed in the Pac-12 tournament that it has the depth to overcome such a loss, like it did when Chris Smith tore his ACL in December 2021.
Lastly, UCLA has a plethora of recognizable names that could become heroes under March's bright lights – a la Johnny Juzang.
Jaquez, fresh off winning Pac-12 Player of the Year, has an old-school playstyle that will garner both fans and the ball in late-game situations. Campbell showed in 2021 that no stage is too big for him. And nobody would be surprised if Bailey used his stellar Pac-12 tournament showing to springboard him into March fame.
Playing No. 1 seed Houston in Houston would likely be too much to overcome – storylines and all.
But, even so, another magic March run is on the table for the blue and gold.
Gavin Carlson
Daily Bruin staff
Prediction: Elite Eight
March is all about upsets and Cinderellas.
So, naturally, I'll go with the most chalk prediction of all time – a No. 1 seed beating a No. 2 seed to go to the Final Four.
The West is probably the worst region to simply pick the favorites since every analytics guru believes the region's top-five seeds are all elite teams.
So why am I doing it? Simple, March Madness never makes sense.
Gone are the days of me researching the smartest upset picks. My middle school experiences of watching my Cinderella picks lose on my phone in the middle of class have scarred me.
UCLA is really good. Even without Clark and freshman forward Adem Bona, it should have beaten Arizona in what was essentially a road game in the Pac-12 championship game.
The Bruins will handle their first two matchups, and Drew Timme won't have enough success against Bona for a Gonzaga team that lacks upside in the Sweet 16's juicy Final Four rematch. UCLA will get its revenge.
On the other side, despite every bracket I've seen thus far having Kansas falling to UConn, I believe the Jayhawks are really good as well. So, I will pick them to make it far. We're keeping it simple this year.
In a matchup between the top two seeds in the West, I'll give the nod to Kansas simply because of Clark's absence. The Jayhawks also had an NCAA-best 17 Quad 1 wins this season, and the return of coach Bill Self gives them a storyline to hang onto that most No. 1 seeds usually don't have.
Oh, and Gradey Dick is the best name in college basketball.
The Bruins will respectably bow out in the Elite Eight without one of their starters. Once again, probably the most boring prediction of all time.
But don't worry, the middle school child in me will still probably pick No. 12 seed College of Charleston to make it to the Elite Eight or something like that.
Grace Whitaker
Assistant Sports editor
Prediction: National champions
If I've learned anything from this year of UCLA athletics, it's to not count the Bruins out too soon.
I was sitting in the front row to see the women's basketball team take down Stanford in the Pac-12 tournament semifinals. I live-streamed UCLA women's soccer's comeback for the ages over North Carolina to claim the national title. And all the way from Las Vegas, I witnessed men's basketball's dominant takedown of Arizona to close the regular season despite the loss of its Pac-12 Defensive Player of the Year in Clark.
This March will be nothing short of the madness that seems to follow every Bruin squad everywhere they go.
And at the end of it all, UCLA will be the one hoisting the trophy once again.
It won't be easy. The last time UCLA won a national championship in men's basketball, none of its current roster was even born yet. But this is the blue and gold's best shot since.
UCLA will begin with statement wins over No. 15 seed UNC Asheville and No. 7 seed Northwestern. A Sweet 16 matchup against No. 3 seed Gonzaga won't be as seamless, but the Bruins will emerge with the victory – sweet revenge for their Final Four loss in 2021 to the same team that ended their Cinderella run.
However, the joy of the victory won't last long, as the Bruins' greatest test thus far will lie in an Elite Eight contest where they will face No. 1 seed Kansas. The Jayhawks – who just lost the Big 12 tournament championship to Texas – will pose a significant threat to the Bruins' national title hopes. But in the end, UCLA will be the one with the final scoring spurt in a game filled with runs to grant them a slot in the Final Four for the second time in three years.
And from there, they'll make history, once again showing that doubt just further fuels the blue and gold.