Freshman pitchers Michael Barnett, Cody Delvecchio step up for UCLA baseball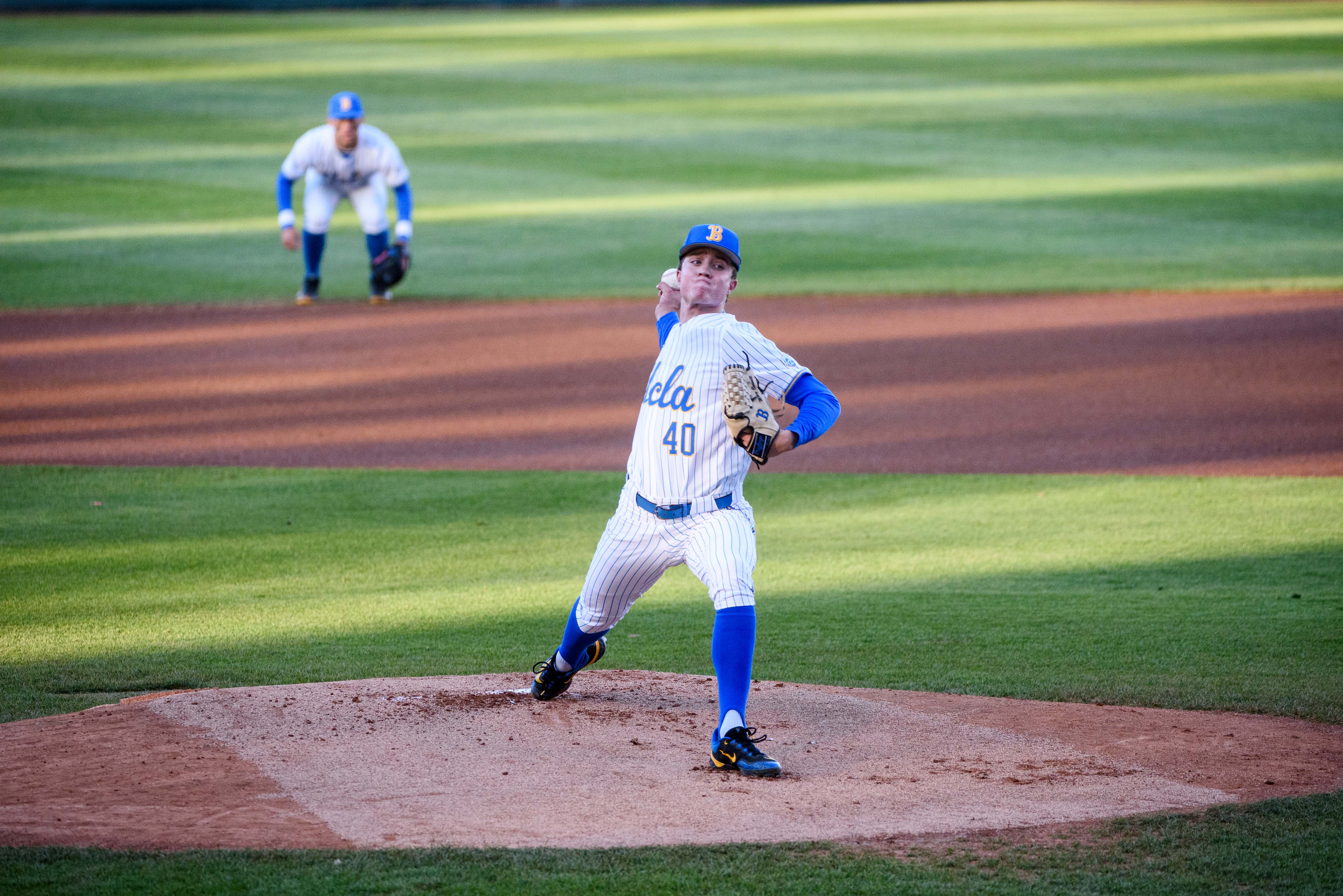 Freshman right-hander Michael Barnett grimaces as he delivers a pitch. Barnett, along with fellow freshman right-hander Cody Delvecchio, has made early contributions to UCLA baseball's pitching staff. (Felicia Keller/Daily Bruin)
Coach John Savage has turned to two freshman arms in high-leverage situations to begin the 2023 season, jump-starting the pair's collegiate careers since Opening Day.
No. 13 UCLA baseball relied on rookies for 36.4% of innings in 2022, and the now-sophomores make up one-third of the weekend rotation and the backend of the bullpen. However, despite spots occupied by older players, right-handers Michael Barnett and Cody Delvecchio have carved out their own roles with the Bruins.
"We had a good freshman class last year, and they were really talented," said senior right-hander Kelly Austin. "But this class, even though they're (also) talented, they've been really easy to teach. They've been really easy to come in and try to learn the ropes."
Delvecchio has appeared as the go-to seventh-inning option, while Barnett was named the midweek starting pitcher by Savage and picks up bullpen work during the weekend series.
The former of the pitching duo was complimentary of his fellow freshman early into the season.
"In the beginning of the year, Coach Savage never said, 'Who's going to be the Tuesday guy?'" Delvecchio said. "We were all wondering. The day before (the Pepperdine game), Coach was like, 'Hey, Mikey, you got the start.' And he went out there and did his thing. He's a big sinker guy, and he's looked really good."
Barnett tossed two innings in his Feb. 21 start against the Waves and struck out four batters. Since then, the Lafayette native has tossed three-inning starts against both Michigan and Long Beach State.
The 6-foot-4 groundball-focused pitcher holds a 1.42 earned run average in six appearances and three starts. Through 12.2 innings, Barnett has allowed just two earned runs and two walks, while striking out a dozen batters.
Savage identified Barnett as a future weekend starting pitcher for the Bruins. The 19-year coach added that a recruiting trip convinced him of the righty's potential.
"We went up to Stockton. Saw him and I really liked him, (so) we jumped on him," Savage said. "We got him, and he's been pretty darn good. … This guy had a really good senior year. He came down this summer and lifted with our strength coach. I think that really helped his maturity level."
Barnett said he is grateful that Savage selected him for the midweek starting job and that he has trusted his coach's pitch calls.
While Barnett has begun games, Delvecchio is one of two setup pitchers – alongside senior right-hander Charles Harrison – tasked as the stopgap to the closer, sophomore right-hander Luke Jewett.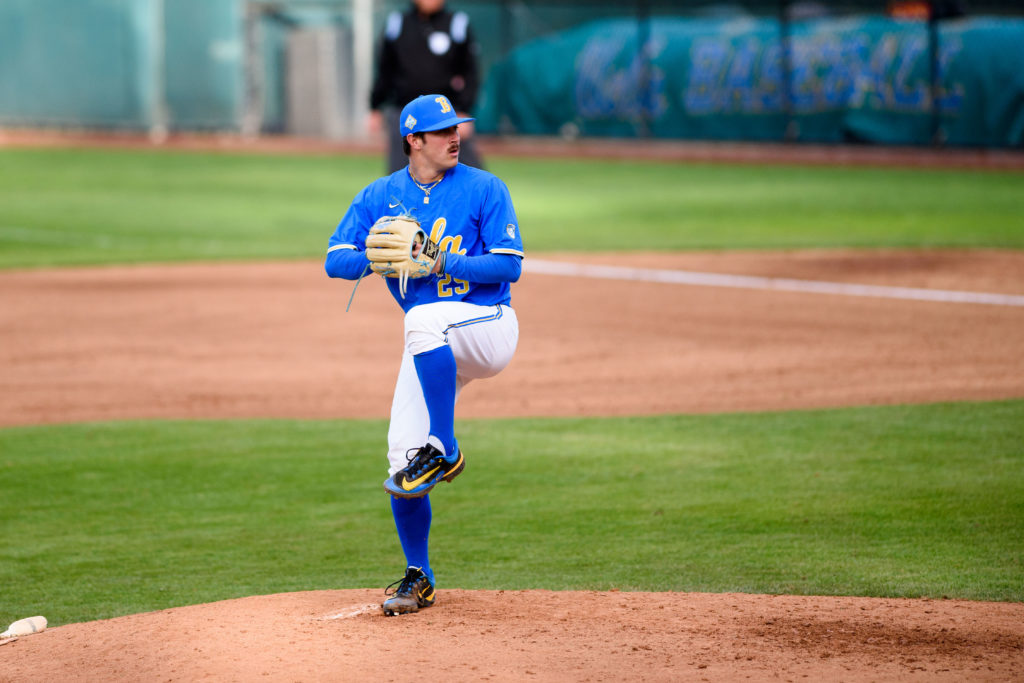 "Savage sent me out to summer ball, and it was really big for me," Delvecchio said. "It helped me grow not only as a person, but as a pitcher too. It helped me see how college hitters are, and I didn't do too well. So, I came here with a mindset of, 'Okay, I got to have a new mindset with Coach Savage behind my back.'"
Delvecchio, who stands at 5 feet 10 inches, is the shortest pitcher on the roster. But for what the Mission Hills native lacks in height, he makes up for in velocity.
Savage said Delvecchio's pitch has been clocked as fast as 94 mph and regularly sits in the low 90s. The righty carries a strikeout rate of 13.5 strikeouts per nine innings and has a sub-one ERA through 10 appearances out of the bullpen.
"He's got a good ride to his fastball, much-improved slider, a good changeup and he works fast," Savage said. "Delvecchio has been outstanding. You couldn't ask for a better start from a freshman. … He's a little guy with a really, really, really good arm."
Despite being young players, Barnett and Delvecchio have heavily contributed to a nation-leading 1.78-team ERA.