Emily Bessoir returns with career-best performances for UCLA women's basketball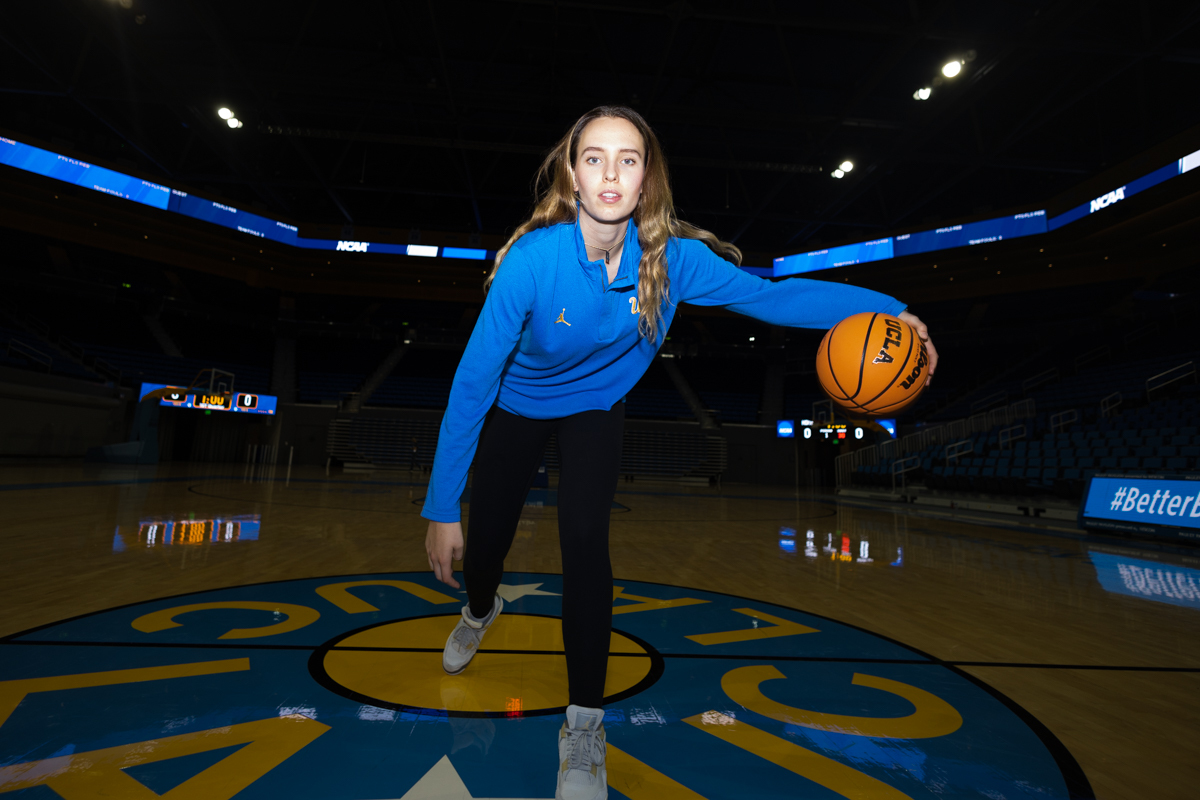 Redshirt sophomore Emily Bessoir crosses over at center court. (Shengfeng Chien/Daily Bruin staff)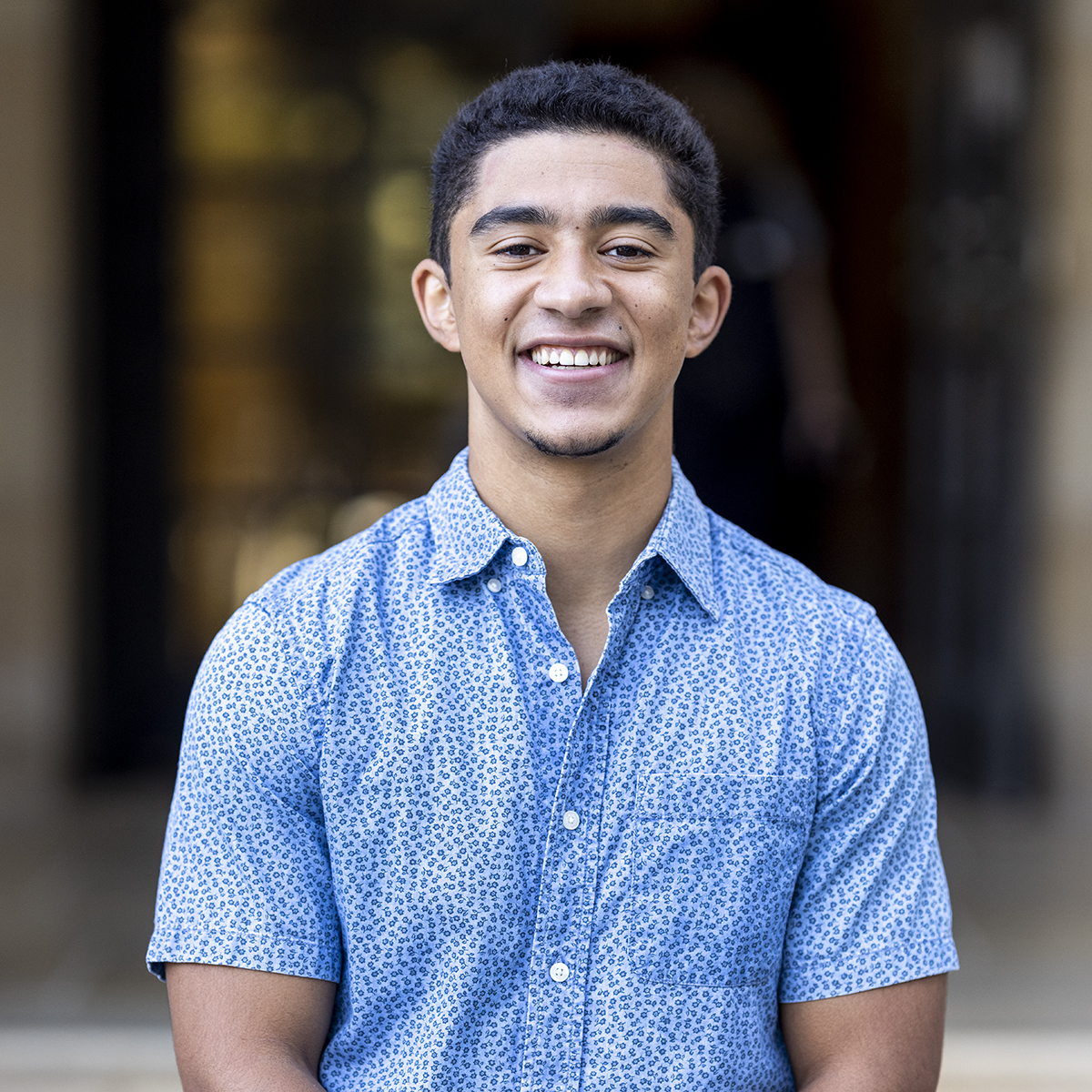 March 15, 2023 12:05 a.m.
Emily Bessoir is coming off the greatest stretch of her collegiate career.
After draining five 3-pointers in UCLA's Pac-12 tournament opener to help the Bruins survive and advance, she went off for 18 points and grabbed a career-high 13 rebounds to secure her first career double-double and lead her team to an upset victory.
But despite her recent success on the court, Bessoir does not want basketball to define her character.
Sure, she is the daughter of two professional basketball players, stands at 6-foot-4 and even admits that her ultimate goal is to play in the WNBA.
Yet, the redshirt sophomore forward makes it clear that she's always tried her best to avoid becoming reliant on the sport – both in the present and in what she plans for the future.
That complicated relationship with her passion took an unexpected detour when it was stripped from her for about 12 months.
After a strong freshman campaign at UCLA – when her relationship with the game of basketball was at one of its highs – she tore her ACL before her sophomore season ever started.
There would be no Emily Bessoir the basketball player for nearly an entire year.
"I was a wreck in the beginning. I could not believe it," Bessoir said. "I always said basketball doesn't define me – there's more to my life. But I was really loving it at that time. … I had found a new passion for it, so it was really devastating."
The game didn't just continue as usual. Instead, it tested her character by removing itself from her life altogether.
But now, nearly a year and a half after the heartbreaking injury, Bessoir is playing better than ever for the Bruins. Simultaneously, the forward acknowledges she's more in tune with her mental and physical health than she's ever been since her parents first introduced the sport to her as a child.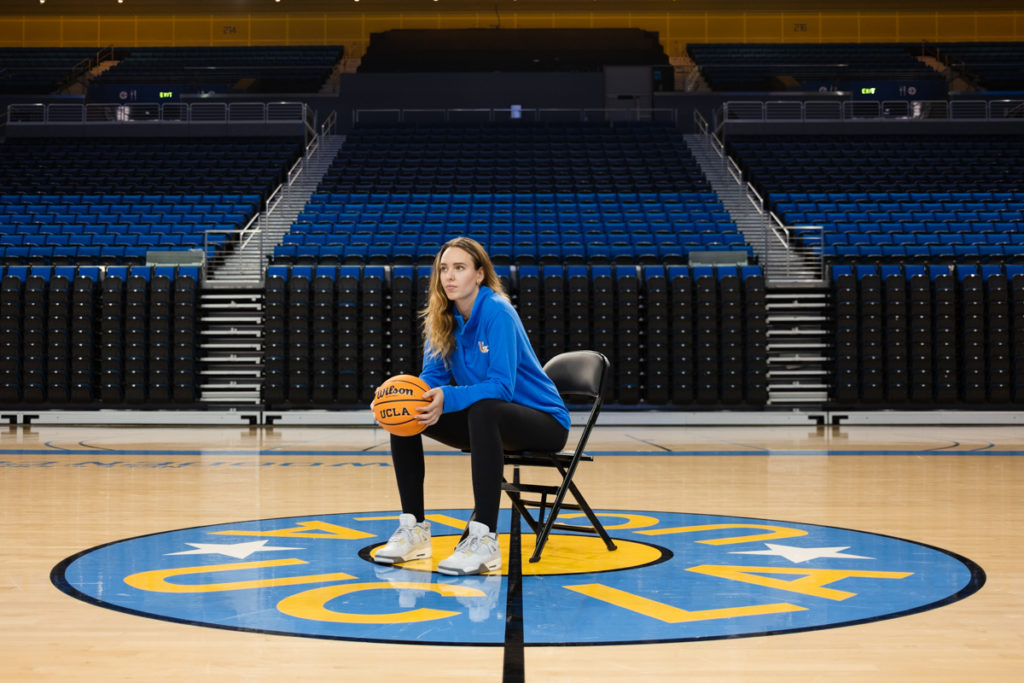 The seeds were planted long before Bessoir's time on the court began.
Her parents met while both playing professional basketball in Germany. Her dad is American, her mother German, but together they shared the cultural background of a single sport.
"They met in a basketball gym, hence why I play basketball," Bessoir said as she laughed.
Naturally, almost every baby photo of Bessoir features a basketball in her hands or on her lap. She tried swimming, she tried volleyball, but despite efforts to find other passions, her childhood in Munich was still dominated by the game that helped her parents find one another.
"I always joke around that I didn't really want to play basketball and they (Bessoir's parents) kind of just dragged me to practice all the time," Bessoir said. "I was allowed to try other things, and I did for a while, but I was always playing basketball."
Quickly following in her parents' footsteps, Bessoir rose up the ranks in German basketball and became a member of the national team in 2016. Then, as Bessoir helped lead Germany's U-18 team win a European Championship in 2018, American schools started showing interest. One of those schools was UCLA, as assistant coach Tony Newnan was the first coach in Westwood to discover her.
The ongoing COVID-19 pandemic forced a majority of her recruiting process to take place over Zoom, but Bessoir was still able to detect an authenticity from coach Cori Close's program that other schools did not exude.
Close and Newnan were transparent about the challenges Bessoir would face.
"What I really appreciated about coach Tony and coach Cori – they were really honest. 'It's going to be hard. You're going to have days where you want to quit, but that's OK,'" Bessoir said, repeating what the coaches had warned her.
Bessoir eventually committed to UCLA. When she arrived to a COVID-19-restricted Westwood and a roster thinned by the Bruins' injuries and absences, a great opportunity presented itself for the true freshman from Munich.
And she delivered.
Bessoir was named to the Pac-12 All-Freshman team after averaging more than 20 minutes per game and ranking in the top four for UCLA in scoring, rebounding and blocks per game. Close admitted she was surprised by Bessoir's ability to adjust to the intensity of the conference.
"You never know with freshmen until they are faced with big moments and you see how they process pressure," Close said. "She just was never really bothered by the pressure."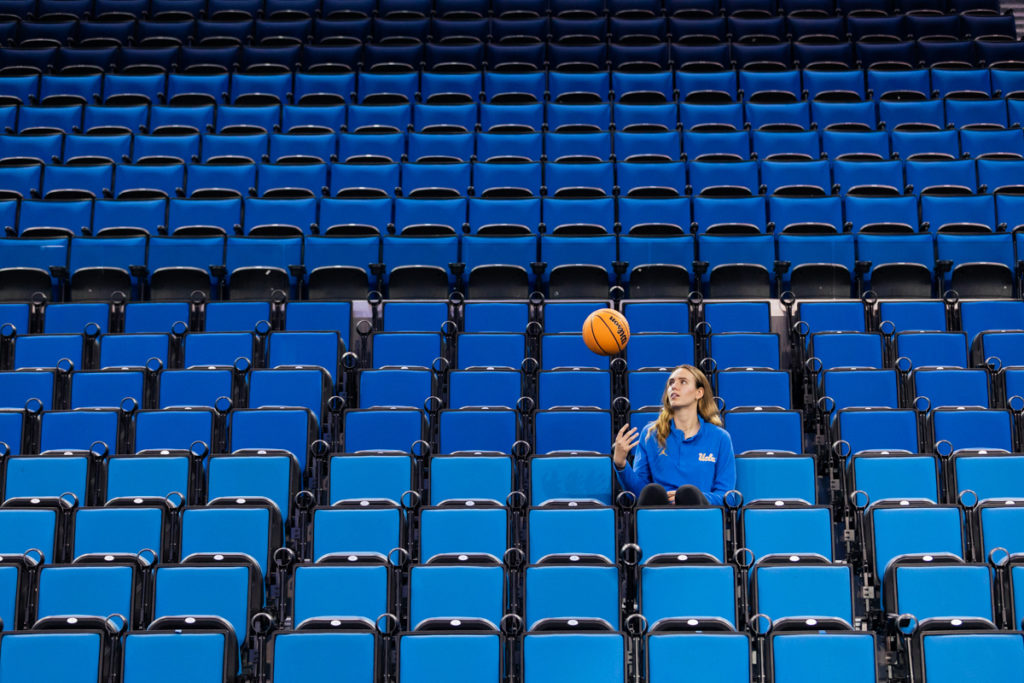 With a stellar freshman season behind her and COVID-19 restrictions loosening heading into the 2021-2022 season, Bessoir looked poised for another strong season in Westwood heading into fall practices.
"I was feeling really good, really fit, sleeping a lot, eating well. I thought I was at a really good spot," Bessoir said.
But then during a 1-on-1 drill during an Oct. 4 practice in Pauley Pavilion, the game that had followed nearly every aspect of her life up until that point suddenly abandoned her.
"I did the move that I always do. All of a sudden it just stopped, it felt so slow and I just felt my knee rotate," Bessoir said. "There's always that scream that people have when they tear their ACL, and I was like, 'Oh, that's where it comes from.' I didn't even try to scream, but I did."
The feeling may have been new for Bessoir, but it was all too familiar to one of her teammates.
Senior guard Camryn Brown – a junior at the time – had already torn her ACL three separate times in her basketball career as she watched Bessoir suffer the same gruesome injury that day.
The veteran said she knew right away.
"Based off of her reaction in the drill and what it looked like, I knew immediately what it was," Brown said. "I wouldn't ever want anybody to go through that, especially not a teammate, because I know how bad that process is."
After tests confirmed the injury, that process began for Bessoir back home across the pond. The frontcourt star flew to Germany to receive the surgery from the same surgeon that performed the procedure on other members of her national team.
After five weeks recovering in Munich, she returned to Westwood, where she quickly learned that the mental hurdles would outmatch the physical ones during the entire rehab process.
"(I had doubts) almost every day," Bessoir said. "I did a lot of mental wellness stuff. I really tried to look out for my mental health, but it is a natural question you ask yourself."
With her basketball life limited to physical rehabilitation, Bessoir said she needed other passions to keep her positive. So she turned to art, a skill passed down not by her basketball parents but from another relative.
"I have faint memories of me and my grandma drawing. She was the only artistic one in my family," Bessoir said. "I always liked to draw and be creative, and then when I got injured, I knew I had more time."
During the healing process, Bessoir designed her own T-shirts using the canvas of an empty piece of fabric to distract her from everything she was fighting through.
"I used that a lot – crocheting, doing the T-shirts, drawing, painting – just to clear my head," Bessoir said. "It puts me in this flow state where I just don't think. I'm just in tune with what I'm doing right now."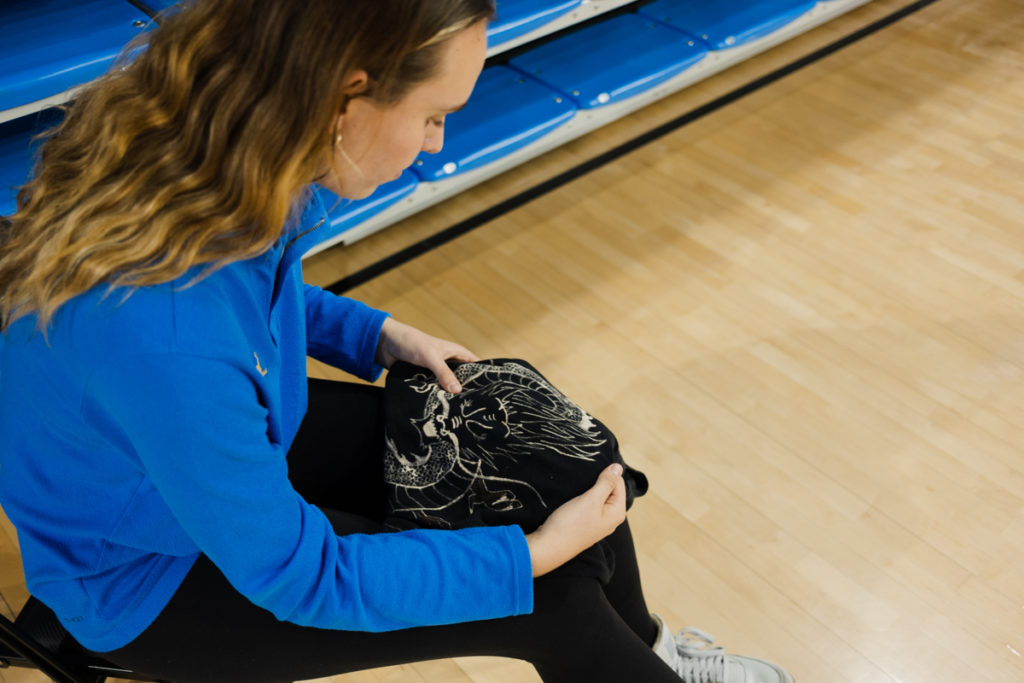 Finally, a year after she was limited on crutches and forced to rely on her mother for basic needs back in Munich, Bessoir was cleared to play in the 2022-2023 campaign.
Despite a limited offseason of training, Bessoir continuously showed off vast improvements throughout the regular season.
Two years after shooting 29.4% and making 20 of her 68 3-point attempts, she nearly tripled her 3-pointer output by nailing 57 of her 156 attempts – good for a 36.5% clip. And despite coming off a serious knee injury, her minutes increased from 20.7 to 25.8 per game.
Despite far more depth and competition within the UCLA frontcourt group as the No. 1 recruiting class in the nation joined the squad, Bessoir has still started 32 of 34 games for the Bruins.
Bessoir credits the entire UCLA program for supporting her, and, of course, she received plenty of assistance from the aforementioned torn ACL expert.
"One thing we always do, no matter where we're going, I'm always like, 'Em, you got your shoes and your brace?'" Brown said. "She'll be like, 'Do you?' I say that's all we need. We're brace buddies."
Donning the same knee brace she's worn all season, Bessoir's comeback culminated with a breakout performance in the same Pac-12 tournament she missed the season prior.
Bessoir was slated to the conference's All-Tournament Team after averaging 15 points, 8.3 rebounds and 2.8 made threes per game during UCLA's magical run to the championship game.
Despite the statistical success, Close was most proud of Bessoir's mental transition – through an ACL rehabilitation – from a soft-spoken, friendly freshman to a confident woman in all aspects.
"She got her mojo and was like, 'You can't guard me,'" Close said. "That confidence, that's something that'll stay with her for the rest of her life. For me, it's about watching women claim and develop and earn all of who they want to become on and off the court."
Above all else, the unexpected time away from basketball helped her appreciate the game that had followed her entire life story. Bessoir smiled the widest when she reminisced about the recent Pac-12 tournament experience she missed out on the year prior.
"How good, how grateful (I felt)," Bessoir said. "Just to be able to be out there and have an impact – it's so fun. I'm so grateful that I am where I am, and I wouldn't be if my team wasn't there."
Regardless of how long the Bruins get to dance this March, Emily Bessoir will appreciate every moment of it just that much more.
Carlson is currently a staff writer on the football, men's basketball and women's basketball beats. He was previously a reporter on the softball and men's golf beats.
Carlson is currently a staff writer on the football, men's basketball and women's basketball beats. He was previously a reporter on the softball and men's golf beats.