UCLA track and field secures nine All-American titles at NCAA Indoor Championships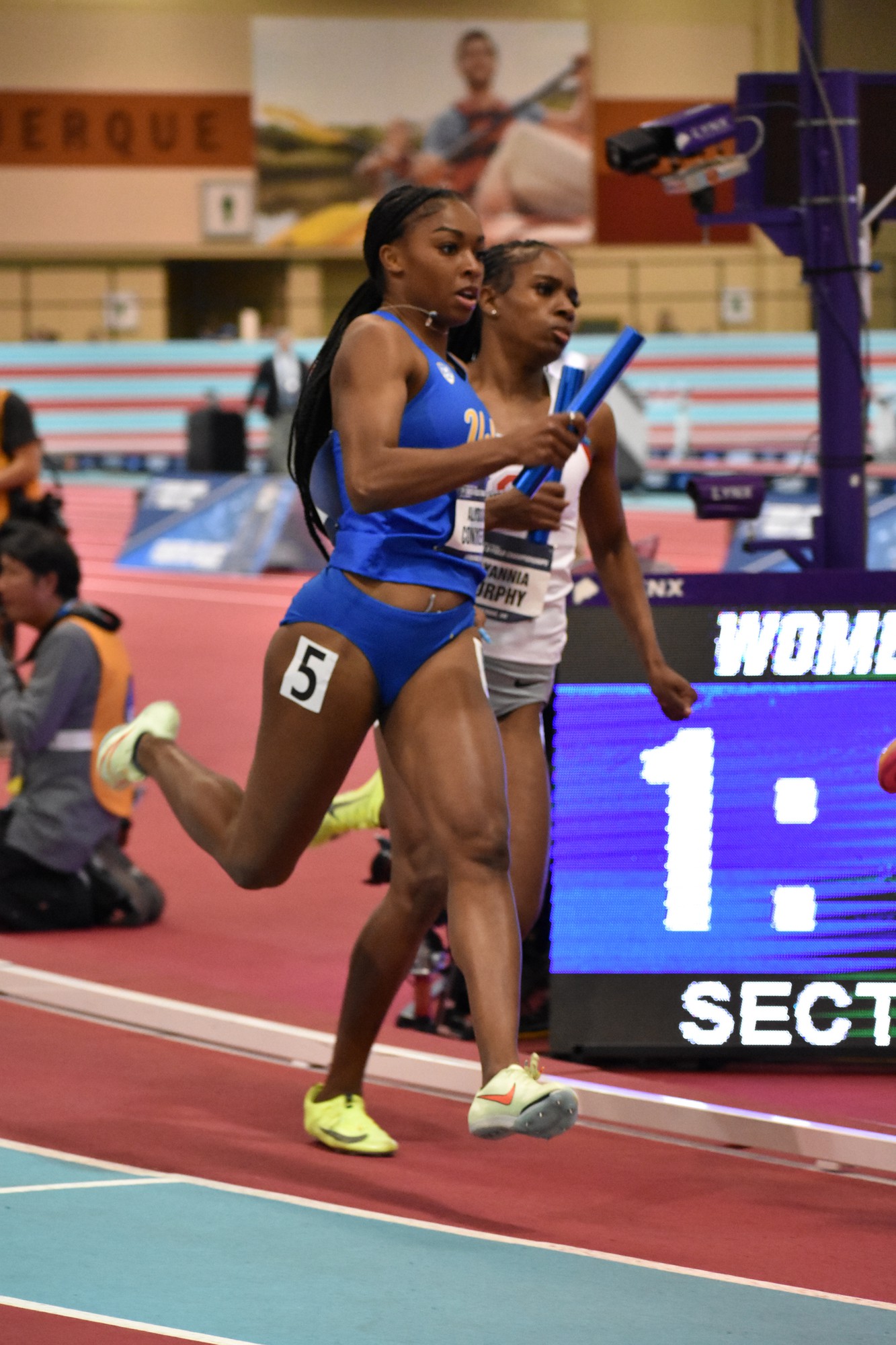 Sophomore sprinter Aly Conyers competes in the 4×400 meter relay. (Corey Mueller/UCLA Athletics)
The Bruins are coming back to Westwood with nine more All-Americans in tow.
UCLA track and field concluded its indoor track season at the NCAA indoor championships in Albuquerque, New Mexico this past week. The blue and gold competed against elite competition from around the country, vying for individual and team titles.
Coach Avery Anderson had high praise for his team's achievements from the season.
"Those athletes that did finish and were able to earn those All-American certificates, I am extremely happy with how they performed all season," Anderson said. "What it took to get here to perform at the meet and earn those accolades is a tremendous achievement."
Four UCLA athletes were named First Team All-Americans with another five being named to the second team. The women's distance medley relay team consisting of senior sprinter Gwyn George, junior sprinter Kate Jendrezak, junior sprinter Rose Pittman and sophomore sprinter Mia Barnett finished with a time of 10:59.87. In only their second time performing in the event, the four Bruins placed fourth to each earn First Team All-American honors.
Barnett said she leveraged different tactics heading into the championship meet compared to a regular season event.
"There is definitely a different approach," Barnett said. "The first time we did the DMR (distance medley relay) was in Boston and in that approach we had no other teams to race against. So it was very much of a time trial situation where we all had to run pretty reasonable, doable times so that every single leg knew that they could hit, and just trying to chase a time, whereas the national meet it was let's just compete against the best teams in the country."
The women's 4x400m relay team consisting of Jendrezak, sophomore sprinter Aly Conyers, sophomore sprinter Makenzy Pierre-Webster and freshmen sprinter Naomi Johnson finished tenth in their event with a time of 3:31.91. The performance notched the squad's Second Team All-American honors. Jendrezak was the only Bruin athlete to earn both first and second team selections.
Unlike Barnett, Conyers said she attempted to keep the same approach going into the championship meet.
"Coach helps us with that because he tries to make us in this championship mindset from the first meet to the last meet," Conyers said. "I try to use that to stay focused."
Despite heading into the meet with high expectations, several Bruins were dealt an unfortunate fate. The men's 4x400m relay team was disqualified after officials ruled that junior sprinter Antonie Nortje stepped on the line twice. Redshirt sophomore sprinter Yanla Ndjip-Nyemeck had a promising start with a new personal best in the 60m hurdle with a time of 8.01 in the preliminary round but fell on the final hurdle of the finals round.
Still, Anderson acknowledged the strength of their performances.
"I would also like to mention that those who did not get to earn those accolades because of either being disqualified or falling," Anderson said. "They still performed very very well."
Junior sprinter Ronan McMahon-Staggs finished the one mile race fifth in his heat and twelfth overall with a time of 4:10.04. This performance earned McMahon-Staggs Second Team All-American honors.
Conyers – a transfer from California – reflected on the end of the indoor track and field season by noting a difference between her sophomore and freshman years.
"Something that I definitely think that coach Anderson has helped with is my confidence," Conyers said. "This season I was a lot more confident so I PR'd in every single meet. I think that's the biggest difference from my freshmen year to this year, my sophomore year."