Opinion: UCLA's failure to enforce dismount policies endangers riders and pedestrians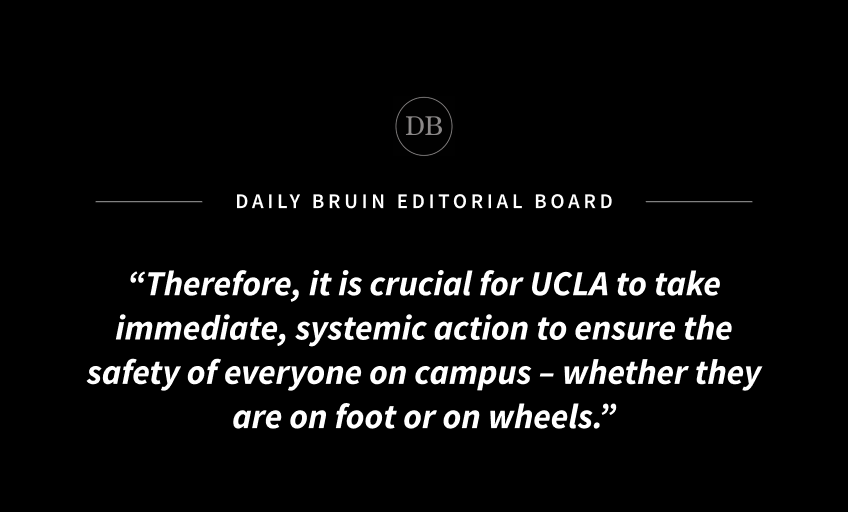 Editor's note: Editorials do not represent the views of the Daily Bruin as a whole. The board encourages readers to respond to our editorials at dailybruin.com/submit.
If you spend any time on Bruin Walk, you'll often see scooters zooming past, weaving through masses of students as if they were navigating an obstacle course.
Over the past few years, the simplicity and speed of electric scooters have led to their dramatic rise in popularity. However, the traits that make them so desirable can also lead to a great deal of harm.
A 2022 study conducted by UCLA Health researchers using data from UCLA Health facilities found that the estimated injury rate due to scooters, involving both riders and pedestrians, was higher than any other form of transportation, including motorcycles and bikes.
Many on college campuses have begun to emphasize scooter safety, even going so far as to ban them outright. Fordham University and Boston College implemented bans on electric scooters in December in response to injuries as well as the fire hazards posed by the scooters' lithium-ion batteries.
UCLA has also made an active effort to increase the amount of visible signage and ground indicators of the dismount zone, where individuals must walk their scooters or other wheeled vehicles. UCLA Transportation and UCPD have also continued an educational campaign to inform individuals of the scooter rules of the road and have given out meal tickets to reward those who adhere to the dismount zone's rules.
However, this reliance on individuals to follow the rules is not enough. UCLA must enact more cohesive policies to protect student safety on campus.
Despite the presence of signage indicating the dismount zone, students riding scooters and those on foot frequently experience dangerous and potentially harmful interactions.
While scooters are typically relegated to streets and prohibited from sidewalks, a majority of our campus is pedestrian-only. Scooter riders are then forced to navigate through crowds of pedestrians, acting as a moving hazard along the way.
The current dismount zone requires all scooters, bikes, skateboards and rollerblades to be walked along the entirety of Bruin Walk and Bruin Plaza. Despite this policy, students on scooters still speed through these busy areas.
With the dismount zone spanning such a long distance, many scooter riders seemingly give up on dismounting and just ride through the area.
UCLA should shorten the dismount zone to only the necessary hilly areas of Bruin Walk and replace the zone with dedicated wheels-only lanes along Bruin Plaza and other highly trafficked areas to allow scooter riders to travel safely and efficiently without disrupting pedestrian traffic.
Implementing wheels-only lanes similar to the green bike and scooter lanes on Charles E. Young Drive East and Westwood Plaza will keep scooter riders in designated pedestrian-free areas, ensuring they won't have to drive through crowds at high speeds.
The university must also focus resources on the enforcement of those zones.
UCLA states that those who do not comply with the dismount zone are subject to a minimum fine of $202 from UCPD. But, while UCLA Transportation is known for actively monitoring campus parking lots and issuing parking tickets, the dismount zone, where noncompliance poses a real threat to student safety, seems to rarely be observed.
To ensure compliance with dismount zone policies, the department's staff should be deployed strategically throughout campus at critical dismount zones to deter their neglect and promote safety for all.
Just over a year ago, this board issued an editorial suggesting that more noticeable signage be installed along Bruin Walk to improve awareness of the dismount zone. While this has been achieved, at least to some extent, a policy of having regular personnel watch over the dismount route and reprimand violations has still not been implemented.
Greater awareness alone cannot completely eradicate hazardous riding practices. Therefore, it is crucial for UCLA to take immediate, systemic action to ensure the safety of everyone on campus – whether they are on foot or on wheels.