Emma Malabuyo aspires to bring positive energy from gym to entertainment industry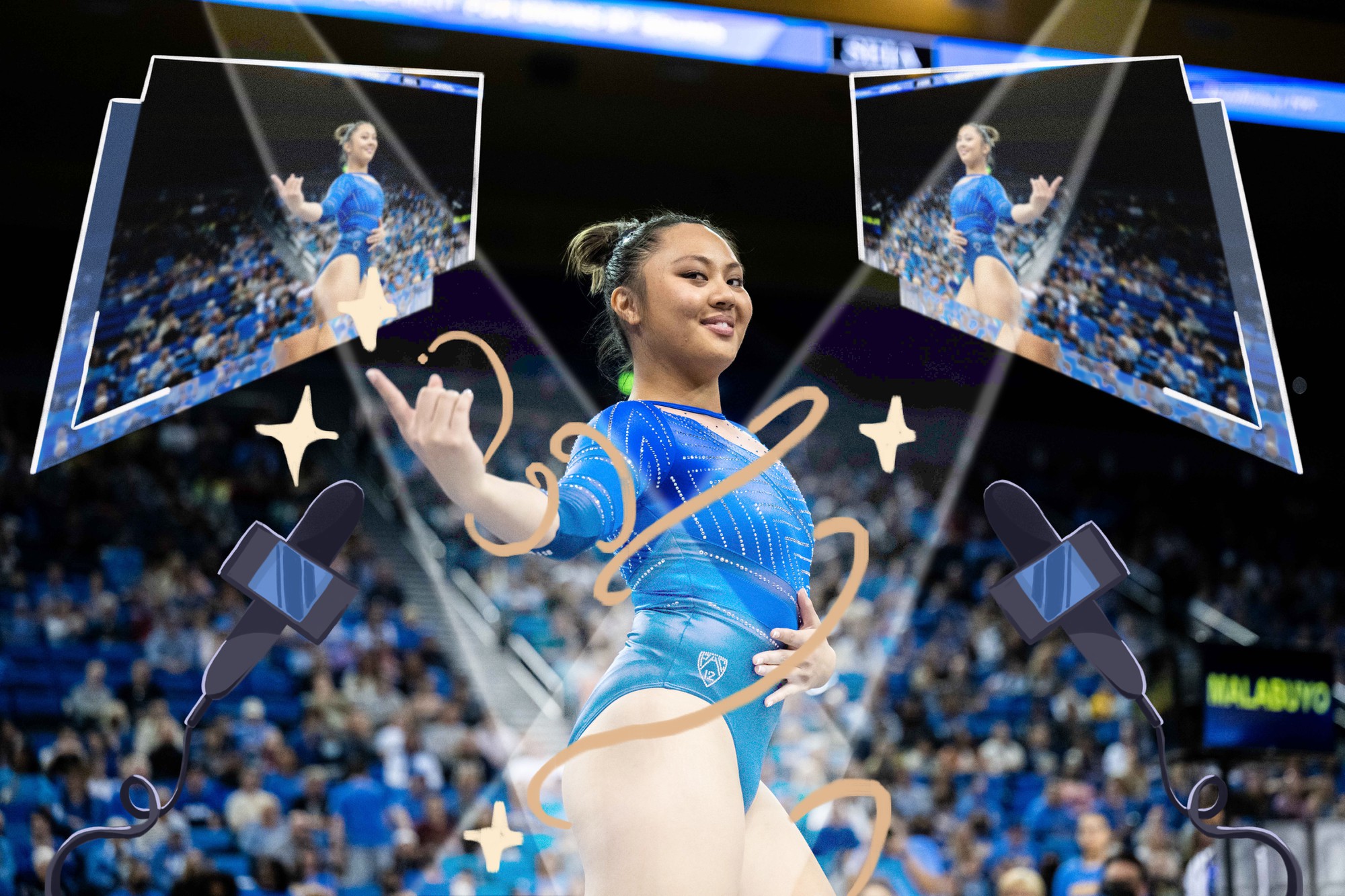 (Photo by Christine Kao/Daily Bruin staff. Photo illustration by Ayumi Bergan/Daily Bruin)
This post was updated March 14 at 9:34 p.m.
Emma Malabuyo admitted she was an introvert in elite gymnastics.
"You had to keep your emotions in this box, and so I was very serious all the time," Malabuyo said.
But when the sophomore arrived at UCLA for her freshman year in 2021, her big personality from childhood returned amid the move from North Texas to Westwood. Originally from Northern California, Malabuyo said UCLA brought out a side of her that makes her happy to be herself, both in the gym and in the classroom.
Now, UCLA gymnastics is gearing up for the Pac-12 championships. Malabuyo has been a staple in the Bruins' floor and beam lineups, and she even made a return to vault three meets ago. The former Team USA Olympic alternate said she is looking forward to the postseason but also has her eye on a post-athletics career route.
Malabuyo added that one day she hopes to bring her bubbly personality to the sports broadcasting or entertainment industry.
"I love how they (broadcasters) get to study each gymnast and really bring out their stories," Malabuyo said. "And the way that they just talk about them. They're always positive in the way that they present themselves and other gymnasts. I want to be able to share stories and be able to present it just like them, too."
Malabuyo noted UCLA alumni Samantha Peszek and JaNay Honest as inspirations in the gymnastics broadcasting world, adding that she has additionally received advice and support from alumni Sharon Shapiro and Felicia Hano.
To ready herself for a career beyond university, the second-year Bruin has begun creating content alongside junior Chae Campbell, a fellow communication student.
Campbell and Malabuyo teamed up in December to launch Behind the Bruins, an unofficial UCLA gymnastics YouTube channel showcasing behind-the-scenes footage of the team.
Malabuyo said the duo wanted to produce videos in preparation for a potential future career while also hoping to expand beyond gymnastics and into other UCLA sports.
"(We were) just thinking about practicing for later down the line and having that experience," Malabuyo said. "But (we are) just having fun because we genuinely enjoy editing, coming up with content, coming up with videos and being able to have control over the content that we want to create."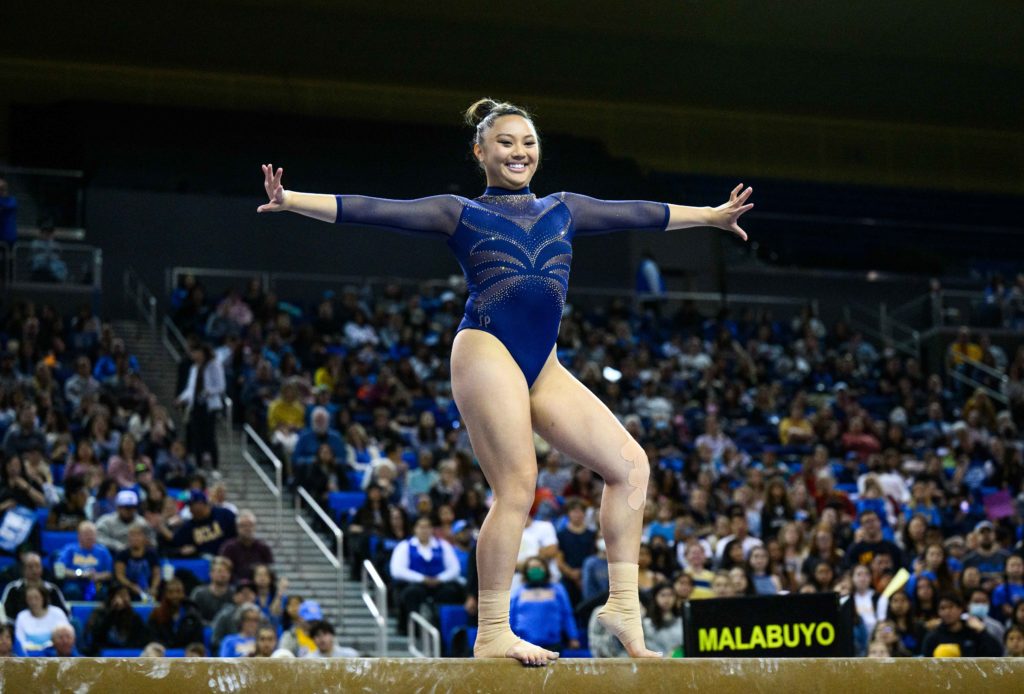 And just like the stories that Peszek and Honest tell on TV during meets, the communication student has one of her own.
Malabuyo has sustained multiple tears in her shoulder throughout 2023. Despite still nursing her injuries, she recently took a step forward to help her team. When redshirt senior Margzetta Frazier didn't feel comfortable vaulting in UCLA's meet against Arizona on Feb. 26, Malabuyo – yet to vault in 2023 – stepped up.
Coach Janelle McDonald said the type of teammate Malabuyo is makes her indispensable to the program.
"She seeks out those moments to be able to go find somebody and give them a pep talk or to share a little message with them to help build them up," McDonald said.
Malabuyo emphasized that the transition from elite gymnastics to UCLA gymnastics made her realize she could rely on others in a team environment instead of just herself. Once she stepped foot on campus, she said, she was thankful for the partnership between the student-athletes.
She found friends – and roommates – in fellow sophomore Emily Lee and senior student team coordinator Jenna Schindele, as well as a suitemate from another sport.
Malabuyo said she became best friends with UCLA women's volleyball sophomore Francesca Alupei. Alupei said she appreciates her roommate's infectious positivity and spirit.
"Multiple things (drew me to Malabuyo), but mostly her energy," Alupei said. "She would always have so much energy and positivity. It's contagious, honestly. That's something I really love about her. She's always in a good mood and always finding ways to turn a bad situation into a good one."
Alupei recalled a memory of when she and Malabuyo went to the mall. As they were walking around and in and out of stores, the student-athletes acted like they were different people with extravagant lifestyles.
Acting comes naturally to Malabuyo, she said. During winter quarter, the gymnast took a theater class that included learning scripts and performing. When Malabuyo was younger, she performed skits and sang for her parents constantly.
The connections earned from being a student-athlete at UCLA dipped into the production world, too, Malabuyo said.
"I've talked with so many alumni, and they've been in the media fields, … talking about just being on the production of films or TV shows," Malabuyo said. "I would love to be on set to learn about behind-the-scenes work, or even (to) read scripts would be cool."
Malabuyo said she loves "The Hunger Games" and Disney Channel's "Wizards of Waverly Place," and said she wishes she could have starred in the show when she was little. Malabuyo, who is Filipino American, said representation is important to her, adding that she appreciated the movie "To All the Boys I've Loved Before" partly because it featured a heavily Asian American cast.
On March 2, UCLA men's basketball hosted Pilipino Heritage Night. Malabuyo, along with other Filipino members of UCLA Athletics' staff, welcomed the Pauley Pavilion crowd in a pre-recorded jumbotron video prior to the performance of both the Philippines' and United States' national anthems.
Malabuyo said she is grateful to be a Filipino student-athlete at UCLA.
"I honestly feel honored," Malabuyo said. "After the competition (against Stanford), I actually had quite a few little Filipino gymnasts come up to me and say, 'I look up to you, and I want to continue (gymnastics) because you're Filipino and you made it far.'"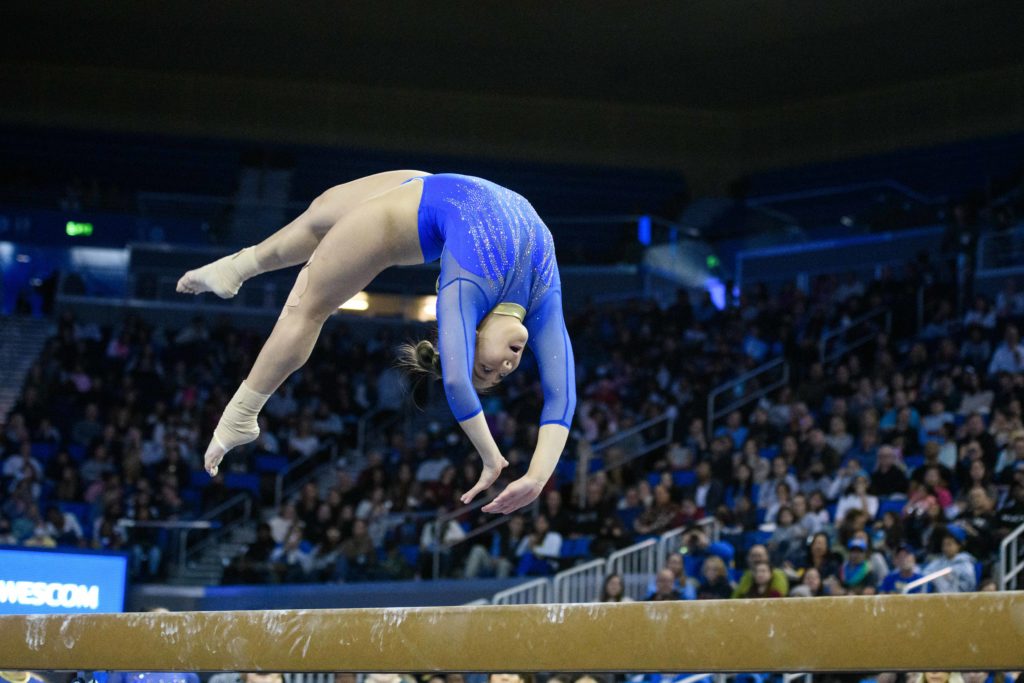 Still a sophomore, the multi-talented gymnast still has at least two more years of collegiate eligibility left.
Whether it's acting, directing, producing or broadcasting, Malabuyo has a bright future ahead. Alupei knows it.
"She talks about it all the time," Alupei said. "She likes to be on camera. She likes her voice to be heard, and I think she has a lot of talent and communication. I'm sure she's going to do a great job developing her passion in this (broadcasting). I really think she's going to be good."
Gymnastics may be Malabuyo's first act, but her second is just getting started.