Coach Janelle McDonald continues to 'lift and empower' UCLA gymnastics to success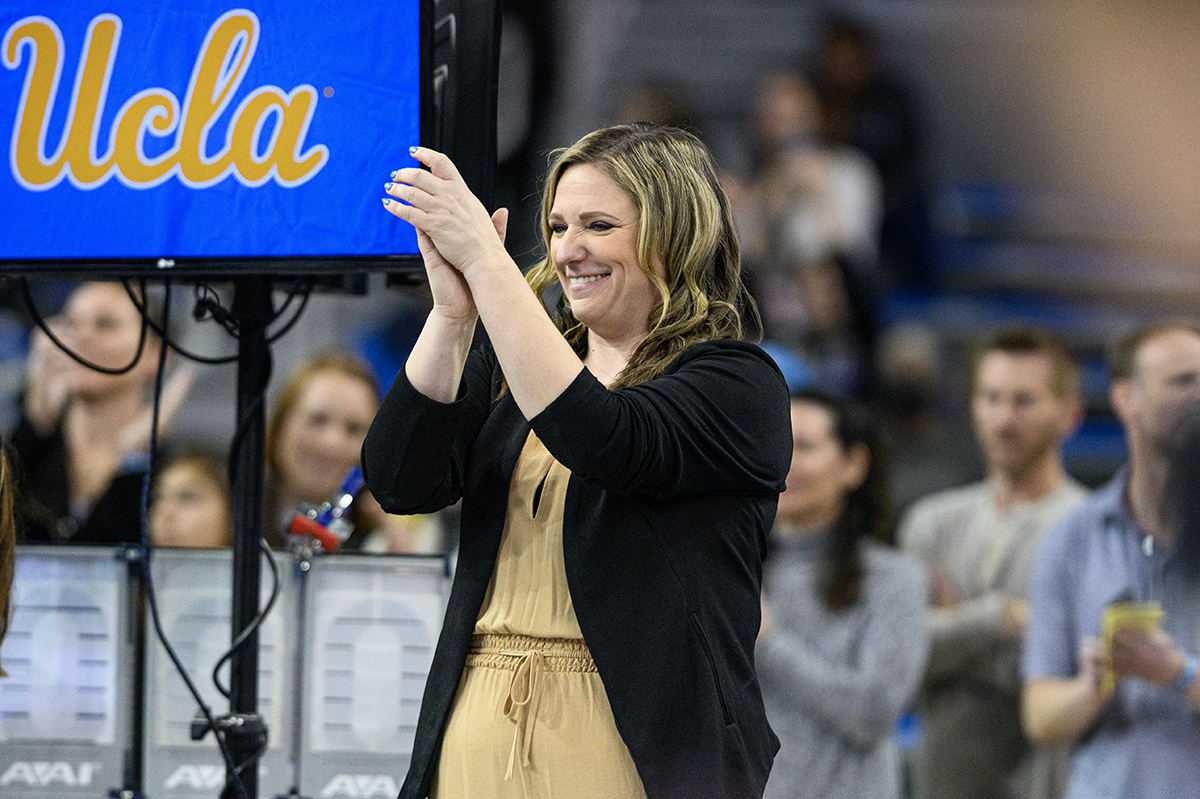 Coach Janelle McDonald claps during a meet. In her first year with the program, McDonald has led UCLA gymnastics to No. 4 in the country by the end of the regular season. (Joseph Jimenez/Assistant Photo editor)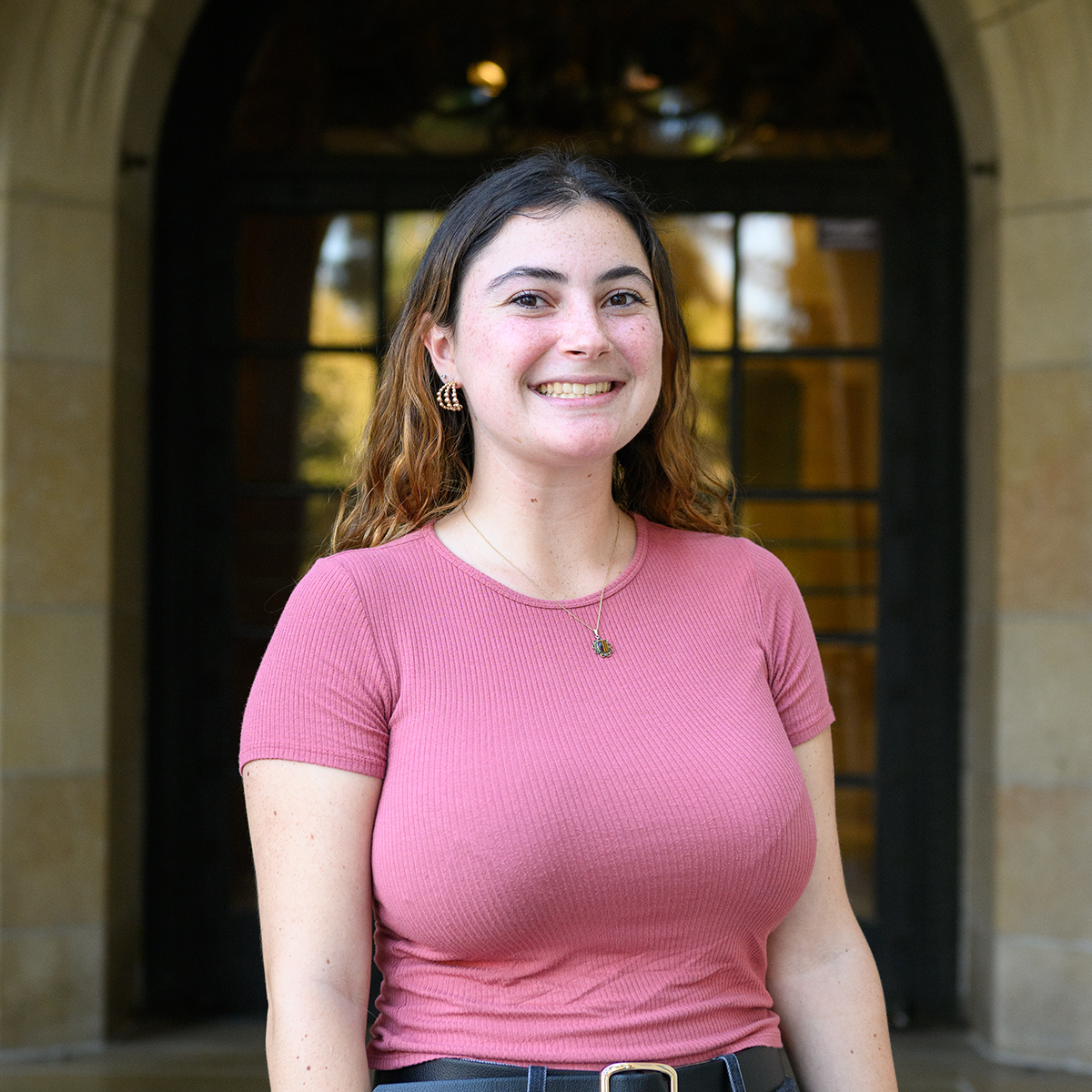 This post was updated March 14 at 9:08 p.m.
Things fans can see from the stands of a UCLA gymnastics meet include leaps, turns, handstands and flips.
And a coach on the sidelines jumping with joy – sometimes in heels – after every routine.
Coach Janelle McDonald has been with UCLA gymnastics for less than a year, but the program can feel her impact already. After finishing the regular season at No. 18 in the country a year ago, the Bruins now sit at No. 4 with a share of the Pac-12 regular-season title, and McDonald's team gives her all the credit.
"If it wasn't for Janelle, we wouldn't be the Bruins we are today," said sophomore Jordan Chiles. "For somebody to be with another team for four years to come in and not knowing what team she's walking into, to making something so beautiful is an amazing thing."
Redshirt senior Margzetta Frazier has seen multiple coaching staffs come and go in her time at UCLA. She was first coached by Valorie Kondos Field as a freshman, followed by three years under Chris Waller.
Frazier has been with the program longer than anyone, and she said McDonald has brought something special to the blue and gold.
"It feels like it's a dream come true," Frazier said. "It's too good to be true that Janelle is here, and she's done nothing but lift and empower and learn."
At the start of the year, McDonald set out to meet with each athlete and see how they were doing mentally. She said she's seen tremendous growth from the Bruins since those early days in Westwood.
"I think about how far we've come," McDonald said. "To see them loving what they're doing right now and competing with so much passion and heart, I just couldn't be more proud of them."
With McDonald at the helm, UCLA notched its highest team score of the season – a 198.275 – on Saturday. The Bruins were led by Chiles, who reached a career-high 39.900 in the all-around with her second straight perfect 10 on bars.
The sophomore's feat also marked the highest all-around score in the country this season and tied the fifth-highest score in NCAA history.
The Olympic silver medalist was not recruited by McDonald and has been with the first-year head coach for even less time than the rest of her team given her venture to the 2022 World Gymnastics Championships over the summer. And yet, Chiles said the historic feat would not have been possible without McDonald and the rest of the coaching staff.
"People don't understand what we've gone through from last year till now. She has turned this team around," Chiles said. "I wouldn't be getting this 39.900 today (Saturday) if it wasn't for what I had to put into it. So you're Janelle McDonald for a reason."
In 2022, UCLA didn't even make the night session of the Pac-12 championships as the fifth seed among a conference of eight teams.
In 2023, UCLA is heading to Utah for the conference championships with the No. 1 seed.
A lot of things changed for the Bruins between then and now, but to many Bruins, McDonald's character has been one of the most impactful.
For Frazier, McDonald's ability to ask for help has been one of her most shining characteristics, as the fifth-year gymnast has struggled with just that before.
"One thing I love about Janelle is that she always knows that she has a team behind her, and she's never afraid to reach out and ask," Frazier said. "That's going to make her one of the greatest UCLA coaches ever and one of the greatest collegiate gymnastics coaches ever."
Friedman is the 2022-2023 Copy chief and a Sports contributor on the women's soccer beat. She was previously a Slot editor, Copy intern and Sports contributor on the women's golf beat.
Friedman is the 2022-2023 Copy chief and a Sports contributor on the women's soccer beat. She was previously a Slot editor, Copy intern and Sports contributor on the women's golf beat.