UCLA study highlights heat-based health hazards in unsheltered LA Metro bus stops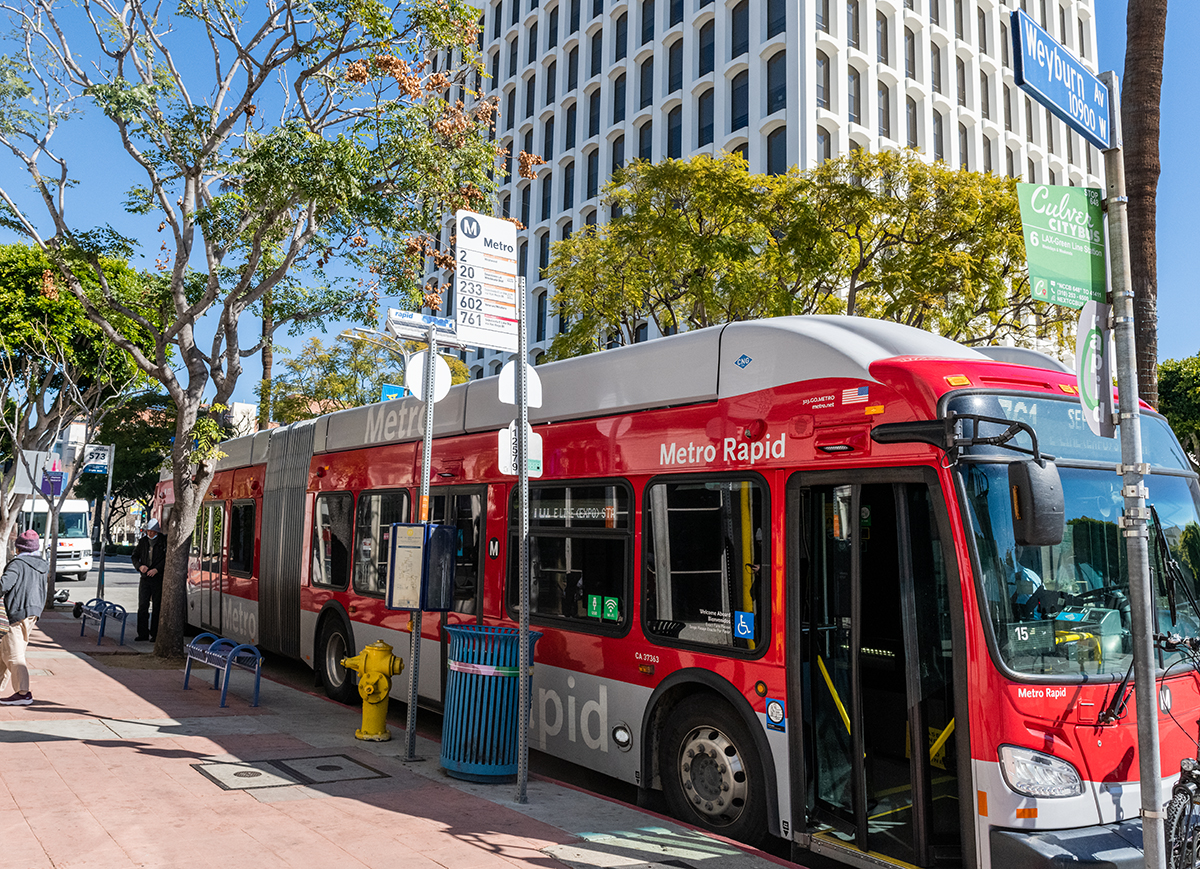 A Los Angeles Metro bus waits at a stop (pictured). A UCLA study found that about a quarter of over 10,000 bus stops in LA have adequate shelters to protect passengers from extreme heat, which kills more than 700 people in the United States every year. (Ethan Manafi/Daily Bruin staff)
UCLA researchers found that around 75% of Los Angeles Metro bus stops do not provide shelter from extreme heat, raising concerns for citizens who use the public transportation system.
In a recent study, the UCLA Lewis Center for Regional Policy Studies and the nonprofit organization MoveLA – which advocates for public transportation improvements across LA County – surveyed Metro bus stops across LA County in order to create a preliminary understanding of the extent to which bus stops are equipped with shelters. Only around a quarter of more than 10,000 bus stops in LA have adequate shelters, according to the study released Feb. 16.
The study showed that although the majority of bus stops are in areas where the average summer temperature surpasses 97 degrees Fahrenheit, the likelihood of finding a bus shelter in one of these areas is similarly low to that of areas with cooler temperatures.
This renders Angeleno bus riders susceptible to extreme heat, a hazard that kills more than 700 people in the United States every year, according to the Centers for Disease Control and Prevention.
Meteorological trends indicate that although Westwood is typically cooler than other LA areas, UCLA students who regularly use public transportation are still prone to heat exposure during the summer months in LA.
Tripti Agarwal, a quantitative economics graduate student, said she believed the new research could spread awareness about the importance of taking personal safety measures during extreme heat and protect student bus riders like herself.
"Make people aware about what happens with the heat so that they can better prepare. If hydration helps, they can start carrying a water bottle or even wear sunscreen," Agarwal said. "Letting people know how it affects them could help them do things for themselves."
The study's greatest impact, however, is its discovery of a fundamental need for shelter at LA bus stops, said Chase Engelhardt, a co-author of the study and doctoral student in urban and regional planning. Constructing more bus shelters would greatly mitigate a person's exposure to extreme heat while waiting at these stops, he added.
"Just getting a structure above someone's head so that they're not in direct sunlight can make a huge difference," Engelhardt said.
Bus shelters fail to provide shade throughout an entire day because they cannot account for the sun's movement, according to the study. However, combined with other measures such including trees near bus shelters, bus riders can be provided with effective protection from extreme heat, Engelhardt said.
He added that the presence of mature trees across LA would also have the potential to shield public transportation riders from the sun on their way to their stops.
"The study is really focused on the stop itself, but how you get there is an important factor to think about," Engelhardt said.
Madeline Brozen, a co-author of the study and deputy director of the UCLA Lewis Center, said although planting trees would be time-consuming, they could provide adequate shade while improving ecosystem health. She added that LA County must ensure it implements a solution that is equitable for bus riders across the county.
According to Metro's 2022 customer experience survey, low-income people of color make up the majority of LA County's bus riders. However, a study from the University of California Transportation Center found that the city uses an ad revenue-based approach to develop its bus shelter placement plans, which often deprioritizes the construction of shelters in low-income neighborhoods.
Brozen agreed that an ad revenue-based approach shifts the focus for deciding bus shelter placement. However, the county should place greater emphasis on areas where more people may benefit, she said.
"It could kind of skew where things are going because there might be a bit of a misalignment between where you get the most eyes on ad revenue versus where you have the highest need," she said.
The Lewis Center study said LA would be restricted to ad-based approaches in addressing their plans to mitigate bus rider exposure to extreme heat. However, a newly approved contract aims to drive bus shelter placement toward previously neglected communities with a new contractor to install bus shelters based on criteria that aren't determined solely by revenue-generating potential, such as that of community need.
In addition to advocating for an equitable solution, MoveLA has proposed state legislation to inform citizens of bus shelters across their region.
Assembly Bill 364 would compel public transportation companies to release information on their bus shelters and other street furniture, said Eli Lipmen, executive director of MoveLA. He added that this data will be critical during extreme heat because it will allow public transportation users to make informed decisions and seek bus stops capable of providing protection from the sun.
"We have tens of thousands of people being impacted by extreme heat and who are riding the bus every day. It's a matter of state concern to help them out," Lipmen said.