Opinion: Torn between 2 crosstown campuses as a Trojan-turned-Bruin transfer student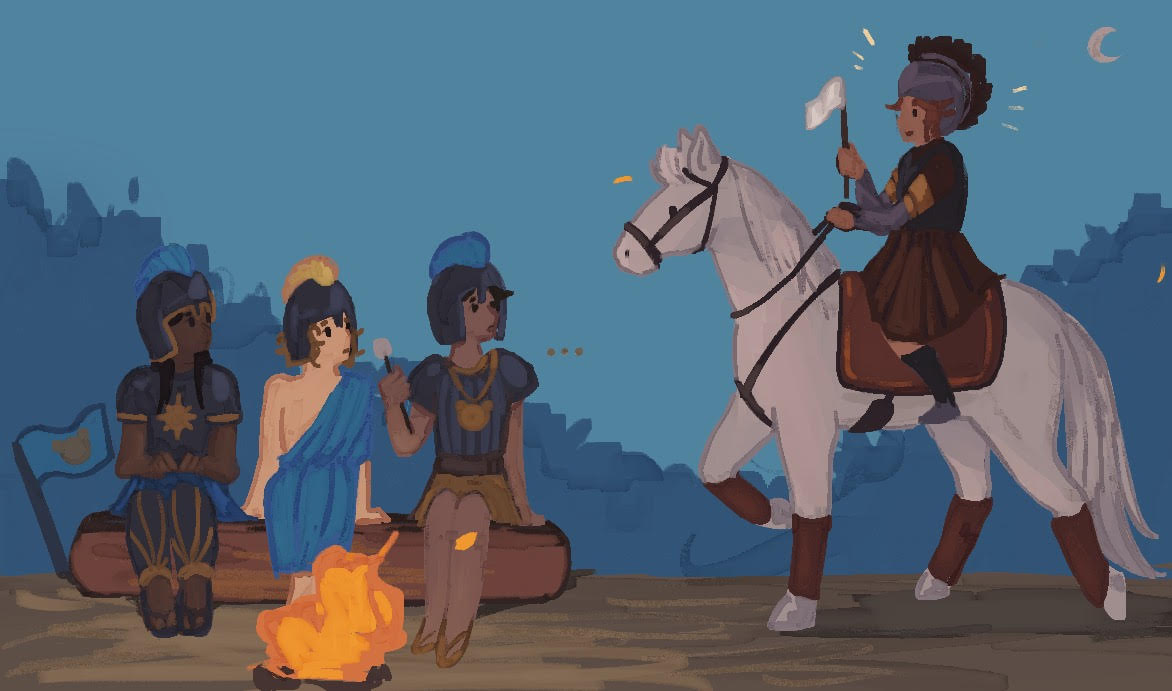 (Anna Richardson/Daily Bruin)
"Where did you transfer from?"
The conversation that follows is a dance I have become all too familiar with.
"USC," I answer with an uncomfortable smile, already bracing myself for the barrage of questions that always accompany my response. From my first day here, I've heard everything from "Why did you transfer?" to "Which school do you like more?"
These questions often bring me back to 11:58 p.m. on May 1, otherwise known as college decision day. My two best friends watched over FaceTime as I anxiously rocked back and forth on my desk chair in indecision.
I had two minutes to commit to either UCLA or USC, and I was at a crossroad for which school to choose.
Since the COVID-19 pandemic hindered me from properly visiting the respective schools, my decision was purely predicated on online research, such as watching YouTube videos documenting student experiences and conversations with current students discussing which school had a healthier work-life balance.
But ultimately, I was completely ambivalent about both schools. I had tried making a pros and cons list and considered the opinions of all of my friends and family, but I still could not decide where I wanted to go.
It was only after a reflective – albeit abbreviated – talk with my father at 11:59 p.m. that I came to the realization that my interest in UCLA stemmed from a desire to attend the same school as my older sister.
I opted instead to throw my hat in the ring and secure my spot at the riskier option of USC.
And yet, from day one, I had a very visceral feeling that had I made the wrong decision.
Although I knew USC was not the right fit, I remained steadfast in immersing myself in friend groups, nightlife, clubs and classes, desperately trying to convince myself that I loved it – but it was ultimately to no avail. No one precipitating event spurred my decision to transfer, but USC was simply not the right school for me.
While I applied to several schools the second time around, I ironically sought UCLA because I craved the comfort and familiarity I initially repudiated. Having visited my sister at her sorority events and parties, I immediately felt a sense of kinship with other girls my age at UCLA and became confident that I could acclimate to the Bruin community better.
I was reticent to share my newfound love for UCLA because I feared jinxing my chances of acceptance and could not anticipate how my USC friends would accept the prospect of me attending our rival school. The unconventional journey of making the jump from USC to UCLA was not lost on me, but I nonetheless remained determined in my desire to become a Bruin.
My confidence in my decision to transfer did not mitigate the inherent difficulties of the transfer process. Unlike senior year of high school, when my peers and I were churning out essay after essay and reaching out to teachers for letters of recommendation, I was now choosing to engage in this process all over again – but this time, alone.
This made it all the more difficult to stay secluded in my dorm on a Friday night while the rest of my floor was dancing to loud music before a night out. During the long-drawn-out months of waiting for UCLA's admissions decision, I felt transported to that anxiety-ridden college decision day when my future academic experience looked unclear, only it felt like I was reliving the emotions in perpetuity.
My decision to transfer has prompted a sense of confusion from students on both sides of the rivalry. Understandably, USC students often doubt my protestations that no event nor interaction induced me to transfer, as they seek a more tangible experience to explain my unexpected decision.
Being a transfer student – and specifically, a sophomore transfer from USC – has made it difficult to acclimate to UCLA's stratified social environment. Current sophomores tend to cling to their preexisting groups and junior transfers tend to form their own friend groups, leaving me to straddle the two social spheres.
It has undoubtedly been an adjustment period, diving head-first into a social environment where most of my peers already had a year to establish their friendships. In the same vein, I am still trying to grapple with the jump from private to public school, the latter of which has proven to be much more bureaucratic.
Nevertheless, I have enjoyed going to school with my older sister and having the luxury of walking around Westwood's coffee shops during the weekends to do homework. Unless I was taking an Uber somewhere, I seldom left the confines of the USC Village, so I enjoy having the newfound freedom to leave campus. UCLA's food is also a perk, as I have thrived in an environment that offers healthy and delicious dining options, something that was sorely missing from my USC experience. And yet, I do miss USC's smaller and more navigable campus and all my best friends. This has created a push-and-pull situation, making it difficult to pinpoint the better school.
"So which school do you like more?"
I don't have an answer for my inquiring peers today, and I don't know if I ever will. Either way, I try to refrain from dwelling on the what ifs and instead, exercise gratitude for my unique position, as it allows me to elucidate the differences between the UCLA and USC undergraduate experiences.