With full roster, UCLA women's water polo prepares for weekend of conference play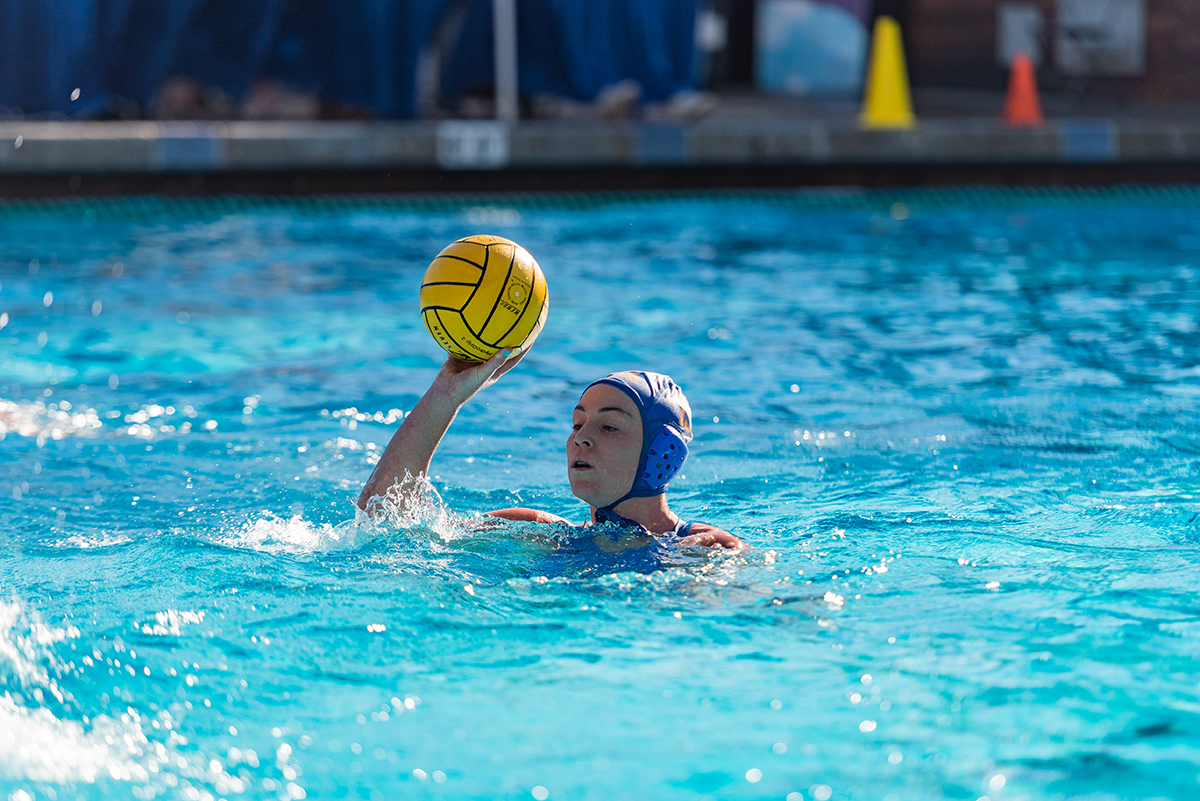 Graduate student center Ava Johnson holds the ball while examining the pool. (Daily Bruin file photo)
Women's Water Polo
---
No. 1 Stanford
Saturday, 1 p.m.
Stanford
Stanford Live Stream
---
No. 20 San Jose State
Sunday, 1 p.m.
San Jose
No TV info
Correction: The original version of this article incorrectly named Maddie Musselman as Taylor Smith in the photo caption.
This post was updated March 12 at 2:40 p.m.
For the first time in weeks, the Bruins are heading into their next matchup with their full roster available to play.
No. 4 UCLA women's water polo (12-3, 1-0 MPSF) is set to face a pair of opponents over the weekend, starting with No. 1 Stanford (13-0, 1-0) at Avery Aquatic Center on Saturday before facing No. 20 San Jose State (12-11) on the road Sunday.
With multiple players out throughout the first half of the season because of injury, coach Adam Wright said it has been difficult to compete without crucial pieces of the team.
"We have yet to play a single game with our whole team," Wright said. "To be at the midway point and not be able to train consistently with the whole group makes it tough. But no excuses. A couple of weeks ago, we really just lost our focus."
The blue and gold has only lost to conference opponents this season, and has failed to overcome an early deficit by the final buzzer in each of its last two games.
With conference play picking up again Saturday, sophomore attacker Molly Renner said the team is looking to tighten up offensive strategies in an attempt to find success against Stanford.
"We're going to really have to read what the defense is doing," Renner said. "We just have to be a really smart team this weekend to enable us to defend their counterattack, because once we've shut that down, we can shut down their whole team."
The Cardinal escaped the first half of the season unscathed. Stanford utilized a dominant counterattack in its victories, an area of the game that UCLA has struggled to defend, according to Renner.
Wright said the Bruins need to be alert from buzzer to buzzer to avoid the defensive trap the Cardinal has set on all its victims this season.
"They are a fast-break-generating team and are highly opportunistic when it comes to creating those things," Wright said. "They take great risks to do that and capitalize when their opponents panic. That's where we have to remain strong and force them to play defense."
The Bruins lost all four matchups against the Cardinal last season.
Earlier this season against No. 3 California, UCLA went down 8-4 late in the third quarter before ultimately losing by two points. Two weeks prior, Stanford beat the same team by five goals.
With Stanford having won seven of the past 11 collegiate titles, Wright said the dominance of the program is daunting.
"They're the best program in the country right now," Wright said. "And over the last 10 years, they've done a lot of really special things with lots of good players. But we're also really good."
Over the same period of time, UCLA has finished the season in second place more than any other team.
However, freshman attacker Taylor Smith said the Bruins have the potential to win the final game of the postseason this year.
"We all know that we're very capable of taking down any opponent we face," Smith said. "We just need to go out there and do it."
Lizar is currently a Sports contributor on the women's water polo beat. He was previously a contributor on the men's water polo beat.
Lizar is currently a Sports contributor on the women's water polo beat. He was previously a contributor on the men's water polo beat.