'One last time': Margzetta Frazier readies for her final regular-season meet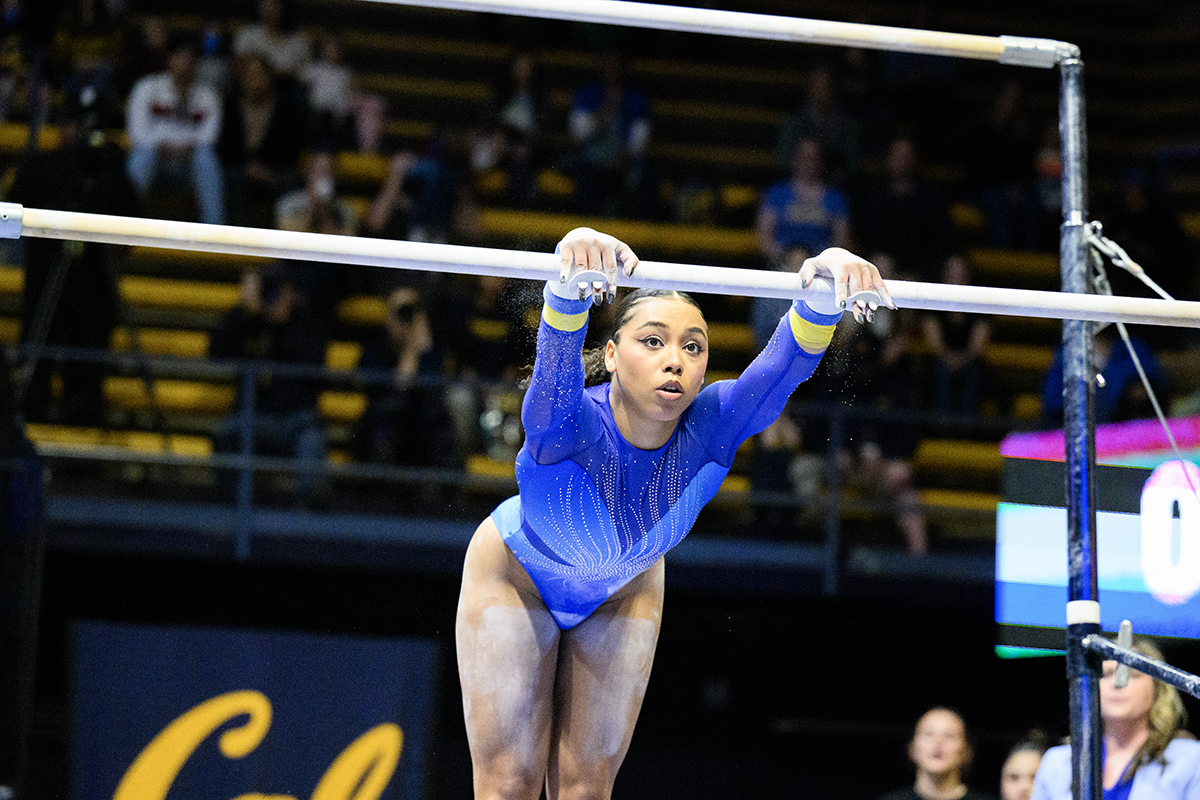 UCLA gymnastics redshirt senior Margzetta Frazier swings on the bars. (Jason Zhu/Daily Bruin staff)
Margzetta Frazier may know Westwood better than any other Bruin.
The redshirt senior spent five years competing in Pauley Pavilion and is the longest-tenured gymnast on the roster. In fact, Frazier has suited up for No. 5 UCLA gymnastics for longer than any current member of the coaching staff.
When the clicks of paparazzi cameras echo through the speakers during Frazier's floor routine Saturday, her storied collegiate career will be nearing its close in her last regular-season meet. A final year at UCLA gave her a chance at a proper farewell, she said.
"I really wanted to come back this year and try my best to give myself the ending that I felt like I deserved for such a long-lived career," Frazier said.
Extra time with the team allowed Frazier to forge new friendships at UCLA. Freshman Selena Harris and sophomore Jordan Chiles have taken to the fifth-year Bruin, and the trio have become inseparable during practice and meets, Harris said in February.
The older Bruins give Harris a pep talk during every meet before she competes on beam. Earlier this season, Frazier said the five-time Pac-12 Freshman/Newcomer of the Week reminded her of eMjae Frazier, her sister, and a freshman gymnast at California.
Although Janelle McDonald may have had just one season leading Frazier at UCLA, the rookie coach said she recognized the impact the oldest gymnast has on her program as a whole.
"She wholeheartedly loves this program and being a part of it," McDonald said. "Her passion resonated in all of our conversations. It was really cool to get to hear her perspective on a lot of things, get to know her, what fires her up and what makes her so proud to be a Bruin."
Frazier's culminating meets, however, have not come easy in 2023. She described her body as "broken" over the course of the season and injuries have limited the amount she can practice her routines.
Despite constant recovery on weekdays, Frazier has appeared in all regular-season meets – most recently competing on bars and floor against Arizona and Stanford – and will cap off the pre-postseason slate with her ultimate floor show in front of UCLA's student section.
Senior Chloe Lashbrooke has shared the Pauley Pavilion floor with Frazier for the past four seasons, and said she is going to be emotional at Saturday's meet.
"Marz brings an element of performance that I've never seen before in gymnastics," Lashbrooke said. "It's just incredibly special to share the floor with her and it's going to be really sad to do it one last time."
Frazier said her role has changed countlessly throughout her time at UCLA.
In her freshman season in 2019, Frazier said then-seniors Brielle Nguyen, Katelyn Ohashi, Stella Savvidou and Macy Toronjo set expectations for how she was supposed to act as a student-athlete.
Frazier added that she focused on trying to keep up with UCLA alumni Kyla Ross and Madison Kocian score-wise when she got to Westwood, but now she understands that being a leader and a teammate goes beyond results in gymnastics.
"I understand why they did things the way they did," Frazier said. "As far as why it's important to wear the same color tank top as everyone else, why it's important to show up to the gym 10 minutes early, why it's important, if you have a bad turn, to smile and high five your teammate. Things that I thought were silly are what build the foundation of what is so important."
Frazier's work in the UCLA community goes beyond gymnastics and into the Pac-12 and student body as well. The three-time All-American is one of two Bruin representatives – alongside senior Kalyany Steele – of the Pac-12 Gymnastics for Peace, Action and Change group and is also a co-founder of the UCLA Black Student-Athlete Alliance.
UCLA could make a return to nationals for the first time since 2019 and create a full circle moment for Frazier, but she said she has completed every goal she has wanted to in her athletic journey.
"I've accomplished everything I've ever wanted to accomplish with gymnastics, period, and I've done that a long time ago," Frazier said. "At this point, I just keep surprising myself in crazy ways."