Scouting report: UCLA softball vs. California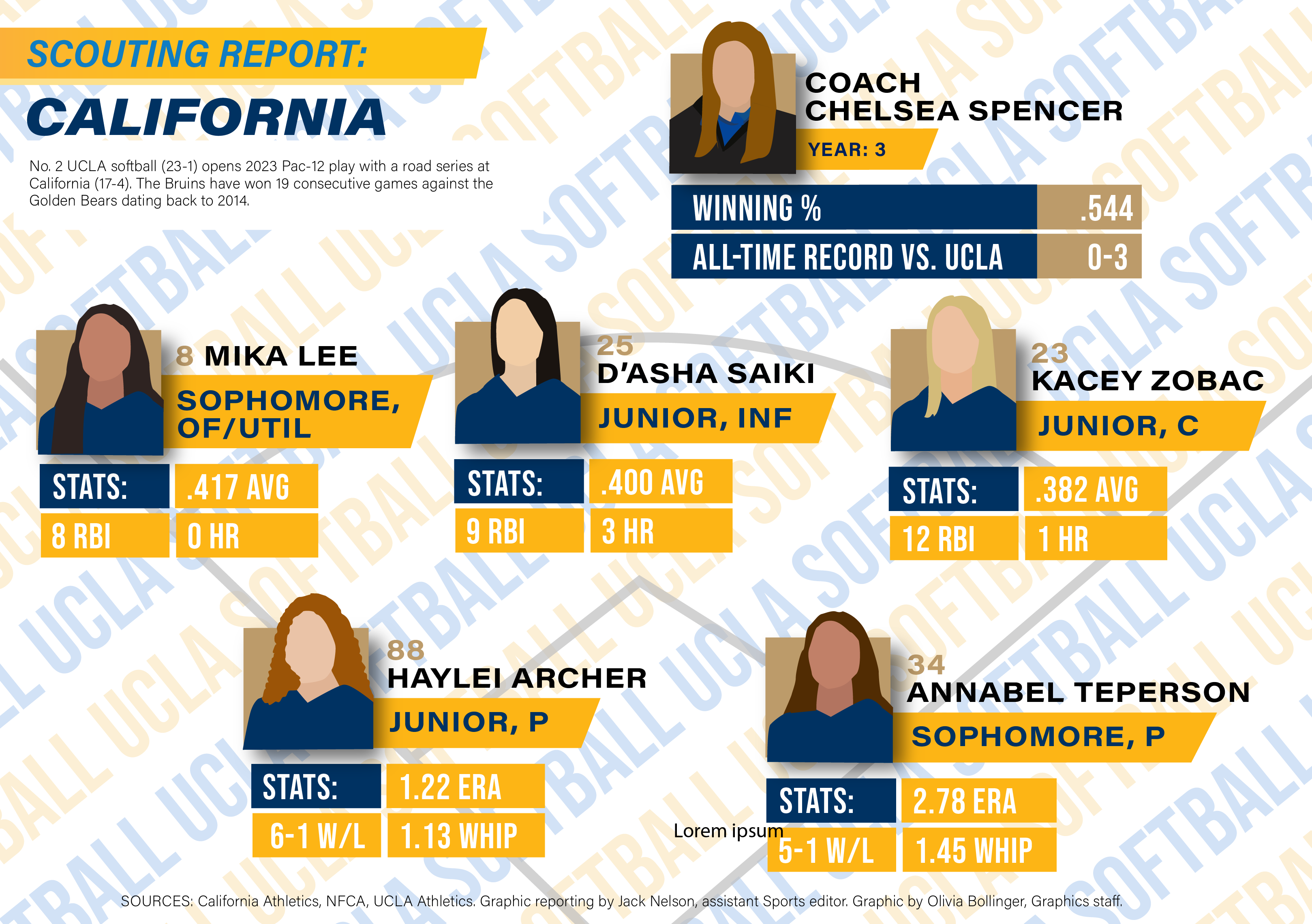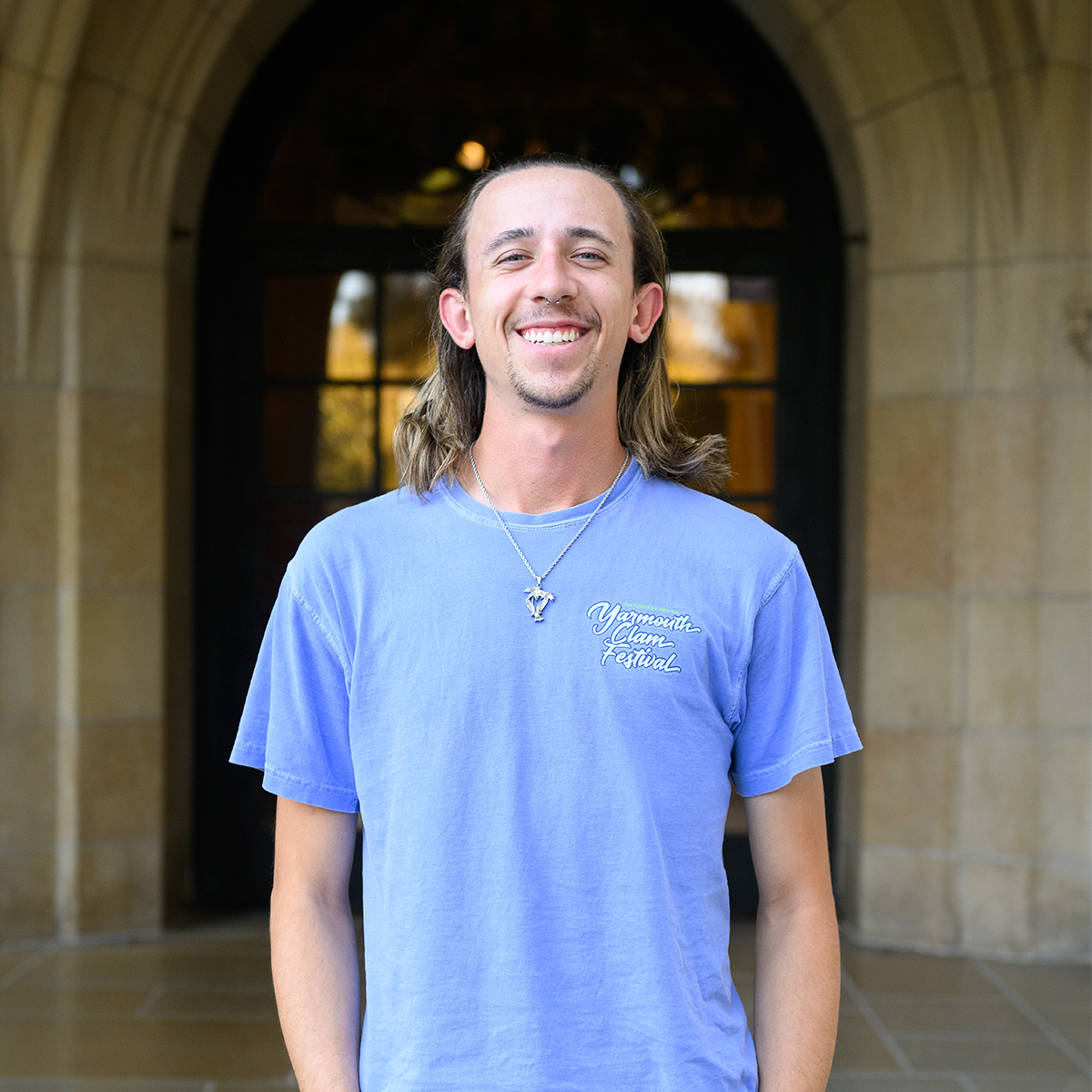 No. 2 UCLA softball (23-1) will hit the road for its first series of Pac-12 play, traveling to Berkeley for three contests against California (17-4) from Friday to Sunday. The Bruins will seek to extend their six-game winning streak while the Golden Bears are searching for their first victory over the blue and gold since 2012. Here is this week's scouting report from Assistant Sports Editor Jack Nelson – who tried his darnedest with this and hopes readers enjoy it.
California Personnel:
Position Player to Watch: OF/UTIL Mika Lee
Pitcher to Watch: RHP Haylei Archer
X-Factor: C Makena Smith
California Statistics:
Batting Average: .321 (No. 28 nationally, No. 5 Pac-12)
Earned Run Average: 2.96 (No. 103 nationally, No. 9 Pac-12)
Fielding Percentage: .957 (No. 178 nationally, No. 9 Pac-12)
Numbers can be deceiving.
Take, for example, Cal, which is off to its best start in the coach Chelsea Spencer era.
Upon closer examination of its resume, something becomes obvious – these Golden Bears are sorely lacking in the quality wins department.
Cal has yet to play a ranked team across 21 contests, with the closest encounter coming against Cal State Fullerton, a team that has received votes in the USA Today/National Fastpitch Coaches Association poll for the past three consecutive weeks. The fringe top-25 Titans proved a challenge for the Golden Bears, who dropped the second of a pair of contests between the two Feb. 12.
Instead, the unranked Golden Bears have often feasted on weaker competition, notching double-digit run totals on six occasions – all against non-Power Five programs. Four of those victories came by way of the mercy rule.
The low-caliber wins are paired alongside similarly low-caliber losses, as Cal has fallen to the likes of Fullerton, Louisiana-Monroe, Miami (Ohio) and Villanova. Those four opponents are a combined 44-36 in the 2023 campaign prior to the start of play in their respective conferences.
So with strength of schedule clearly not in their favor, how can the Golden Bears compete with a Bruins squad boasting an 8-1 mark against ranked foes?
It starts with patience at the plate. Cal has arguably been the most offensively disciplined team in the Pac-12 thus far, leading the conference in hit batters and sitting third in walks with UCLA close behind at fourth. Further evidenced by their second-to-last Pac-12 standing in strikeouts, Golden Bear batters have a knack for ballooning the opposition's pitch count.
And if Cal can get the pitches it wants, it specializes in turning solid contact into extra-base hits.
Despite a smaller sample size than UCLA, Cal leads the Pac-12 in doubles, notching 35 two-baggers across 171 hits in comparison to the blue and gold's 34 in 206 clip. The longball has been an area of similarly little concern for Cal, as it has launched 31 bombs in 2023, good for second place in the conference and 10 more than sixth-place UCLA.
That power is well spread out, with four Golden Bears contributing at least four homers to the total. But just as she did last season, one player has emerged at the front of the pack.
Catcher Makena Smith – whose fourth-place conference finish in batting average and first-place tie for the team lead in home runs earned her First Team All-Pac-12 honors a season ago – provides an influx of power and consistency to this Cal lineup.
A starter in all 21 of the Golden Bears' games this season, Smith has turned 24 hits into 20 RBIs, both good for the team lead. And with conference play not even underway, she has already passed the halfway mark of her home run total from 2022.
Yet, Smith has been outdone in the key batting metric by a sophomore who contributed just three runs her entire freshman year.
Cal's batting leader – sitting three spots ahead of Smith in batting average – is outfielder/utility Mika Lee, who has burst onto the scene in Berkeley with a team-high .417 clip. Starting in over three quarters of games this season after only getting the nod 7% of the time in 2022, Lee has taken advantage of the bump in batter's box action, proving her ability to be a game-changer when called upon.
If catcher Kacey Zobac and infielder D'Asha Saiki, the two other top-four hitters in the Golden Bears' lineup, can aid Smith and Lee in creating jams for Bruin pitching, then this Cal offense has potential to make some noise. There's a good chance it'll need to consider how serious of a test UCLA's offense will place upon Cal's pitching.
With national marks of No. 11 in batting average and No. 15 in on-base percentage, the Bruins tout the most potent offense that the Golden Bears have been pitted against in 2023. Pitcher Haylei Archer will likely shoulder the burden of trying to quiet those bats this weekend, and historically, she hasn't put up the numbers that give a coach confidence going into such a matchup.
With an ERA that increased from 3.73 to 4.62, Archer struggled mightily with increased appearances last season, earning two fewer wins and seven additional losses in 2022 than she had in 2021. That trend appears to have reversed at this point in her junior campaign, as she has already matched her win total from last season riding an ERA of 1.22.
Then again, that performance is to be expected on a team in one of college softball's top conferences regularly playing mid-major opponents to open the season.
Though its offense can threaten with patience and power, Cal's weak resume may prove consequential for a team facing far and away its biggest challenge of the young season.
Nelson is currently an assistant Sports editor on the softball, men's tennis and women's tennis beats. He was previously a contributor on the men's tennis and women's tennis beats.
Nelson is currently an assistant Sports editor on the softball, men's tennis and women's tennis beats. He was previously a contributor on the men's tennis and women's tennis beats.