Seniors of UCLA gymnastics gear up for regular season finale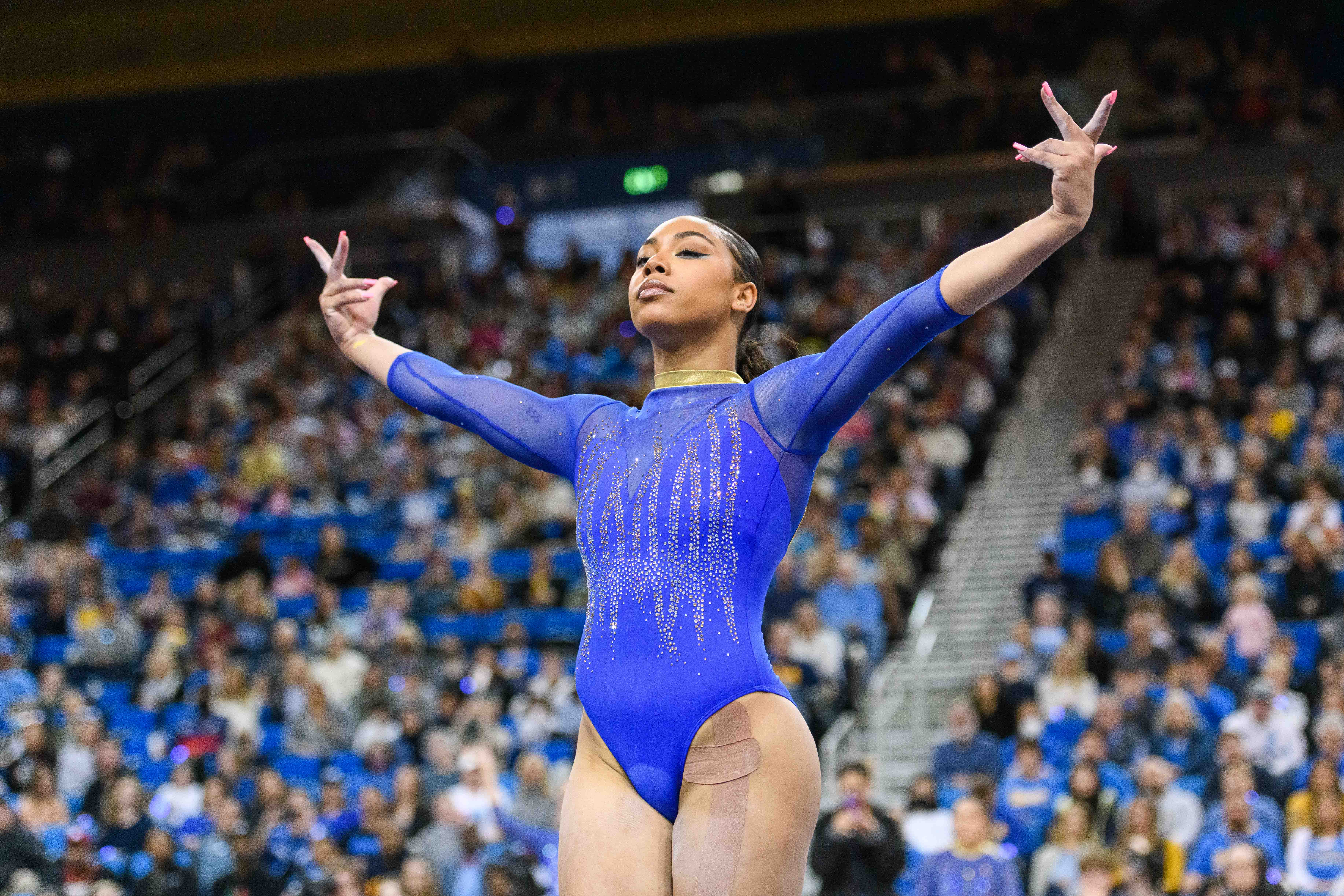 Redshirt senior Margzetta Frazier poses during her floor routine. Frazier will compete in her final regular season meet Saturday as No. 5 UCLA gymnastics hosts Iowa State. (Vivian Xu/Daily Bruin senior staff)
Gymnastics
---
Iowa State
Saturday, noon
Pauley Pavilion
Pac-12 Networks
This post was updated March 10 at 1:30 a.m.
When the Bruins enter Pauley Pavilion for their last regular-season meet Saturday, they will have a chance to move up to No. 3 in the country.
But their focus will be on celebrating their seniors.
"I want to think about enjoying my gymnastics and enjoying my time in there," said redshirt senior Margzetta Frazier. "Everything about it. The smell, the sounds, the feeling of my feet on the basketball court."
No. 5 UCLA gymnastics will face off against Iowa State at home in the final week of the NCAA gymnastics regular season. Along with a chance to potentially surpass Utah and Florida in the rankings, UCLA will also commemorate the perseverance of its senior class.
Although coach Janelle McDonald has only been with the Bruins for one year, she said the senior class has made an impact on her in that short time.
"What I really loved learning from them is just about their experiences and what things that they hold true in their heart as far as representing our team and this university," McDonald said. "I've learned a lot from them."
Frazier, currently in her fifth year with the blue and gold, has battled back through multiple ankle injuries throughout her career as well as a broken foot last season. In her comeback this year, she has tied her career highs of 9.950 on bars and floor and extended her streak of consecutive routines without a fall to 116.
The 2021 Pac-12 bars champion and three-time All-American said she put pressure on herself at the beginning of her return, but now that she's focused on having fun, gymnastics has come easier.
"My goal this year was to be a great teammate, make memories, have fun and just enjoy my gymnastics one last time," Frazier said, "Now that I've been able to tap back into that mindset, I've never had so much fun in the gym in my life."
Frazier is not the only senior who had to overcome adversity. In addition to navigating the pandemic and a coaching staff overhaul, senior Chloe Lashbrooke did not compete for two years following an Achilles tear in January 2021.
Lashbrooke made her return to competition against Washington earlier this season, scoring a 9.850 on floor in her first routine back. As she goes into what may be the final regular season meet of her career, she had one word to summarize her thoughts.
"Grateful," Lashbrooke said. "It's not ever guaranteed that you can compete or be healthy. There are a lot of emotions going into this. … Grateful is really all I can say."
While the senior meet festivities will be the focus of much of Saturday, the Bruins know that they're still working toward an ultimate ambitious goal.
As the regular season comes to a close and UCLA is poised for a top-five ranking going into NCAA regionals – its exit point in each of the past two seasons – McDonald said the Bruins have no limits in their minds.
"I've started to hear the conversations about how special they think this season can be and that we can be competing on the final night of the national championships," McDonald said. "Their belief is really high, and they show up every day ready to work towards that goal."
Competition will begin at Pauley Pavilion at noon Saturday.
Trimbell is currently a contributor on the gymnastics and rowing beats.
Trimbell is currently a contributor on the gymnastics and rowing beats.