Men's basketball Pac-12 tournament predictions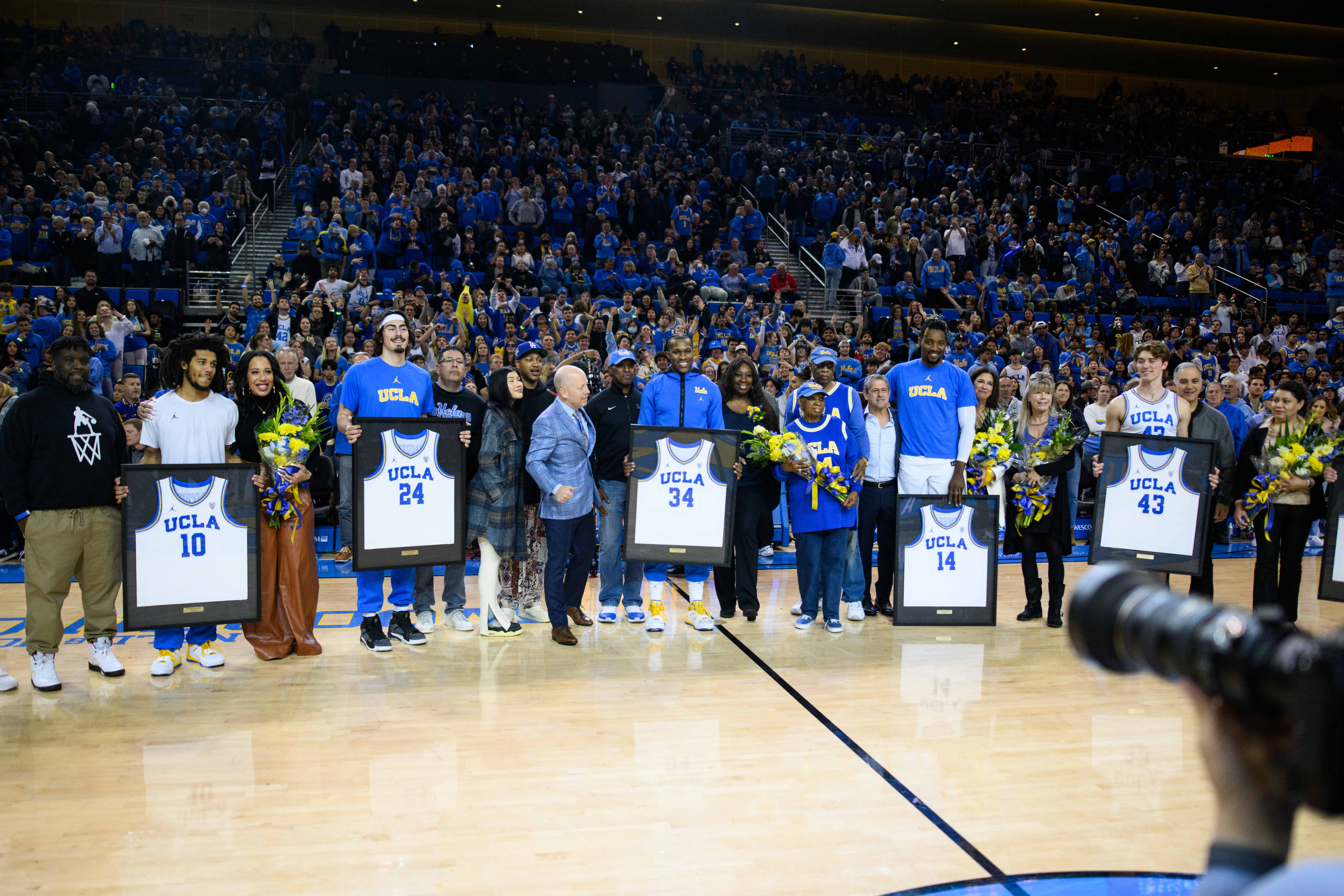 UCLA men's basketball seniors pose with their jerseys during a Senior Night ceremony. (Jeremy Chen/Assistant Photo editor)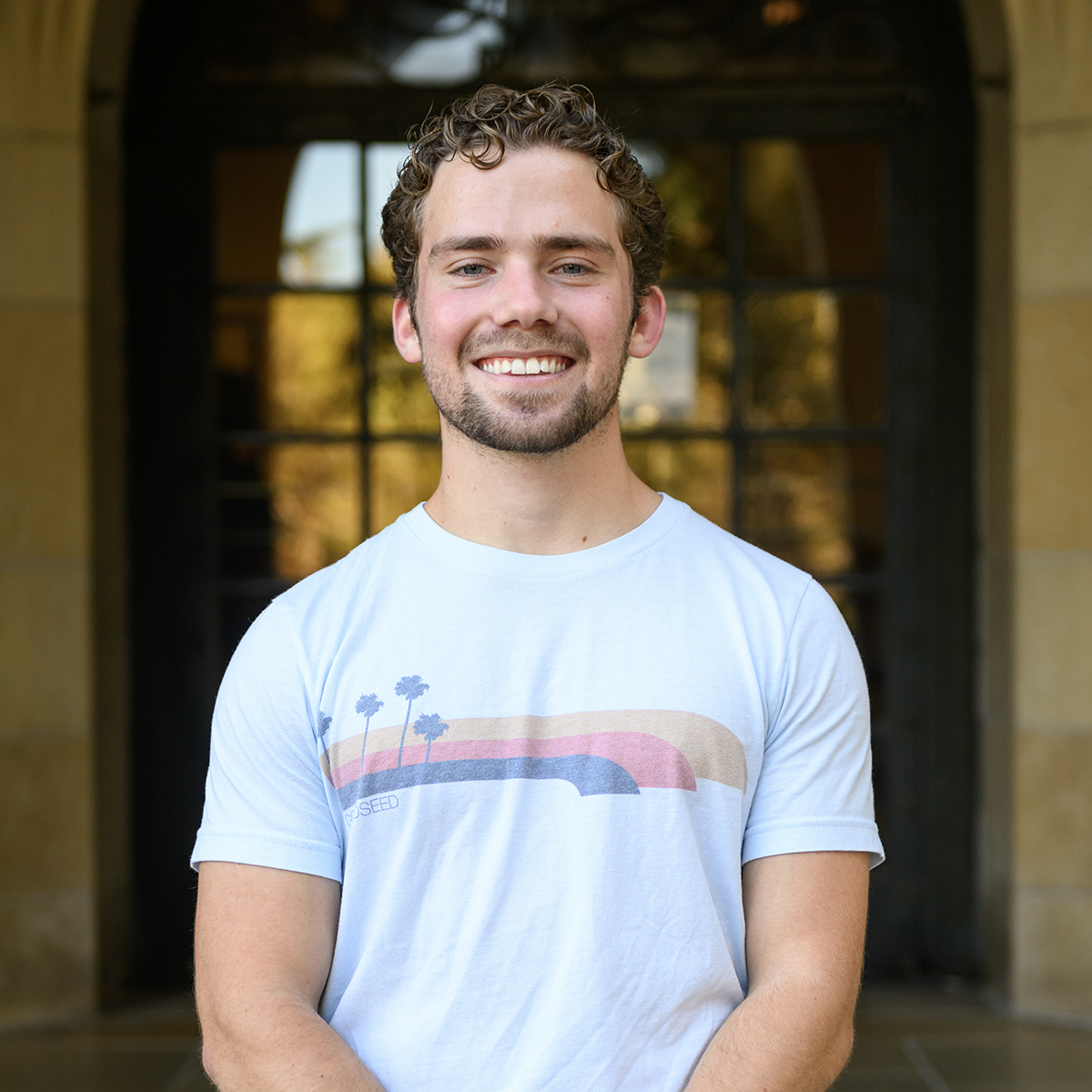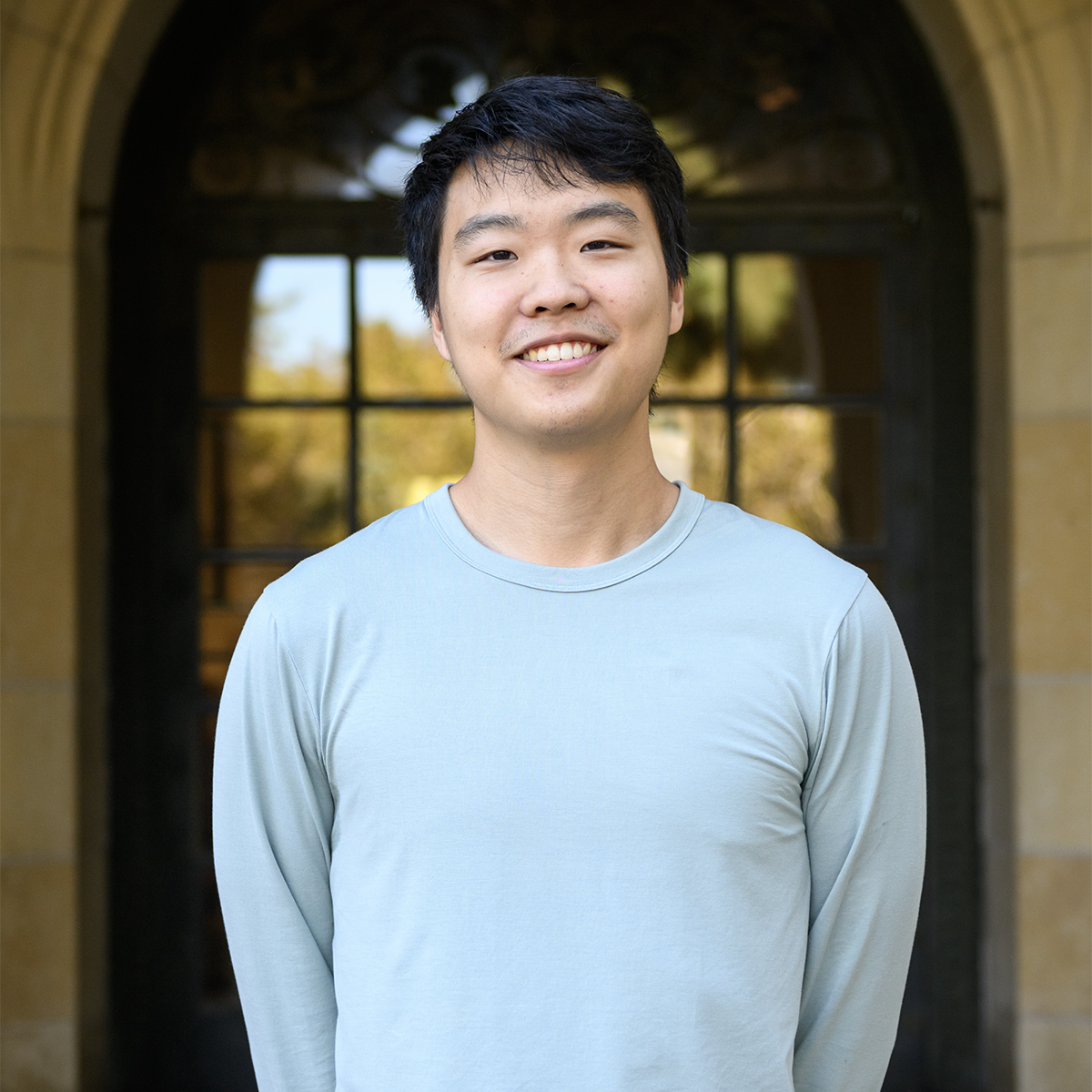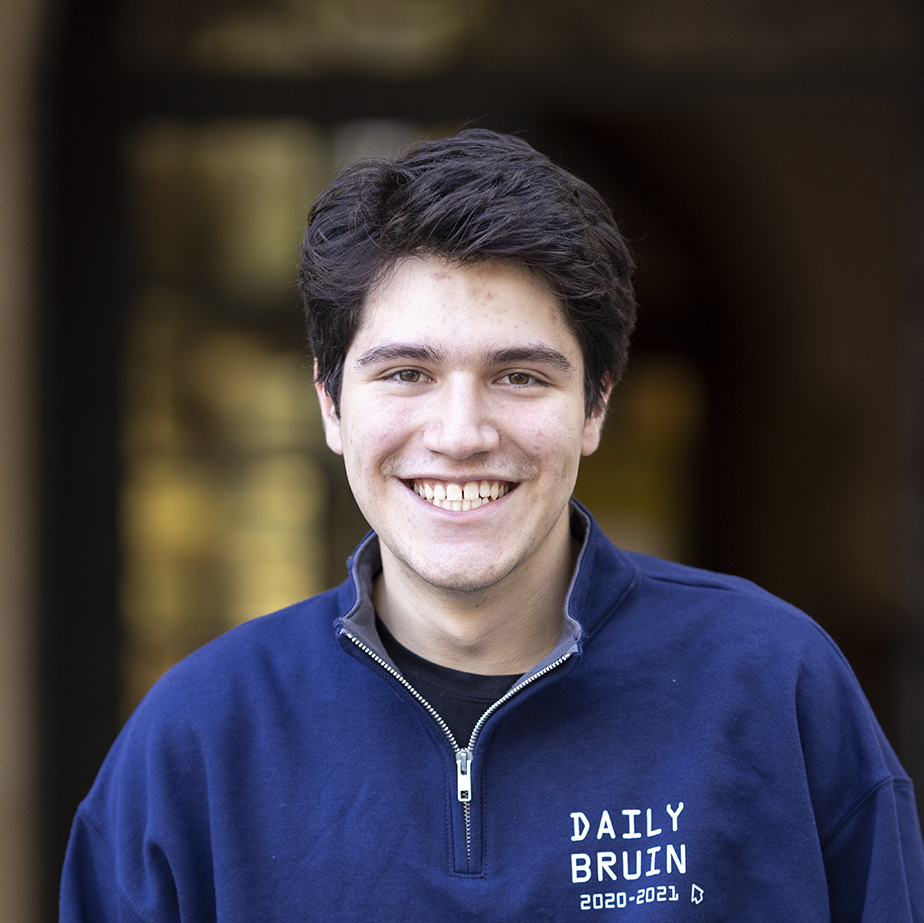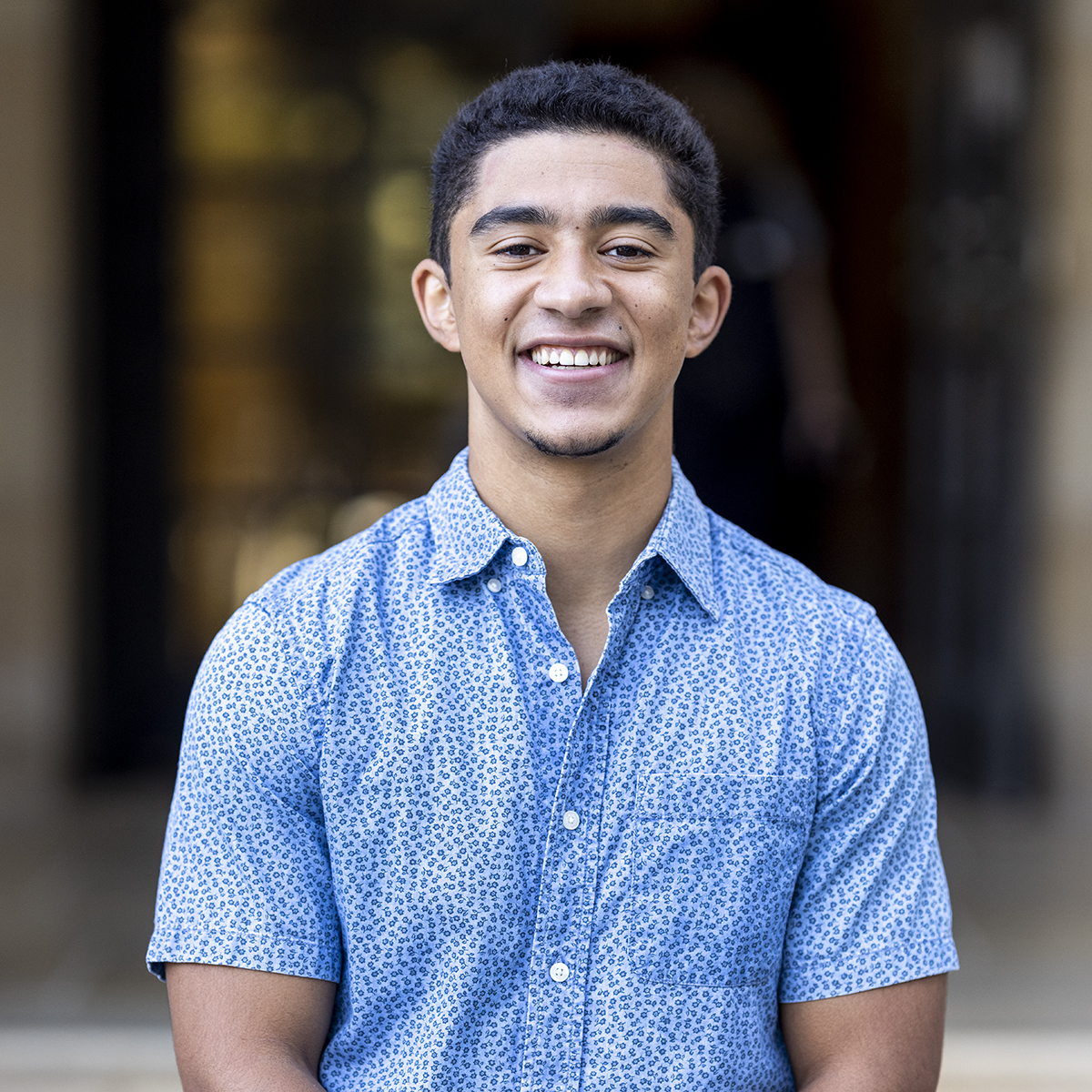 The Pac-12 tournament is set to tip off from Las Vegas on Wednesday. With a first-round bye, No. 1 seed UCLA men's basketball (27-4, 18-2 Pac-12) will take on No. 9 seed Colorado (16-15, 8-12) in the quarterfinals Thursday. The championship bout Saturday could feature a rematch with No. 2 seed Arizona (25-6, 14-6). Daily Bruin Sports' men's basketball beat predicts how far the regular-season conference champions will go.
Sam Settleman
Sports editor
Prediction: Pac-12 champions
It was previously thought that this year's Pac-12 tournament might have few implications for UCLA.
Conference tournaments are typically considered an afterthought in the minds of the selection committee members when it comes to March Madness seeding. Avoid a terrible loss in the quarterfinals, and a No. 1 seed likely awaits the team that won the Pac-12 by four games in the regular season and currently sits at No. 2 in the nation in the AP Poll.
That might not be the case anymore.
With the loss of junior guard Jaylen Clark due to injury, UCLA might have more to prove beyond its 27-4 showing in the regular season. According to ESPN's Joe Lunardi, the selection committee will be watching to see how the Bruins fare in the conference tournament without their Pac-12 Defensive Player of the Year.
While punishing UCLA for a maximum three-game sample size rather than evaluating it based on an entire regular season's worth of evidence might seem absurd, it may still be the reality. For the Bruins to lock up the No. 1 seed in the West, they might just need three wins this weekend.
The good news for UCLA: that's still very much on the table without Clark. To be clear, Clark is far from replaceable, and his absence could prove to be the Bruins' downfall come late March. But UCLA has barely been tested in Pac-12 play this year.
A quarterfinal matchup against Colorado should be a walk in the park, and while a potential semifinal showdown against Oregon may be a taller order, UCLA should be a heavy favorite to make it to the title game.
With Arizona or USC – the only Pac-12 teams to beat the Bruins this season – likely awaiting them there, there's cause for concern that Clark's absence could stop UCLA short.
But the Bruins played arguably some of their best defensive minutes of the season in the second half against the Wildcats after Clark went down. The emergence of redshirt freshman guard Will McClendon won't make up for Clark's absence, but McClendon proved himself as an elite defender in limited minutes Saturday.
Coach Mick Cronin's defensive acumen and the wealth of other options at his disposal will prove just enough for UCLA to win its first tournament title in eight years.
Francis Moon
Daily Bruin senior staff
Prediction: Lose to Arizona in final
How quickly things can change.
If you asked me a week ago, I would have put my money on UCLA claiming the championship with ease, avenging its championship loss to Arizona last year to sweep the Pac-12 regular-season and tournament titles.
Finishing undefeated at home and four games ahead of the second-place Wildcats, the Bruins looked like a team peaking at just the right time, holding their best chance at not only a Pac-12 championship but a national title in recent memory.
However, the road to national championship No. 12 has suddenly become much steeper.
Clark is one of the Bruins' most irreplaceable players behind just senior guard/forward Jaime Jaquez Jr., not only because he stands as the second-leading scorer for the team but largely because of his defensive versatility and prowess that rivals that of any player in the nation this year.
Though I believe the Bruins still have the capability to make noise during March Madness, the difficulty of replacing Clark's 30.5 minutes per game could prove too tall a task on such a short turnaround.
But don't get me wrong, UCLA still stands as the heavyweight in a relatively weak Pac-12 field and shouldn't have too much trouble setting up a rematch with Arizona, whom it split the regular-season series with.
UCLA will cruise to the semifinals and shouldn't have too much trouble using its rest and grit to its advantage while closing out either Washington State or Oregon.
The championship game, though, is when Clark's absence could prove to be the fatal determining factor.
Jaquez will likely be tasked with guarding the opponent's best wing player during the tournament – an assignment normally given to Clark – which will make fatigue even more of a factor and make it tough for him to carry an even heavier offensive load than he already has this year.
Freshman guards Amari Bailey and Dylan Andrews can both be surprise X-factors for the blue and gold, and UCLA's bid at its first Pac-12 tournament championship since 2014 could hinge on how well its young players can handle the high stakes on the big stage.
But assuming Arizona can overcome USC – currently the Pac-12's only other surefire tournament bid – the Wildcats' offense will simply be too much for the Bruins to stop without their anchor.
Jon Christon
Daily Bruin senior staff
Prediction: Lose to Oregon in semifinals
Jaylen Clark's absence will loom large in Las Vegas.
The Bruins would be the undisputed favorites in the upcoming conference tournament if the junior guard were healthy.
But Clark is, in fact, not healthy – and Bruin fans are in denial if they think UCLA is still the Pac-12's undoubted top dog without him.
Replacing 30.5 minutes, 13 points and a conference-leading 2.6 steals per game at this point in the season is next to impossible. And that's without factoring in Clark's presence as the heartbeat of the team – particularly on the defensive end of the floor.
Clark is the best – and most versatile – defender in college basketball. Cronin is certainly a stalwart defensive coach, but his top-10 defense relies on Clark's ability to guard the other team's best player while still being a pest in passing lanes.
Without Clark, UCLA's defense goes from elite to merely average. Don't take it from me, though. The Bruins' defensive rating – their points allowed per 100 possessions – skyrockets from 87.6 to 100.9 with Clark off the court, a mark that would rank 172nd in the entire nation across a whole season.
Sure, the sans-Clark minutes could be a small-sample anomaly. But do you trust that in a win-or-go-home environment?
The Bruin faithful better hope Cronin and company do because UCLA will likely have to play two of the three most efficient offenses in the Pac-12 if it wants to win some more hardware.
Both Oregon and Arizona stand in UCLA's way of its first conference tournament crown since 2014. The Bruins have a combined 3-1 record against the Wildcats and Ducks this season, but Clark played – and played well – in all four of those games.
UCLA, in what would be just its third game without Clark all season, better watch out for Oregon. The Ducks are fighting for their NCAA Tournament lives and seem to be finding a rhythm on offense after a season mired by injuries.
Gavin Carlson
Daily Bruin staff
Prediction: Pac-12 champions
Injuries can derail seasons, but they can also create legendary opportunities.
For the second time in three seasons, a potentially devastating injury will do just that for the Bruins.
When former guard Chris Smith tore his ACL at the end of 2020, the Bruins lost their second-leading scorer, rebounder and assist man, casting doubts on what the team could accomplish for the remainder of the campaign. This year, Clark was second in scoring and rebounding before sustaining the aforementioned injury Saturday.
What followed in 2021 was a magical Final Four run, with Smith's injury allowing guard Johnny Juzang to have his All-Tournament stretch that carried the Bruins to Indianapolis.
Two years later, I believe history will repeat itself – this time with Jaquez.
But unlike Juzang, Jaquez's legendary end to his Bruin career will start with a Pac-12 tournament championship and could catapult him into all-time great status at UCLA when it's all said and done.
Over his last seven games, Jaquez is averaging 22.7 points per game on 49.6% shooting and 8.4 rebounds per contest. After a comeback win against Stanford in which he had 26 points and at one point scored 13 straight for the Bruins, Jaquez said he intended to "go out swinging" in his final season.
He's done just that.
Jaquez has taken at least 14 shots in six of the last seven games after doing so just twice in the six games prior. He'll be asked to do more offensively without Clark, but he's essentially been training for the bigger shooting workload during his recent tear.
And defensively, the freshmen duo of Andrews and McClendon will step up enough to let Jaquez still prioritize his work on the offensive end.
With or without Clark, UCLA is more talented than every team in the Pac-12 other than Arizona. And the Bruins just defeated the Wildcats, with Clark playing just 15 minutes.
Behind Jaquez's heroics, UCLA will overcome Clark's absence in a championship game victory over Arizona. National Player of the Year could even be added to Jaquez's decorated career as a result.