High energy in the stadium uplifts UCLA softball in win against Howard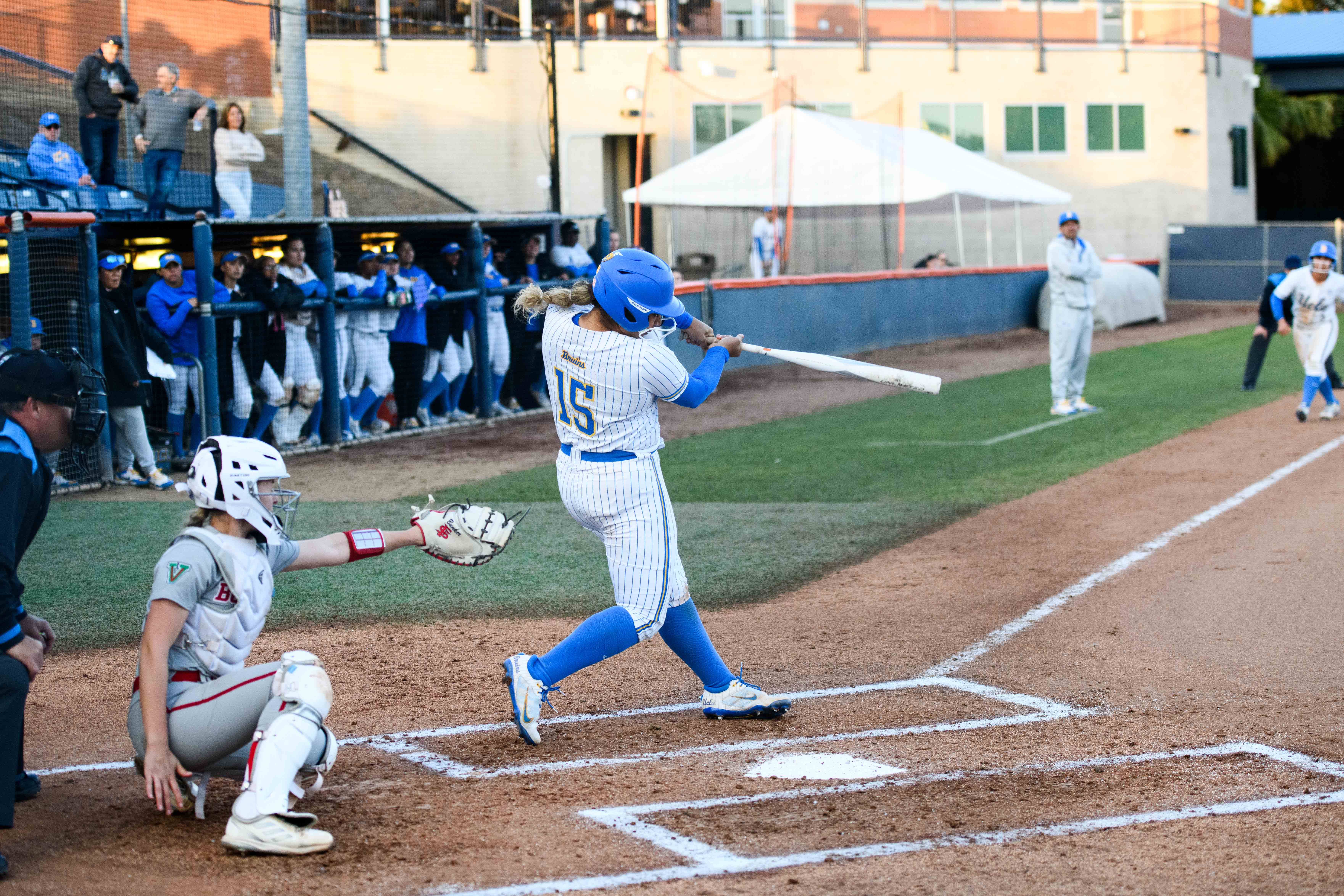 Freshman infielder Jordan Woolery of UCLA softball takes a hack at a pitch. Woolery contributed a two-run homer to help propel the Bruins to a win on Tuesday night. (Ethan Manafi/Daily Bruin staff)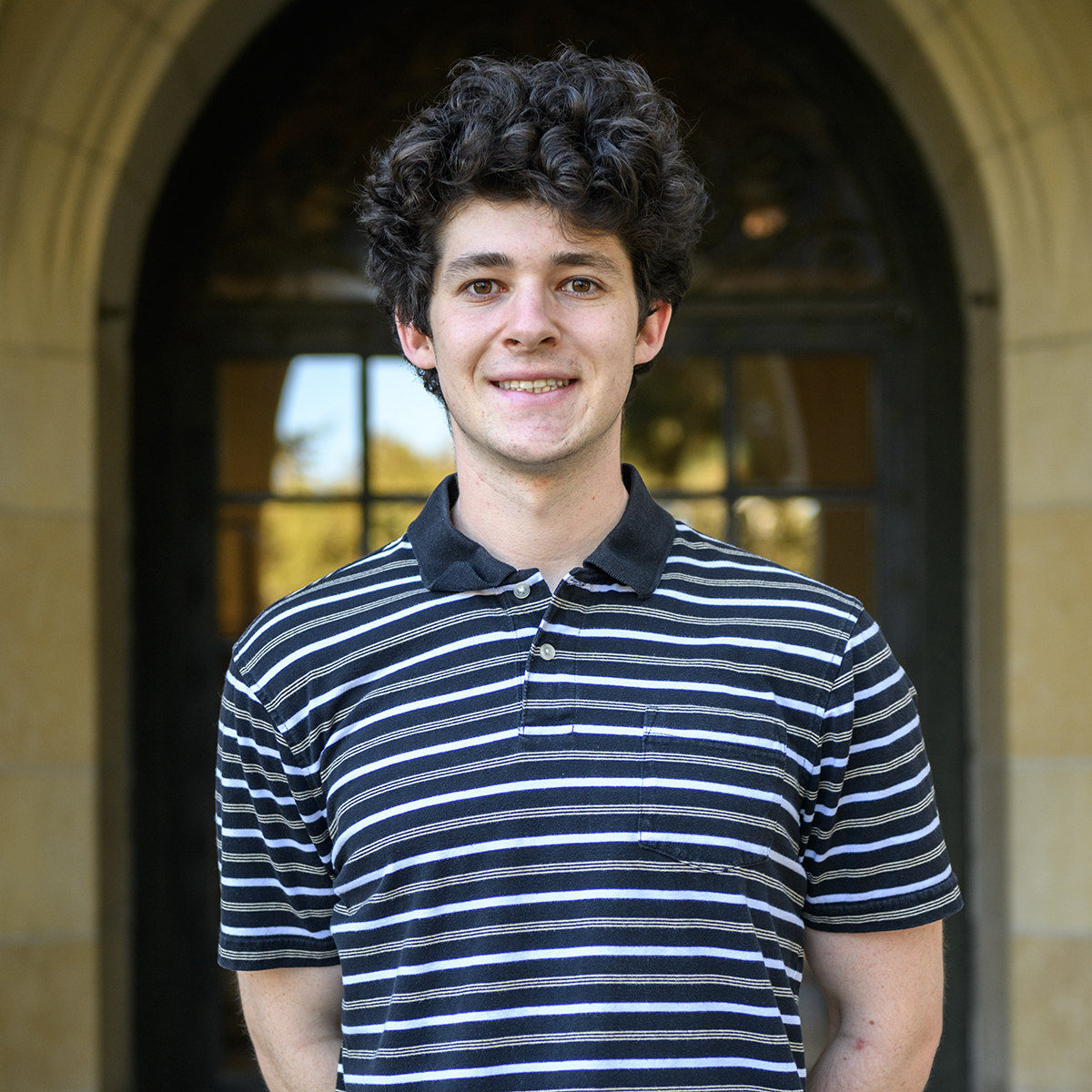 In their return to Westwood, the Bruins picked up their eighth home victory of the season.
On Tuesday, No. 2 UCLA softball (23-1) defeated Howard (4-13) by a score of 4-0 to push its winning streak to six. The game marked the first time the blue and gold played a scheduled regular-season game against a historically Black university, with its only other previous matchup against an HBCU being Mississippi Valley State in the 2004 NCAA regionals.
"The energy was super good here, and I was really excited because of all the fans," said freshman infielder Jordan Woolery. "Especially for HBCU night, it was a really empowering event for the Black colleges out in the south too."
The game also marked a homecoming for the Bruins after their three-week road trip that spanned the TaxAct Clearwater Invitational in Florida, the Mary Nutter Collegiate Classic in Cathedral City, California, and the Judi Garman Classic in Fullerton.
The Bruins went 15-1 across the three tournaments, with their sole loss being to No. 1 Oklahoma more than a week ago. The blue and gold has yet to lose at home this season.
According to freshman pitcher Taylor Tinsley, the team felt the fans' impact at Easton Stadium.
"So many people showed out, even students and student-athletes in this crowd," Tinsley said. "I love the energy and just knowing that everyone was having our backs."
Furthermore, Howard's visit marked a return to Southern California for the Bisons' head coach Tori Tyson.
"(Tyson) is like family to us. Her dad is a club coach, Marty Tyson," said coach Kelly Inouye-Perez. "A lot of the best players in my program that have played in this program have played under Marty Tyson."
Tinsley started in the circle for UCLA and had little issue quieting Howard's bats, giving up two hits, no walks and racking up seven strikeouts through five innings.
"Being able to come back and pitch on our home field was back to where I'm comfortable and where I know I'm going to be on my A game," Tinsley said.
The Bruins made a quick start offensively off Howard starter Amelia Weber.
Sophomore utility Savannah Pola reached on an error followed by a walk of redshirt junior utility Maya Brady to start the rally.
Then, freshman utility Megan Grant knocked in a run with a sacrifice fly, and Woolery followed with a towering two-run homer to left that put the Bruins up by three in the first inning.
The Bisons' best offensive chance against Tinsley came in the top of the fifth inning, when they put two runners on with two outs after an error by Brady. But on the freshman's final batter of the evening, she struck out infielder Jade Greene on a full count to escape the jam.
Howard was able to keep the game within reach thanks to the pitching of Mia Gonzales, who went 4.1 innings and gave up four hits and only one run – on an RBI single by sophomore catcher Jayla Castro to knock in Woolery in the bottom of the sixth.
Earlier in the frame, redshirt senior pitcher Megan Faraimo replaced Tinsley.
Faraimo, who is tied for first nationally in wins and stands second in strikeouts, closed the game out for the Bruins despite a two-out rally in the seventh inning.
Inouye-Perez said she was grateful for the effort Howard brought and for the opportunity to play against an HBCU.
"I think they played a great game against us. They made plays. They were able to come up with some hits. They had great energy. They brought a crowd," said Inouye-Perez. "I celebrate where we are on the sport that this opportunity happened tonight."