Continuing winning streak, UCLA baseball defeats Long Beach State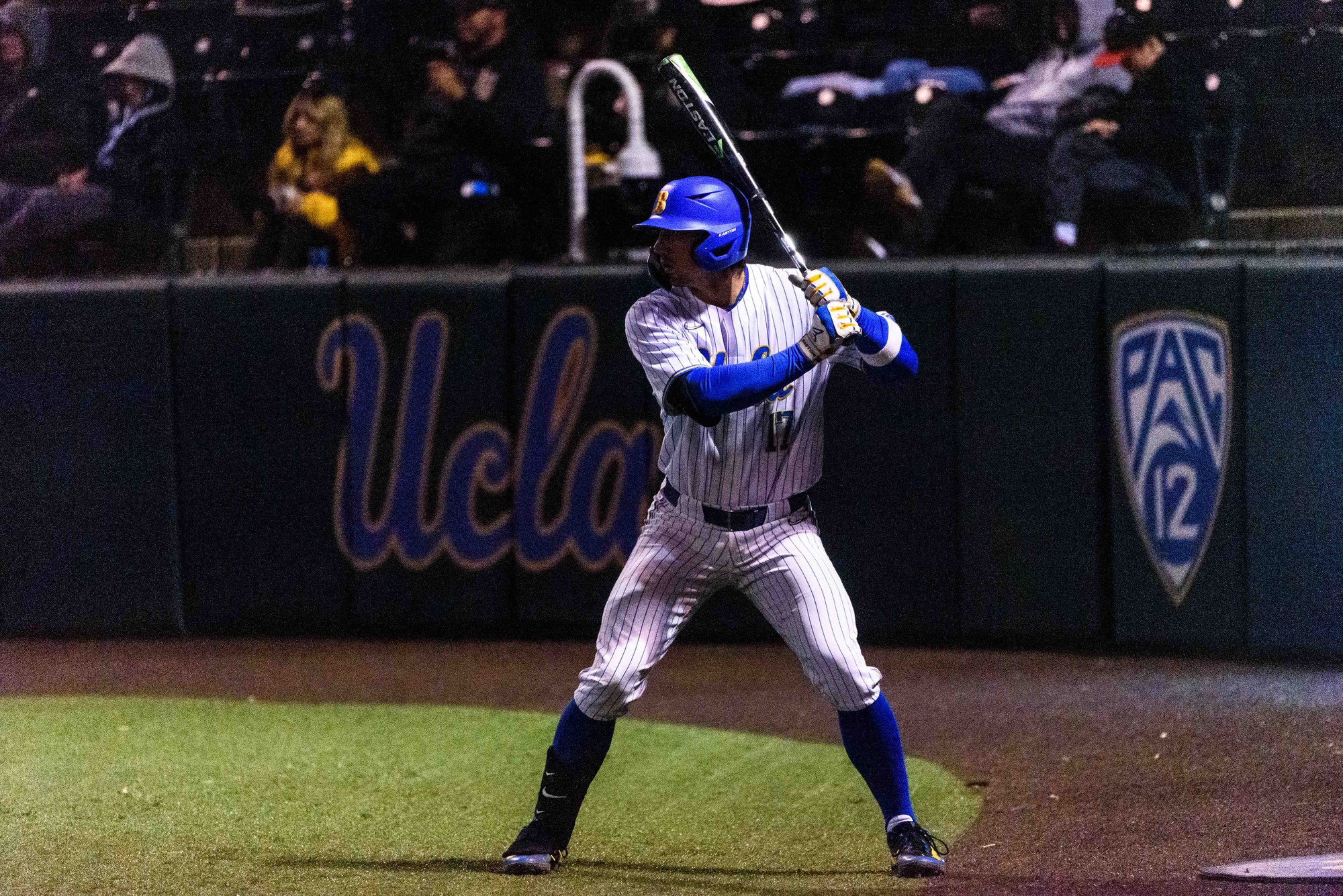 Sophomore designated hitter Jack Holman waits in the on-deck circle. Holman's five RBIs powered UCLA baseball's win over Long Beach State on Tuesday. (Felicia Keller/Daily Bruin)
Baseball
---
| | |
| --- | --- |
| Long Beach State | 6 |
| No. 16 UCLA | 7 |
Clean-up duties are new to Jack Holman.
The Bruins' sophomore designated hitter stepped into the batter's box with just two career games hitting in the cleanup spot.
But on Tuesday night, he looked right at home.
Holman ripped a go-ahead RBI single – one of five RBIs he collected – to give No. 16 UCLA baseball (10-2) a 7-6, bottom of the eighth-inning lead which the blue and gold eventually held onto to defeat Long Beach State (7-4) in a back-and-forth contest.
"That's West Coast college baseball," coach John Savage said. "It was a dogfight. So we were fortunate that we came out of it."
During the bottom of the first, Holman crushed a three-run home run over the Gifford Training Facility in right field to give the Bruins an immediate 4-0 advantage over the Dirtbags. The left-handed slugger's home run was his second of the season while his final line at the plate was 3-3 with a walk and a run.
Holman said a quick mid-game scouting report from sophomore shortstop Cody Schrier contributed to his first at-bat.
"That information getting passed down from guys in before you is huge," Holman said. "Especially against a team that we haven't seen yet this year, getting that information from Cody was big. And I was able to use it to my advantage."
However, on the pitcher's mound, the Bruins gave up the most runs they have allowed at Jackie Robinson Stadium in 2023.
Coming into the contest, UCLA ranked No. 1 in the nation with a 1.67 ERA over its first 11 games. On Tuesday, while the Bruins limited the Dirtbags to six runs, two errors caused three to be unearned.
An error by freshman right-hander Cody Delvecchio with the bases loaded in the top of the sixth allowed three runs – all of which were unearned – to cross home, while a fielding error by redshirt sophomore infielder AJ Salgado shrank UCLA's lead from two to one.
Redshirt sophomore right-hander Chris Aldrich piggybacked freshman right-hander Michael Barnett with 2.1 innings after the latter's three-inning start. Through 9.1 innings so far this season, the former of the Bruin pitchers has yet to allow an earned run.
"We think he (Barnett) has a chance to be a starting pitcher in our program," Savage said. "A weekend starter down the road. He's shown a lot of courage so far. He's kind of an under-the-radar type of guy. He was not recruited much."
In the top of the eighth, freshman right-hander Finn McIlroy conceded a game-tying solo home run to Dirtbags infielder Jonathon Long to knot the game at six. After Holman struck his go-ahead single, it was up to sophomore right-hander Luke Jewett to close the game out.
Despite allowing the tying and go-ahead runners to reach, Jewett struck two batters out and secured the victory. Salgado made the final out, leaping off the ground to prevent a result-changing base hit.
"I'm in the closer spot for a reason," Jewett said. "I've been working on this for a while, I trust my staff, I have got eight guys behind me and Knox (Loposer) behind the plate. I had a lot of trust in my guys and my stuff. There was really no need to panic."
UCLA's winning streak now stands at five games heading into its Pac-12 opener Friday at Oregon. The Bruins will play a three-game set against the Ducks in Eugene.