Coming off nonconference tournament play, UCLA softball set to face Howard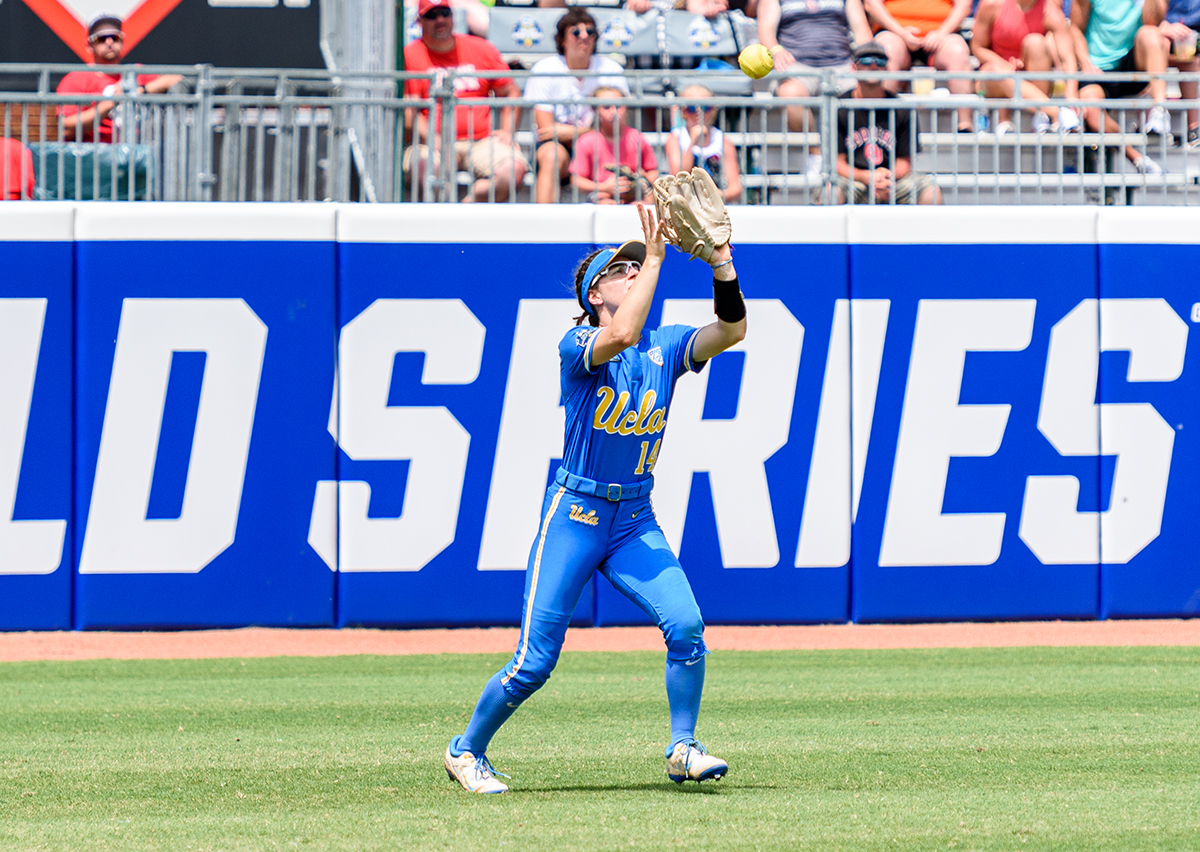 Kelli Godin of UCLA softball prepares to catch a fly ball. The redshirt senior outfielder is hitting .385 but has started less than half of the Bruins' games this season after starting all 61 contests in 2022. (Daily Bruin file photo)
Softball
---
Howard
Tuesday, 6 p.m.
Easton Stadium
UCLA Live Stream-2
For the first time in program history, the Bruins are scheduled to face off against an HBCU.
No. 2 UCLA softball (22-1) will take on Howard (4-12) on HBCU night at Easton Stadium, with first pitch slated for 6 p.m. Tuesday. The Bruins are relatively unfamiliar with the HBCUs, as the first and only time they've faced one was during the 2004 NCAA regionals versus Mississippi Valley State, where the blue and gold won 8-0.
As UCLA transitions out of nonconference tournament play – where it lost just once – it will now focus on a different type of schedule. Same day back-to-back contests will be a thing of the past starting Tuesday.
Coach Kelly Inouye-Perez said the ability to change phases and quickly move on to the core of its schedule will be key.
"We are currently in the Unity phase with nonconference play, and we have done a great job coming together as a team throughout the early parts of our schedule," Inouye-Perez said. "We know that we have to finish that off strong Tuesday so that we can be as complete of a team as possible before we move on to the Pac-12 part of our schedule."
A large part of UCLA's early season success can be attributed to its well-spread offense. Fourteen different players have an RBI on the season, with four Bruins totaling over 20 RBIs. The team has been led by redshirt junior utility Maya Brady, who is hitting .500 with 28 RBIs and seven home runs, and has started every single game of the season but one.
Along with Brady, the blue and gold has also gotten large contributions from three newcomers. Utility Megan Grant and infielder Jordan Woolery, both consistent starters, are the two main freshmen who have contributed offensively, with 43 hits and 46 RBIs shared between the pair. Arizona transfer and redshirt junior catcher Sharlize Palacios has played in 22 of 23 contests, boasting five homers to go along with her 20 RBIs.
Palacios said her team has been able to be successful because of their preparation on the field as a unit.
"We have been taking care of our bodies very well over the last few weeks," Palacios said. "It honestly is the greatest blessing to be able to play these types of games throughout the week because we treat them like a playground and have such a good time with each other out there together."
On the other side of the ball, the blue and gold also has proven that its pitching has and will be able to compete with some of the best units in the country.
The star of the rotation is redshirt senior Megan Faraimo, who has made 15 appearances this season and possesses an 11-1 record. Right behind her has been sixth year Brooke Yanez, who sports a 7-0 record and a 1.07 ERA, along with 55 strikeouts against eight walks.
"One of the things we love to talk about as a team is having each other's back," Inouye-Perez said. "Brooke has pitched great over the season and done her job, and Megan has been ready to step in and make a difference when called upon as well."
Redshirt senior outfielder Kelli Godin said the Bruins need to stay focused to maintain their early-season success.
"It is really important to make sure that we are feeling right and getting enough sleep," Godin said. "If we do that, then we will continue to put ourselves in a good spot."
Darrow is currently a Sports reporter on the men's soccer beat. He was previously a contributor on the women's tennis, men's volleyball and men's soccer beats.
Darrow is currently a Sports reporter on the men's soccer beat. He was previously a contributor on the women's tennis, men's volleyball and men's soccer beats.