With Jordan Chiles perfect on bars, UCLA gymnastics earns season-high team score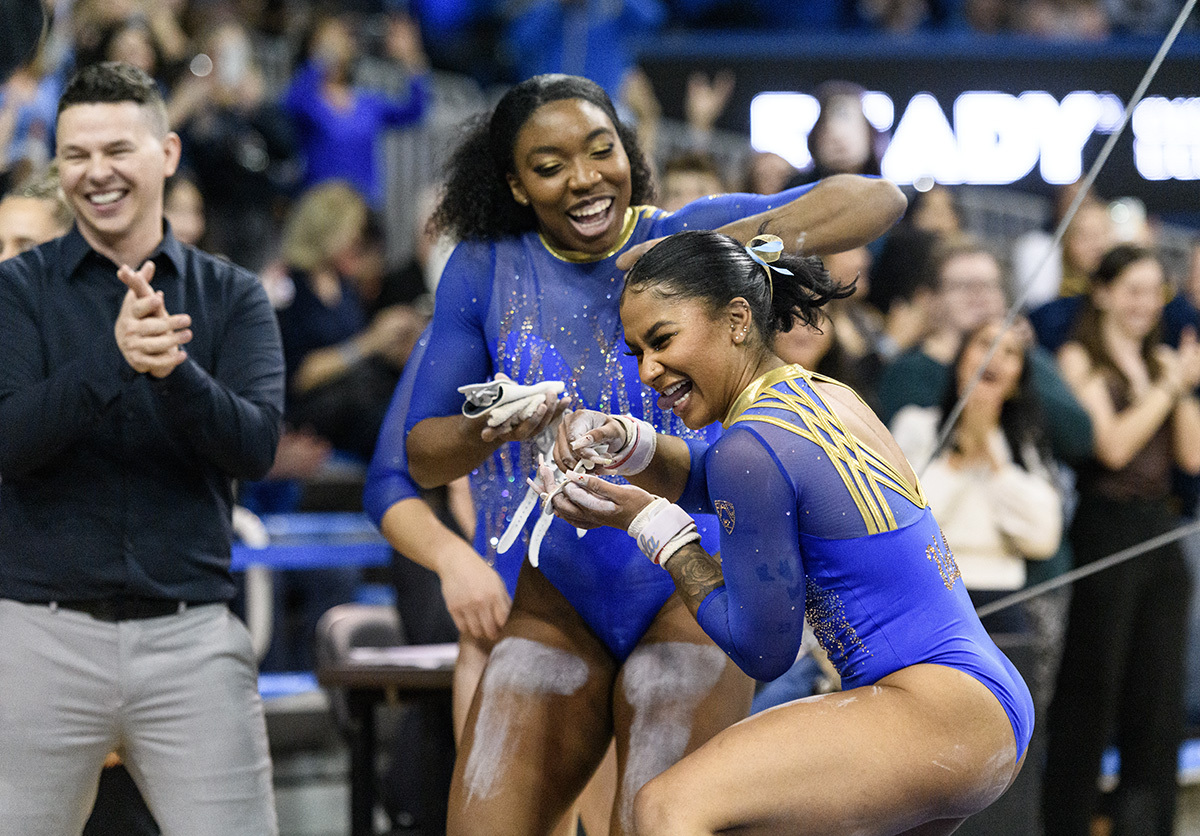 Sophomore Jordan Chiles (right) laughs alongside junior Chae Campbell (left). Chiles tied the top all-around score in the country Sunday as No. 5 UCLA gymnastics reached a season-high team score. (Vivian Xu/Daily Bruin senior staff)
Gymnastics
---
| | |
| --- | --- |
| No. 21 Stanford | 196.825 |
| No. 5 UCLA | 198.175 |
As fans in Pauley Pavilion flashed 10s throughout the arena, the judges did the same, awarding Jordan Chiles her first perfect 10 on bars this season.
"People have told me you should have gotten seven 10s by now, but obviously, those seven 9.975s that I've gotten weren't there yet," the sophomore said. "That's why I was emotional because I was like, 'I finally did it.'"
For Chiles, the perfect 10 on bars was just the beginning, as the sophomore tied the top all-around score in the country with a career-high 39.875.
Chiles' perfect 10 on bars and pair of 9.975s on beam and floor led No. 5 UCLA gymnastics to its first 198-plus score of the season, as it defeated No. 21 Stanford in Pauley Pavilion on Sunday afternoon 198.175-196.825.
Scoring a season-high 49.725 on bars, the Bruins nailed their last five routines in the rotation with scores of 9.900 or higher. Senior Kalyany Steele and sophomore Ana Padurariu both put up their highest scores of the year on the event, scoring 9.900 and 9.950, respectively.
However, the rotation was highlighted by the 10 from Chiles in the anchor spot. The 49.725 on the event marked the second-highest bars score in the country this season while also representing the third-highest bars score in program history.
After recording a season low on the event a week ago, coach Janelle McDonald said Sunday's showing was about attention to detail in practice.
"Last week, I felt like we didn't show the work that we had been putting in in the gym," McDonald said. "I wrote on the board that we are detail queens. And so just every day, that's what our practices were surrounded with – was just attention to detail."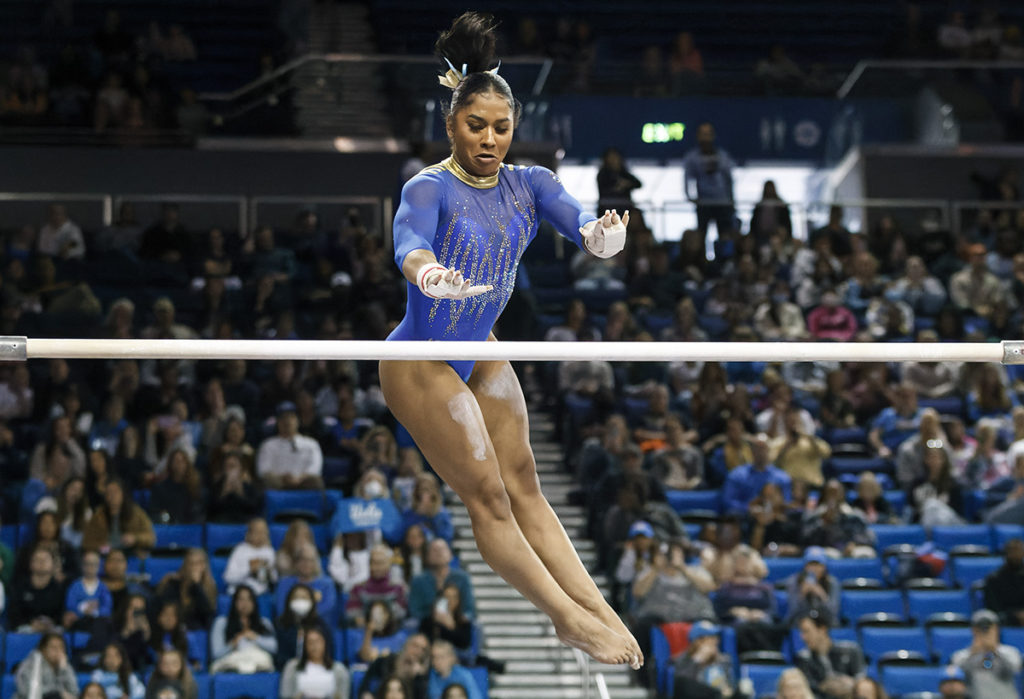 On vault, junior Chae Campbell stuck her Yurchenko full for a perfect score of 9.950, her first perfect score on vault this season. Following Campbell's 9.950 were high marks of 9.850 from freshman Selena Harris and a 9.925 from Chiles, with UCLA ending its first rotation with a 49.350.
Campbell said it was gratifying to earn the perfect score on vault after doing so twice last season and earning three 9.925s on the event already this season.
​​"I was really happy to finally have that 9.950 pop up when I've been working hard," Campbell said. "It's nice to have it, but it's just a score at the end of the day."
On beam, the Bruins kept the same consistency, as they were led off with a 9.800 from sophomore Emily Lee followed by a 9.825 from freshman Ciena Alipio. After this, Harris put up a 9.925 while sophomore Emma Malabuyo followed with a 9.900.
Once again, Chiles put up a huge number for the Bruins, as she stuck her double pike dismount and scored a 9.975. Following the third rotation, UCLA led Stanford 148.500-147.675.
Closing out the meet was UCLA's floor party, where the Bruins tied a season-high 49.675. Tying her career high on the event, Malabuyo contributed a 9.950 for UCLA, while Chiles ended the meet strong, scoring a near-perfect 9.975.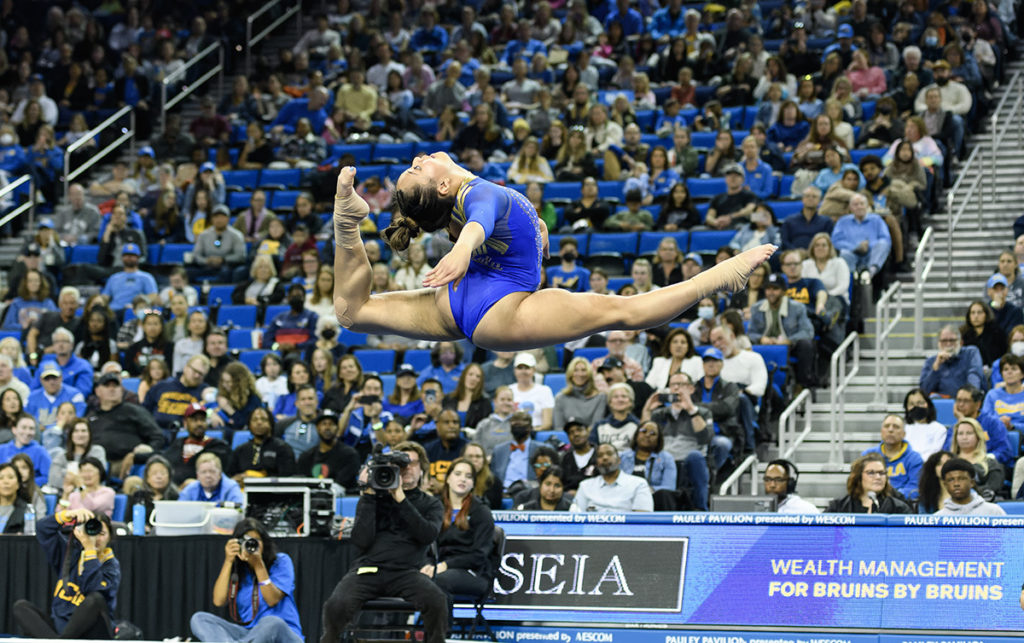 Behind season highs on both bars and floor, UCLA's 198.175 on the day marked its highest team score since 2019. Chiles said hitting the 198 threshold was an important box for the Bruins to check off.
"It's at the end of the season, and we're tired, and getting a 198 knowing that we've been so close three times – it definitely gave us that energy at the end where we were celebrating," Chiles said. "We were having that moment because it's like, 'Wow, we finally did it.' And it's only up from here."