Unranked Sacramento State challenges No. 17 UCLA baseball in eventual Bruin win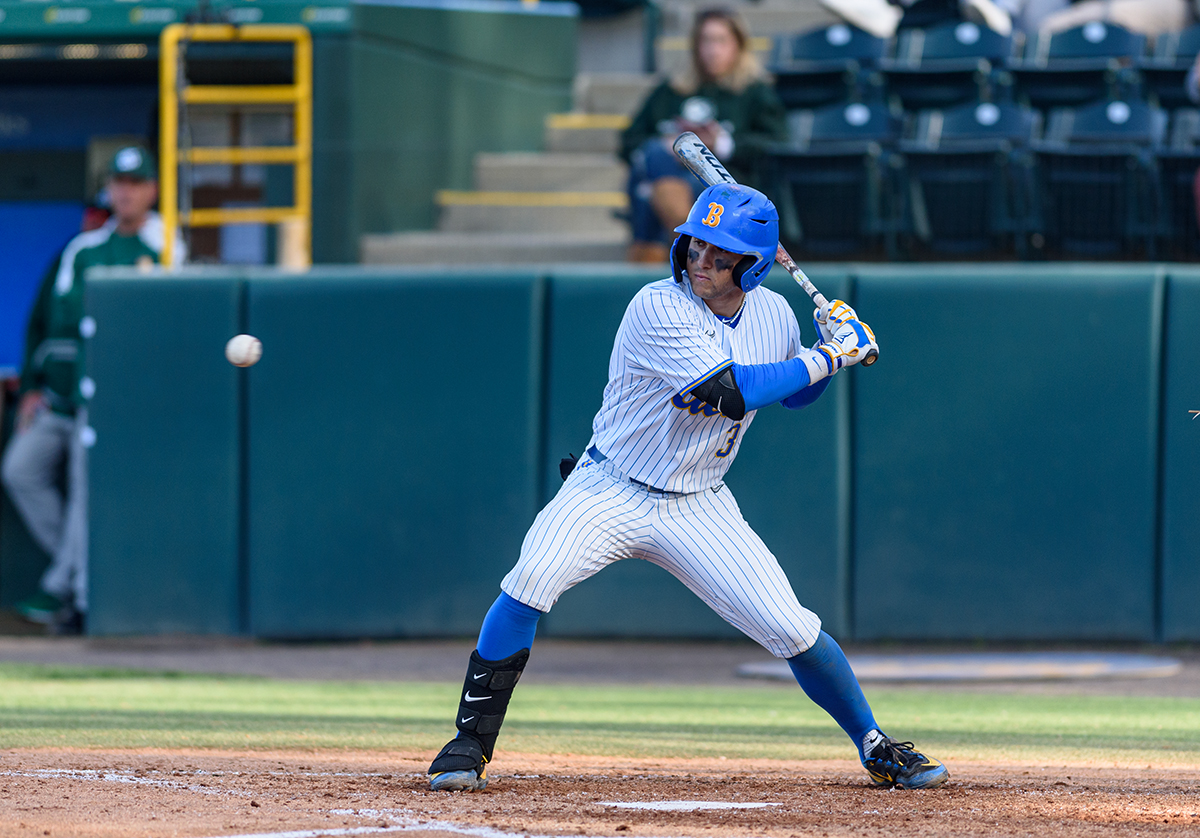 Sophomore second baseman Duce Gourson watches the ball during an at-bat. Gourson paced UCLA with two RBIs in its win Saturday. (Joseph Crosby/Daily Bruin senior staff)
Baseball
---
| | |
| --- | --- |
| Sacramento State | 2 |
| No. 17 UCLA | 3 |
In its first taste of adversity at home, the Bruins came back to win their third straight game of the week.
No. 17 UCLA baseball (8-2) edged out a 3-2 victory over Sacramento State (6-3) on Saturday afternoon in its second game of the Southern California College Baseball Classic. The Bruins faced off against an unranked Hornets team in a tight contest that began with a two run-deficit in the top of the fourth inning.
Despite Sacramento State being unranked, coach John Savage said the Bruins didn't underestimate their opponent.
"We didn't overlook them one iota," Savage said, "If we would have, we would have lost."
The shortfall began after sophomore right-hander Alonzo Tredwell gave up his first runs of the season on a two-run home run. However, the Bruins quickly returned the favor in the bottom of the frame when sophomore second baseman Duce Gourson launched a homer of his own to center field.
Even with UCLA facing a deficit, the team wasn't changing its mentality, according to Gourson.
"Just try to slow down the game, relax," Gourson said. "Not making it a bigger moment than it already is, and just try to compete for the team"
Following the first tally in the run column for the Bruins, the bottom of the fifth brought home another two runs on RBI singles from Gourson and junior third baseman Kyle Karros.
With the Bruins holding their one-run lead, the Hornets were unable to catch up. Tredwell was soon relieved in the sixth inning by freshman right-hander Michael Barnett – who tallied 1.2 scoreless innings until sophomore right-hander Luke Jewett closed the game out.
"I mean the freshman (Barnett) came out, and he looked like a veteran pitcher," Tredwell said. "Jewett came out and did his thing to close the game out for us. I think it's just the depth of the bullpen. We've got a bunch of studs in that bullpen."
Despite the close game, Savage said a win like Saturday's helps the team's development.
"We're learning how to win," Savage said. "I think that's a really important aspect of building a team is winning tight games, and that was a tight game."
The new season brings new rules as well. With the new addition of a pitch clock – a 20-second timer that begins when the pitcher steps on the mound and ends with the beginning of his delivery – being added to NCAA baseball, the pitching squad is looking to evolve with this new aspect of the game.
"I think it speeds up the game," Tredwell said. "I think it's good for the fans, and I think it's good for us to kind of get our momentum going."
UCLA is set to finish off the weekend in the Southern California College Baseball Classic against rival USC on Sunday afternoon.
"We're trying to finish the weekend off the right way," Savage said. "They're going to be very competitive, so we just have to stay within our game and be ourselves."