UCLA Office of Equity, Diversity and Inclusion grants awards to student leaders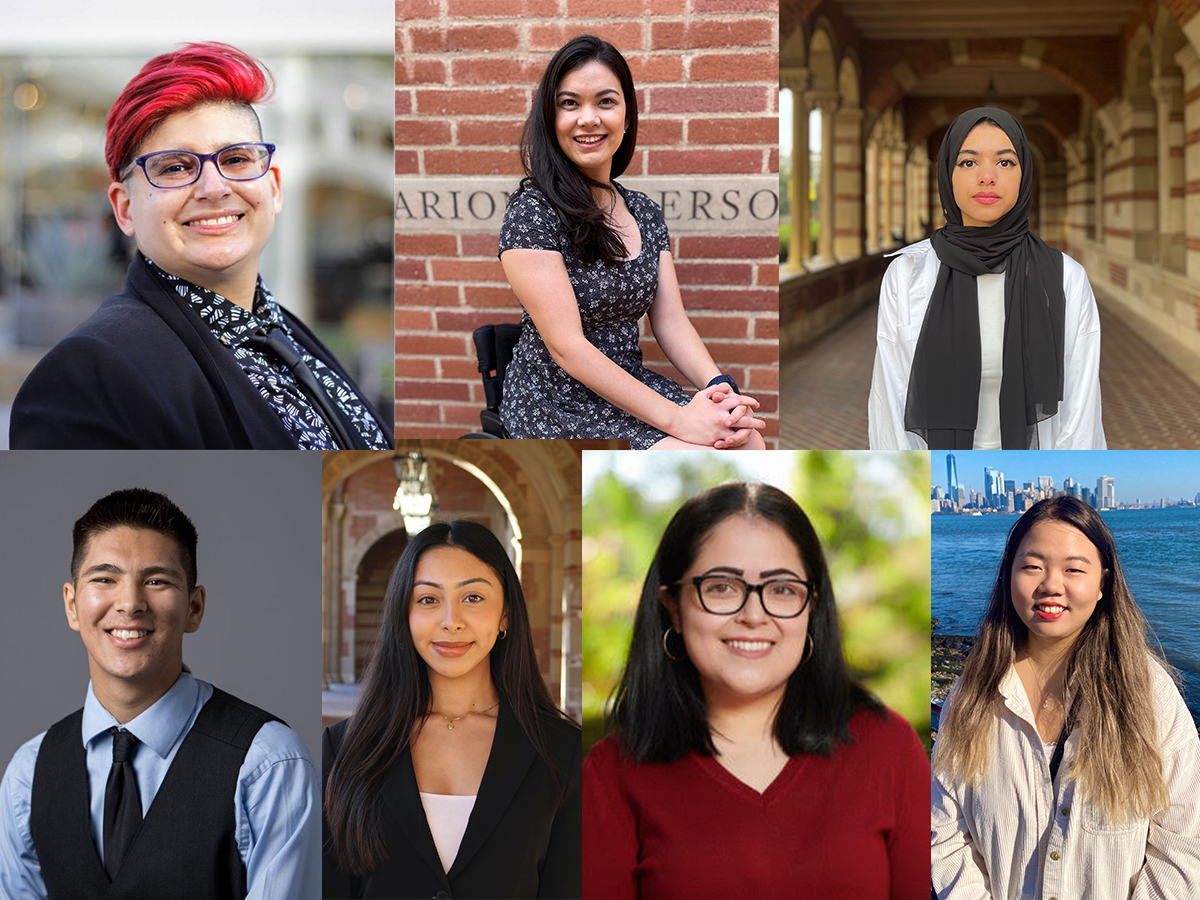 The UCLA Office of Equity, Diversity and Inclusion awarded seven students (pictured) the EDI Student Leadership Award. They received the award to recognize their leadership in EDI. (Clockwise from top left: Courtesy of Tina Del Carpio, Courtesy of Carolanne Link, Courtesy of Umiemah Farrukh, Courtesy of Gloria Kim, Courtesy of Norma Sandoval, Courtesy of Ashley Ceballos Hernandez, Courtesy of Andrew Ramirez)
The UCLA Office of Equity, Diversity and Inclusion awarded seven students the inaugural EDI Student Leadership Award on Jan. 31, celebrating their leadership, engagement and support for EDI within the UCLA community.
Many of the recipients expressed gratitude for the recognition and reaffirmed their commitment to continue serving the UCLA community through EDI contributions.
Carolanne Link said she sees EDI as a mission that establishes belonging and understanding at UCLA for each unique individual.
Link, a graduate student of business administration and award recipient, is the vice president for EDI on UCLA Anderson's Fully Employed MBA Council and served as the inaugural president of the council's EDI Committee. Link said she also helped co-found UCLA's Metamap project, which maps and inventories accessible campus resources for disabled individuals. Link said her supervisor from the UCLA Disabilities and Computing Program, Travis Lee, nominated her for the EDI Student Leadership Award based on her continuous involvement in furthering EDI efforts on campus.
"The way I conceptualize (EDI) for myself is the humility to understand that you don't understand everybody else's experiences and lives, and it gives you the opportunity to learn," Link said.
Upon receiving the award, Link said she felt both odd to be singled out and honored because EDI is about celebrating each person's unique story. She said she hopes that this award sheds light on lesser known identities in order to move toward a more informed and compassionate world.
Tina Del Carpio, an award recipient and doctoral student in ecology and evolutionary biology, said their multiple marginalized identities within academia, such as being trans, Latina and from a low-income background, inspired their desire to support UCLA initiatives for those from any marginalized background.
"By pushing these initiatives and really focusing on not just having a diverse student body, but creating an institution that is equitable and inclusive, we're really empowering more students to do whatever it is they want to do with their careers and their lives," Del Carpio said.
Many students noted the value of building community and working with underrepresented youth to work toward a more equitable future in higher education.
Del Carpio said they have also volunteered in several initiatives that are deeply personal for them, such as previously serving as graduate student representative for the UCLA Society for the Advancement of Chicanos/Hispanics and Native Americans in Science. They also served on an anti-racism task force in their department that was created in 2020, they added.
Award recipient Norma Sandoval said that her own experiences as a first-generation student in the sciences led her to support younger students in the field as well.
Sandoval, a molecular, cellular, and integrative physiology doctoral student, was nominated for the EDI Student Leadership Award by her mentor Stephanie Correa, an assistant professor in the Department of Integrative Biology and Physiology at UCLA.
She said it was meaningful to work with people such as Correa, who understands her values and supports the work she's done, adding that she hopes to fulfill a similar role for other students looking into the field of science.
Sandoval serves as co-outreach coordinator for UCLA's chapter of the Society for the Advancement of Chicanos/Hispanics and Native Americans in Science. In her position, Sandoval works in outreach, introducing K-12 students from marginalized communities to careers in the sciences. Sandoval said she has also helped host writing and career workshops for current UCLA doctoral students.
"The process of academia, it can be very overwhelming at times," Sandoval said. "It's just making sure that everybody has a community where they feel safe, where they can come and ask for help, where we can provide all the resources that they may need."
Sandoval said she values the diversity at UCLA and that the school is very active and deliberate in recruiting faculty and students from minority backgrounds. She said she is excited to receive the award and to continue planning outreach events to bring students to campus and expand EDI efforts.
Andrew Ramirez, a bioengineering doctoral student, said his own values aligned with those of UCLA and EDI. He added that his consideration for the award included his involvement in the First-Generation Graduate Student Council, where he has advocated for resources for incoming first-generation graduate students.
"(The) theme going on at UCLA that I was trying to implement was, again, learning from other people and then being able to share that information across campus to (make) sure that people don't struggle the way I've struggled, and again to help, to prevent those struggles from happening and being continuous over time," Ramirez said.
Ji Yoon (Gloria) Kim, a fourth-year psychology student and award recipient, said she conducts research and works for the Academic Advancement Program, where she provides support and resources for Asian American students at community colleges hoping to transfer to four-year universities.
Kim said she feels that this experience allows her to pay her success forward as a first-generation immigrant transfer student herself. Kim said she has also served as a peer learning facilitator at the UCLA Transfer Summer Program, where she helped incoming transfer students from underrepresented backgrounds get involved in research at UCLA.
"It's not like I came in thinking, 'Oh, I want to make UCLA a more diverse, inclusive place,'" Kim said. "I just knew I want these students who maybe felt like they weren't seen before to feel like they have a place here and they are making this institution a better place."
Students also discussed ways in which they had worked to promote EDI in their everyday lives within their current environments at the university.
Del Carpio said they worked with community initiatives within the biology department at UCLA to make progress toward EDI goals, such as reinstating an honorarium policy providing funding for seminar speakers at the university with a focus on speakers from diverse backgrounds. They also helped run an intensive one-day program at UCLA preparing students from underrepresented backgrounds to apply for competitive graduate programs in biology, Del Carpio added.
Ashley Ceballos Hernandez, an award recipient, said her EDI work is done solely out of love for her community.
The fourth-year labor studies and public affairs student first got involved at UCLA in search of a sense of community, joining three different Undergraduate Students Association Council offices in the same year, including the Academic Affairs Commission and the Office of the President. Last year, Ceballos Hernandez led the interviews and hiring process for several student representative positions on the Academic Senate after a student who she used to supervise in USAC nominated her, she said.
During the pandemic, Ceballos Hernandez and a handful of other students organized the virtual Latinx graduation and virtual transfer day.
"(These events) reminded me how important it is that these communities exist at UCLA. And students continue to be advocates for themselves and for our communities because these institutions aren't historically created for us," Ceballos Hernandez said.
Ceballos Hernandez said she feels grateful for receiving the award and the recognition it brings, adding that student advocates often do not expect to receive recognition. She said it's important that UCLA continues to fund student-led EDI initiatives and create a welcoming environment for all students.
Umiemah Farrukh, a fourth-year psychology student, said she was surprised but honored to learn that she had won the award. She is working on her senior thesis in the Anxiety and Depression Research Center and said it has been difficult to find access to research opportunities, given her identity as a woman and a minority.
Farrukh, a research coordinator for the Psychology Honor Society at UCLA, said she enjoys working to aid transfer students, international students and other UCLA undergraduates who have trouble getting access to research opportunities.
"I want to be that person for the people around me, just to give them guidance and support and let them know that they belong here," Farrukh said. "They belong in research, and their ideas and their voice is important."
Student award recipients also said they plan to continue working for EDI initiatives in the future.
Del Carpio said they plan to continue working in EDI after graduation, hopefully transitioning from their studies in biology to working for a consulting firm that specializes in EDI.
Link hopes to continue her current work in building accessible infrastructure for higher education, including finishing the Metamap project in preparation for Los Angeles' 2028 Paralympic Games. She also wishes to continue celebrating her fellow UCLA activists and advocates with awards such as these, she said.
Uplifting different backgrounds and perspectives across campus is essential to furthering EDI at UCLA. Finding community can be difficult at UCLA, but EDI efforts ensure that people feel empowered to excel at the same level, Ramirez said.
Ramirez said he also acknowledges the support and collaboration of administration, mentors and colleagues that helped him receive the EDI Student Leadership Award. He said he hopes to continue incorporating EDI into his research and building communities to connect across disciplines.
"It's just really important to highlight those experiences across campus," Ramirez said. "Traditionally a lot of these communities have struggled and they need a lot more support. So the fact that not only UCLA, but all these people that are supporting this initiative is really important to be able to uplift everybody (and) build that community."