UCLA beach volleyball returns to LA after opening the season on the road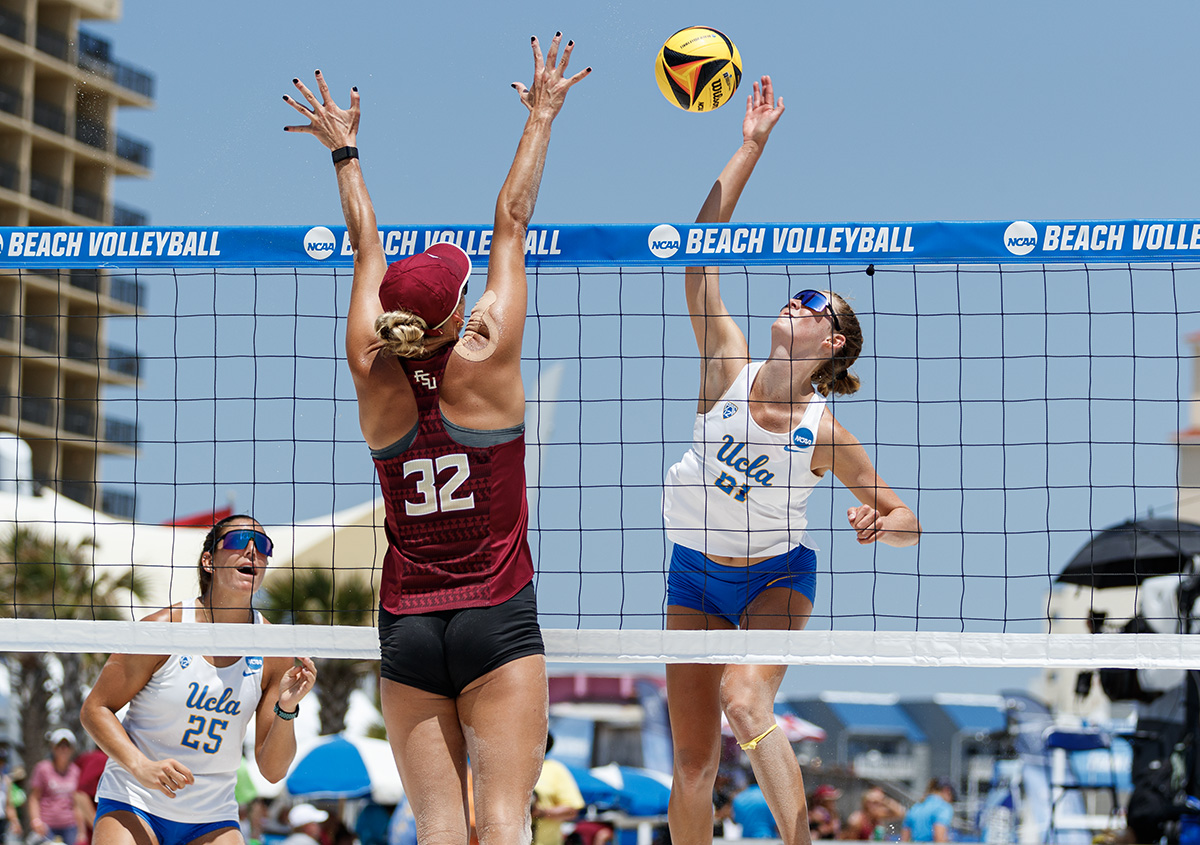 Graduate student Abby Van Winkle spikes the ball over the net. Van Winkle was an AVCA All-American in 2022. (Joseph Jimenez/Assistant Photo editor)
There's nothing quite like the energy of competing on one's home court.
After not playing at home since last April, graduate student Abby Van Winkle recalled what it's like to play a match on Mapes Beach.
"It's super special because you go into the game super fired up," Van Winkle said. "When you're at home, you feel super comfortable. There's going to be nerves but also just a comfort feeling."
No. 1 UCLA beach volleyball (8-0) has begun its first home matchups of the season in the sand where they've gone 8-2 and 15-1 in the last two seasons, respectively. UCLA will also travel across their home town of Los Angeles to face their top-5-ranked rivals No. 4 USC.
The blue and gold swept its first competition of the season last week in Hawaii. With completely different pairings to start the 2023 season, the Bruins defeated all of their opponents on the windy beaches of Hawaii.
Coach Stein Metzger said despite the victories, the top-ranked Bruins still have strides to make.
"We've been working on our first ball side out, which is a heavy focus on serve and first pass," Metzger said. "We want to continue to get those numbers up because they really translate to winning and losing. We're just focusing on the meat and potatoes of the game and continuing to try and get better each day."
Of the five pairings that competed last week, nine out of the 10 starters were returners from last season. The vets have entered the 2023 season with the same spark as last season. Senior Lexy Denaburg – two-time AVCA All-American – went on to receive the Most Outstanding Player award in last week's tournament.
Her partner, freshman Maggie Boyd was named Best Defender in the first tournament of her collegiate career. While the complete Bruin roster has many new faces, Boyd is the only freshman to crack the starting lineup this season.
Boyd said the Bruins are excited to continue their season after their recent success in their opening tournament of the season and that she was looking forward to playing her first matches on UCLA sand. The Bruins have only lost three matchups on their home court in the last five seasons combined.
"We had been putting in a lot of work, and we were really excited about coming out and showing everyone what we've been doing," Boyd said. "The mentality we have now is we want to keep building. We don't want to settle, and we want our training to be more intense and just keep growing our game as we get more into the season."
In addition to the home-court games the Bruins are facing, Van Winkle said the blue and gold is excited to take on USC on Sunday, as the Trojans always bring on the heat.
"There's always a rivalry, which is what makes it so fun," Van Winkle said. "They are definitely a top team and a team we're looking out for. We're fired up and super excited to play them."