Op-ed: Bruins deserve unlimited access to transit, which proposed referendum would grant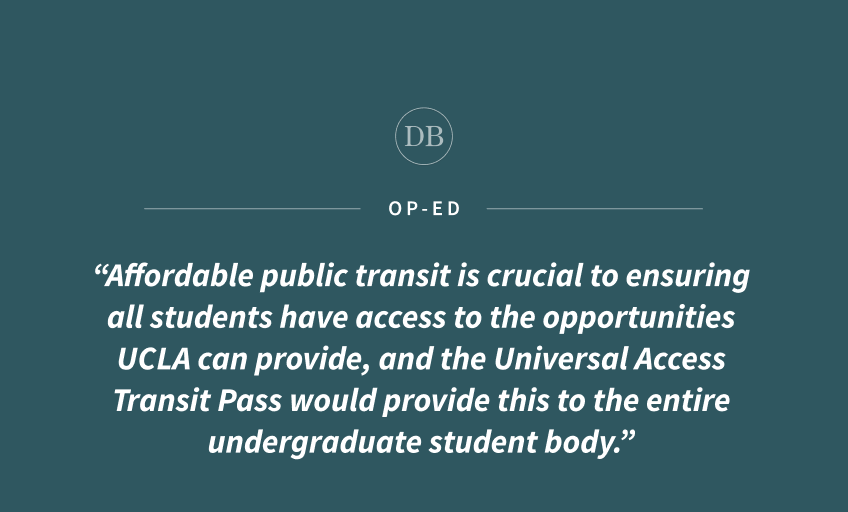 Undergraduate Bruins have an exciting opportunity to obtain a comprehensive, unlimited access transit pass next year, should a proposed referendum to support a new quarterly fee of $2.50 pass within the Undergraduate Students Association Council this Tuesday and receive enough votes in the upcoming elections this spring.
If successful, UCLA undergraduates would join the students at seven of the other eight University of California schools, all Los Angeles County community colleges students and UCLA graduate students in enjoying this benefit complimentary with enrollment.
Undergraduate Bruins currently don't – but should – have a free transit pass included upon admission. Public transit is a convenient mode of transportation that many Bruins use to commute to campus or travel around the city. The 13 local bus lines, seven commuter bus lines and Metro Micro vans serving Westwood – all of which UCLA undergrads would have unlimited access to for a small additional fee if the referendum passes – connect campus to a plethora of locations around the cities of LA County, including cheaper housing in West LA and across the region, job opportunities, shopping and entertainment.
In addition to the convenience of being able to access lots of places with transit – a consideration that becomes more important when parking is scarce or ride hailing is expensive – there are also significant financial and environmental benefits to ditching your car and using public transportation. These benefits exist, to varying degrees, for both the student who takes the bus to Sawtelle or Koreatown once or twice per quarter and for the student who commutes to campus four times per week using Long Beach Transit.
Making transit free for undergraduate Bruins, by way of the proposed Universal Access Transit Pass Referendum, would be of tremendous help to a large number of students. To make this a reality, USAC must vote to approve the proposed referendum when it comes up on the agenda Tuesday.
Currently, commuter students can purchase UCLA's subsidized $45 per quarter transit pass, which allows unlimited access to LA Metro bus and rail lines, Big Blue Bus and Culver Citybus. For the undergraduate students who currently purchase these passes, the annual price decrease from $135 to $7.50 would reduce the cost of attending UCLA, all while rewarding students who choose sustainable, space-efficient modes of transportation.
Affordable public transit is crucial to ensuring all students have access to the opportunities UCLA can provide, and the Universal Access Transit Pass would provide this to the entire undergraduate student body. Although current transit options are far cheaper than owning, insuring, maintaining, fueling and parking a personal automobile, we can do far better. The proposed $2.50 per quarter fee would lower the cost of attending college for students who commute by transit, and especially so for the thousands of undergrads whose financial aid package would cover the student fee.
In the early 2000s, the university had a fare-free transit program called BruinGO!, through which the university paid the Big Blue Bus fares for every student, staff and faculty member. Unsurprisingly, this led to a huge increase in transit ridership among those living in the Big Blue Bus service area. As a result of this policy, demand for driving to campus decreased significantly, with many leaving their cars at home or leaving the waitlist for a parking spot.
When UCLA dropped the full bus fare subsidy and moved to a partial subsidy instead, ridership dropped back down to pre-BruinGO! levels, a clear demonstration that fare-free transit is an amenity students value and an effective incentive for students to ride transit instead of driving.
This proposed transit pass would benefit so many of us, from regular commuters to infrequent transit users. It's a rare opportunity for an easy policy that would improve the environment, equity and access to the city and county.
Aviv Schifrin is a third-year public affairs student at UCLA.