Excited to end season strong, UCLA gymnastics prepares to face off Stanford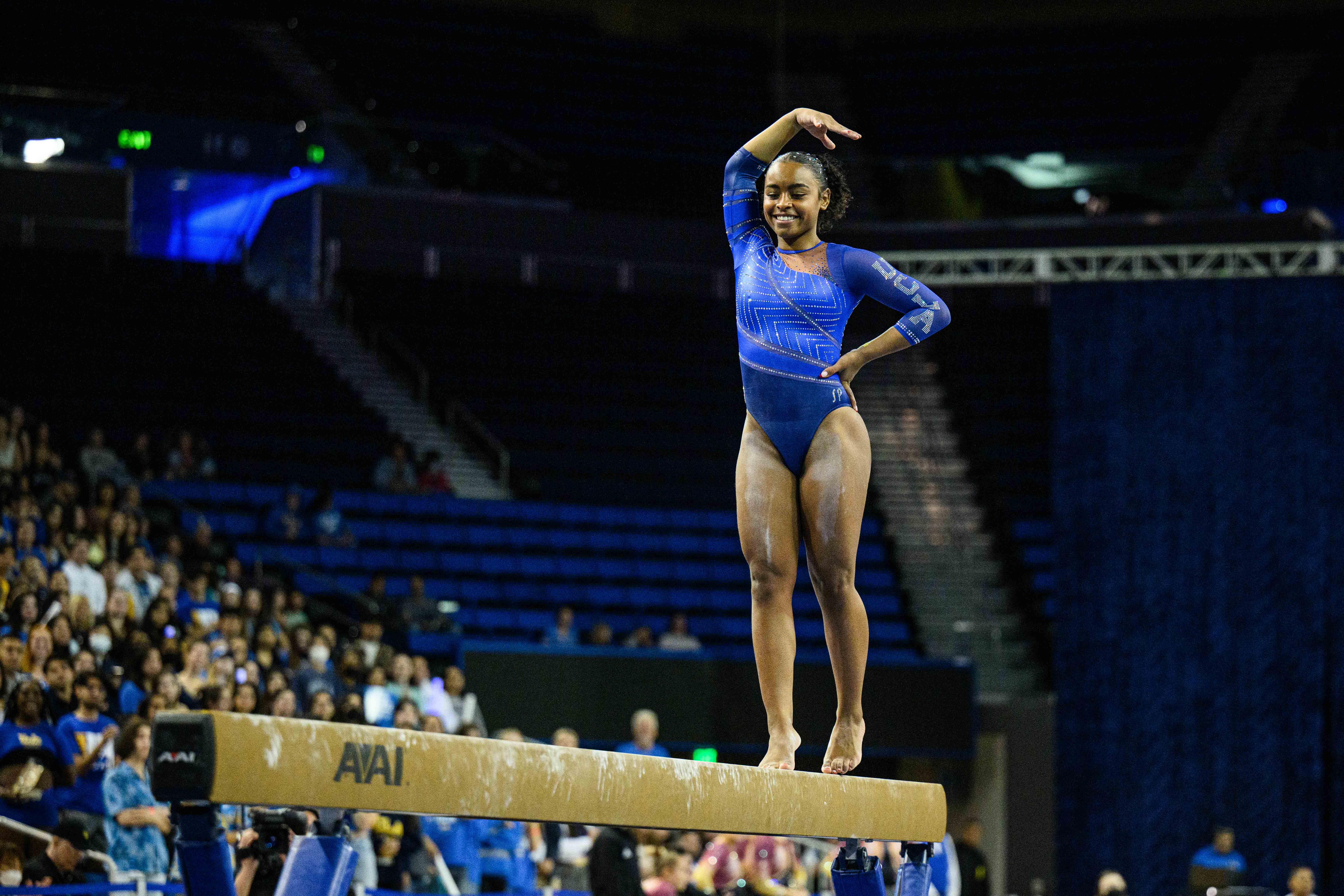 Freshman Selena Harris performs on beam in Pauley Pavilion. Harris and No. 5 UCLA gymnastics will return home to take on Stanford on Sunday. (Christine Kao/Daily Bruin staff)
Gymnastics
---
Stanford
Sunday, noon.
Pauley Pavilion
Pac-12 Networks
Almost two months into the season, durability heading into the postseason takes priority.
Despite it being her first year with UCLA, Selena Harris knows that well.
The freshman all-arounder sat out on floor against Arizona because of an irritated hip – not competing on all four events for the first time in her collegiate career – and said Thursday that she was feeling fatigued.
Nevertheless, Harris said she's just glad the Bruins are back in Westwood.
"I'm excited to not see the airport for two weeks," Harris said.
No. 5 UCLA gymnastics will return home to Pauley Pavilion on Sunday afternoon for its penultimate regular-season meet against No. 21 Stanford. Former gymnasts from the program will fill the crowd for its alumni meet and Title IX celebration. Coach Janelle McDonald said the team is looking forward to seeing familiar faces at Pauley Pavilion.
"We're really excited to be at home this weekend, and to have a lot of our alumni in the building is going to be something really special," McDonald said. "We're going to celebrate the people that came before us and laid the foundation of this program. We're going to compete for them."
Although floor has historically been the calling card at UCLA, a second event has taken the stage with the rookie head coach in charge.
Bars has become a staple of McDonald's first year at UCLA. Part of the consistency of the No. 6-ranked bars team in the nation has been the re-emergence of senior Kalyany Steele.
The Colorado Springs native scored as high as 9.925 on the event in 2020, but after mixing in and out of rotations over the past two seasons and dealing with injuries, Steele has found her spot within McDonald's bars lineup.
Steele has scored 9.800 or above on bars in all but one meet since Jan. 21 and said McDonald is partially to thank for rediscovering her place on the team.
"She (McDonald) is different from other coaching I've been used to the last few years," Steele said. "She's very technical. She brings in a lot of review (and) drills to help us dial in on the bigger skills, and that's really helpful."
Harris and sophomore Jordan Chiles have also contributed to the high scores on bars in 2023 and currently hold 9.925 and 9.965 national qualifying scores, respectively, on the event, with the latter tied for No. 1 in the country.
The five-time Pac-12 Freshman and Newcomer of the Week said Sunday's Title IX meet will have extra meaning, especially for the younger generation watching.
"I love it," Harris said. "I like how we're able to bring awareness to all these things and to just feel empowered when we are competing. We are warming up the shirts and everyone sees – the little girls see – that you can do anything. I think that's my favorite part."
The Bruins posted back-to-back scores of 197.900 or higher on the road heading into Sunday's meet. UCLA has to score above a 197.275 for its national qualifying score to rise heading into its final meet of the regular season.
And just when the Bruins may need a boost to depth, sophomore Brooklyn Moors has neared a return to both the vault and floor lineups after being out with an injury all season.
The former Olympian performed an exhibition on vault against Arizona and notched a 9.600. McDonald added that Moors followed her return to action with a good week in practice, including her first full floor routine on a hard surface this season.
"She's dialing in the landings (on vault), and that's kind of where she's at," McDonald said. "Her vault actually looks really great in the air. … This week has gone really well so I'm excited for her. She's also looking really good on floor."
UCLA's meet against Stanford with begin at noon Sunday.