Cody Schrier's multi-home run game assists UCLA baseball's triumph against Tulane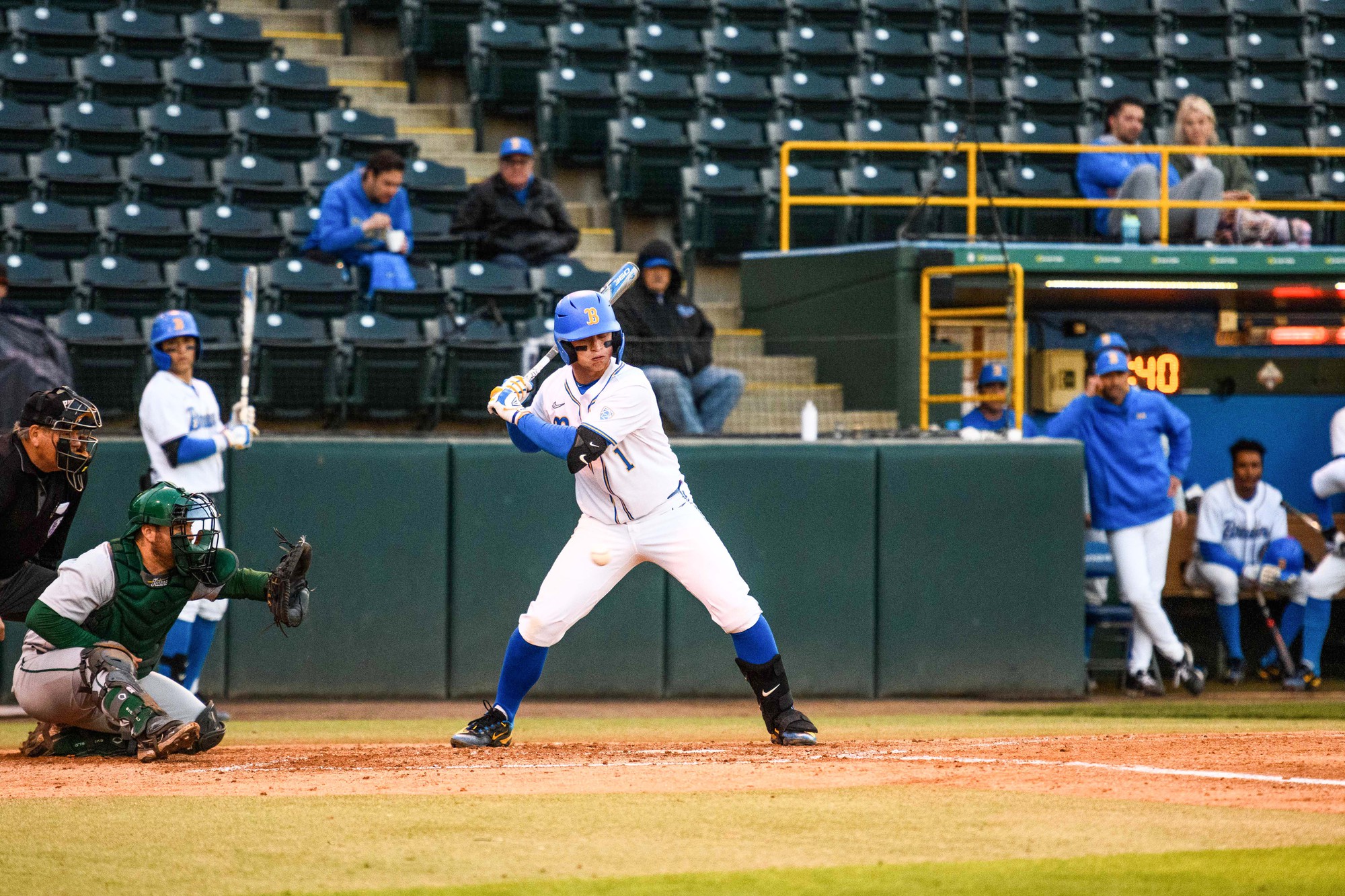 Sophomore shortstop Cody Schrier prepares to hit in a game against Tulane. Schrier's pair of homers powered UCLA baseball's offense in the Friday night contest. (Felicia Keller/Daily Bruin)
Cody Schrier sets the tone for the Bruins when he steps up to the batter's box.
And as the leadoff hitter, the sophomore shortstop started Friday night's contest with a bang.
"Whatever happens in that first at-bat can dictate a lot of the rest of the game," Schrier said.
No. 17 UCLA baseball (7-2) jumped out to a 1-0 lead after Schrier struck a fastball from Tulane (1-9) left-hander Dylan Carmouche over the left field wall. The former freshman All-American dictated the tone with his first-inning blast and added on from there – hitting a second dinger in the fifth and securing his first career multi-home run game en route to a 10-3 victory.
Schrier attacked a center-cut change-up and sent the ball beyond the trees outside Jackie Robinson Stadium for a three-run home run in the fifth inning, giving the Bruins a 5-2 lead. The right-handed slugger ended the contest 3-for-4 with four RBIs, one walk and two stolen bases.
"It's pretty impressive the type of power that he has," said coach John Savage. "If he can get going… then that first inning is a pretty tough battle for somebody to get through those guys."
Schrier's second and third home runs of the campaign gave junior right-hander Jake Brooks breathing room to work into the sixth inning for the first time in 2023.
Brooks allowed an unearned run in the third and an RBI double in the fourth, but settled down to push through to the seventh inning.
The Fountain Valley native limited the Green Wave despite not missing many bats. They righty struck out four batters and surrendered one earned run, four hits and two walks.
Savage allowed Brooks to work into the seventh inning but gave him the hook after a leadoff walk, opting to go to freshman right-hander Cody Delvecchio to hold the lead.
The Mission Hills native set Tulane down in order after relieving Brooks. The Bruins' middle reliever has yet to concede a run in seven appearances and has struck out nine batters in seven innings so far.
Delvecchio said he credits his preparation for high-leverage appearances to a home run hit off the scoreboard by sophomore second baseman Duce Gourson during a fall practice.
"In my head, I'm like, 'I'm not letting this happen ever again, I need to focus on me.'" Delvecchio said. "And then Coach Savage met up with me after he's like, 'Hey, you're gonna have a big role this year. I want you to focus on what you do: throw strikes and attack hitters.' And so, that's all I've been doing."
A bottom-of-the-seventh, three-run rally headlined by senior infielder Daylen Reyes' RBI triple expanded UCLA's lead to 9-2. The Bruins tallied 11 hits compared to the Green Wave's six in the affair.
Freshman outfielder Toussaint Bythewood picked up his first collegiate start as Friday's designated hitter. Bythewood – who is a second-generation UCLA student-athlete – slashed an eighth-inning single into center field for his only hit and scored on a groundout.
Savage said he's excited about the prospects of Bythewood's career at UCLA.
"We really like Toussaint and he's got a tremendous future," Savage said. "He's a young, athletic outfielder who could hit and we think he's going to be a really good hitter. He just needs strength (and) needs to grow mentally. It's tough to play at this level as a freshman."
UCLA will return to action Saturday when sophomore right-hander Alonzo Tredwell toes the mound against Sacramento State at 2 p.m.