UCLA baseball to host three teams in Southern California College Baseball Classic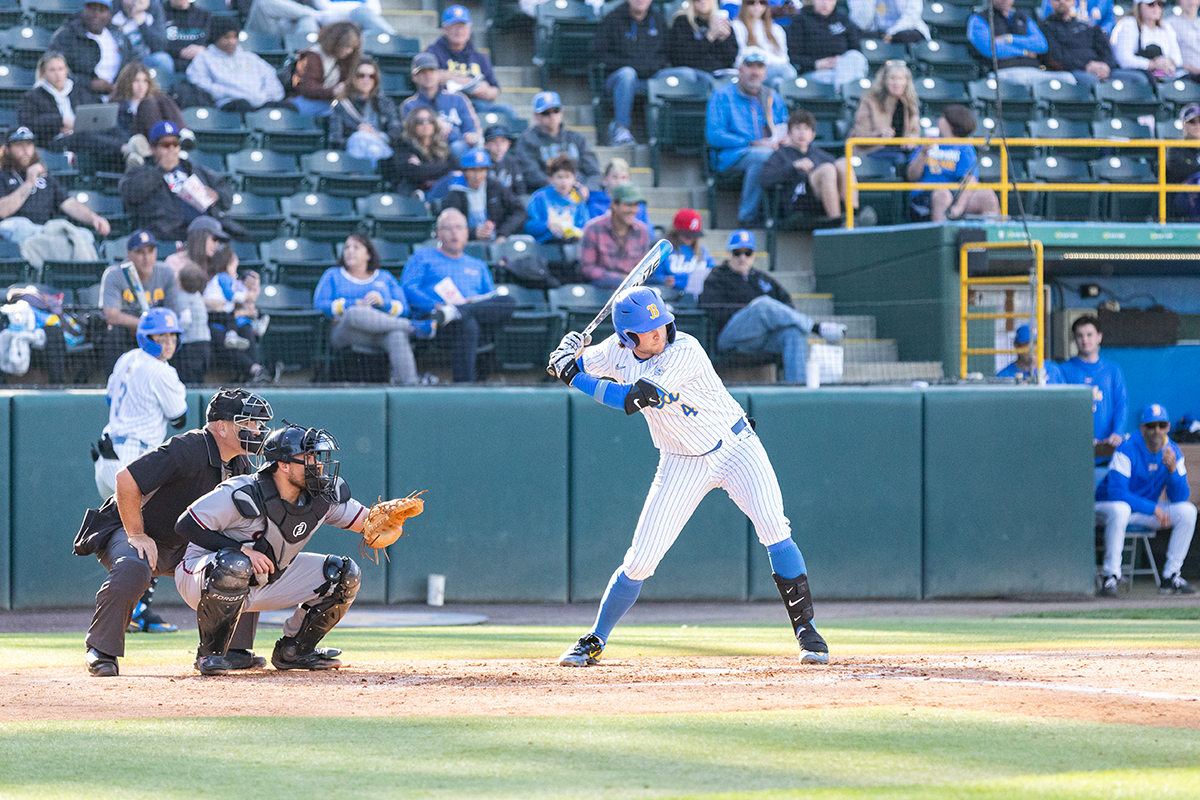 Junior third baseman Kyle Karros loads up for a swing. (Grace Wilson/Daily Bruin)
Baseball
---
Tulane
Friday, 5 p.m.
Jackie Robinson Stadium
UCLA Live Stream-3
---
Sacramento State
Saturday, 2 p.m.
Jackie Robinson Stadium
UCLA Live Stream-3
---
USC
Sunday, 2:30 p.m.
Jackie Robinson Stadium
UCLA Live Stream-3
Despite rainy days and canceled games, the Bruins are gearing up for a sunny weekend against teams both from across the country and right down the road.
After notching another win against Michigan on Wednesday, No. 17 UCLA baseball (6-2) will have the chance to lengthen its five-game winning streak at Jackie Robinson Stadium starting Friday night with a three-game series in the Southern California College Baseball Classic. The Bruins will host Tulane (1-8) in the opener, before playing Sacramento State (6-1) on Saturday and closing out against USC (3-4-1) on Sunday.
After hitting a solo homer and scoring four times against Michigan, junior third baseman Kyle Karros said he hopes to maintain the same level of play throughout the weekend.
"If we play the baseball that we're capable of playing, it doesn't matter who we're playing against that day," Karros said. "Just continuing to get better throughout practices, and then we'll be ready to go."
Headed into Friday's game against Tulane, the Bruins are focused on maintaining their level of pitching and setting up a solid foundation for the new season. In a showcase of the Bruins' nine-pitcher bullpen in Wednesday night's game, freshman right-hander Finn McIlroy struck out the side in the top of the fifth in his third game of the season with the blue and gold.
"I'm just excited to be here," Mcllroy said. "I'm just going to keep uplifting the guys, and hopefully, we just keep winning ball games."
The last time UCLA faced off against Tulane was in 2003, where the Bruins took home the win in a 12-2 game. Since the two squads' first matchup in 1974, the blue and gold sports a 5-2 record over the Green Waves and has dropped just one contest out of four since 2002.
Following the game against Tulane, UCLA will face Sacramento State for the first time since 2019. Despite the previous two-win, one-loss series, the Bruins still hold an 8-2 record against the Hornets.
Neither Tulane nor Sacramento State has played ranked teams this season, making their matchups against UCLA the first.
After consecutive games against Tulane and Sacramento State, UCLA will host a non-conference contest Sunday against an unranked USC team. With this matchup set as the only game against USC until late April, the team is ready to face whatever may happen in a rivalry environment, Karros said.
No matter the conference or game, coach John Savage said, the Bruins are focusing on the new season as a fresh start to build on.
"It's important that … we keep on working hard, (making) sure that we keep on developing our players," Savage said. "It's a long season and we got to keep on getting better."
The Southern California College Baseball Classic is set to begin at Jackie Robinson Stadium on Friday at 5 p.m.